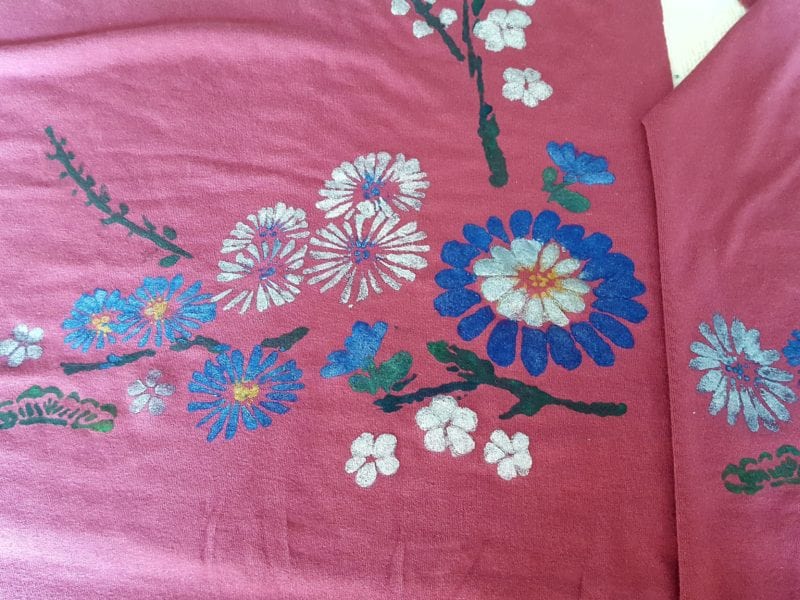 Welcome to Sew! Let's Get Dressed, a weekly blog that encourages you to sew successfully. 
Painting on knit fabric has been my fun summer experiment and I am pleased to report my recent results.  Over the past few weeks I have graduated from painting samples to painting sections of a Tabula Rasa Knit Tee.  It's quite fun.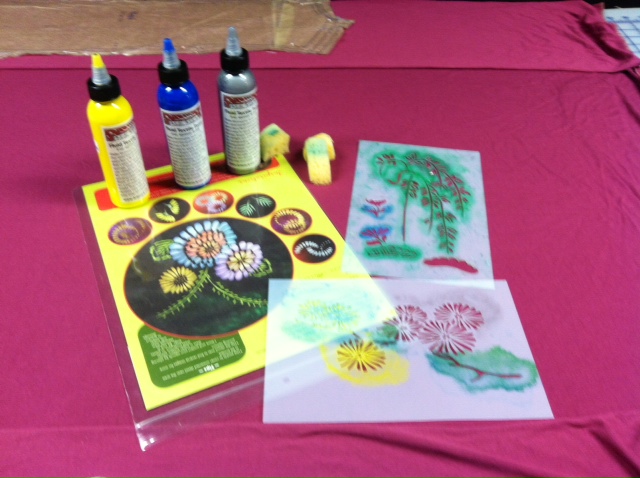 My knit painting experiment began with my trusty Shiva Paint Sticks.  You can see previous paint stick fun in my Painted Shirt posts and Quilted jacket posts.  I love them because they are neat and versatile.   On the knits, however, the paint was hard to distribute and the application process caused the fabric to became distorted.
Some experimentation with stabilizer and interfacing showed improved results, but it altered the nature of the knit fabric.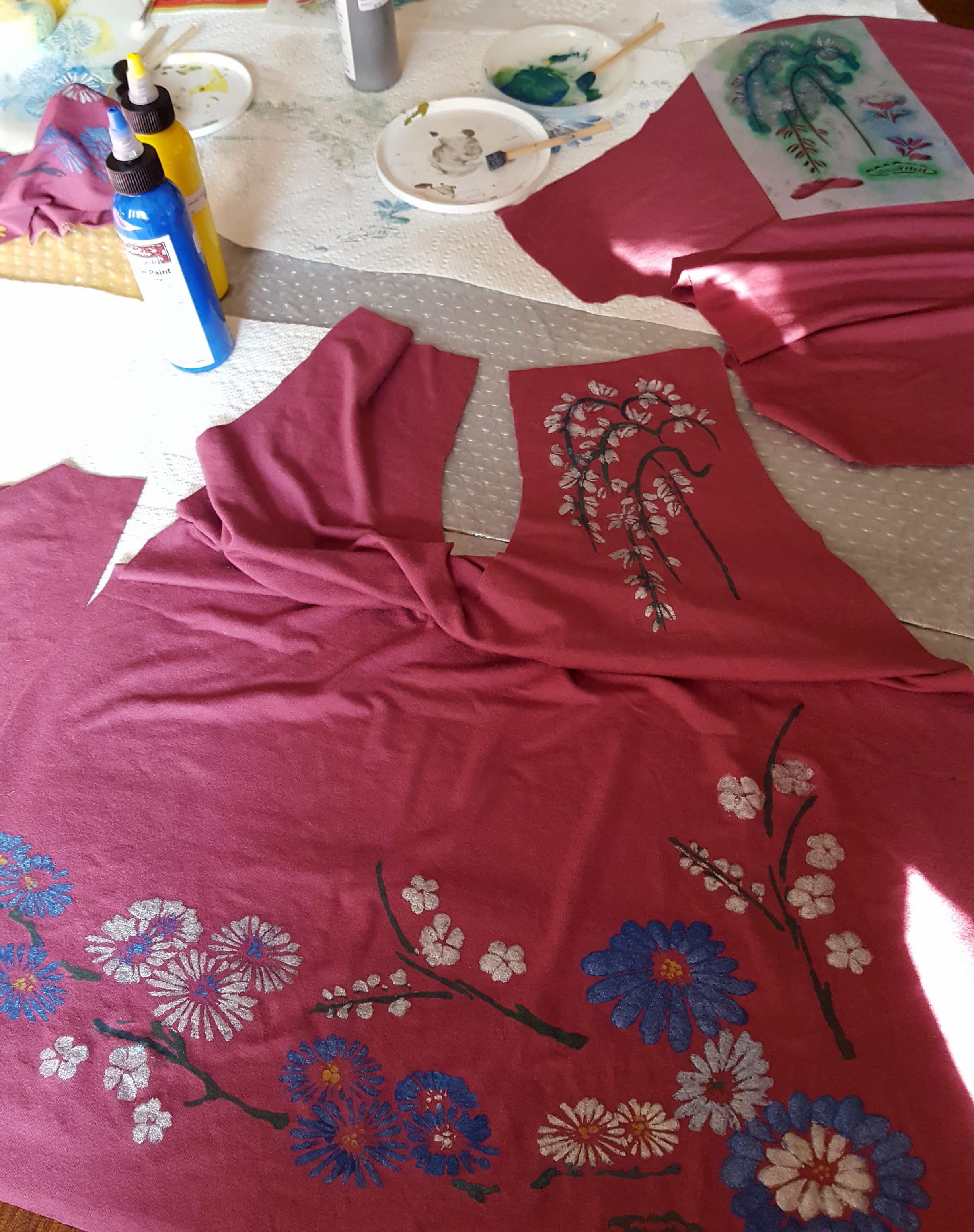 On a recent visit to Artistic Artifacts, a wonderful store in Alexandria VA, I was introduced to Fluid Textile Paint.    They are designed to be sponged or brushed on and the primary colors are great for mixing your own colors, tints and hues.  I bought a 4 oz bottle of blue, yellow, and silver/grey to try painting on some dusty rose rayon knit jersey I had in my stash.  I cut a few pieces for sample making using the paints and stencils.  I painted, heat sealed and washed the samples with good results so I decided to take the plunge and cut out my tee.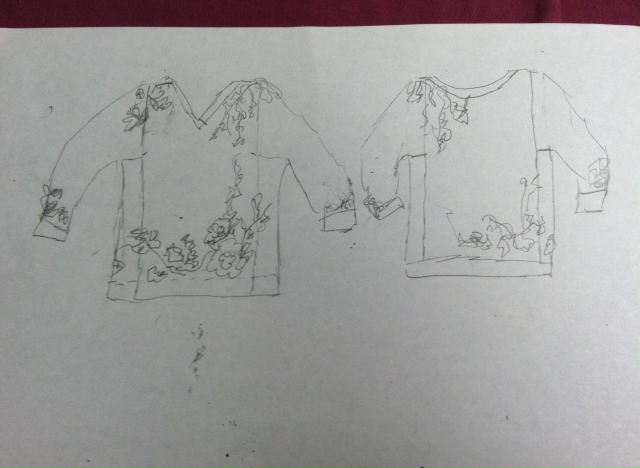 I chose 3 stencils from my collection of Laura Murray Stencils to use for my design and made a sketch to test my ideas.    It was helpful that I had a couple days to work on painting the unassembled pieces of the top.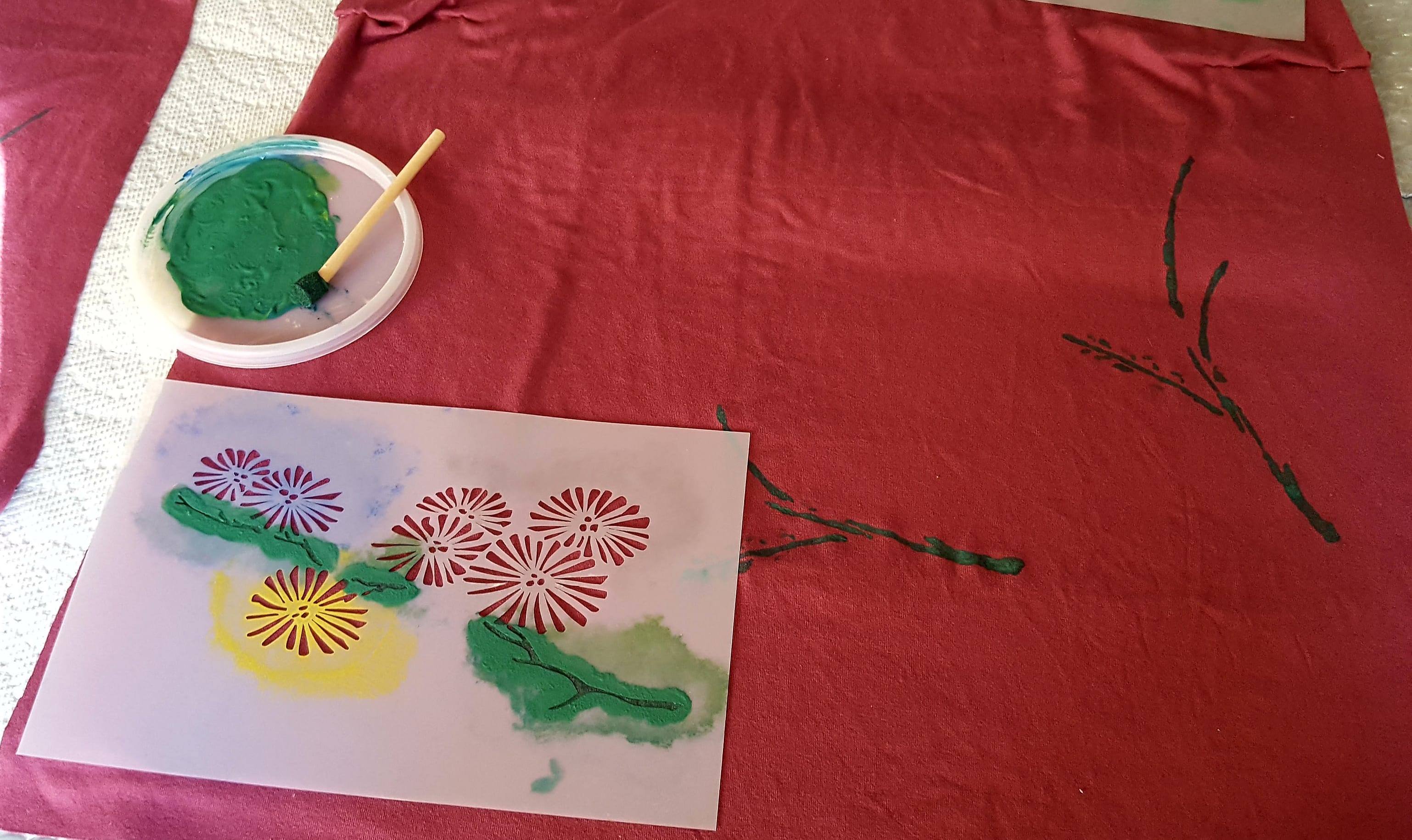 I worked with one or two colors at a time, cleaned the stencils between colors and created multi colored motifs in sections.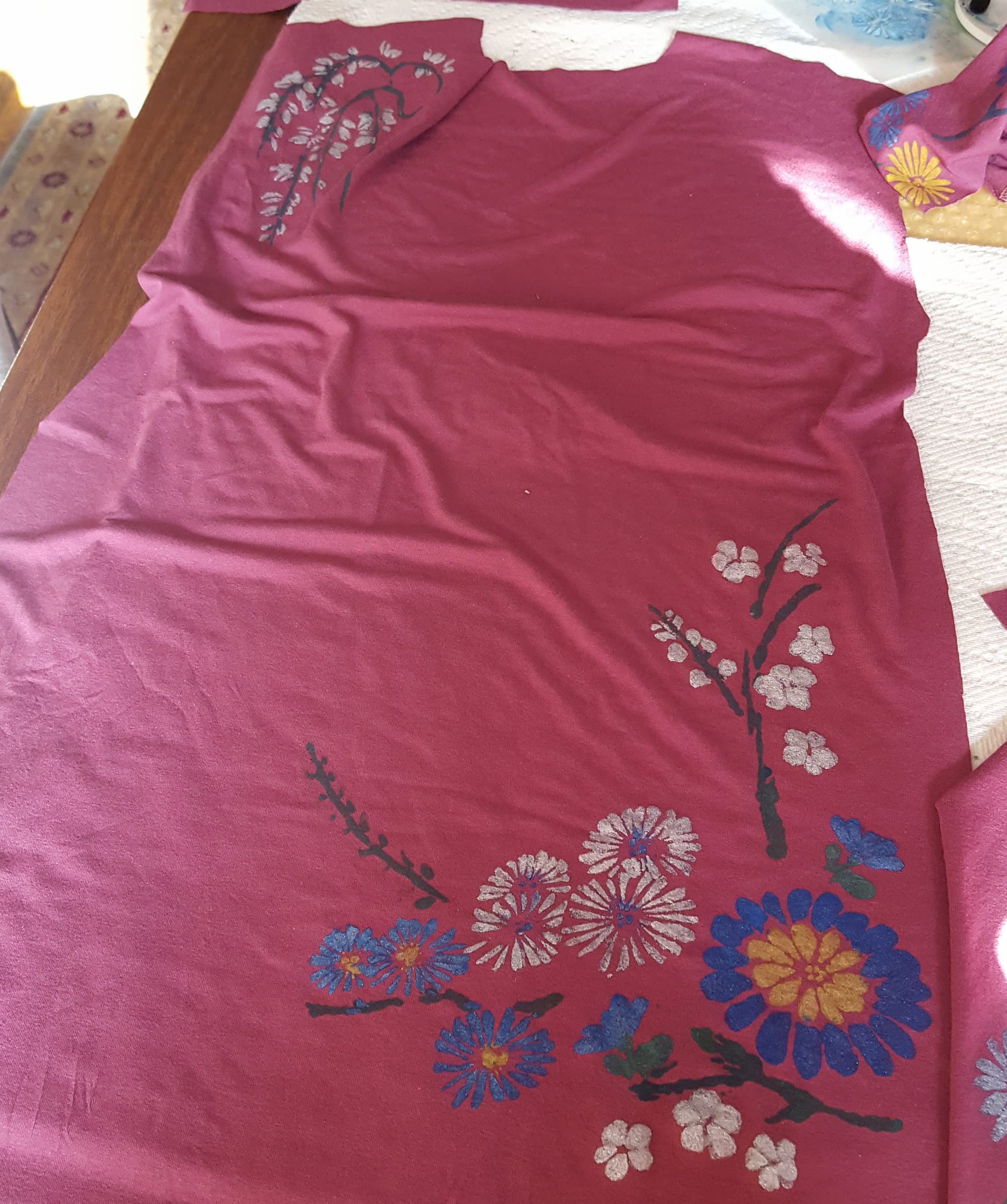 The final morning of painting I filled in areas that looked too empty.  In one case I added an additional color to a flower that I did not like, too much yellow!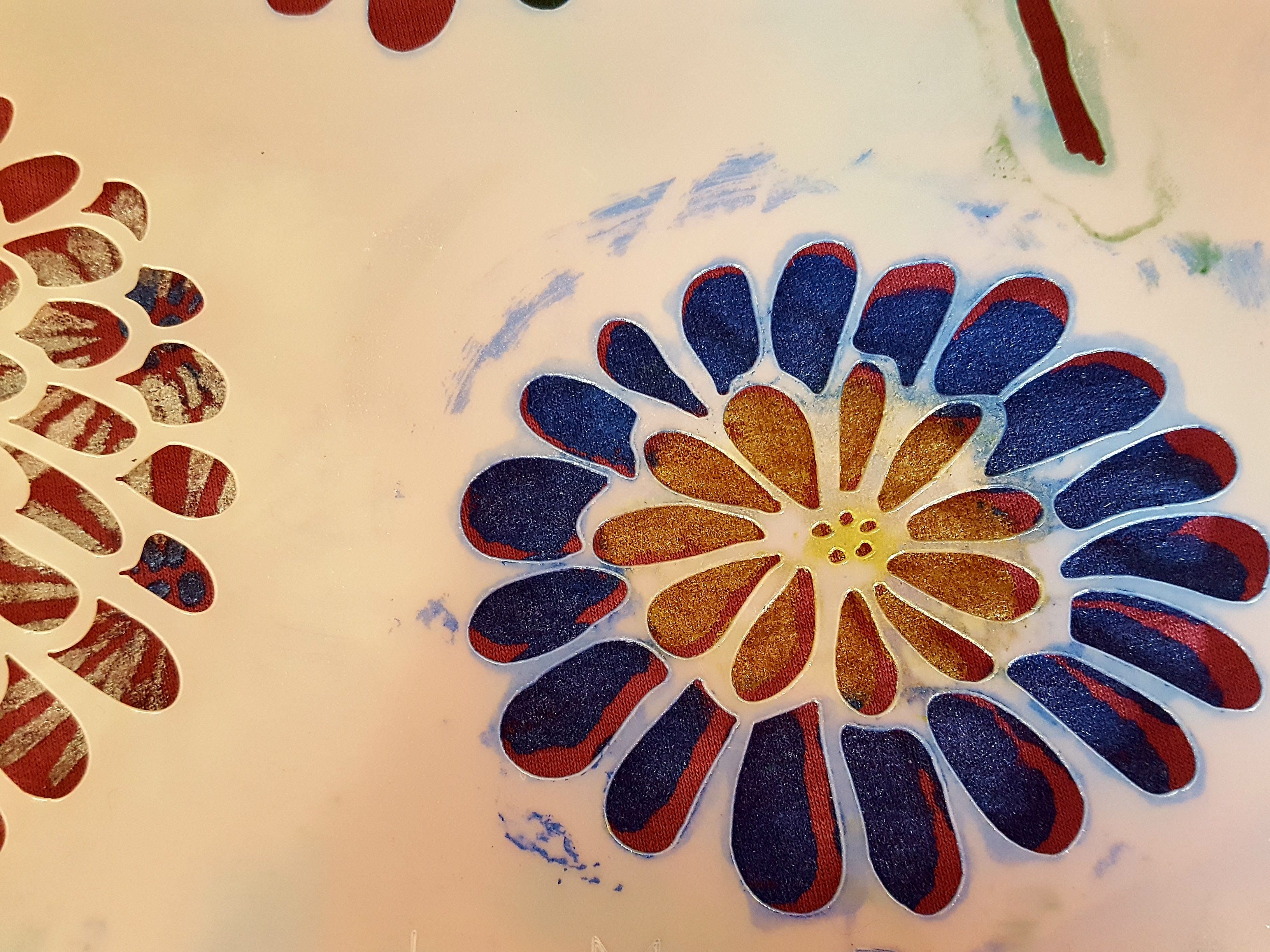 I was very happy with the results, turning the center into a silvery blue color.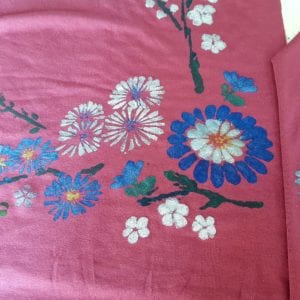 Watch the process here on the sleeve.  The simple steps, each taking about 5 – 10 minutes were spread over several hours.  First there is the initial stencil placement: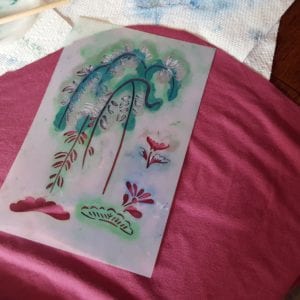 Here is how it looks with the first green then silver paints applied: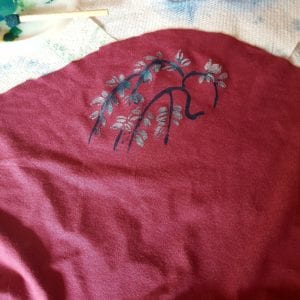 Then once the paint and stencils dried, the second motif was added with the stencil upside down.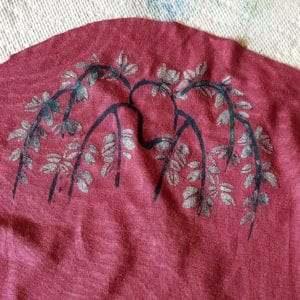 Hopefully I will get the tee assembled to bring to the ASG conference later this week.  In the meantime, I will heat set the painted sections so the tee will be washable.
Have you done much painting on knit fabrics?  What types of paint and stabilizer did you use?  I am sure there are great combinations of products that would allow for different painting effects and I am anxious to try them.
Keep an eye on Facebook and Instagram for painted tee updates.  Join me on July 19 at Capital Quilts in Gaithersburg MD for some fun with paint and collage.
Happy Sewing, RAE
Enjoy receiving our blog? Sharing is caring, so forward this post to a friend by clicking on the Forward link at the upper right corner of your e-mail notification.  Remember that the beauty of the Fit for Art System is you can sew successfully with endless variations. Take a moment to review our variation patterns offered by clicking here.  Also, are you following us on social media?  Take a moment to check us out on Facebook and Instagram and follow the hashtag #fitforartpatterns and #sewsuccessfully.