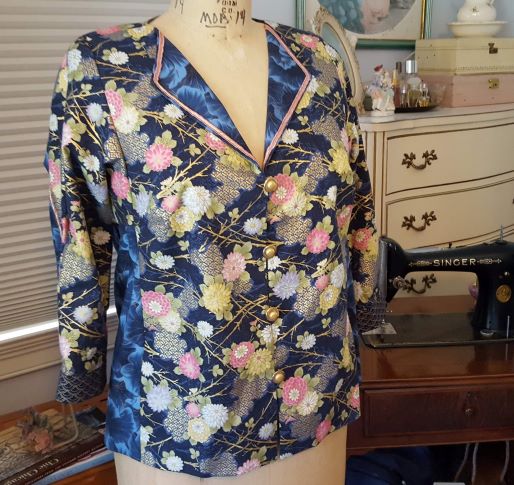 How do you choose the final finishes on each sewing project?  Utilitarian clothes are often finished by machine, but pretty clothes feel special when finished by hand.
Hand Finishes for the Blouse
Early this spring, I made a tunic length blouse using my Tabula Rasa Jacket pattern modified with the jewel neckline from Rain or Shine Variations and the 2-piece sleeve from Jean Jacket Variations.  The fabric is Asian inspired quilting cotton prints and panels with metallic gold accents that was in my stash.  I created it as a teaching tool for the last 3 classes in my online garment sewing series with OSQE.  The blouse was an example of finishing garment edges with a facing, using buttons and loops to close a garment, and stitching hems with hand finishes.  One of the beauties of online teaching is that you can create a sample that moves along with the classroom topics.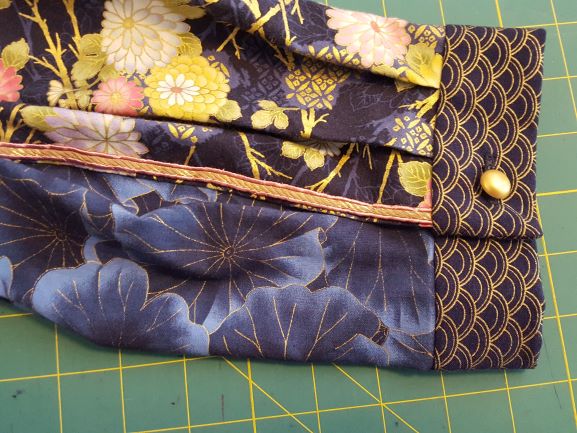 With a machine washable cotton blouse, machine hems and finishes would have been perfectly appropriate but I chose hand finishes, an unexpected choice.  Here is some of my logic:
I enjoy hand stitching as a pleasant option when I am not in a hurry.
The trim I was using to accent the blouse's sleeve, back and lapel was thick and looked better when hand stitched into place.
Having a hem with a variety of edge finishes for hand stitching was an excellent visual for my virtual class in hand and machine finishes.
Well executed hand hems are really lovely and they seemed perfect for this nice blouse.  See the step-by-step directions for my favorite hand sewn catch stitch in Helpful Hints/Jackets.

Three great hem finishes for hand stitched hems, rayon hem tape, serger overlock finish, and the selvage.
I hand stitched all of the finishes: the cuff edges, the buttons, the trim, and the hem.  This was a flashback to my childhood sewing when my mother insisted on all hand finishes!
Machine Finishes for the Pants
Conversely, the navy pants I wear with this top have all machine finishes. As often happens with my tapered cotton sateen Eureka! Pants, these navy pants had become a bit too short and hung awkwardly around the hemline.   When these pants were new, I hemmed them with a 2½" machine hem so when this very shrinkage happened, after a number of washings,  I could let them down and re-taper as I lengthened them.  Read about how to make the hem slit in the previous post Summer pants with slits.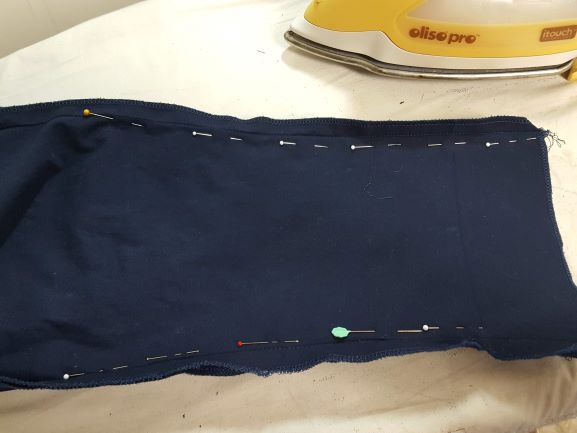 I ripped out the hem, basted in a new tapered seam,  pinned the new hem in place, and tried them on to test the changes. For this alteration, the top of the hem is placed at the point of the original hem turn so the navy blue stitches will mask the faded mark of the original hemline.  While they do not look new, they look so much  better and I will enjoy a couple more years of wear out of these very utilitarian pants in one of my go-to spring colors.
This work was quick and easy given that the correct color thread was already on the sewing machine and serger for the completion of the blouse.  Efficient sewing that yielded a fresh look.
A Spring Wardrobe Update
What colors do you like to sew for spring?  Have you altered an old favorite or stitched up some fun fabric into a new blouse or jacket?  Have you rediscovered the joys of hand stitching as we have been I-sew-lated?  Be sure to share your Fit for Art makes with us. Keep an eye on Instagram and Facebook this week to see up close images of several ways this blouse is special and get a peek at me wearing the completed outfit!
Happy Sewing, RAE