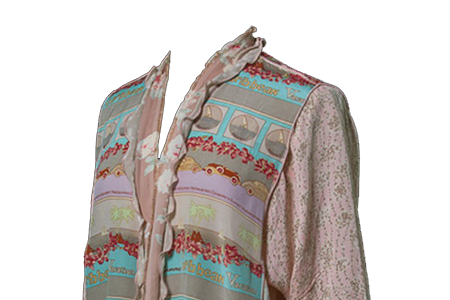 Let's go into detail about the fun Island Vacation Tabula Rasa Jacket (TRJ)  that features the, now downloadable, Swing Variations digital pattern.  It is the first sample we mention in our fun trunk show video to inspire you to sew a TRJ with some swing variation details.  This luscious little summer topper is an old friend as it was made before the development of the Swing Variation pattern, but we will look closely at the techniques used and the variation's versatility.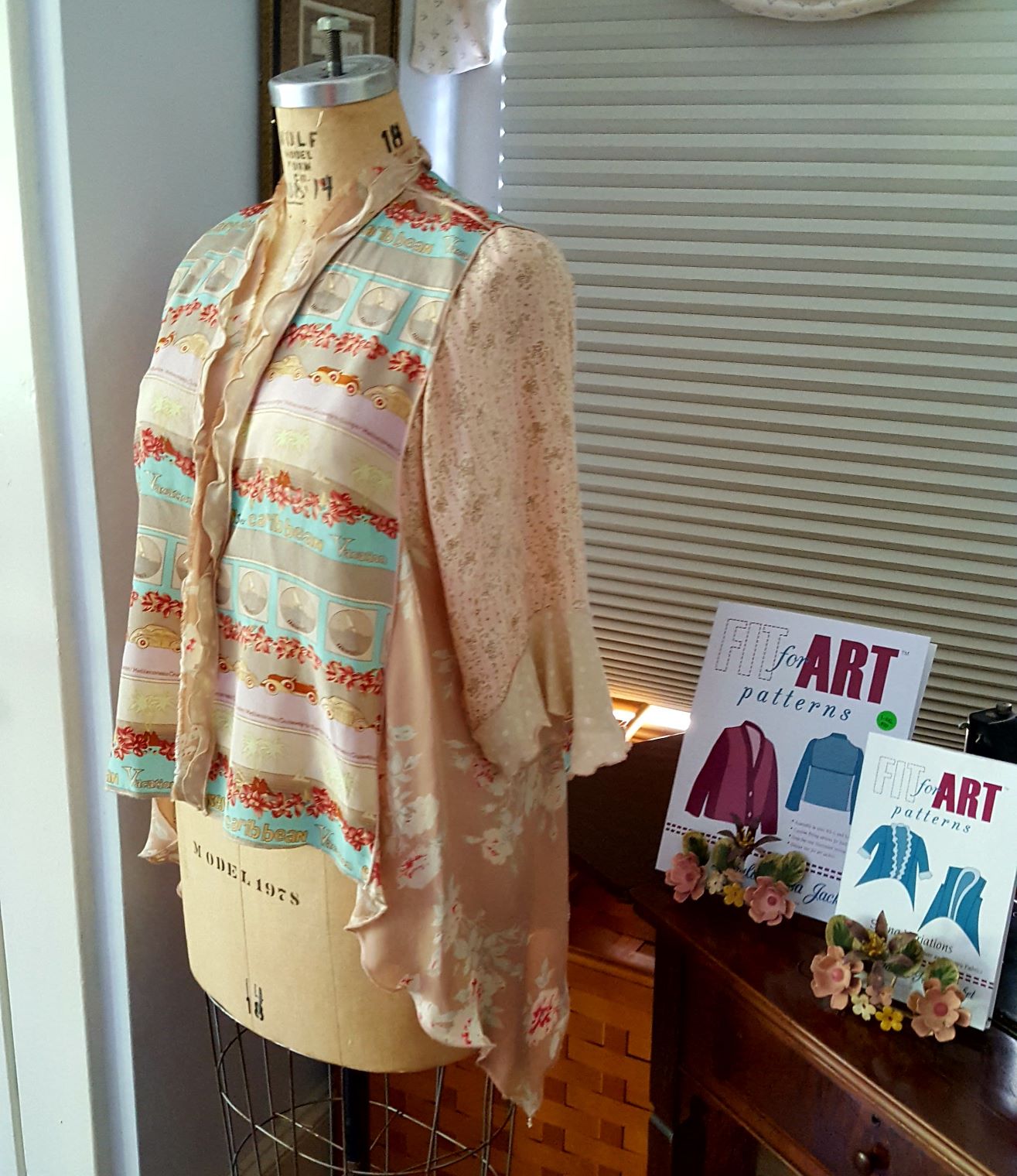 Fabrics
We offer a primer into drapey fabrics in the design section of the Swing Variation Booklet.  It suggests working first with fabric that is opaque and soft, but not too slippery:  light weight silk crepe de chine, rayon and drapey cotton are all good choices.
This set of silk crepe de chine and rayon fabrics fits the bill.  I remember choosing them from the remnant table at Britex Fabrics in San Francisco when I was there for an ASDP conference.  I still love the pop of red and pale turquoise that gives this fabric an interesting twist.  The retro island vacation print on a silky fabric was too appealing to leave behind.
Placing the Fabrics
This most fabulous fabric was placed in the top's front and back so it would not be missed.  The supporting cast of fabrics add quiet interest but do not take the eye away from the island print.  Even soft and drapey fabrics benefit from careful placement.
Sleeves in my wardrobe are often solid or made from very incidental prints.  This luscious pale pink and taupe print was perfect with its small, linear floral print.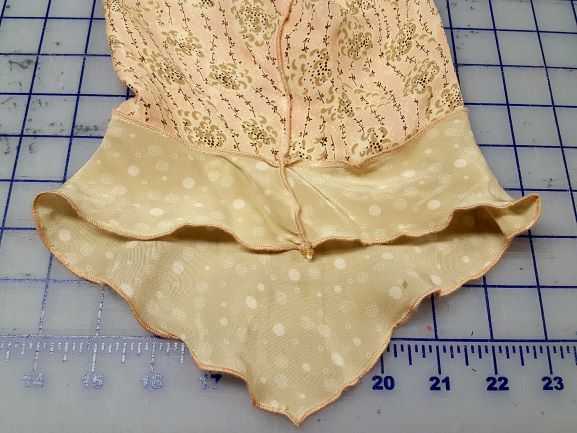 An even smaller print brings out the taupe on the dramatic cuffs which are made from a template in this pattern.  You will create a cuff which hangs gently at whatever point on the arm your sleeve ends.  Add the cuff to the sleeve while it is still flat for an easier rolled edge construction.
The swing side is a subtle floral rayon, but has another pop of red and some soft green to keep things interesting.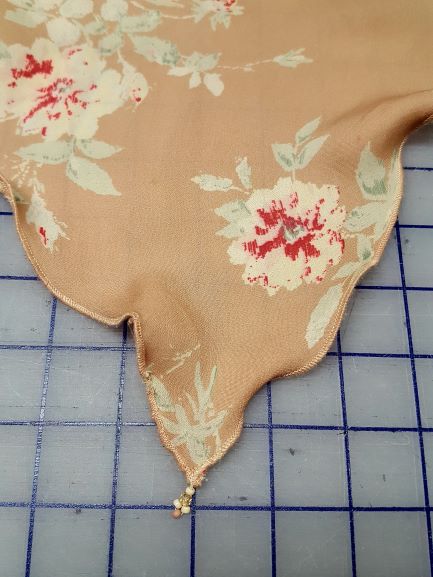 The top is finished around the neck edge with a double band.  The base is the selvage edge of the floral I chose for swing side.  It was too fun and fringy to leave on the cutting table!  Dancing on top of the straight selvage edge is a narrow ruffle layer from the sleeve cuff fabric finished with a rolled edge.  It adds dimension and whimsy.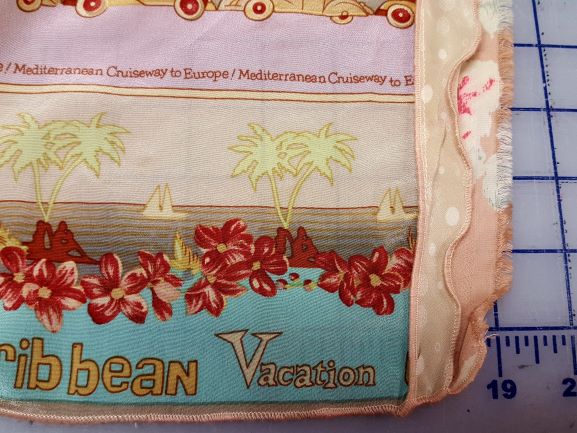 Rolled Edge Construction
This is one of Fit for Art's favorite techniques and it is discussed in detail in the swing variation book.  If you have not yet tried it, keep the book handy for your first project.  At each step in the directions there is a note to remind you to sew seams wrong sides together first, then roll them on a serger.   The thread becomes a design element unifying all the fabrics with a single color.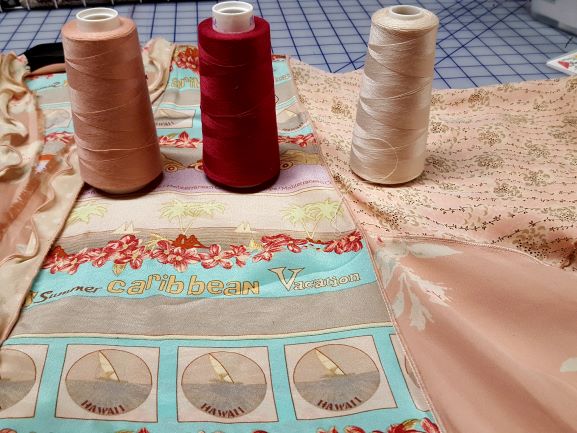 On a "fitting" note, this construction is very final!  Make sure you know the pattern fits well before embarking on a rolled edge project. Keep the garment roomy too, drapey fabrics are prettier if they do not fit too tightly.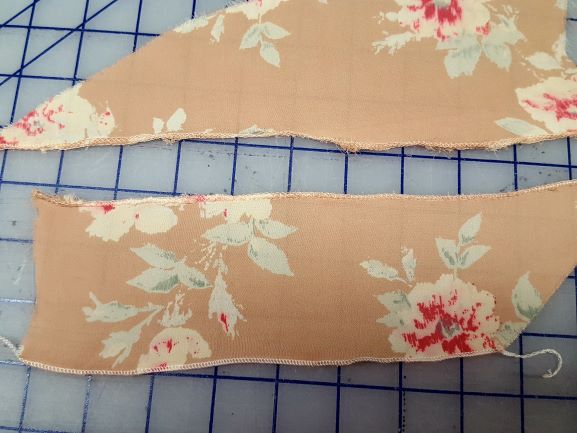 Before constructing the actual garment, make some samples with fabric scraps to test the rolled edge seams and edge finishes.  Decide which color thread to use and make sure the tension is correct for this technique with your chosen fabrics.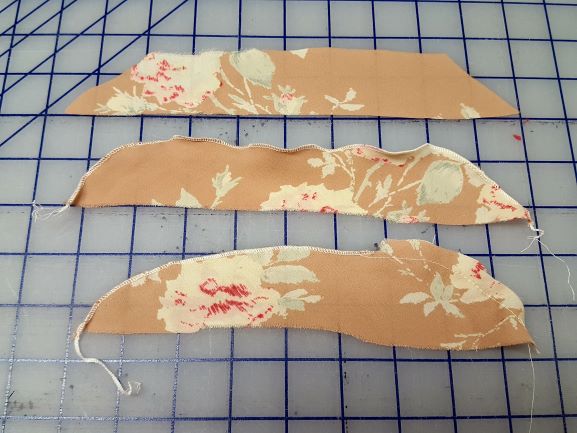 The rolled and ruffled band is particularly tricky since you are rolling a silky bias cut strip.  Be sure to use the template that gives you a straight of grain beginning and ending.  It makes getting started and finishing the band sections a little easier.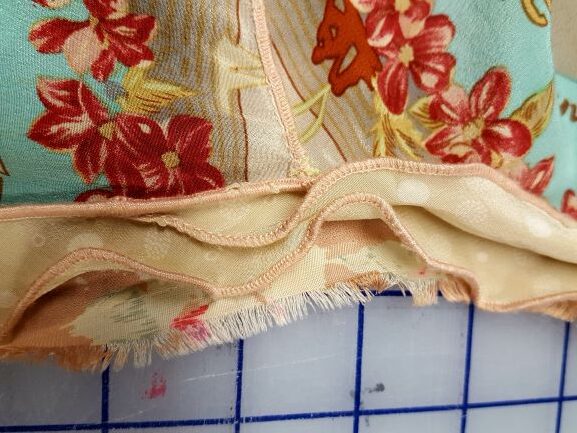 Closures
Tops made with the swing variations often have no closure, they just sit on the body softly and look effortless.
For this top, I added a pair of purchased bead and ribbon tassels to the inside front.  It gives a little weight and holds the top together when I want to be closed up, but when I don't tie the tassels you don't know they are there.
Make One for Yourself
Have you made any Swing Variation tops with your Tabula Rasa Jacket?  Summer is a great time to play with these pattern pieces and techniques.  Plus, you can purchase the downloadable pattern and start sewing immediately.  Be sure to read all our tips for cutting and sewing on these fabrics in the Design Section of the direction book.  After you download it, read it on the computer or print it, as you prefer.
Take a look at our Swing Variations Trunk Show video for more inspiration and as always, send us a photo of your new creations.
Stay Well and Sew Happy, RAE