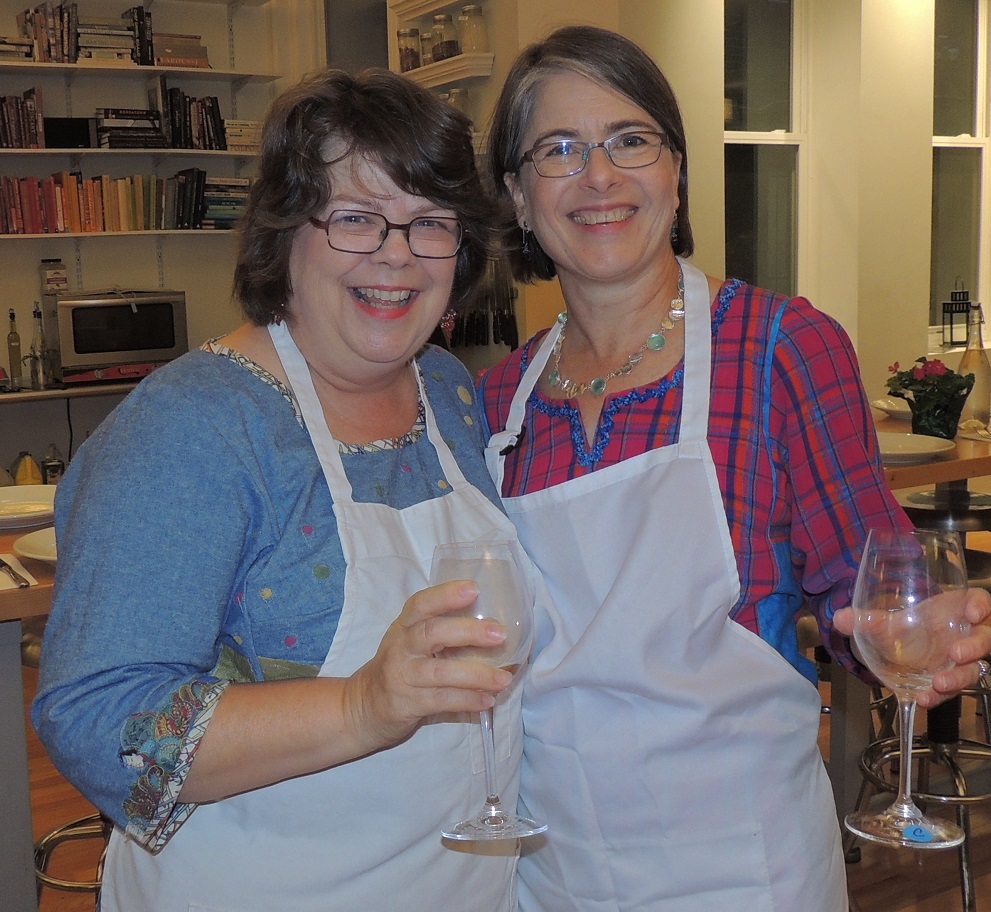 To assauge our disappointment at missed travel this summer, we are taking you on some of our trips from years past.  For both Rae and Carrie, travel usually involves fabric shopping and later, with any luck, sewing!  Come along this week as Carrie reflects on the textiles she savored on a few trips to Southeast Asia.
Malaysia
I first traveled to Malaysia in 2015 to visit my daughter who was living and teaching there for a year.  (She called it a good "starter country" for traveling to Southeast Asia, but I'm not so sure I'd agree with that.)  We started in Kuala Lumpur and traveled around to Penang, Kelantan, Sarawak, and Malacca.  In KL we toured the Islamic Arts Museum of Malaysia where we saw some stunning textiles and garments.  In Sarawak, we toured a weaving school, Tanoti Crafts, where young women were learning those old weaving techniques in impossibly fine silk.
In our travels and shopping, we did pick up some more affordable cotton and rayon batiks.  One of Meg's fellow teachers gifted me the sarong that became Bronze Beauty Tabula Rasa Jacket.  Other pieces I purchased have been sewn into the Malaysian Batik Shirt and the TR Camp Shirt.
Most recently I had fun creating myself a bathrobe out of a "baju panjang" (the local term for the sarong equivalent) purchased in Malacca, which you can see below.  The robe is based on a lengthened Tabula Rasa Jacket, making the fronts and back wider than usual to create more ease and allow me to wrap it.  I spent a good bit of time laying out the pattern pieces to take best advantage of the front panel and the borders, and was just able to get it all in.
I was pleased to able to run all the hems (sleeves and body of the robe) on the outer borders with enough left over for the band.  I extended the fronts to achieve good coverage and was also able to line up the outer front edge on ta border along the central panel.  Because I ran every piece to the very edge of the fabric, I faced the hems, shoulders and front band with leftover shirting in white and matching blue.  I even squeaked one inseam pocket out of the scraps.  I have a few more of these cotton batik sarong fabrics awaiting inspiration and opportunity; they are a fun challenge to work with because of the panels and borders in each uniquely handmade piece!
Indonesia
Last summer I spent a few days on Bali on our way to an Indonesian diving trip.  Amongst the kitschy tourist shops, I finally found Threads of Life Indonesian Textile Arts Center.  The Center is dedicated to promoting and preserving traditional textile arts.  They help to form weavers' cooperatives to facilitate transfer of skills between generations and to support weavers by selling their crafts.  Each piece for sale in the small Ubud gallery identifies the weaver by name, island home, and the nature and function of the piece.
Later we visited a batik workshop, Batik Popiler, where we saw artisans at work both hand painting wax designs with the tulis and printing wax designs onto fabric with wooden and copper blocks.   They had a shop full of beautiful silk and cotton batik products and fabrics, too!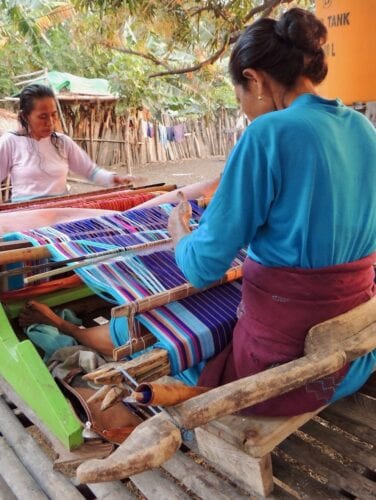 While we were cruising on our dive boat, we stopped in at a very rustic village on the shore of a volcanic island (still puffing smoke and ash).  The women in the village were weaving brightly colored fabrics on basic backstrap looms.  These pieces were orignally created for their own wear, but had become a source of income for the village.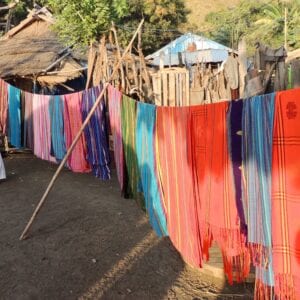 It was a pleasure to support their efforts by purchasing a few scarves and larger pieces!  One of those pieces was sewn into a brightly colored (pink plaid) tunic for my birthday celebration last year, and the other I have recently made into a cool summer dress (blue and green stripes).
I enjoyed the journey back through our photos to search for illustrations for this post.  I hope you'll have a chance for some armchair traveling this summer, if not the real thing.  We'd love to hear about your sew and travel adventures!
Happy Sewing, Carrie