Here is the story of two pairs of pants. I have been longing for them all fall and winter but could not find the time to make them.  One pair a grey performance knit Eureka! exercise pants, the second pair, narrow Eureka! Pants in navy stretch faux suede.  Indulge me this missive about pants making, a skill that I have enjoyed developing, but be mindful that I did not photograph these events and photos of wardrobe building pants are not very interesting!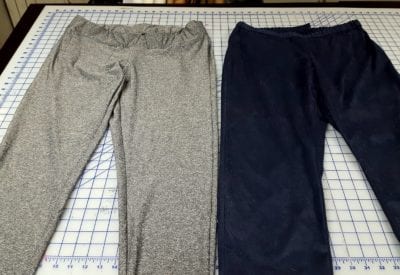 My pattern collection includes two patterns for Eureka! Pants made with stretch fabrics. One is for woven fabric with spandex.  It is narrower through the legs than my basic Eureka! tapered pant.  The second pattern is an even narrower version of the woven/spandex pattern with the Glamour Details contoured waistband filled with 2" elastic.
Basic Pant Sewing Information
When I teach Eureka! Pants basics, we always have a conversation about using fabric with spandex to get a close fit, essentially creating a skinny Eureka! Pant.  It is wise to adjust the pattern incrementally as I did; begin with your well fitting tapered non-stretch pattern then develop one for fabrics with a little stretch and finally a pattern for fabrics with lots of stretch.
The other conversation I have with students is about pants fabric in general.  It is my observation that each new fabric feels and hangs differently when making pants so there might have to be adjustments made.
Now, about my pants
I finally made the navy faux suede stretch pants about 2 weeks ago.  My wardrobe was in need of non-denim blue pants for winter.  There are many Tabula Rasa Knits and Tabula Rasa Jackets in my closet that I wanted to wear for occasions where denim was too casual but silk was too dressy.  I purchased the faux suede from Vogue Fabrics at last year's Original Sewing and Quilt Expo in Atlanta, thinking it was perfect for cold weather.  It had been pre-washed and was calling to me from the shelf all through the fall.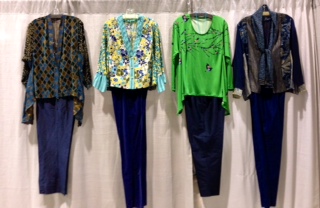 I got out my pattern for stretch wovens then cut and stitched up the pants.  I did cut generously since I had not used this type of fabric before.  As always, the new pants went together smoothly, though the zipper was a bit of a challenge to insert.  When I tested the fit, I found them to be uncomfortably close fitting in the legs.  The fabric felt like it was clinging to my skin.  Before I finished them, I released the side seams as much as possible so the pants felt better.
The next day I cut and stitched up my new exercise pants using my very stretchy spandex pattern.  This fabric was very slippery.  Although the pants are much smaller than the faux suede pants, they feel way too big and long.  I can abide a pant that is too big more than one that is too small so I have not yet altered them.  After wearing and washing them, I will decide if they need to be reduced.
Why do the pants fit differently?
If you put the two pairs of pants next to each other on a flat surface, this would be surprising.  How could one pair feel so tight and another so loose?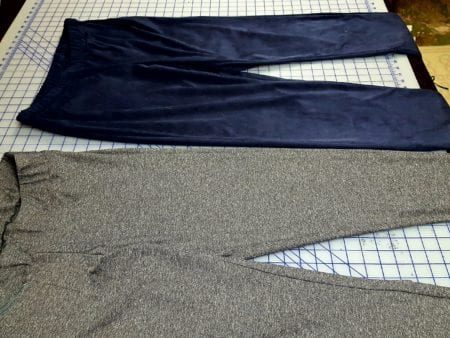 The answer is in the nature of the pants and my personal fitting preferences.  The fabrics fall on the two extremes on the stretch fabric spectrum.  They have reminded me that it is critical to carefully assess fabric before cutting and sewing.
Tips for Sewing Great Fitting Pants
Adopt these suggestions to sew pants successfully:
Make peace with the fact that even though you have a great pattern, you might have to tweak the fit from one pair to another.
Treat each experience with a new fabric as a big adventure in your personal pants journey.
Use your scraps to make samples of seams, etc to assure that your construction will be smooth and effortless.

Samples I made for these two pairs of pants.

Construct your pants so they are not difficult to alter. Do not serge off all your seam allowances when you are finishing your seams.  Press open your inseams so they can be shifted easily toward the front or back in the crotch seam. Avoid topstitching seam allowances flat.
Don't skip the step of trying on the pants before hems and other finishes are applied.  Make changes if necessary to honor your fitting preferences.
Allow enough time to make adjustments if necessary, but adjust in a measured fashion.
Honor your personal preferences – even if the current style is really snug pants, yours do not have to be form fitting if that does not feel right for you.
Here is a photo of Laurie, a pants student in my Red Stone Glen Eureka! pants class this weekend.  She is wearing her new pants and the Tabula Rasa Jacket she made last year.  She likes a really relaxed fit.  She might even release the taper a bit more in the legs to satisfy her personal preferences.
Come Sew with Fit for Art
Some of these suggestions have to do with improving your sewing skills and some with amending your mindset with regards to your sewing adventure.  As you sew, learn to relax and enjoy the moment!  Join us at one of our retreats so you have a partner walking beside you down the Eureka! Pants path.  Take an Expo class in Puyallup, Atlanta or Cleveland on Pants, Wardrobe Planning or Fitting to consider your personal fitting preferences and establish a sewing agenda. There are still a few places in the Atlanta OSQE More the  Day Before Eureka! Pants Class so sign up now.  Hope to see you soon.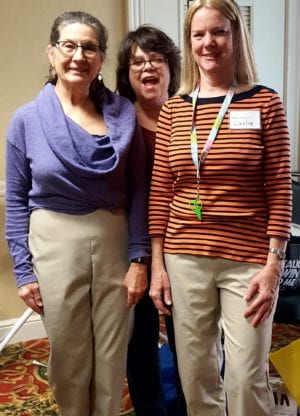 Happy Sewing, RAE
Keep an eye on Facebook and Instagram to see photos of me wearing these fun new pants.