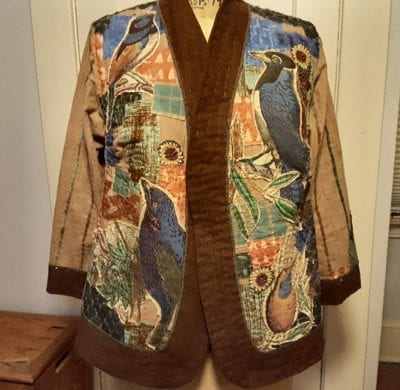 A Boro technique Tabula Rasa Jacket takes many hours of hand stitching and, before that, some careful thought regarding design and composition.  Fortunately, I did not have to pick a pattern because my trusty Tabula Rasa Jacket (TRJ) pattern was perfect for this patching technique which I mixed with raw edge collage.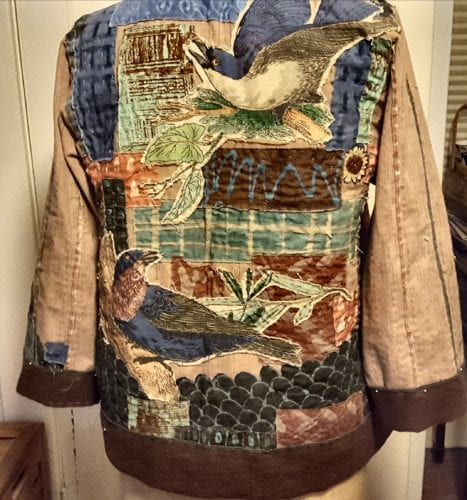 In honor of my Fashion Forward Quilted Jacket trunk show scheduled for Friday morning on the Sewing and Stitchery Expo stage, I have been racing to complete this fun jacket.  I started it in earnest at our 2018 August retreat.  You can see the early work in my Yay! For Mary Ray post from January 2019.  If you follow Fit for Art on Facebook and Instagram, perhaps you are already sick of this jacket's slow assemblage.
Constructing the Jacket
Over the last few weeks I finished the boro stitching on the fronts, cut and stitched patches to each side, added serged stripes to the sleeves (more on this technique later), and assembled the jacket.  The raw edge construction seams and patches are lapped over the machine stitched lining seams for the final patching flourish.
Finishing the Edges
I had a large pre-washed piece of brown linen identified for the band finishes.  Visit my quilting Ideas Pinterest page and see if you can find the two jackets that inspired the shaped bands.  I created the band pattern last week and identified the serger stitch that I wanted to use to finish the band's raw edges.
Sunday was scheduled to construct and apply the bands.  It started smoothly, but soon slowed to a crawl when the loose weave of the curved linen band began stretching out of shape.  Time to slow down and do this carefully.  After testing some stabilizing techniques, I decided to fuse some narrow bias stay tape all around the band's inside edge which was to be finished with the serger and then boro stitched to the jacket.  Next, I hand basted the flannel filling to the underside of the shaped band to stabilize it before serging the raw edges.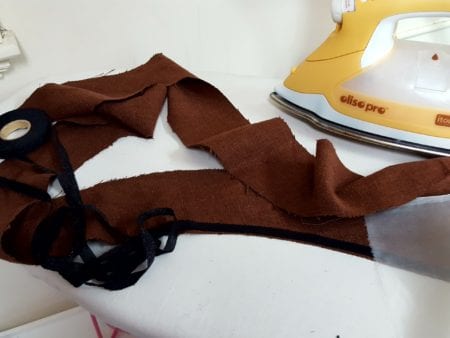 Considering the care and hours already invested in this jacket, it was worthwhile to spend a little more time for excellent finishing touches.
Choose the Final Sleeve Design
Now it is your turn to help me know when enough is enough.  Which sleeve do you like better: one with stacked patches, one with scattered patches, or one with no patches?  I am counting on your feedback to get me to the end of this satisfying project.
If I cannot get to these final cuff details in the next two busy weeks, I will finish the handwork on the airplane as we travel to Puyallup for the Sewing and Stitchery Expo. Hope to see you there, or at the Atlanta or Cleveland Original Sewing and Quilt Expo where I will be talking about this coat in my Embellish a Contemporary Wardrobe class.
Happy Sewing, RAE
Read more about the fabrics used in the 2015 Sew! Let's Get Dressed post Quilted Jackets for Fall, and the collage placement in Coffee and Collage from spring 2019.