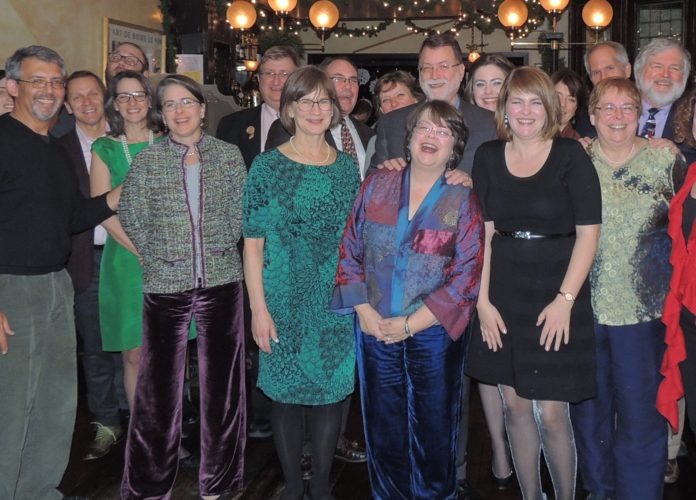 As we prepare for the Fall Original Sewing & Quilt Expos, we are planning a new trunk show to introduce newcomers to the benefits of sewing with Fit for Art as well as to entertain our existing friends.  Maybe you've seen Four Seasons of Jackets from One Pattern, Simple to Simply Amazing, or Three Core Patterns – One Great Wardrobe in the past.  This year, in search of a new angle to illustrate the versatility and adaptability of Fit for Art patterns, we are presenting "Around the Clock with Fit for Art."  If you are attending an Expo, we hope you'll enjoy this trunk show of comfortable and flattering outfits for your activities through every part of your day.  For those who won't see us at an Expo, we hope you'll enjoy this preview of ensembles for morning and evening.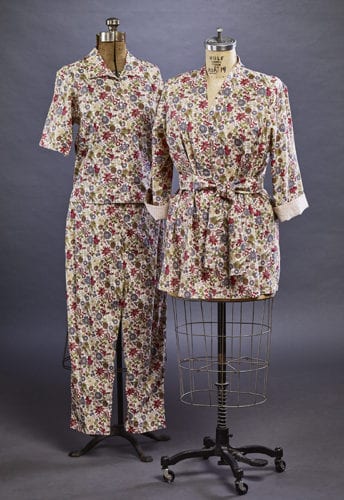 My mornings start with a trip down to the kitchen to feed our cats, start the coffee and tea, and pick up the morning paper, inevitably still in my night clothes.  Look for me spring and fall wearing my Fit for Art Pajamas in light cotton lawn.  I have adapted Shirt Variations for the Tabula Rasa Jacket to create a charming short sleeve PJ top with a spread collar and sweet pink buttons.  The PJ pants come from my Eureka! Pants that Fit elastic waist version, substituting a drawstring for the elastic.   Many an evening and morning that we are on the Expo road, I find Rae cozily wrapped into her Tabula Rasa bathrobe from the same cotton lawn.  The robe features a contrast fabric in the shawl collar band from Band Variations for the TRJ and the sash ties from our free download Wrap It Up.  You can read details more about these bedtime fashions in our blog post,  Fit for Art Pajamas and Robe.
For evening, let's look at fun wear for special events.  While Glamour Details for Eureka! Pants that Fit was in the conception and development stage, I made purple velvet wide leg pants with a contoured waistband to dress up several jackets and tops.  Rae made deep blue velvet pants with her classic 1" waistband with an elastic insert instead of stiffener.  You can read more about our experiences sewing with velvet in the blog post, Trendy Velvet Pants.
Whether you dress them down or dress them up, velvet pants always feel luxurious and look special! In this photo, we are both wearing our velvet pants with soft Tabula Rasa Knit burn-out velvet tops.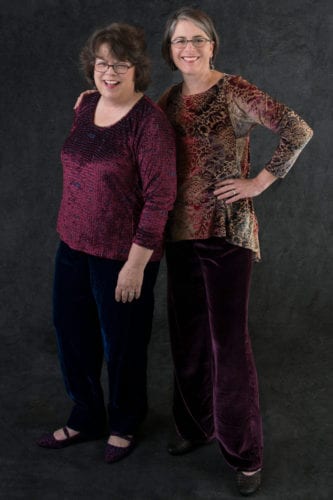 I have worn mine with a sheer silk Tabula Rasa Jacket with Swing Variations, as in this photo taken at a friend's wedding.  Our good friend Susie is also sporting a beautiful Tabula Rasa Jacket in silk ikat.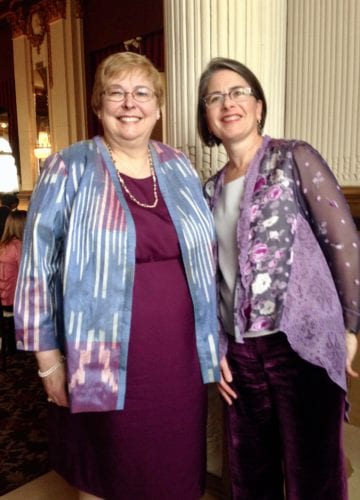 For other special occasions, the purple velvet pants have paired magnificently with Carrie's French style Tabula Rasa Jacket.  Rae's French Jacket also looks stunning with her blue velvet pants.  The tag "French jacket" in our blog archive will take you to several posts about creating these beautiful, labor intensive, soft bouclé jackets.
If you are attending the Original Sewing and Quilt Expo in Cincinnati, OH, Fredericksburg, VA or Novi, MI, come enjoy our trunk show at the Expo Stage or Spot, and rest your feet into the bargain.  There will be many other "Around the Clock" ensembles to inspire you!
Happy Sewing, Carrie