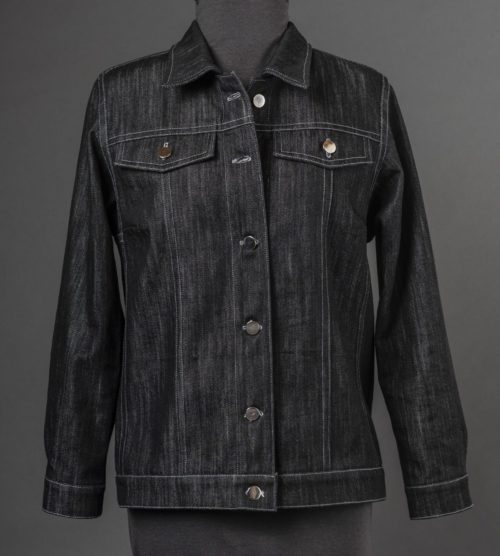 Our newest pattern, Jean Jacket Variations for the Tabula Rasa Jacket, has all you need to make a classic-style jean jacket!  Today we are going to take a closer look at a few of the details on the classic Jean Jacket Variation.  Our step-by-step photos will show you how to create these authentic features.
Ready-to-wear jeans and jean jackets typically feature 2 parallel rows of topstitching on most seams; these are flat-felled seams, which are very sturdy and encase all the seam allowances.  This is not as easy to do on your home machine, especially with heavy denim, so we give you instructions for sewing either a true flat-fell seam or creating a faux flat-fell seam; both methods look the same on the right side of the garment with 2 rows of topstitching.  I found the true flat fell seam easy enough to execute on the vertical seams dividing the lower fronts and back, but much more difficult to maneuver when setting the sleeve and side panel into the body, and nearly impossible when stitching across thick seams, such as along the yoke.  I have used a mix of both techniques on a single jacket, which you may also find to be a good compromise.
For a faux flat-fell seam, simply:
Sew a regular seam, right sides together;
Press seam allowances to one side;
Clean finish both seam allowances with a serger, zigzag stitch, or your preferred method;
Sew one line of topstitching close to the seam, catching both seam allowances;
Sew a second line of topstitching about ¼" away, also catching both seam allowances.
Step by steps for the true flat-fell seam are included as a sidebar in the instruction book.  Here are photos of those main steps:
The Jean Jacket breast pockets are constructed in the same way as the fingertip pockets in our Glamour Details for Eureka! Pants that Fit, adding a flap after the pocket is complete.  Begin by pinning one pocket lining to each lower front, right sides together, centering it on the vertical seam between the lower center and side fronts.
Stitch along the stitching lines you marked when you cut out your pocket pieces;
Clip into the corners, getting very close to the stitching line, and grade seam allowances;
Turn pocket lining to the wrong side of lower front and press into place;
Topstitch the pocket opening about 1/8" from the finished edge;
Pin a pocket bag to each pocket lining, right sides together, and stitch around the 3 sides of the pocket bag;
Clean finish edges of the pocket bag.
Now you are ready to baste the prepared pocket flaps into position over the pocket opening, again centering the tip of the flap on that vertical seam.  Make sure you have sewn the buttonhole on each flap before inserting them into the fronts!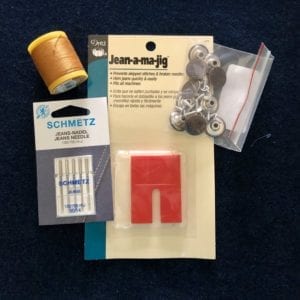 For the upcoming Original Sewing & Quilt Expos we have put together a Jean Jacket Tool Kit with the essentials for sewing a classic jean jacket.  It includes a package of 5 denim machine needles, a dozen jean button tacks, classic orange topstitching thread, and a Jean-a-ma-Jig. The Jean-a-ma-jig is a tool to lift the presser foot when stitching across thick seams which helps to keep your stitches even.  We will have these kits for sale at the Cincinnati, Fredericksburg and Novi Expos with a selection of different jean tack colors.  If there is a demand for the kits, we'll make them available for purchase online, so let us know if you are interested.
Can't wait to see your version of a Tabula Rasa Jean Jacket!  We hope you'll be inspired by all of the Jean Jacket Variations in our photo gallery.
Happy Sewing, Carrie