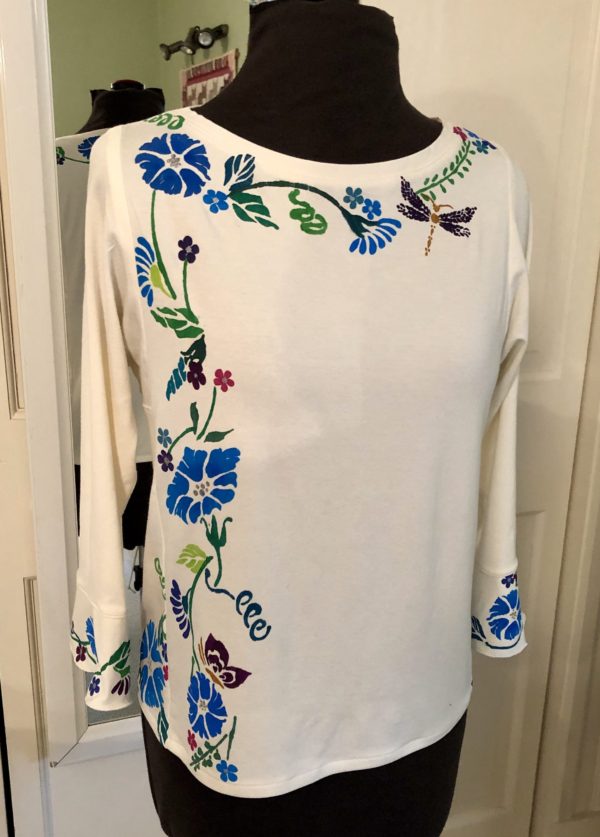 Welcome to Sew! Let's Get Dressed, a weekly blog that encourages you to sew successfully. 
Inspired by Rae's gorgeous painted knit dress that appears in the September 2019 issue of Threads Magazine, I finally took the time to paint a Tabula Rasa Knit Tee for myself with our fluid textile paints and rayon knit solids.  I commandeered the dining room table for a week while my husband was out of town, allowing me to spread out all the tools and pattern pieces and take my time to savor the gradual painting process.
I chose to work on our solid ivory knit.  Rae has written about painting samples on a rose colored knit, Fantasy Flowers Painted Tee, and on solid black knit, Ginkgo Leaves at Night Tunic; since the appearance of the paint colors are affected by the color of the fabric, we wanted to explore ivory as a base.
I had planned to work primarily with the Morning Glory stencil from Laura Murray Designs, adding a few leaves and vines from other stencils in our collection, to paint my ballet neck tee with a flared cuff, both features from Wide Neckline Variations for Tabula Rasa Knits.  Here you can see the first few motifs on the front and back of the tee along side the tools and paints.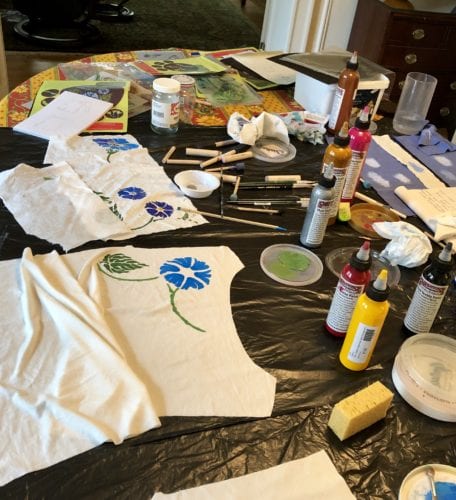 As I continued painting the primary motifs onto the side panels and cuffs as well as front and back, I decided to add some smaller elements in order to fill in and achieve the vining effect that I was after.  I brought in floral elements from the Chrysanthemums and Sunflower stencils, and eventually also added a dragonfly and butterflies to my garden.
I worked primarily with the matte colors turquoise and lemon, with a little magenta for pink and purple highlights, occasionally throwing in a drop of white to lighten or blue to darken the shade.  Because each blend came out a little differently, I tried to make sure it appeared somewhere on each of the garment's sections.  I was happy with the variety of shades, but if you want more consistency, follow Rae's advice to write down preferred color combinations so you can recreate them.  As a final flourish, I added a bit of the silver metallic paint in the flower centers and gold metallic for the bodies of the dragonfly and butterflies.
Here is an illustration of mixing and stenciling with the paints:
After all of the pieces were painted, dried, and heat set, it was time to construct my tee.  In the process, I discovered that I had not stayed inside the seam lines as well as I thought; it would have been smart to take Rae's advice to thread trace or mark the seam lines on the knit pieces before painting.
I was nervous about wearing my beautiful top for fear of washing.  Rae suggested I first wash the scrap I used to test colors and stencils.  What a great idea!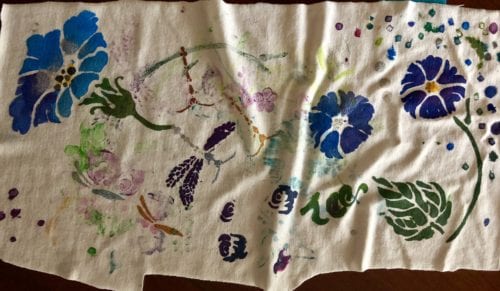 This test knit scrap washed just fine and gave me the confidence to start wearing and washing my painted tee.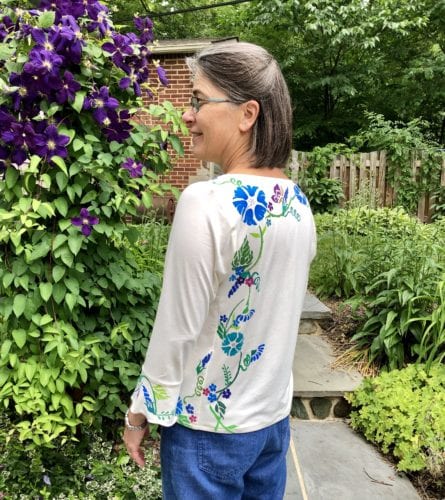 You can now order Fit for Art's rayon knit solids in four colors and the fluid textile paints in Matte and Metallic colors on our website.  We will also have the knit fabric and paints available for purchase at the ASG Annual Conference in early August along with some of Laura Murray's terrific stencils.  If you are attending the ASG Conference, you can register to take Rae's full day class Surface Design Fun or half day class Knit Embellishment and try painting on knits yourself!
If you want to play with our paints and tools or get guidance on any other Fit for Art project, consider attending our Sew Successfully Summer Retreat in August.  You'll enjoy some one-on-one assistance from Rae and Carrie among a community of fellow sewists.
Happy Sewing, Carrie