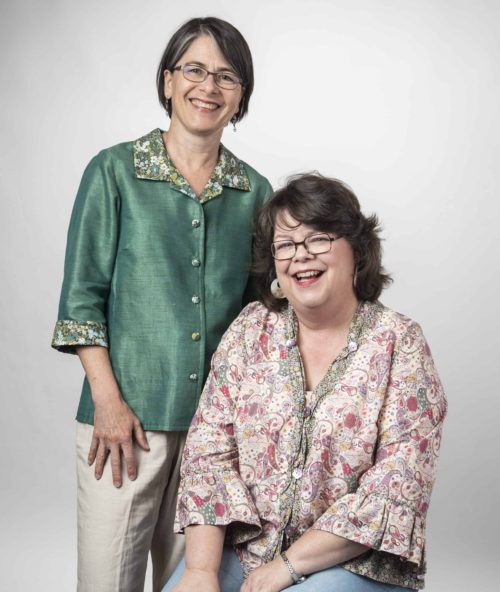 This week we are reaching back into the archives for a look at several summer weight Tabula Rasa Shirt Variations that we've written blog posts about over the last 5 years.  Hopefully these will inspire you to dig through your stash for some cotton or other light fabrics to sew yourself a seasonal new top!
Consider different ways to hem an unlined shirt or jacket as Rae presents several techniques in Hems for Unlined Tabula Rasa Jackets.  Learn how to make cuffed short sleeves and a notched shirt collar with Carrie's rayon Tabula Rasa Camp Shirt.  Engage in a bit of fancy as Rae did making this bright cotton print shirt with clever buttonhole frames on her Pear Shirt with Fancy Framed Buttonholes.
Rae's paisley lawn Liberty of London blouse features a ruched band variation in Hot Summer Sewing.  Carrie's Malaysian Batik Shirt features a shirttail hem and short sleeves with a reverse pleat.  Carrie's Meadow Green Shirt features a faced split hem, collar, cuffs, and buttons all in the coordinating Liberty cotton print.
The jewel neck version of Rain or Shine Variations for the Tabula Rasa Jacket is also a great source for light summer tops.  Carrie's Tropical Birds & Flowers top made from a batik sarong features the curved jewel neckline with piping and buttonhole loops.  Rae describes her lovely light blue and white Liberty of London cotton blouse featuring a banded hem and lantern sleeves in Curved Jewel Neckline.  Rae's Black and White Voile blouse features elbow length sleeves with a delicate trim and an organza rose.
Have some fun looking at these archived posts, get busy sewing, and then send us photos of you sporting your Tabula Rasa summer tops.  Post them to Instagram or Facebook with our hashtags #fitforartpatterns, #tabularasashirt, and #tabularasajacket to inspire our community of sewers!
Happy Sewing, Carrie and Rae