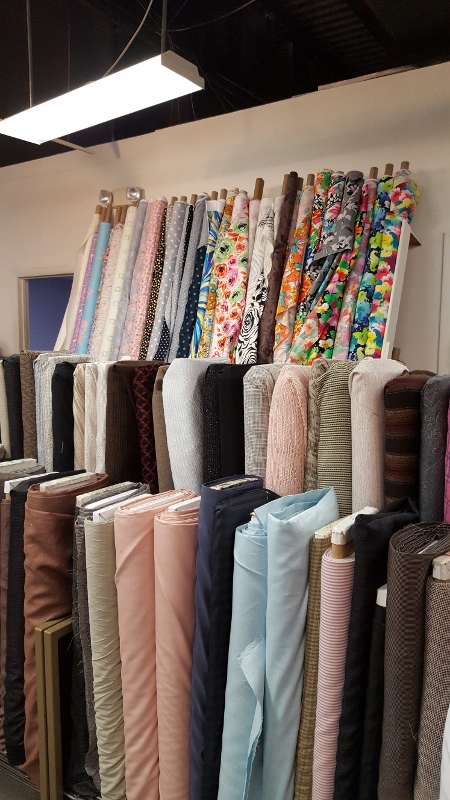 While we are on work assignments elsewhere, please enjoy this encore post with a few updates to keep you current.
What are some good sources for pants fabric?  This question has come from more than one of you and it seemed timely to think about summer pants fabric in particular.  Summer is fast approaching here in the northeast, so light weight pants are on my mind.
I feel fortunate that I do not have to dress professionally on a daily basis and even more so in the summer.  Summer pants tend to require more regular cleaning, so washable fabrics are ideal though often not office appropriate.
My favorite summer pants, which can be dressed up or down, are made with cotton birds-eye pique (preferably with a little spandex woven in).  I have pique Eureka! Pants in black, navy, and tan.  Whenever I see good quality pique that is sturdy enough for pants, I buy enough for two pairs.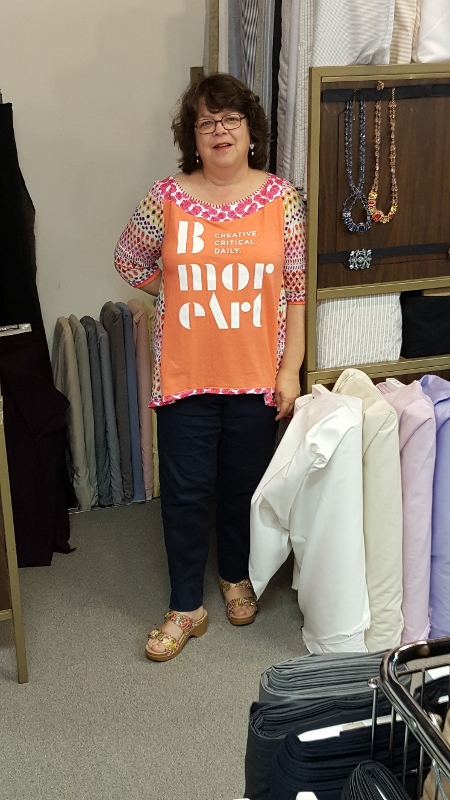 Cotton sateen is also a good choice for summer pants.  You can find these fabrics in a lot of colors and in colorful prints, usually with a bit of stretch in the weave.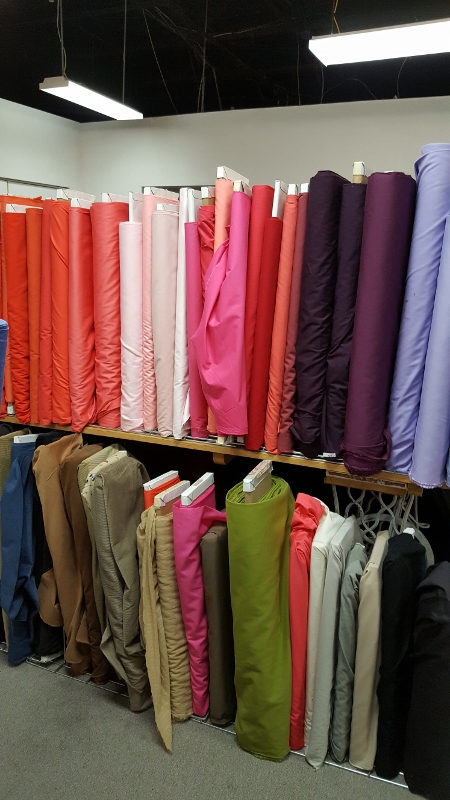 Cotton or cotton blend poplin and seersucker have been stitched into summer pants forever.  Linen is also a tried and true choice for summer pants if you don't mind looking a little rumpled!  Some linen blends or linen look-alikes are less wrinkly, but if they are polyester they will be less breathable.  They make me hot.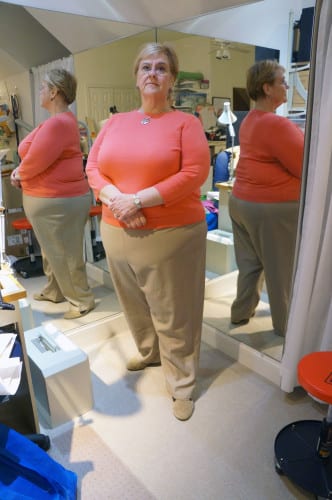 The trend for wider leg pants allows you to make pants in drapey solids and prints.  Rayon is a wonderful choice and comes in interesting prints and batik dyes.  Our Glamour Details for the Eureka! Pants now allows you to widen your Eureka! Pants legs to achieve this fashionable look.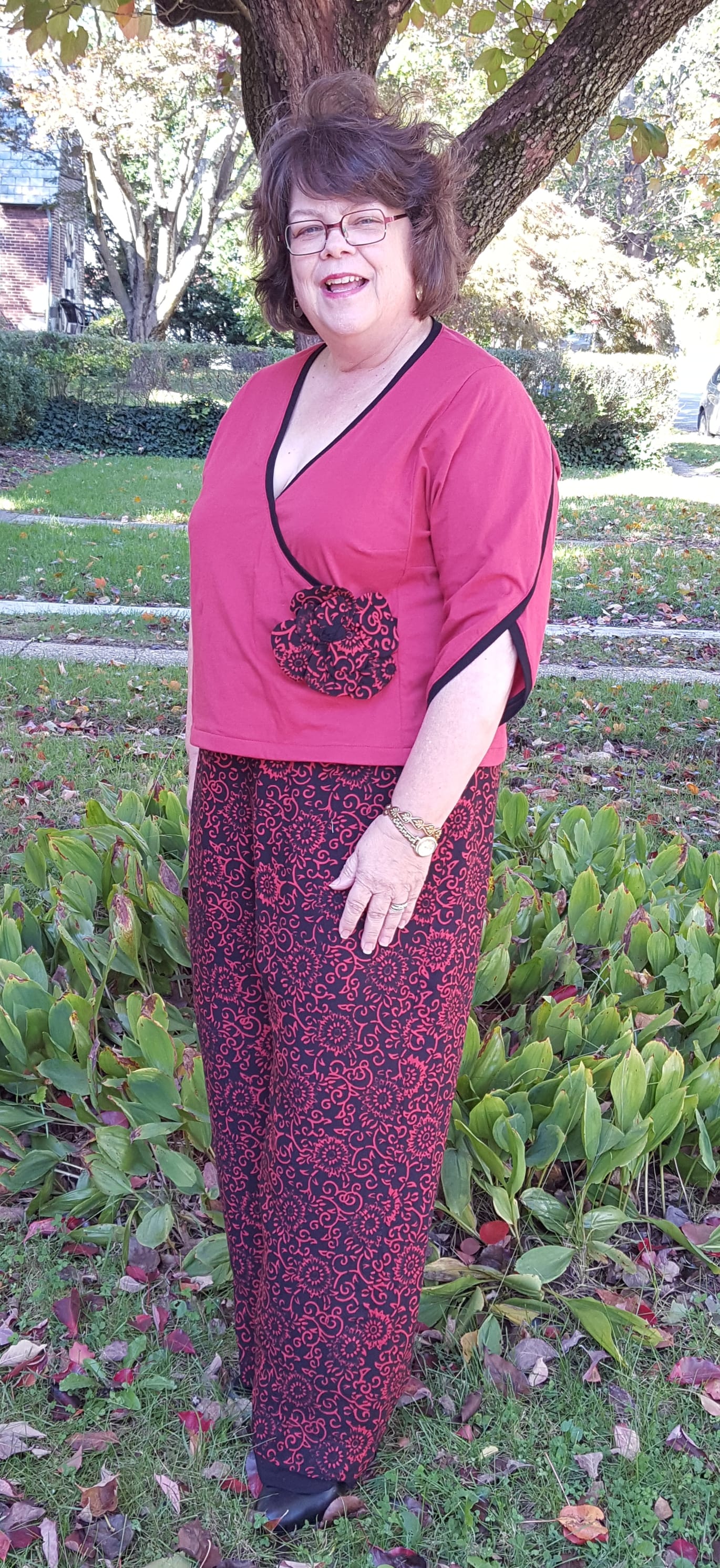 When I reflect on the pants I have worn out over the years, cotton lawn prints, cotton chambray or light weight denim, and crinkly cotton gauze can be added to the list.
We are fortunate to have A Fabric Place nearby where there is always a fine selection of pants fabric.  A Fabric Place also has an online store, called Michael's Fabrics.   Call the shop at 410 828 6777 and they will create a swatch set of great summer pants fabrics just for you.  Tell them your color and fabric choices for a complimentary swatch set.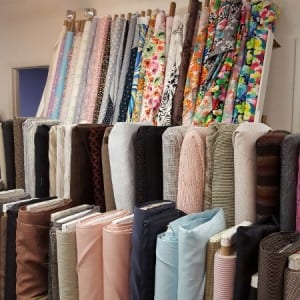 Big box sewing stores like JoAnn's often have fabric that works well for summer pants; you just have to look carefully.  JoAnn's seasonal collections this year feature some fun printed cotton sateen and rayon.  Check the bottom weight and linen sections for solid colors and drape the fabric in front of you to check for opacity and drape.
Another online fabric source we like is Sawyer Brook Fabrics.  The Sawyer Brook website has a nice feature, draping the fabric on dress forms so you can better assess its nature.  For a small fee they will send swatches in the mail periodically.  Their fabrics are always good quality and many are office appropriate.  Stylemaker fabrics also has great pants fabrics.
If you want rayon summer pants, Sew Batik has a nice online store with terrific garment weight rayon in prints and mottled solids.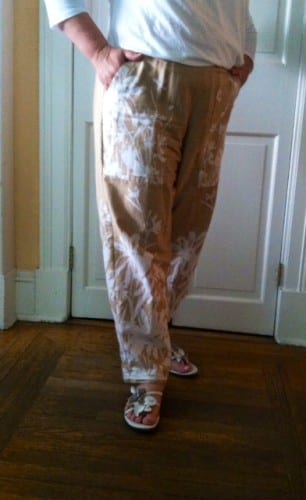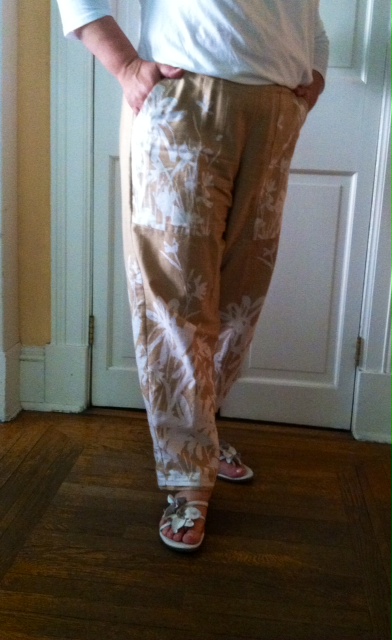 Make sure your pants fabrics are woven densely enough that you can't see through them, or consider underlining your summer pants in cotton batiste or broadcloth.  See our previous Sew! Let's Get Dressed posts on white pants and underlining pants for additional tips.
Once you have acquired some fabric, prewash it before you cut and sew.  Consider adding some fun summer details.  Shorten the length of your Eureka! Pants for a cropped look, or even shorts.  Carrie has written about modifying her Eureka! Pants pattern for capris and shorts. Or consider adding a slit to your summer pants.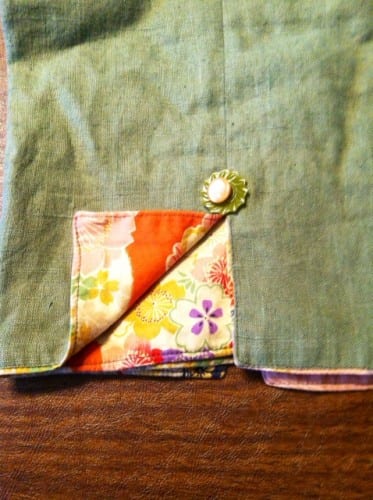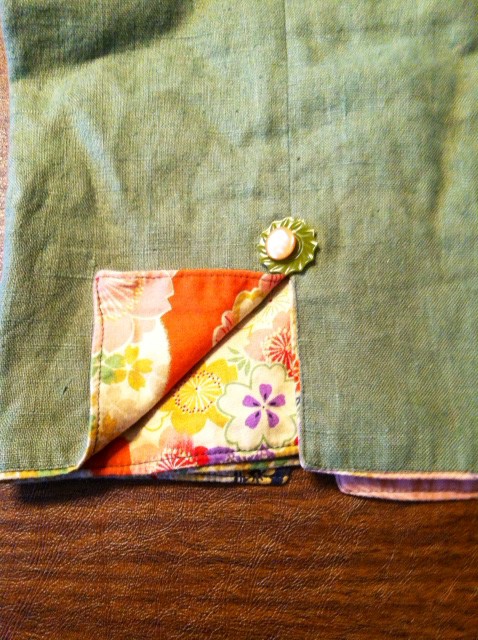 What summer pants have you made that you love?  Where do you get your fabrics?   Share your sources and photos of your pants with us and we will post them to Facebook.  You can  be inspired with new pants styles on my Pants Trends and Wide Leg Pants board on Pinterest.
Happy Sewing, RAE
P.S.  When this posted 3 years ago we were having our first August retreat in Baltimore.  This year our August retreat is Tuesday the 20th to Saturday the 24th.  We think it is the perfect place to move your Fit for Art wardrobe to the next level!  Register  now to come sew with us for 2 or more days.  Carrie and I will be by your side each day to help with fitting, variations, design ideas and more.