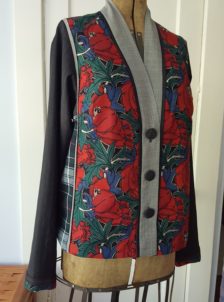 Everywhere we go we launch stitchers of all levels on their Tabula Rasa Jacket (TRJ) journey.  We think it is a fun adventure and we are glad you have joined us.  This fall marks the 7th year that we have been presenting our jacket at shows and stores near, far and online.  We are delighted that Threads Magazine is featuring the square armhole design in the current issue.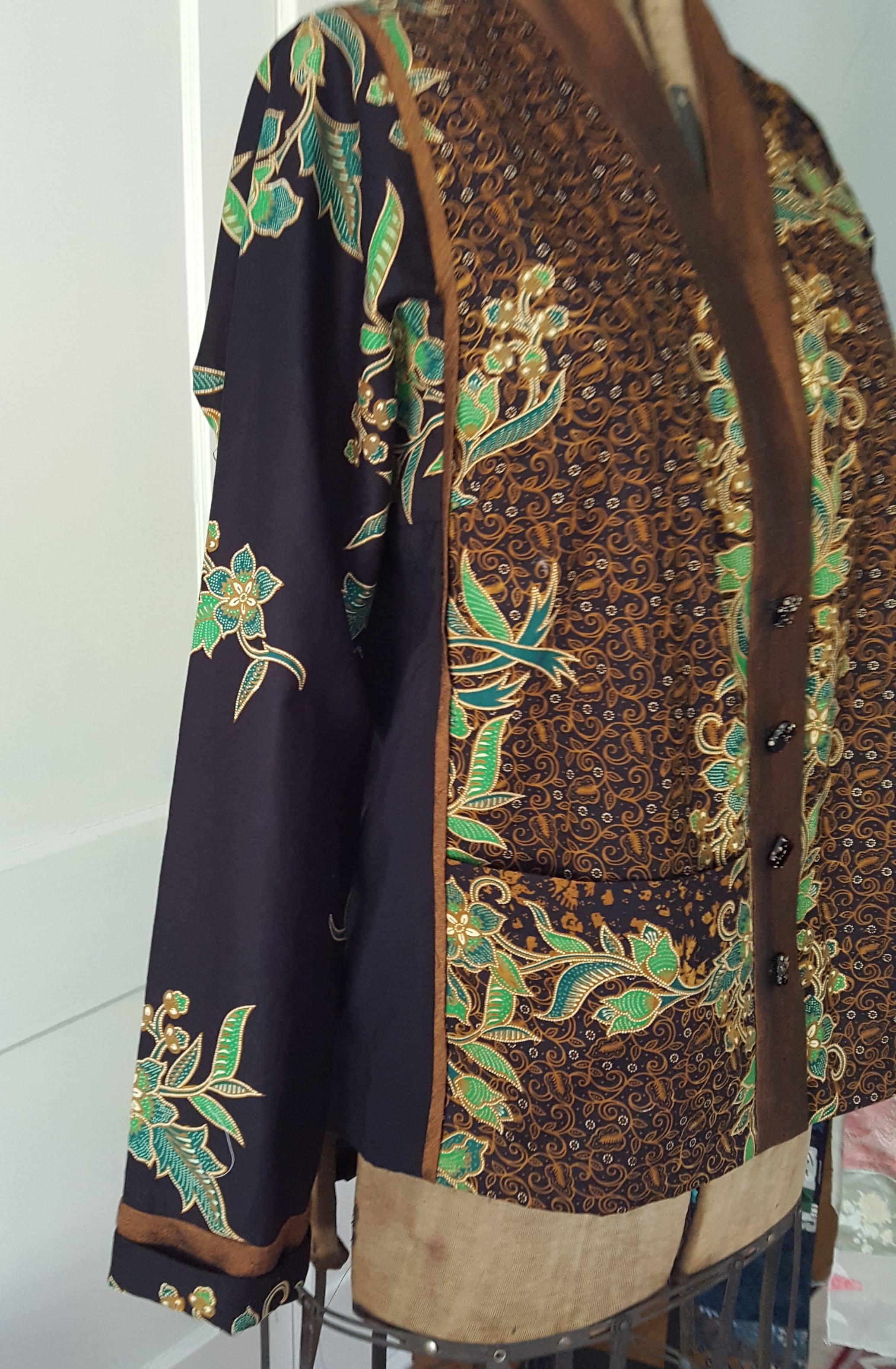 Here is a little TRJ trivia you might find interesting:
The multi-size pattern was developed in part with a grant I received from the Potomac Fiber Arts Guild to collaborate with quilters and weavers on jacket making.
The name, Tabula (tab-ū-la) Rasa (rah-sa) is Latin for blank or erasable slate. Fits, right?
We always encourage you to make a mock up decorated with all the horizontal balance lines and grain lines found on the pattern. This way you can check the fit, practice the construction and have a tool for future jacket design.

A beautifully fitting TRJ back from our Alexandria class.

The Common Fitting Adjustments for the TRJ found in the Helpful Hints for jackets tab will help you diagnose and nuance your jacket's fit. Just read the grid of lines.
The Jacket Help page under the Helpful Hints tab is full of additional great info to help you sew great TRJs, including links to video demonstrations of common fitting adjustments.
The Sew! Let's get Dressed blog will inspire you to design and sew a wardrobe of creative jackets and tops.  You can subscribe to receive the blog posts weekly in your e-mail and search the blog archive for relevant posts.
Our 5 TRJ Variations offer you endless styling options for your well-fitting jacket pattern.
As you begin sewing the simple to construct TRJ, allow your stash to speak to you in new ways.  You will come to appreciate the easy square armhole construction and the flattering side panel design.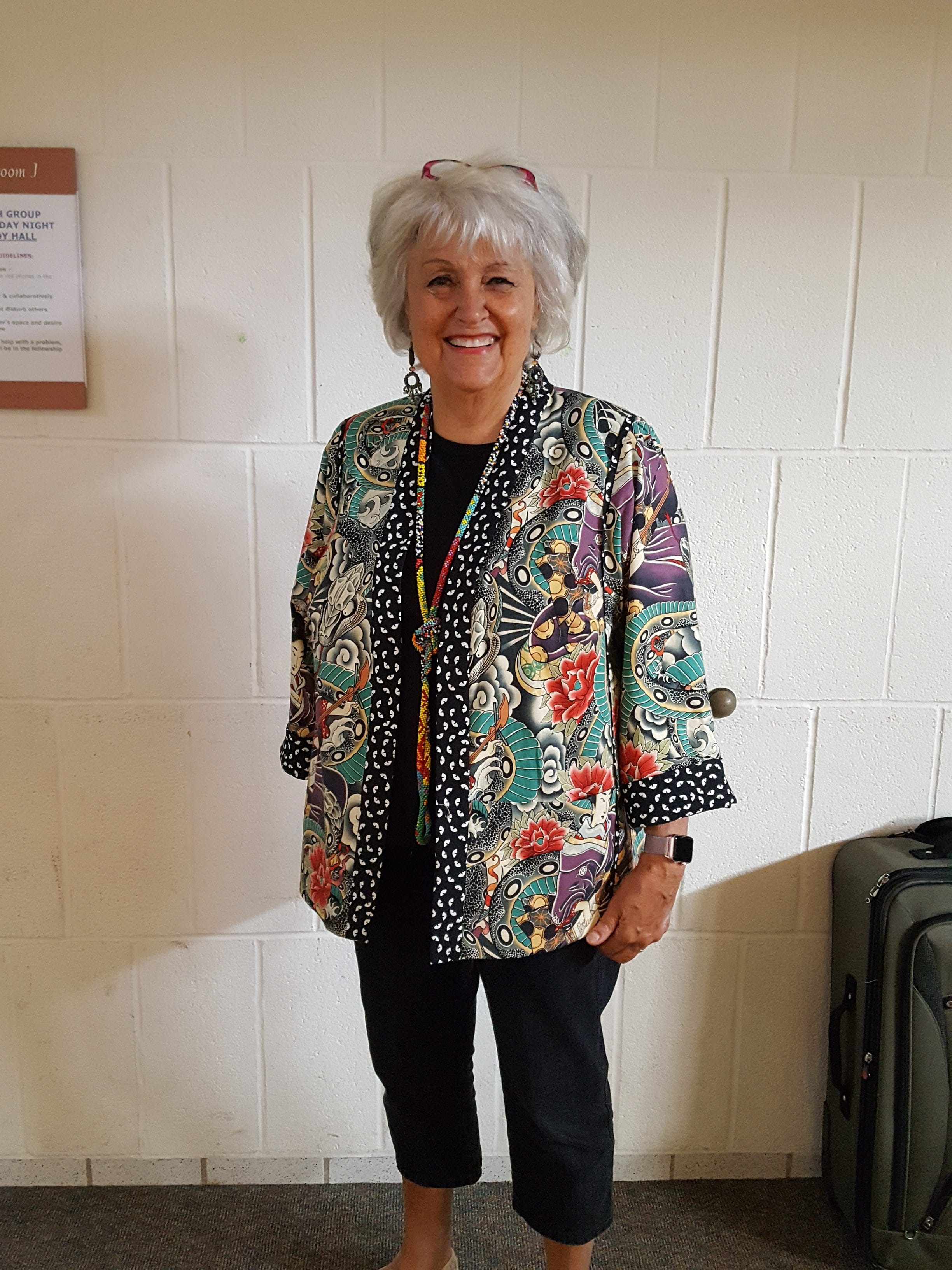 The basic pattern instruction book is so full of great information:
It walks you through the process of choosing a size and patterns options for your bust (Front AB or CD) and hip configuration (straight or flared Side Panel).
It gives you the information to create and position flat piping for your jacket, which adds an additional vertical design line that is so flattering. Piping can also be used to break up a busy print or divide prints and solids whose colors are not perfectly matched.

Just needs it's finishes.

You will also find directions to divide the jacket pieces for an artful look. The added bonus is that it is easy to incorporate your precious scraps into your jackets making them distinctly yours.
Begin with an unlined jacket, then increase your skills by following the directions to line a jacket.

A basic jacket made from assorted wool scraps and fully lined.

The pattern cover is not flashy, but it represents truth in advertising. No pictures of complicated jackets that are not described in the basic direction booklet.  A visit to our online photo gallery will introduce you to a number of ways to design and style the jacket, but it is best to start simply.  Then you can let your sewing mojo take over and your "erasable slate" pattern will become a comfortable go to shape as you fill your closet with Fit for Art creations.
Need to get started?  Purchase the pattern online, at a show, or from one of our Retail Partners.  Upgrade to a TRJ Starter Kit which includes the TRJ pattern, our favorite mock-up fabric, a Sew Successfully curved ruler, and a few additional goodies to assure mock-up making success.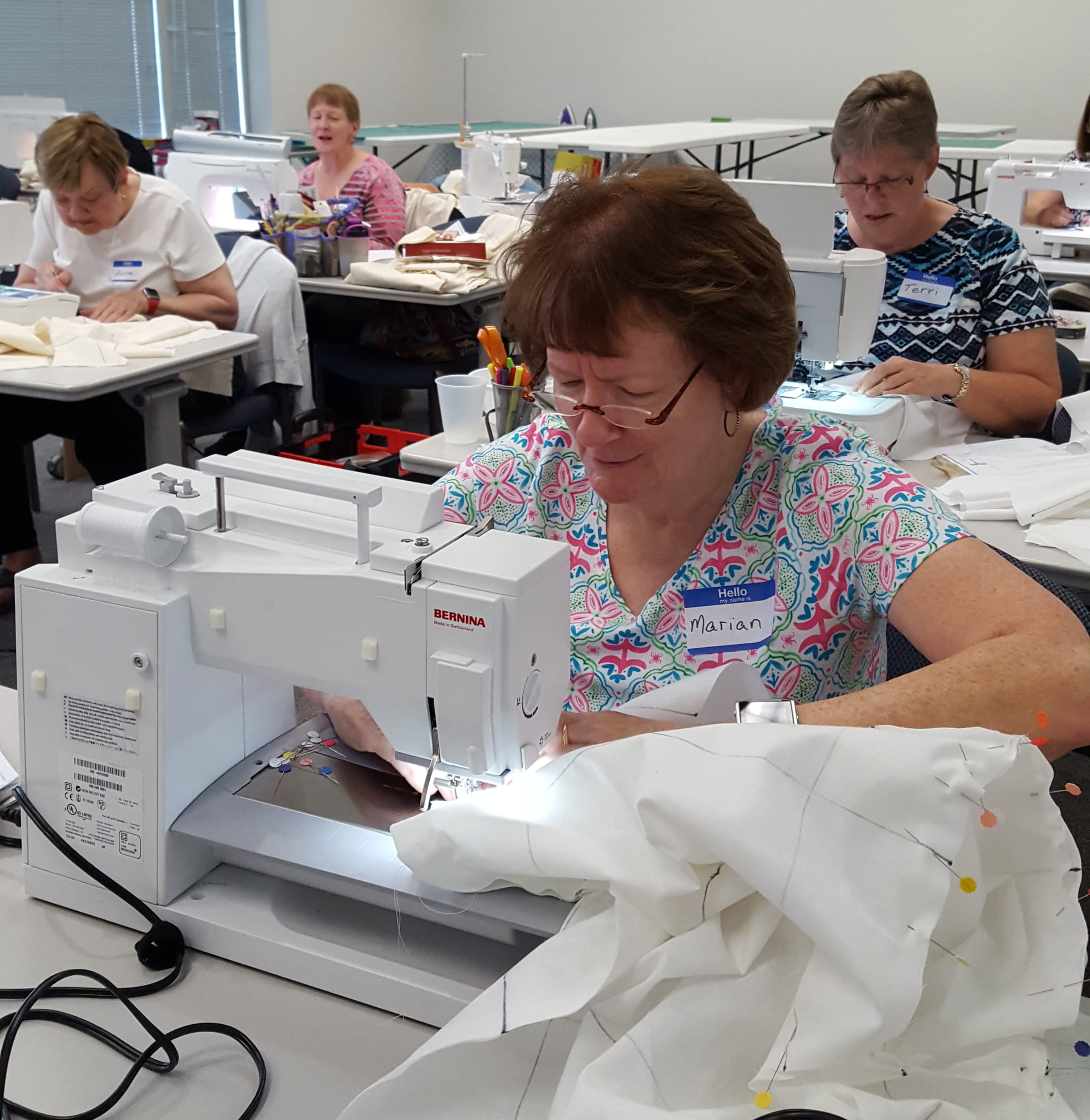 We have several basic jacket classes this fall if you want to work in a small group.  Take the two-day class offered at Danner's Bernina Shop in Hanover PA October 16 and 30.  Or join me at Red Stone Glen for a TRJ class November 3 and 4.  This new handweaving center, in the countryside near Harrisburg PA, is restful and inspirational.  If you have already started your journey with basic jackets, plan to join in the fun at Capital Quilts Quilted Jacket class October 11 and 12.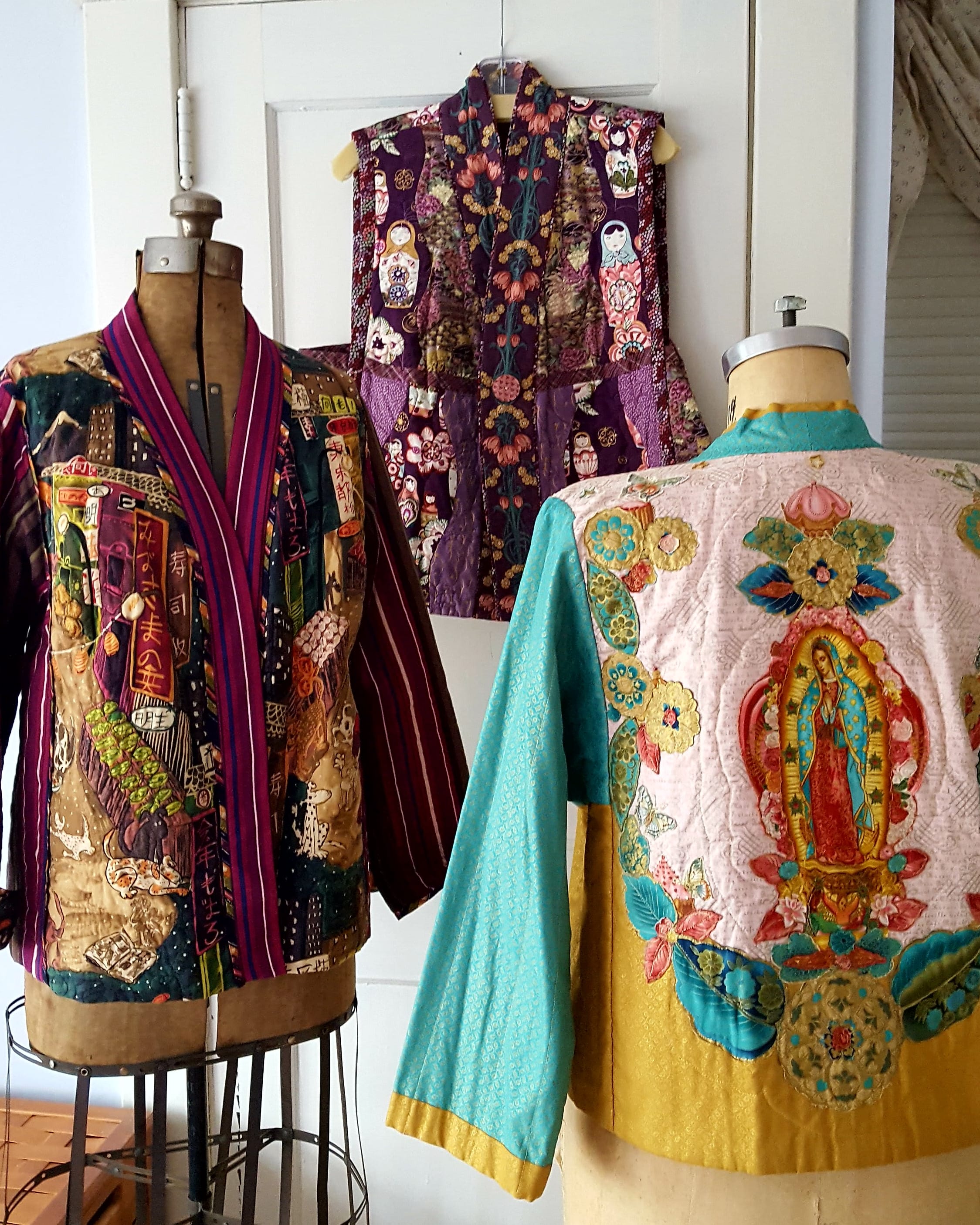 Visit our booth at the OSQE in Cincinnati OH and Fredericksburg VA in September for a complimentary jacket sizing with pattern purchase and to see many of our great samples, including the two jackets in the threads article.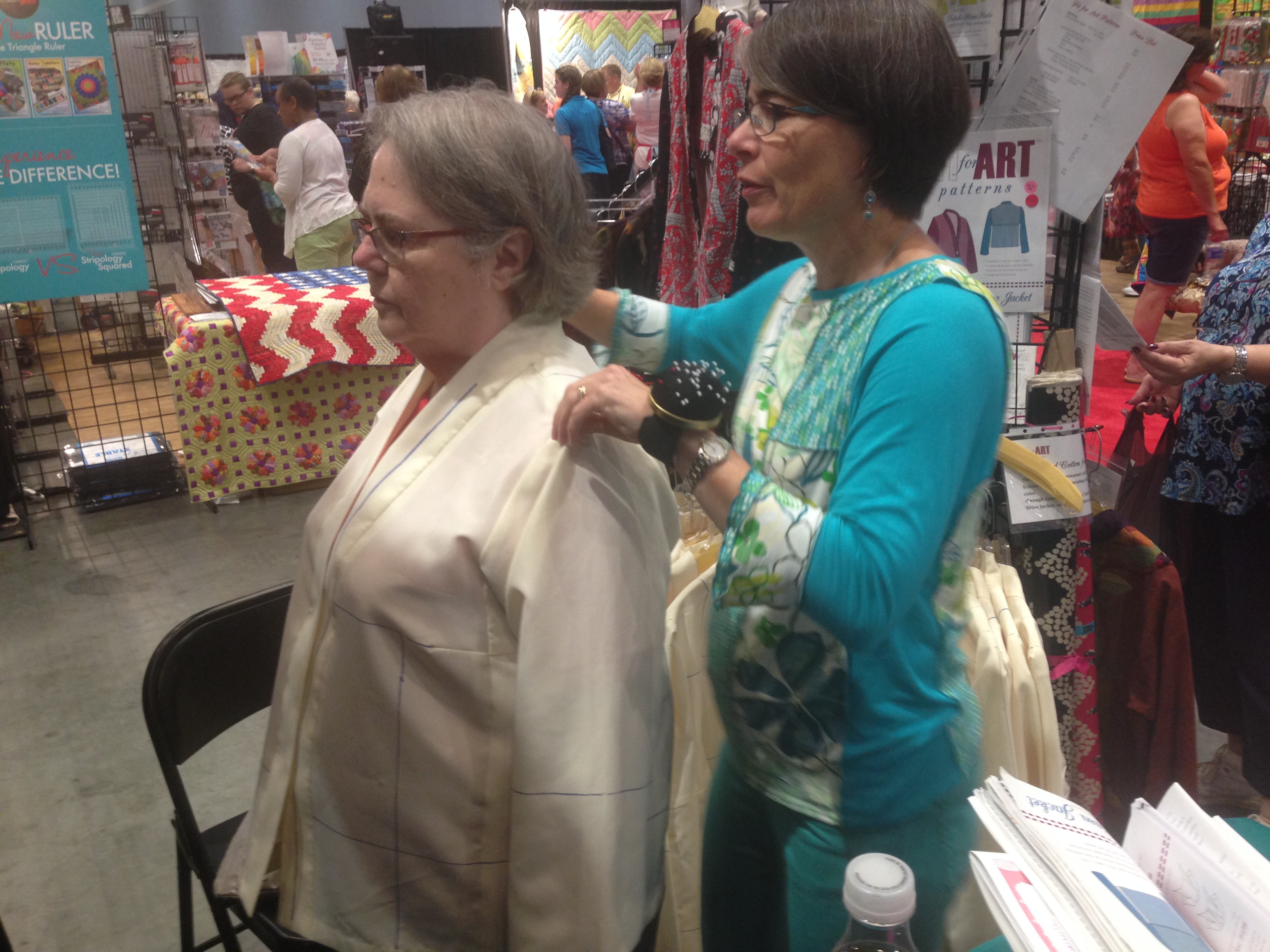 We met so many new friends at the ASG conference in Las Vegas in July.  Let this post inspire you to get started on your mock-up.  Fall is a great time to design and sew new TRJs and we know you will enjoy the journey.
Happy Sewing, RAE