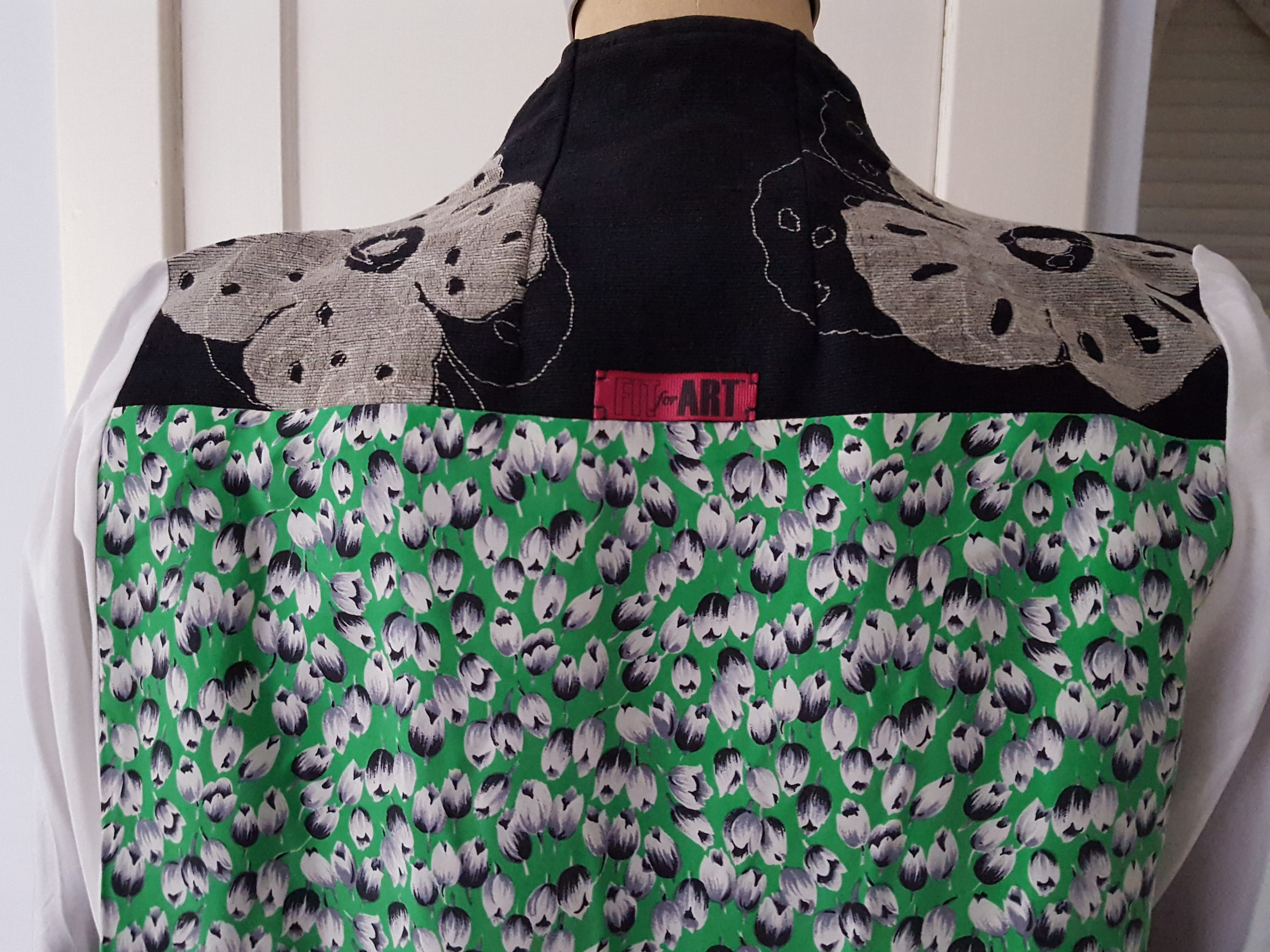 Welcome to Sew! Let's Get Dressed, a weekly blog that encourages you to sew successfully. 
This fall our stage show at the Original Sewing and Quilt Expo will be Three Core Patterns, One Great Wardrobe. It will reveal the magic that happens to your wardrobe when you begin sewing with Fit for Art's three core patterns: the  Tabula Rasa Jacket (TRJ),  Eureka! Pants that Fit (EPTF), and the Tabula Rasa Knit Tee and Tunic (TRK).  As we move through the year, we will feature some of the outfits here in Sew! Let's get Dressed to inspire you to sew outfits too.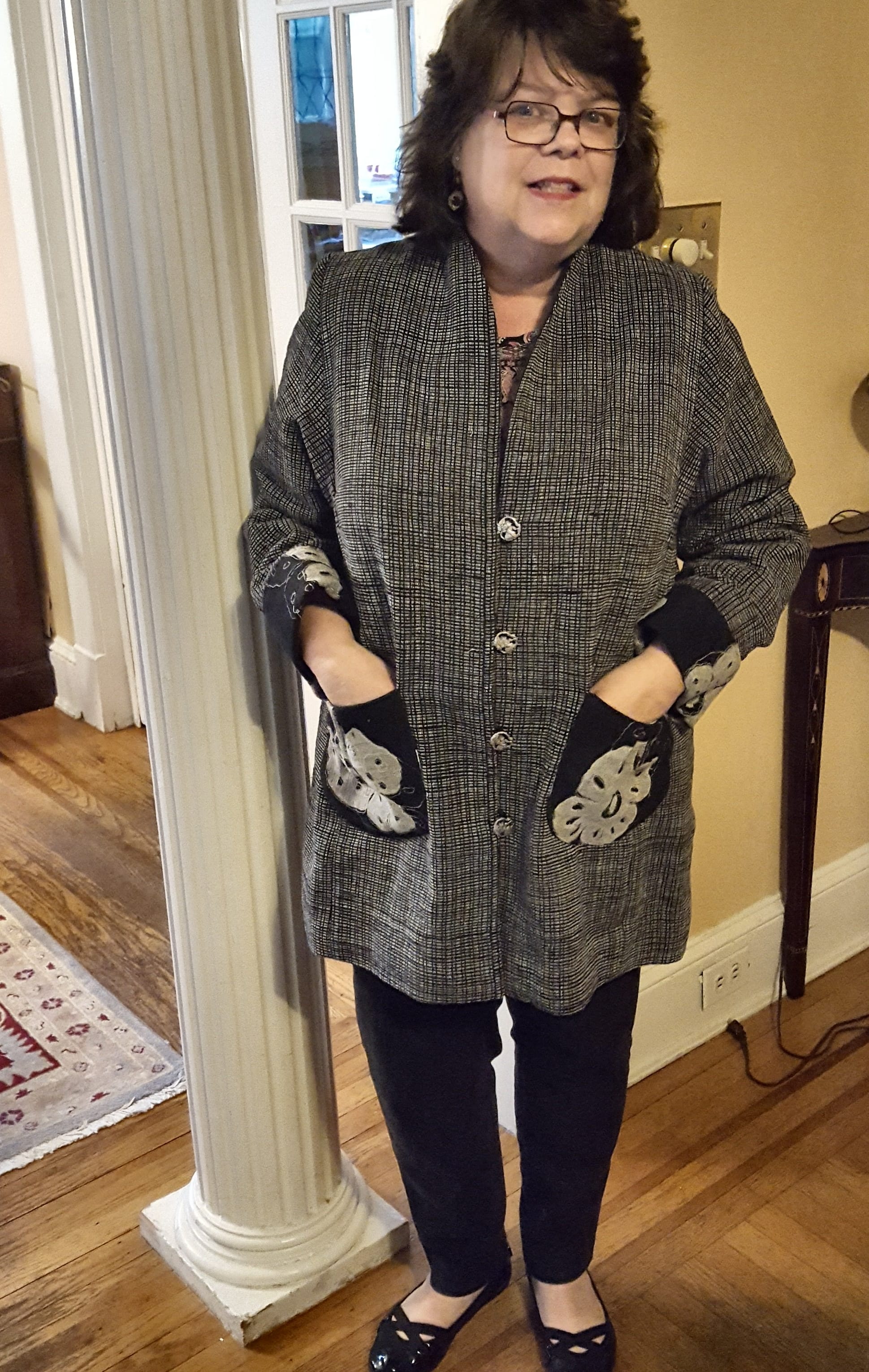 Here is one outfit that will be featured in the stage show.  It is one of my go-to outfits in spring and fall.
At it's base are black EPTF.  These pants are styled in black stretch denim.  You can read about them and the pattern work in last year's post on Narrow Pants.  When my wardrobe needs to move from sandals and ankle pants to shoes and socks, these are a perfect choice for flats or comfort shoes.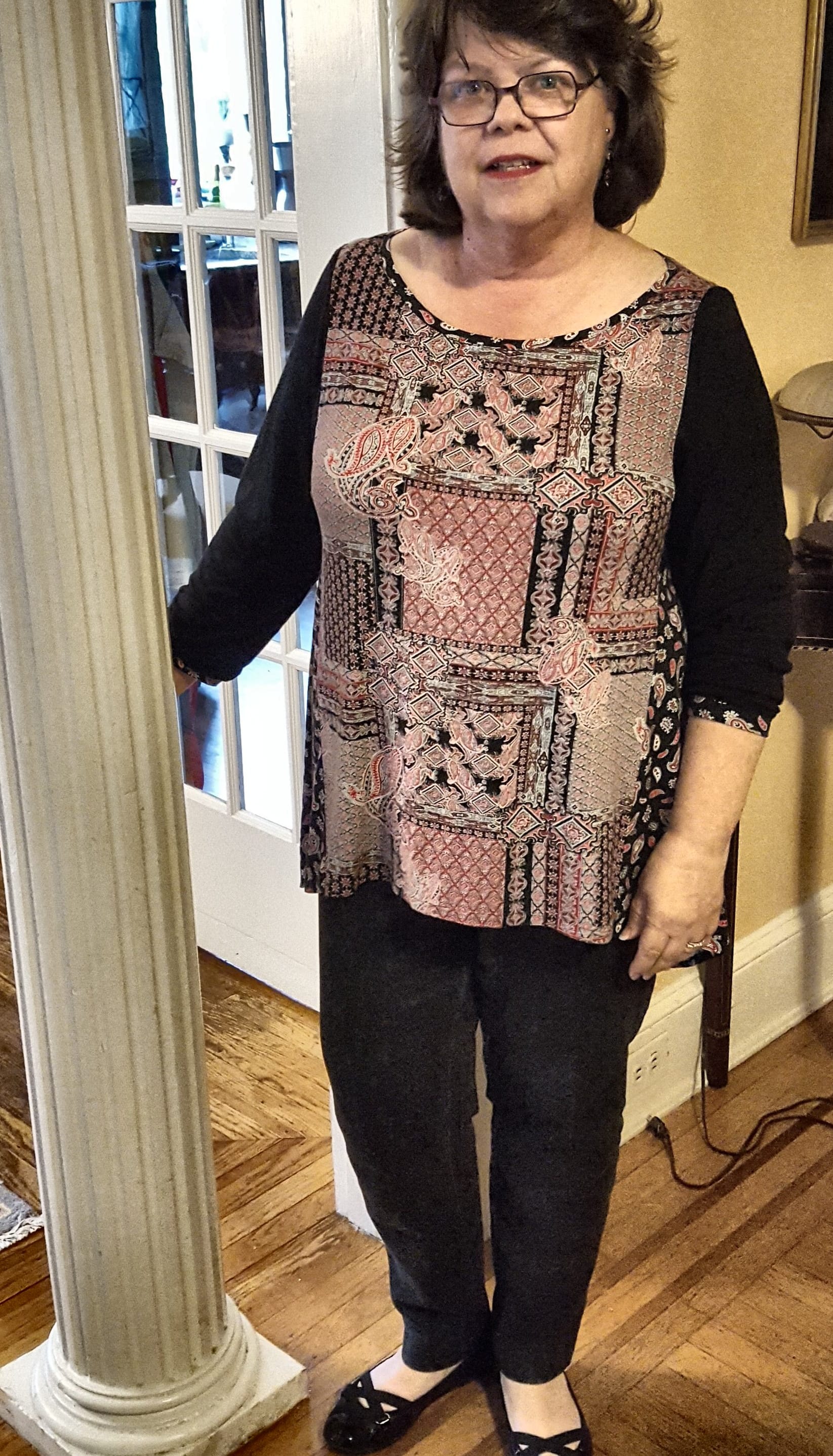 I often pair these pants with a TRK Tunic.  The tighter silhouette of these pants always look sleek under the long swingy TRK tunic hemline.  This top was created with one of our 2017 knit bundles.  It has the ballet neckline from our Wide Neckline Variations pattern.  See my design inspirations and the neckline finishing process in our Knits – Bundles, Ballets and Boats post from that year.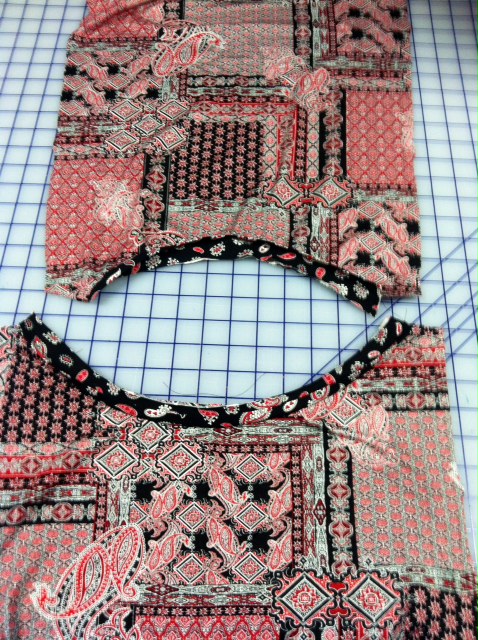 The cozy wrap-up for this ensemble is a loosely woven black and white cotton TRJ.  It features the Funnel Neckline found in the Rain or Shine Variations.  It has a pair of pintuck pockets (click on the link for our free pattern download) and the dramatic roll back cuffs from our Sleeve and Cuff Variations.  The details are made with a hand-painted Thai cotton.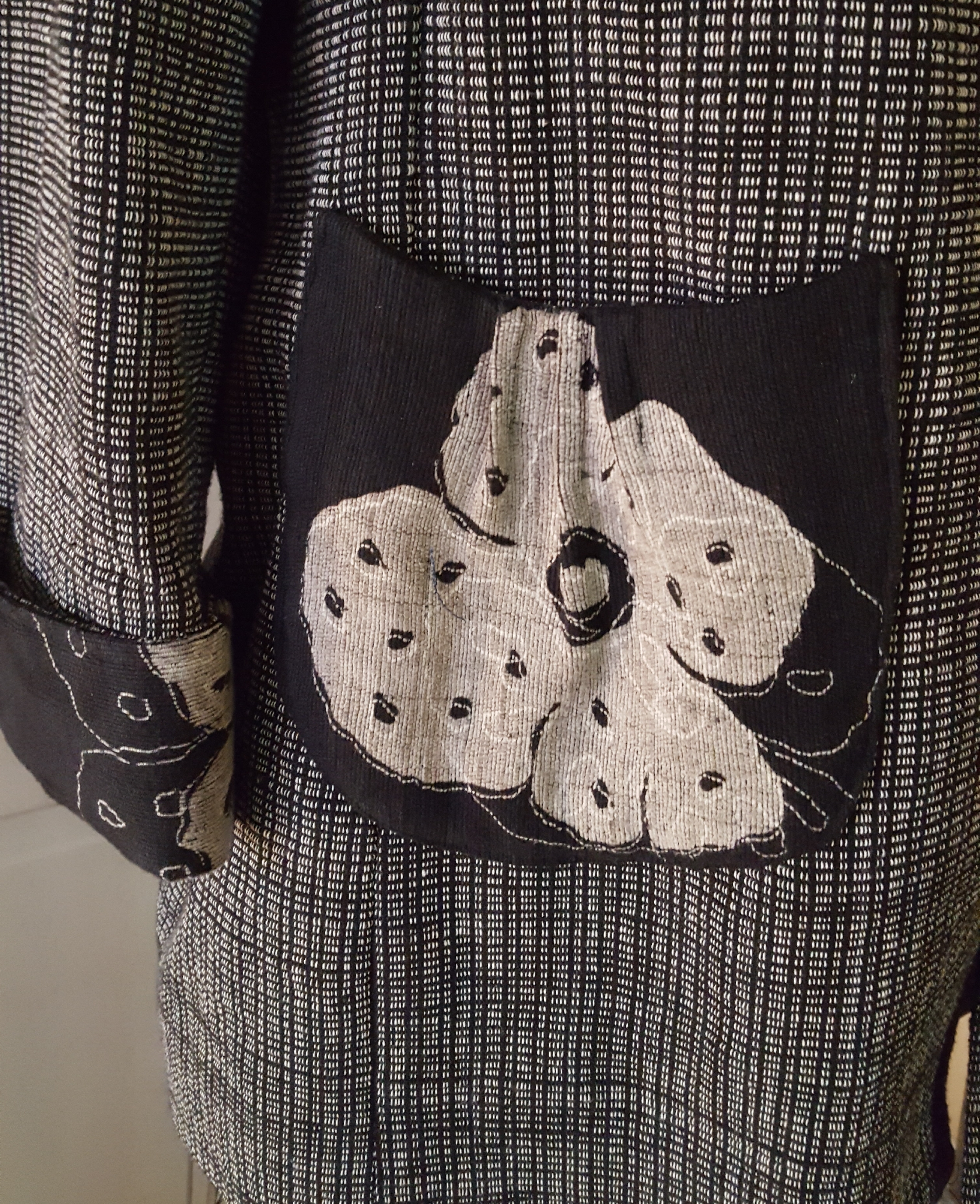 Both fabrics came from Mekong River Textiles.  In my stash, I found a silk print remnant for the lining to finish it off cheerfully.  There was only enough for the body, so the sleeves are lined in white.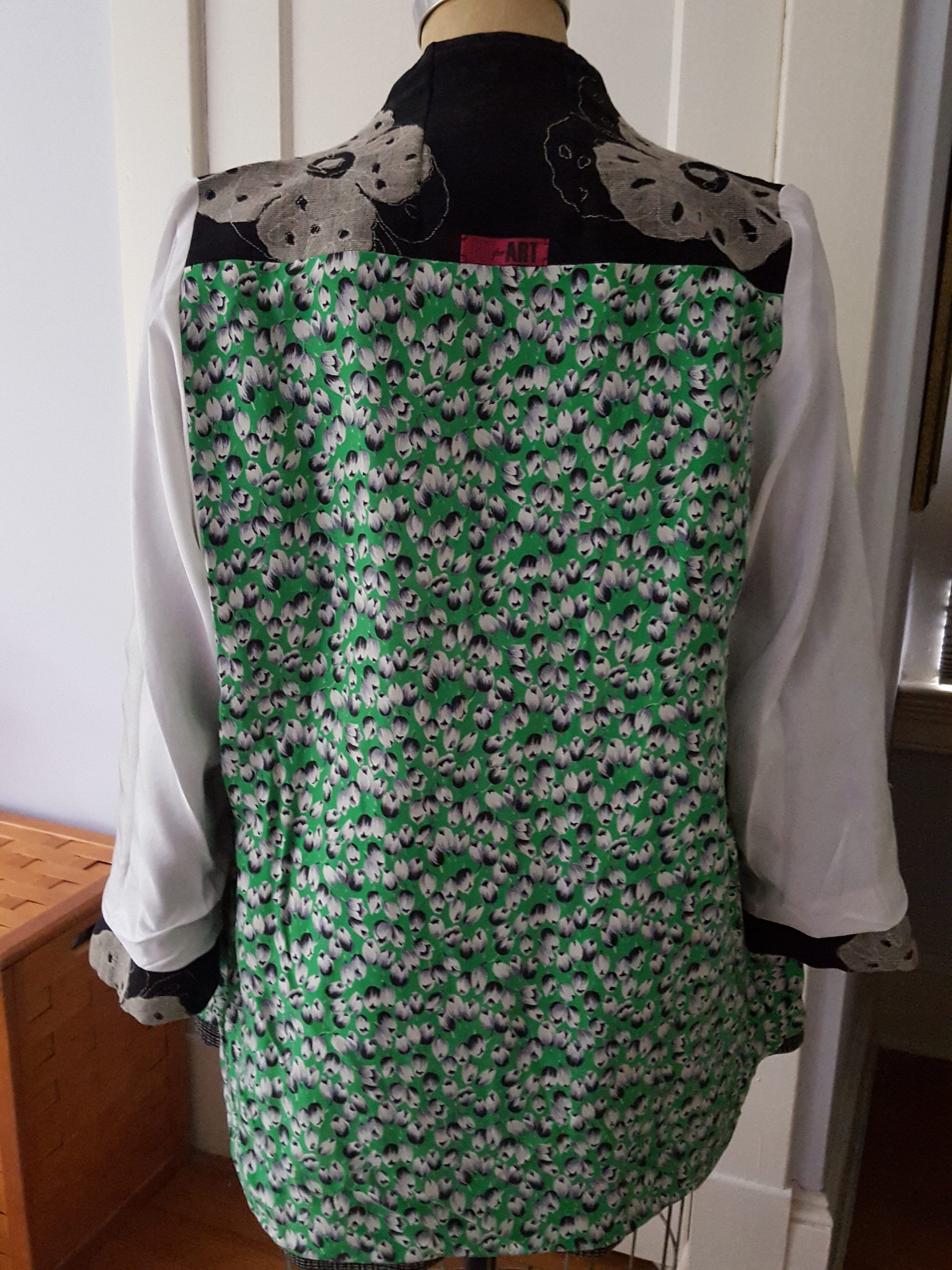 When I cut out the coat I made sure that it would be long enough to fall gracefully over the long sides of my knit tunic tops.  It is perfect for cool days which I long for this time of year.  Seems I have not written a post about this coat but perhaps I will add it onto the spring schedule so you can see all the details.
Do you have some fabulous 2 or 3 piece Fit for Art outfits? Tell us about them and we will feature some in this blog over the next year.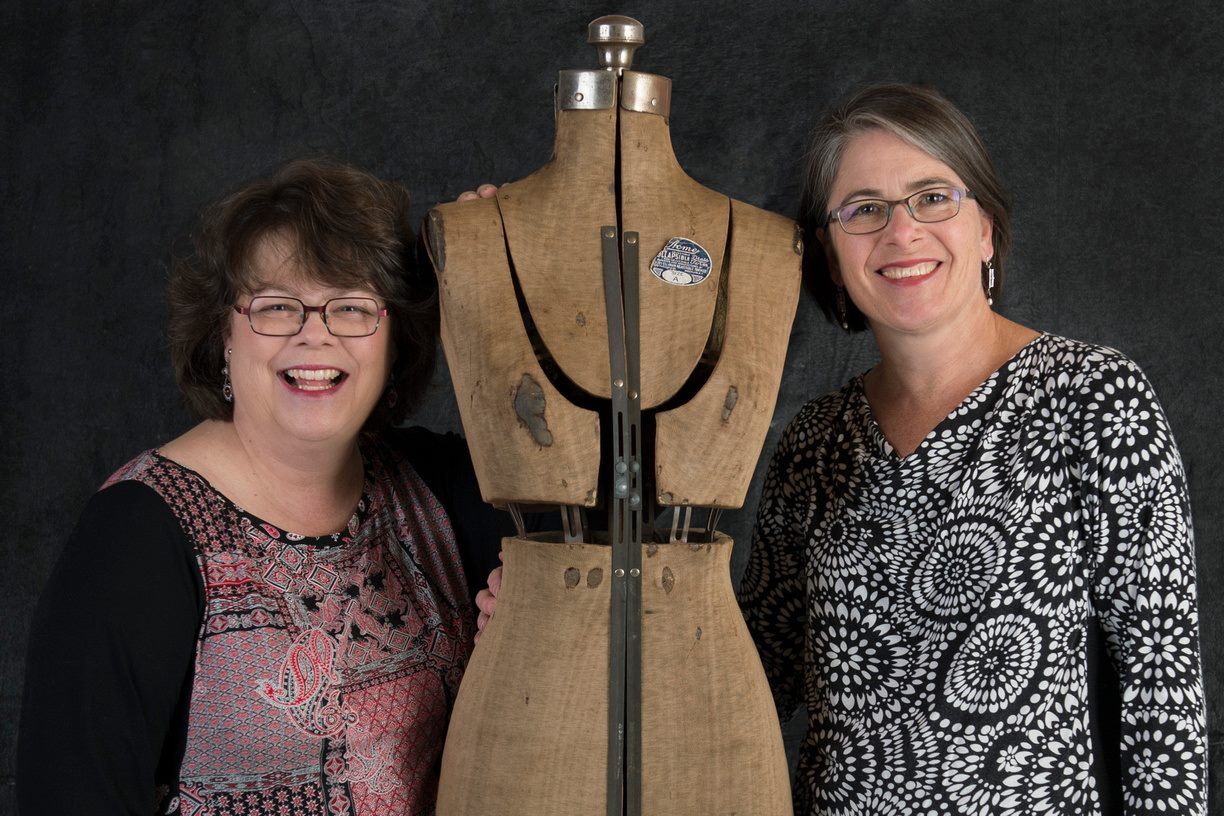 If you are coming to the Cincinnati or Fredericksburg Expo, don't miss Carrie's stage presentation.  You will be able to see all the outfits in person.  If you cannot make it to the expo, spend some time finding inspiration in our online Photo Gallery.  You'll be busy dreaming of new Fit for Art creations for fall.
Happy Sewing, RAE
Enjoy receiving our blog? Sharing is caring, so forward this post to a friend by clicking on the Forward link at the upper right corner of your e-mail notification.  Remember that the beauty of the Fit for Art System is you can sew successfully with endless variations. Take a moment to review our variation patterns offered by clicking here.  Also, are you following us on social media?  Take a moment to check us out on Facebook and Instagram and follow the hashtag #fitforartpatterns and #sewsuccessfully.