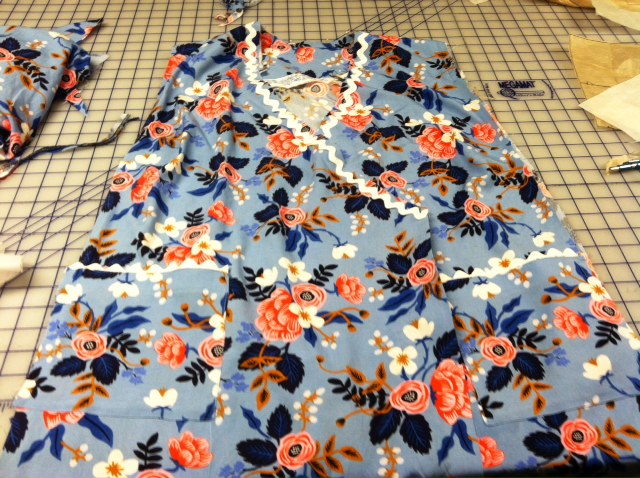 Welcome to Sew! Let's Get Dressed, a weekly blog that encourages you to sew successfully. 
Sometimes fabric just calls out a name, and so it was last February when I visited Domesticity in Baltimore's Lauraville Neighborhood.  It is a fun new stitch lounge and fabric shop where I always find a treasure.  In the end-cut basket, I found a 3-yard piece of rayon with the blue floral Rifle Paper Company print.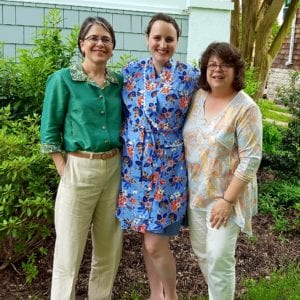 I knew my niece Erin, also the Fit for Art graphic designer, would love it.  I splurged on the fabric and gave it to Erin as a maternity gift.  The fabric was presented with a note:  I will make you whatever you want.
She was so excited when she opened the present and immediately announced she wanted a bathrobe for her time in the hospital and at home with her new baby.
You might recall that I made a Tabula Rasa Jacket into a bathrobe several years ago which accompanies me on all my travels.  It is cotton lawn and I love it, but it does not close very effectively.  A quick look at my other bathrobes inspired me to add a few inches to the center front and finish the front with a shortened band.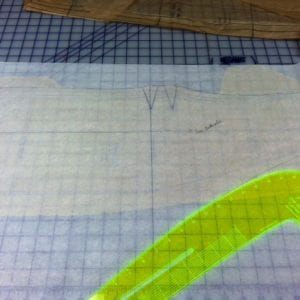 The pattern work was simple and I was able to get the robe from my purchased fabric.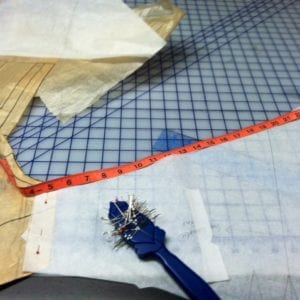 The selvage was so great, I was so glad to have enough to run along the inside of the front band and button support.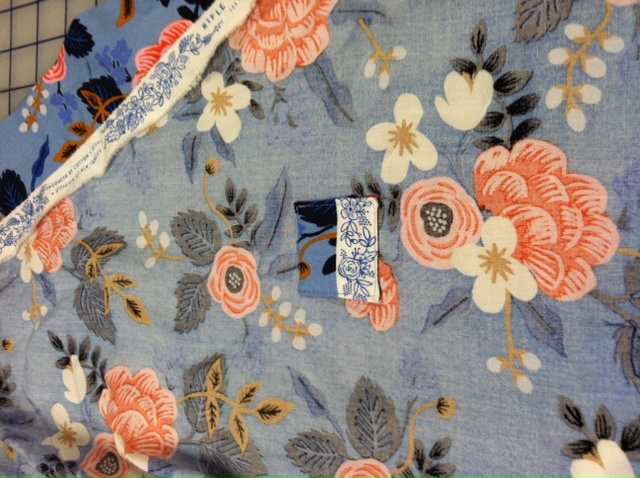 I did decide that it needed some trim to compliment the print and highlight the band, pockets and cuffs.
In my ribbons and trims box I found some vintage 1" white rick-rack and I loved the way it matched the bathrobe fabric.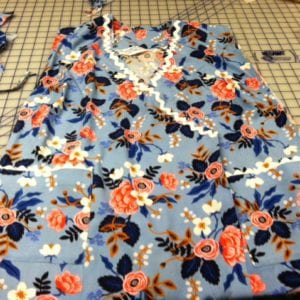 The robe was constructed with pre-washed fabric and trim.  I used a 3 thread overlock on all the seams and machine stitched finishes so the robe could be washed quickly and easily.
Vintage white plastic buttons were used to anchor the belt in place and close the front.  The belt is made with our free downloadable directions for a sash, Wrap It Up.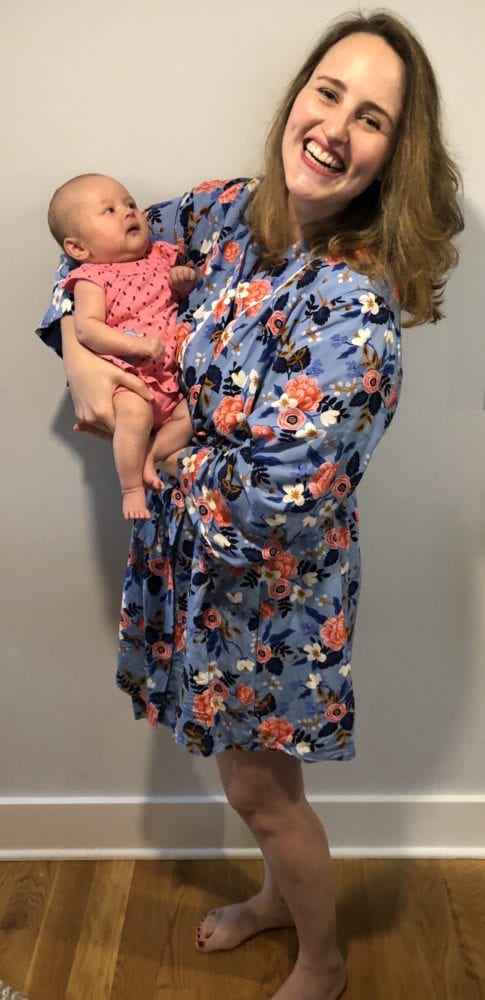 The robe continues to be a big success even now that the baby is a few months old.  Erin says she wears it every day.  It is comfortable, functional and beautiful, a new Fit for Art favorite.
Do you have a Tabula Rasa Bathrobe?  You can modify the Tabula Rasa Jacket pattern as I did, or use the Shirt Variation for a button up robe, or the Rain or Shine Variations for a zip up robe.  When you are done, send us a photo!
Happy Sewing, RAE
Enjoy receiving our blog? Sharing is caring, so forward this post to a friend by clicking on the Forward link at the upper right corner of your e-mail notification.  Remember that the beauty of the Fit for Art System is you can sew successfully with endless variations. Take a moment to review our variation patterns offered by clicking here.  Also, are you following us on social media?  Take a moment to check us out on Facebook and Instagram and follow the hashtag #fitforartpatterns and #sewsuccessfully.