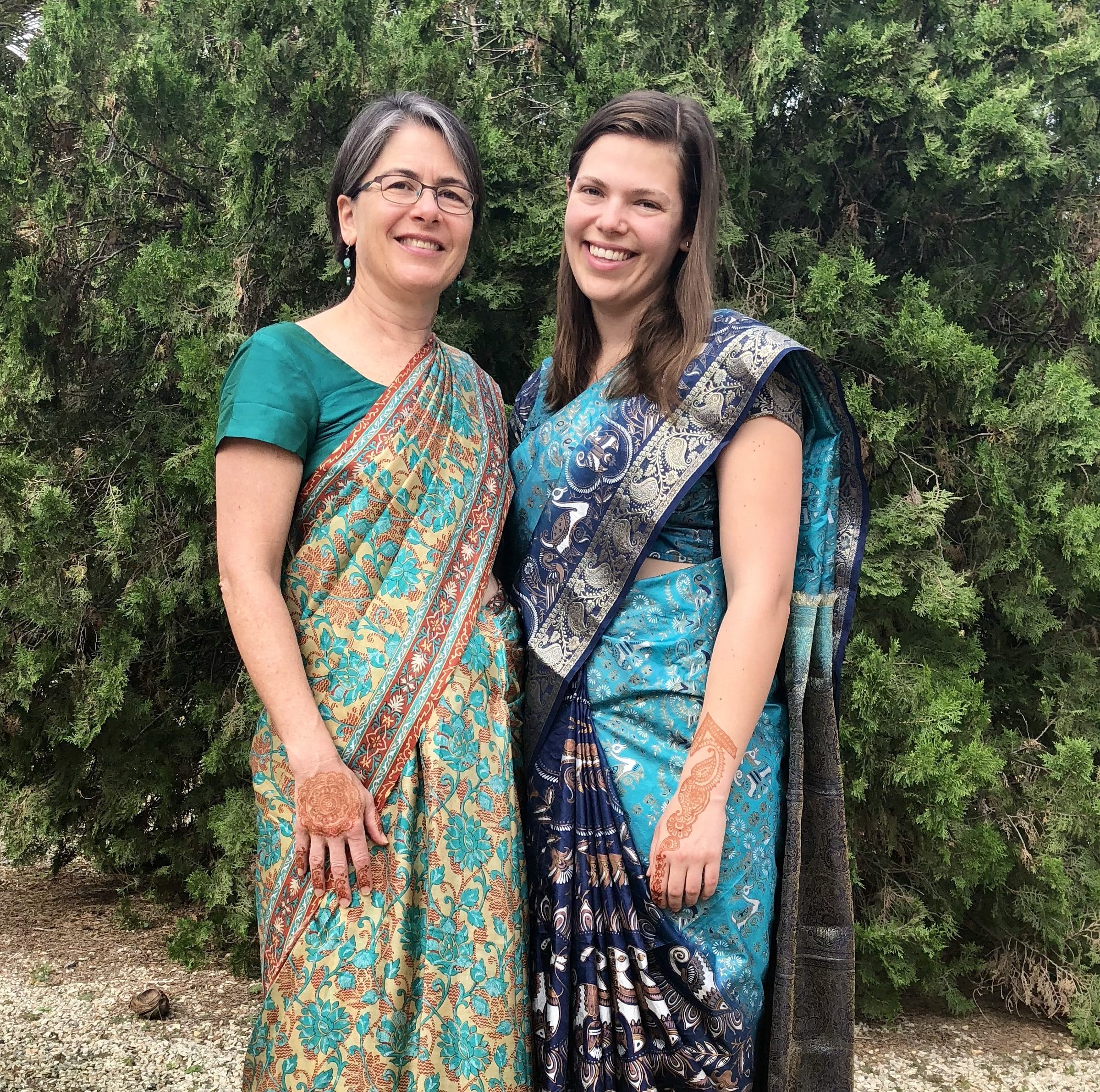 Welcome to Sew! Let's Get Dressed, a weekly blog that encourages you to sew successfully.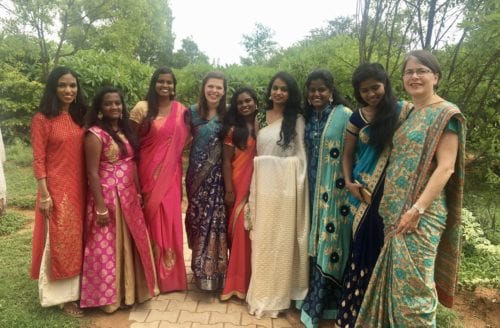 As many of you may have gathered, I recently traveled to India.  The primary motivation for this trip was to attend graduation at a very special school south of Bangalore at which my daughter has taught and worked, Shanti Bhavan.  The class of 6th graders she first taught in 2011 was graduating from high school this June.  We are so glad we had the opportunity to visit the school and meet these amazing children and young adults!
I was also thrilled because I finally got to wear a sari. I have admired these beautiful fabrics for years!  Wearing a sari to graduation was special for me and several other guests, as well as the graduating girls who wore beautiful silk saris.  Here are the graduating girls decked out in their very colorful saris.  (There were also guy grads, not wearing saris!)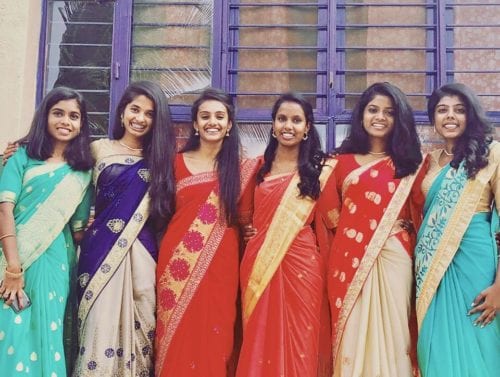 For those not familiar, a sari (sometimes spelled saree) is a traditional garment worn by Indian women; it consists of 5-9 yards of woven fabric that is draped around the body in one continuous piece.  Typically, decorative borders are woven into the fabric and one end section is woven with a more elaborate pattern, both of which are featured through the draping.  A purchased sari often includes an extra length of fabric at one end that is cut apart and used to make the traditional short fitted blouse (choli) worn with the sari.  They can be woven from silk or cotton or blends, and nowadays also in polyester. As we traveled through Rajasthan, a state in northwest India, most women we saw still wear saris day in and day out every day – not just for dressing up!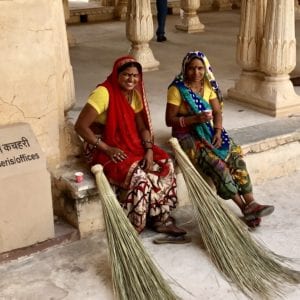 It was so interesting to learn how the sari is draped onto the body.  Turns out that one secret is the very snugly tied underskirt; the sari is tucked into the skirt waist to hold it in place.  I also loved seeing how the girls who were helping to dress us hand pleated the skirt and the pallu, the more decorative portion of the sari that is draped over the shoulder.  Another secret is a few strategically placed safety pins!  You can see a clip of this pleating process in the videos I've posted to Facebook showing my daughter Meg being dressed in her sari.  Here are some photos of Meg at the beginning of the process, near the end, and fully dressed in her sari.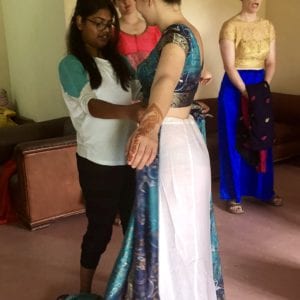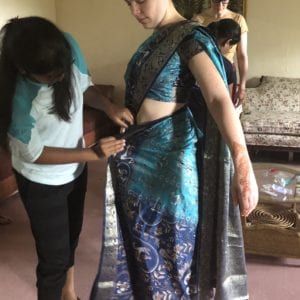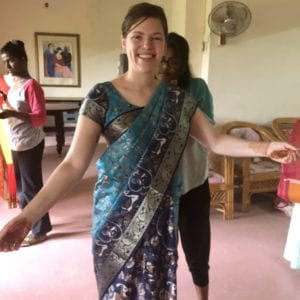 Because it is several yards of beautifully woven fabric with decorative features, a sari presents an exciting challenge to create a garment.  Have a look at this blog post from last fall about a long Tabula Rasa Jacket I made from a red silk sari that my daughter brought back from an earlier stay in India.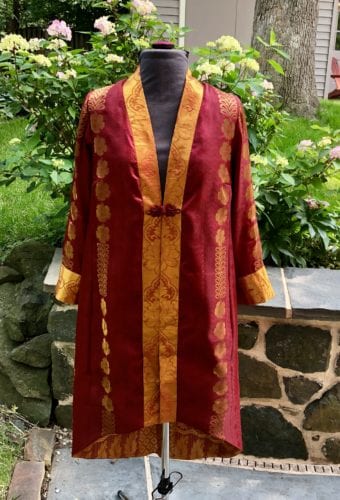 Many cultures throughout the world also use a length of tied and draped woven fabric as a garment, which go by many names.  The Tabula Rasa Jacket pattern is well suited for working with these kinds of artistic fabrics.  Be inspired by these additional examples of Tabula Rasa Jackets and  jacket variations made from cotton saris or sarongs: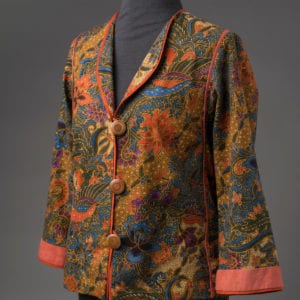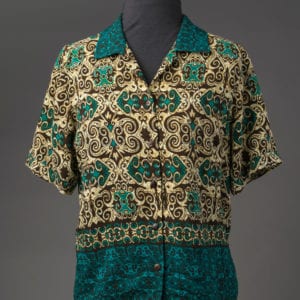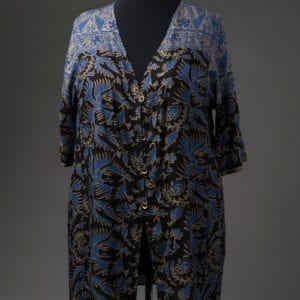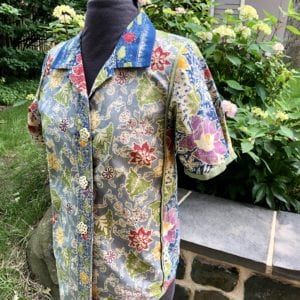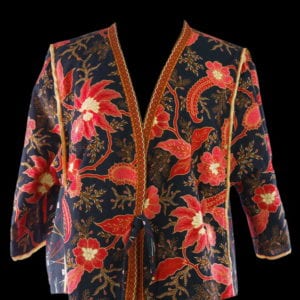 Of course, I couldn't resist the temptation to go fabric shopping in India where there are beautiful fabrics at very reasonable prices.  I bought  new silk and cotton saris for Meg and myself, as well as several pieces of ikat and other fabrics, so be looking for some of those treasures to appear in future blog posts!
Have you ever turned a sari, sarong, or similar fabric into a garment?  We would love to see photos and hear your stories about where they came from and what inspired your creation.
Happy Sewing, Carrie
Enjoy receiving our blog? Sharing is caring, so forward this post to a friend by clicking on the Forward link at the upper right corner of your e-mail notification.  Remember that the beauty of the Fit for Art System is you can sew successfully with endless variations. Take a moment to review our variation patterns offered by clicking here.  Also, are you following us on social media?  Take a moment to check us out on Facebook and Instagram and follow the hashtags #fitforartpatterns and #sewsuccessfully.