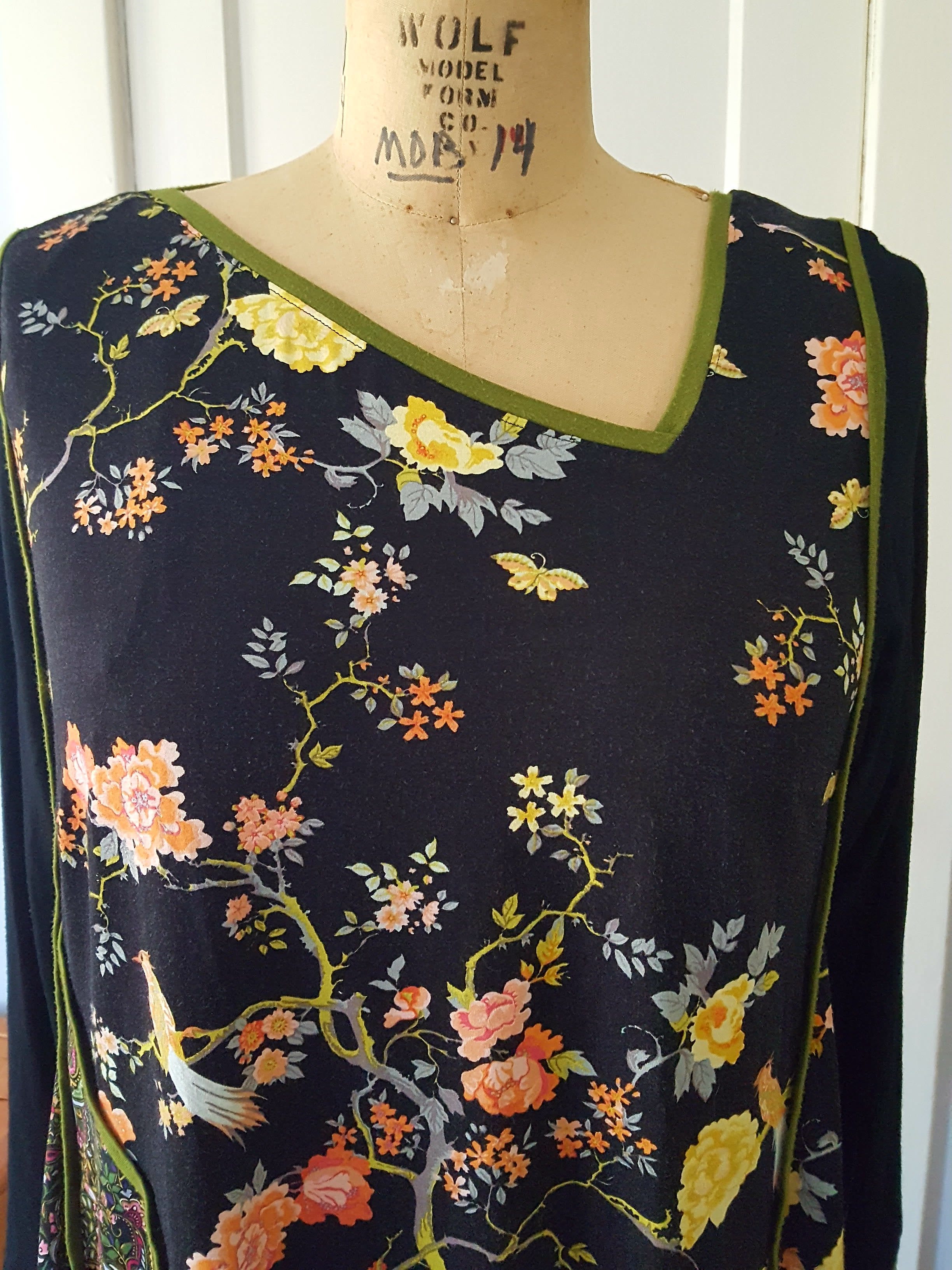 Welcome to Sew! Let's Get Dressed, a weekly blog that encourages you to sew successfully.
This bird print stretch rayon knit fabric threw me for a loop when I set out to make a Tabula Rasa Knit Tunic (TRK) with it. The fabric required some creative design work to find the best it had to offer.  We purchased this fabric for bundles a few years ago and immediately I wanted some for myself. Both Carrie and I made tops with this fabric.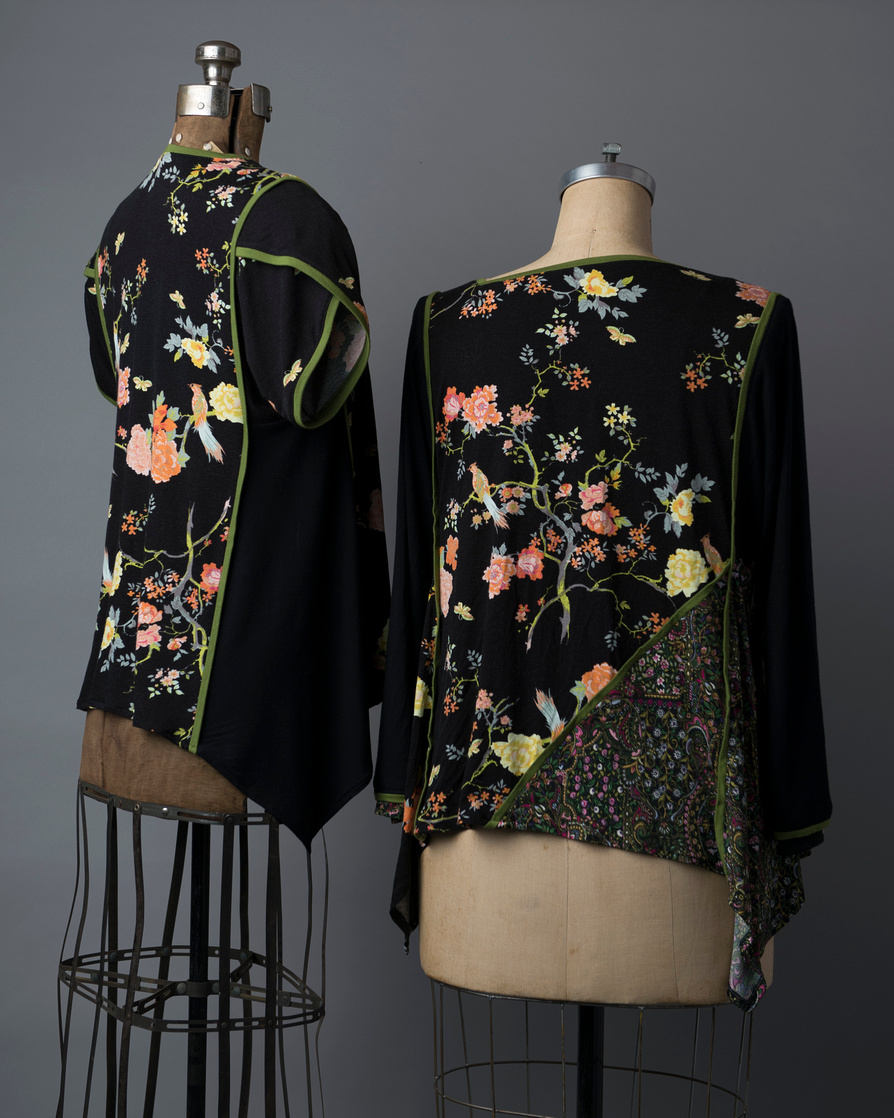 The Asian inspired print and fanciful birds were irresistible, but on further inspection I discovered that the print alternated direction across the width.  It did not bother me that the floral branches reversed direction, but the upside-down birds were really distracting.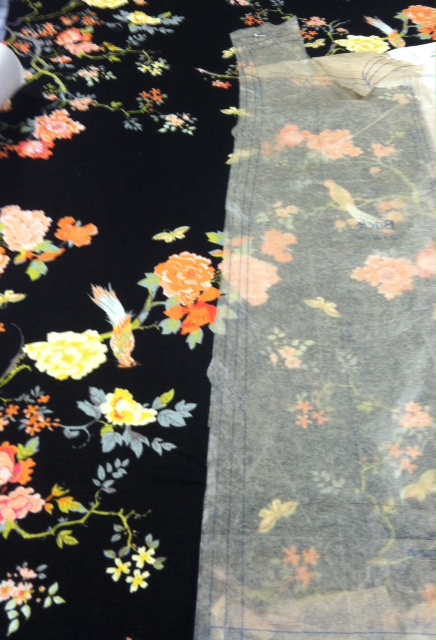 I created a full-size front and back pattern and proceeded to try placing the birds in a satisfactory way, but it was impossible to get the complete front and back without including an upside-down bird.  My stash yielded no complimentary prints so I went to my local fabric stores and found this complementary print and coordinating solid.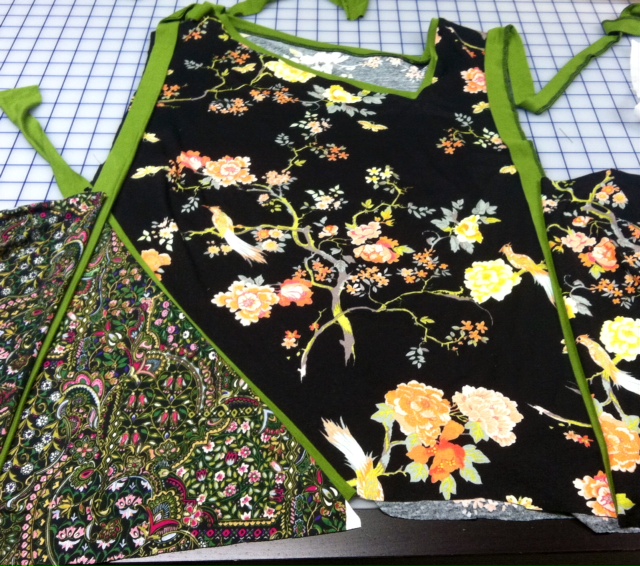 The asymmetrical piecing fell into place but what neckline would complement the piecing?
I settled upon this asymmetrical neckline front and back.  It includes 2 different neckline finishes so it was a challenge to puzzle through.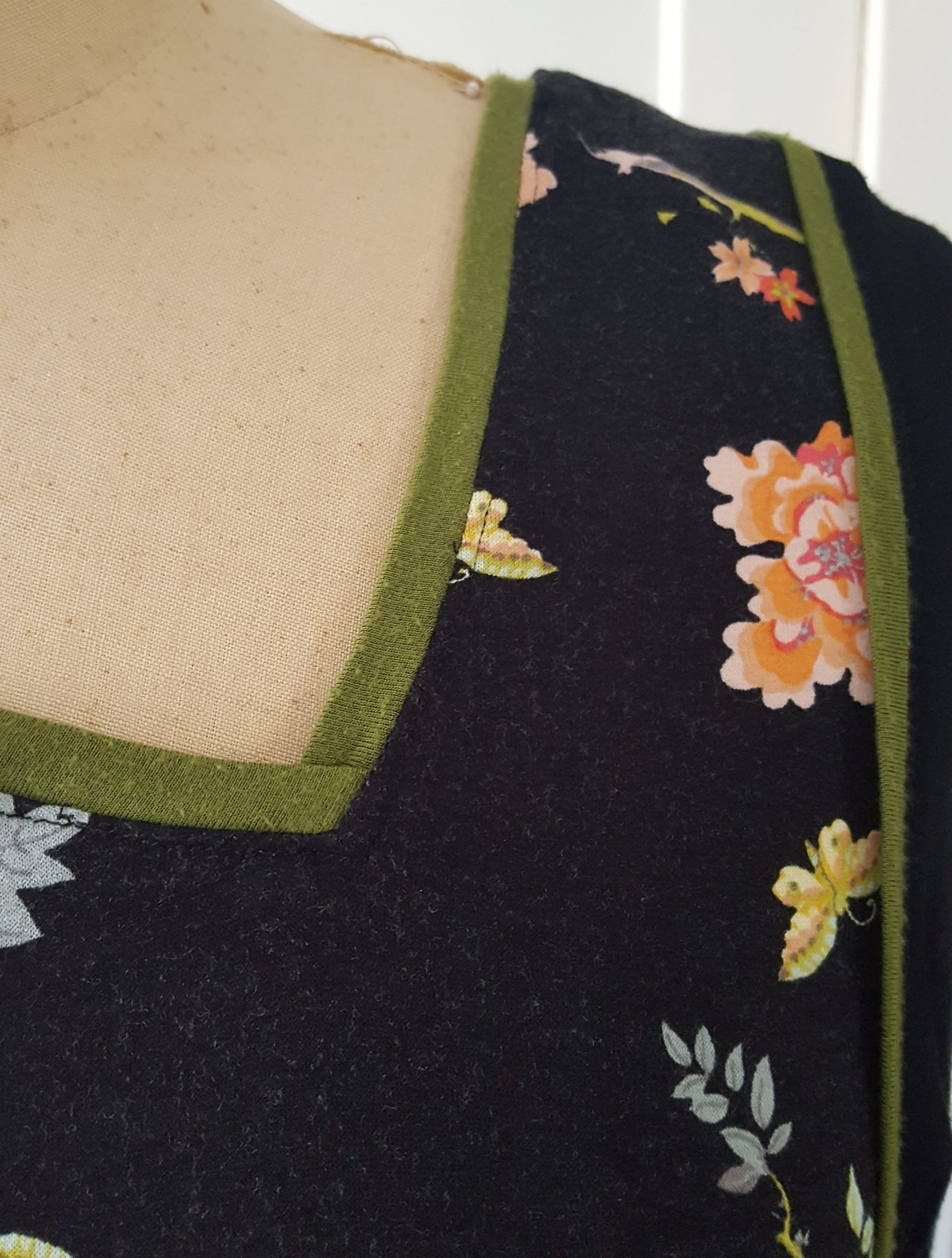 On one side are off-center v-neck applications; the v-neck process is described in the step by step directions for the TRK pattern.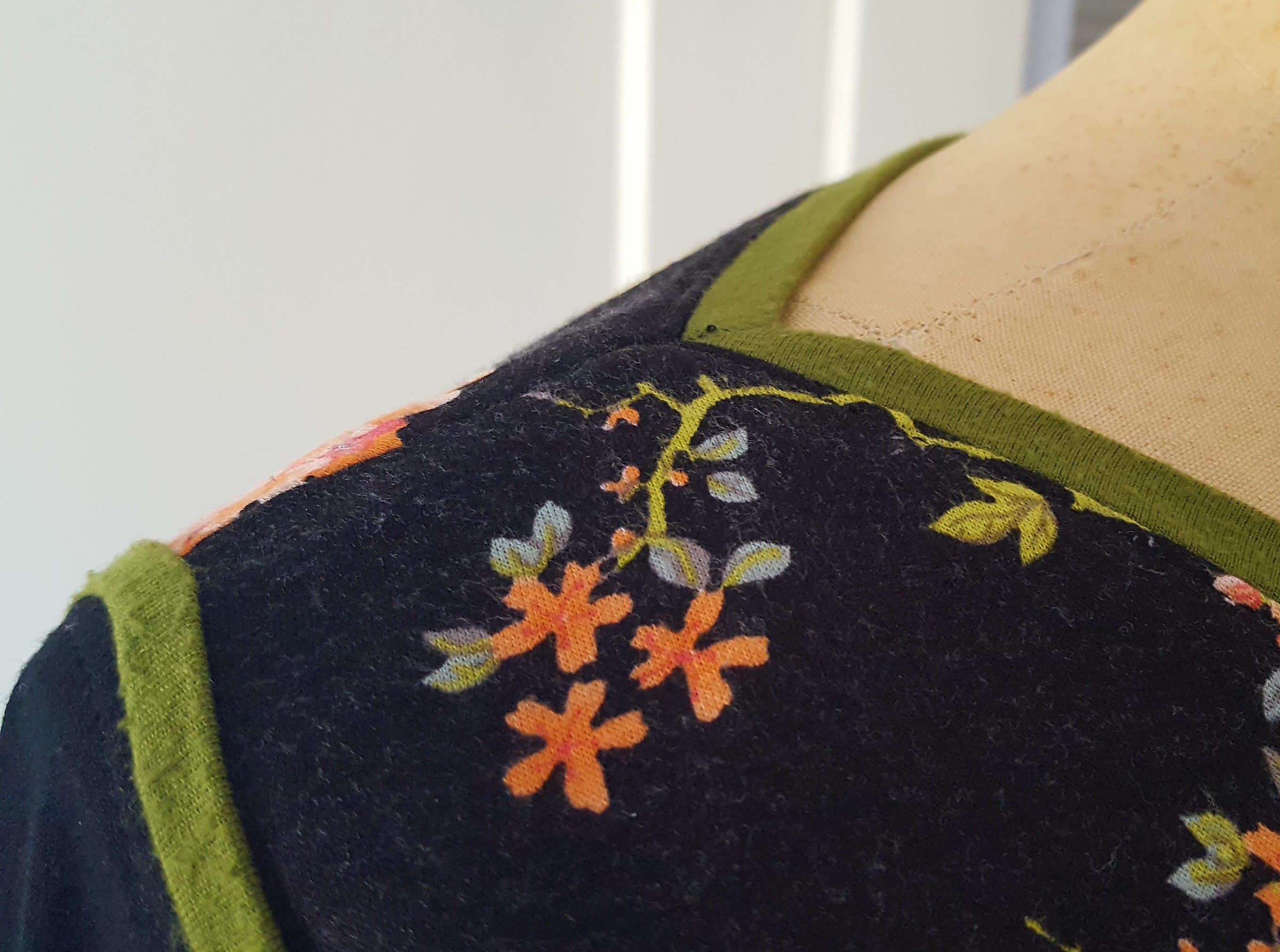 The other side is finished at the shoulder, with the boat neck technique found in Wide Neckline Variations for the TRK.
I love this open and unusual neckline for early spring.  It is great on a cool day with its long sleeves but looks like the hoped-for blooms to come.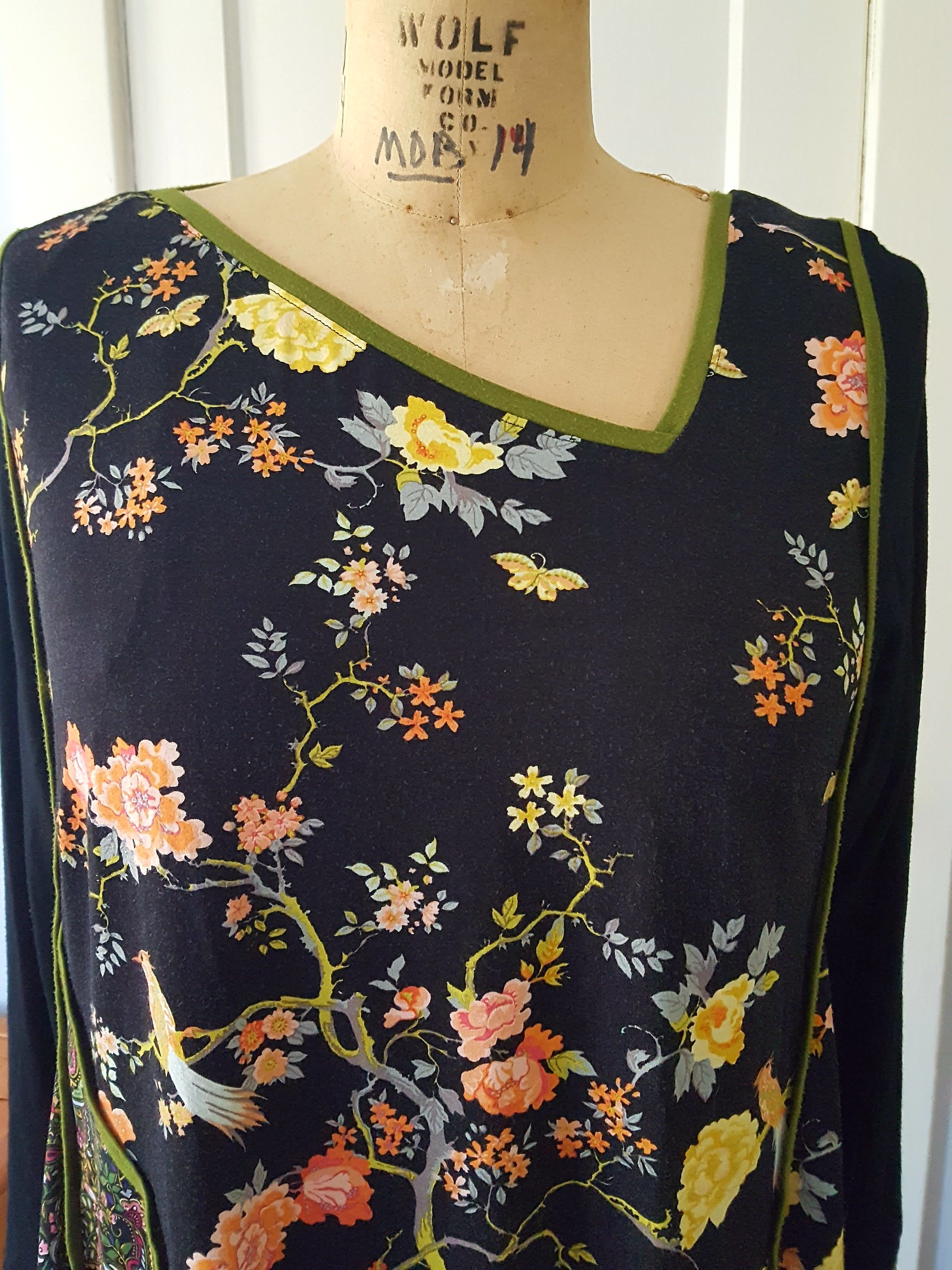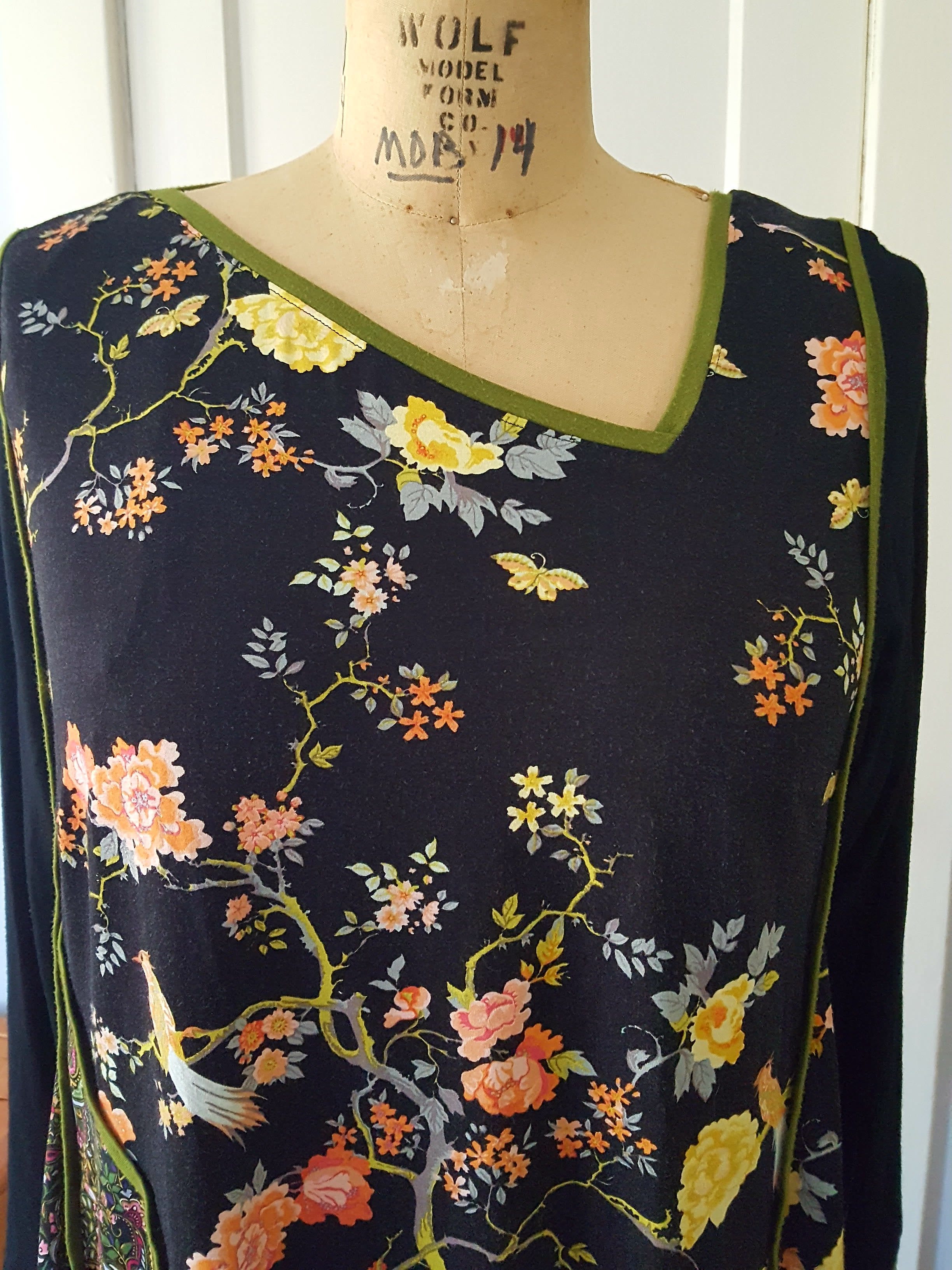 When the top was complete, I hand-stitched some twill tape inside the open neckline to keep it from stretching and added lingerie straps to hold the top in place.  Directions for lingerie straps are also found in Wide Necklines Variations for the TRK pattern.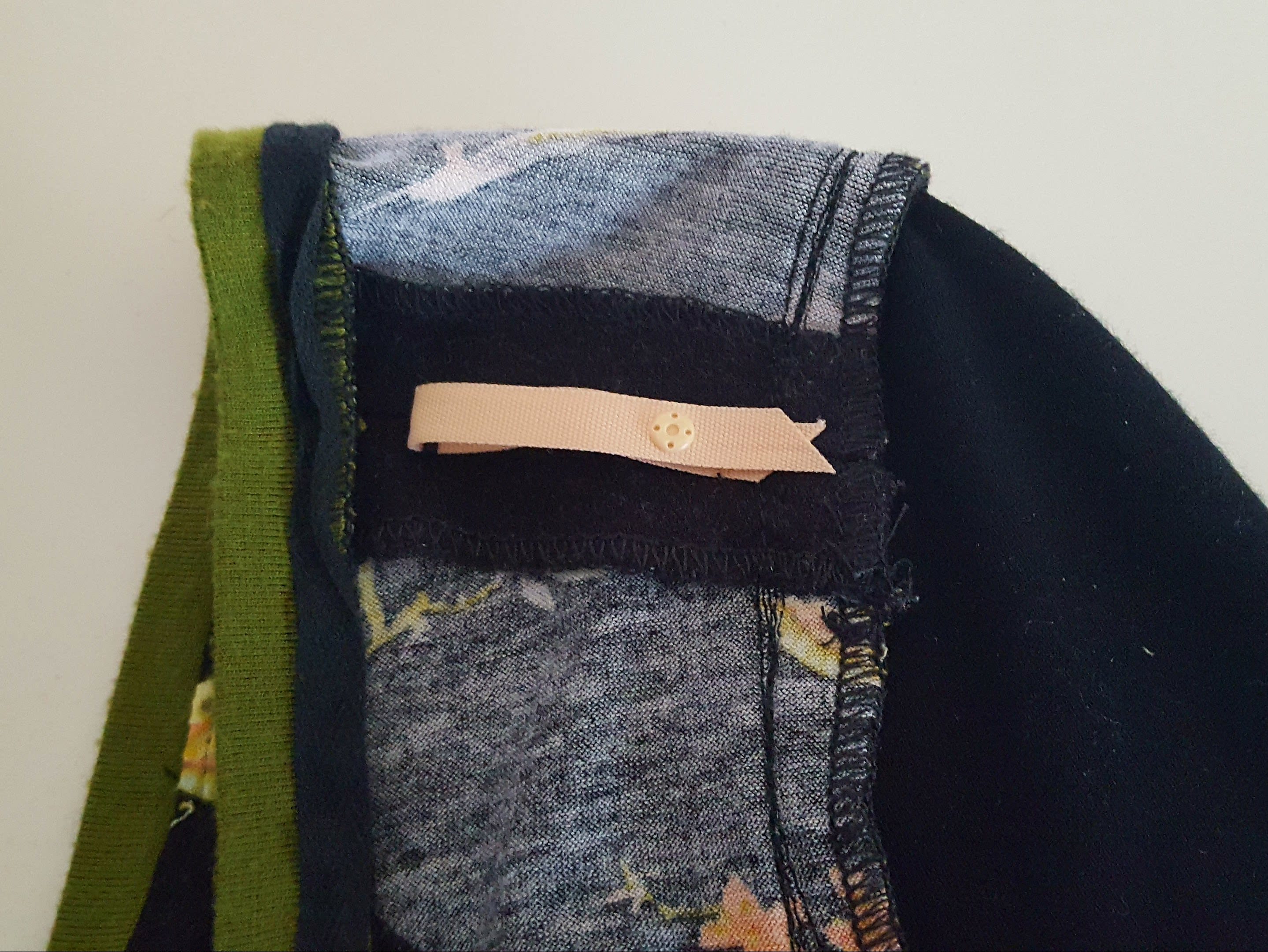 All the fabrics were used to make alternating stacked cuffs as a sleeve finish.  Read about this technique in our Sew! Let's get Dressed post: Knit Sleeves Tabula Rasa Style.  Finish your outfit with some narrow Eureka! Pants that Fit.
The top Carrie made, pictured at the top of the post, features the tulip sleeve and cross over front from Clever Crossing Variations for the TRK.  See more views of the two tunics in our photo gallery For the Birds.
It is still so cold here in the Mid-Atlantic but we are determined to sew for the spring weather that is coming soon.  What knits will you #sewsuccessfully with #fitforartpatterns this spring?  Share your photos with us so we can post them on Facebook.  If you photograph the fabric uncut, a cutting photo, construction photo and a finished garment photo, it can be a project of the week on our Instagram page!  Hope you are following our weekly Instagram posts, too.  Please post photos of your own Fit for Art creations with our hashtags #fitforartpatterns and #sewsuccessfully to share them with our community.
Happy Sewing, RAE
Share this:  Enjoy receiving our blog? Sharing is caring, forward this post to a friend by clicking on the Forward link at the upper right corner of your e-mail notification.  Remember that the beauty of the Fit for Art System is you can sew successfully with endless variations. Take a moment to review our variation patterns offered by clicking here.  Also, are you following us on social media?  Take a moment to check us out on Facebook and Instagram, follow the hashtag #fitforartpatterns.