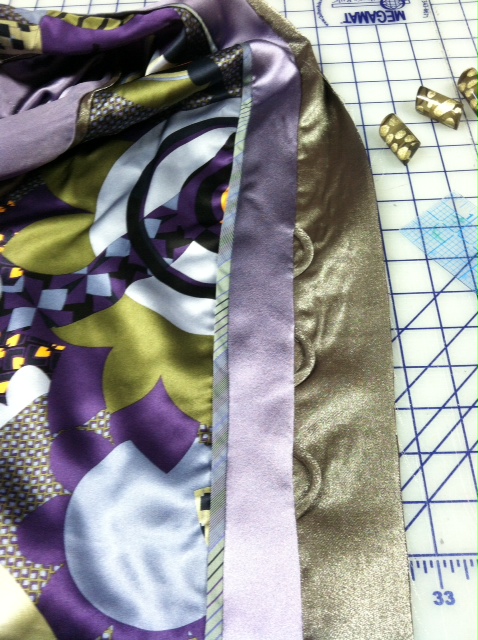 Welcome to Sew! Let's Get Dressed, a weekly blog that encourages you to sew successfully.
Redesigning outdated, ill fitting or slightly damaged garments into new creations is most satisfying.  It's even good for our environment overrun with discarded clothing and fabric scraps.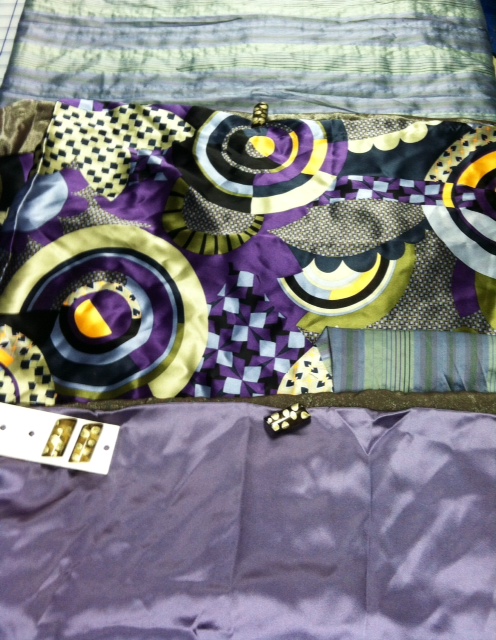 So, it was with glee that I opened an envelop last fall and found some luscious silk charmeuse that had been a coat lining, now discarded and deconstructed.  It was destined to become 2 Tabula Rasa Jackets for Sally, who you have met before.  She loves colorful clothing and is not afraid to make a bold statement.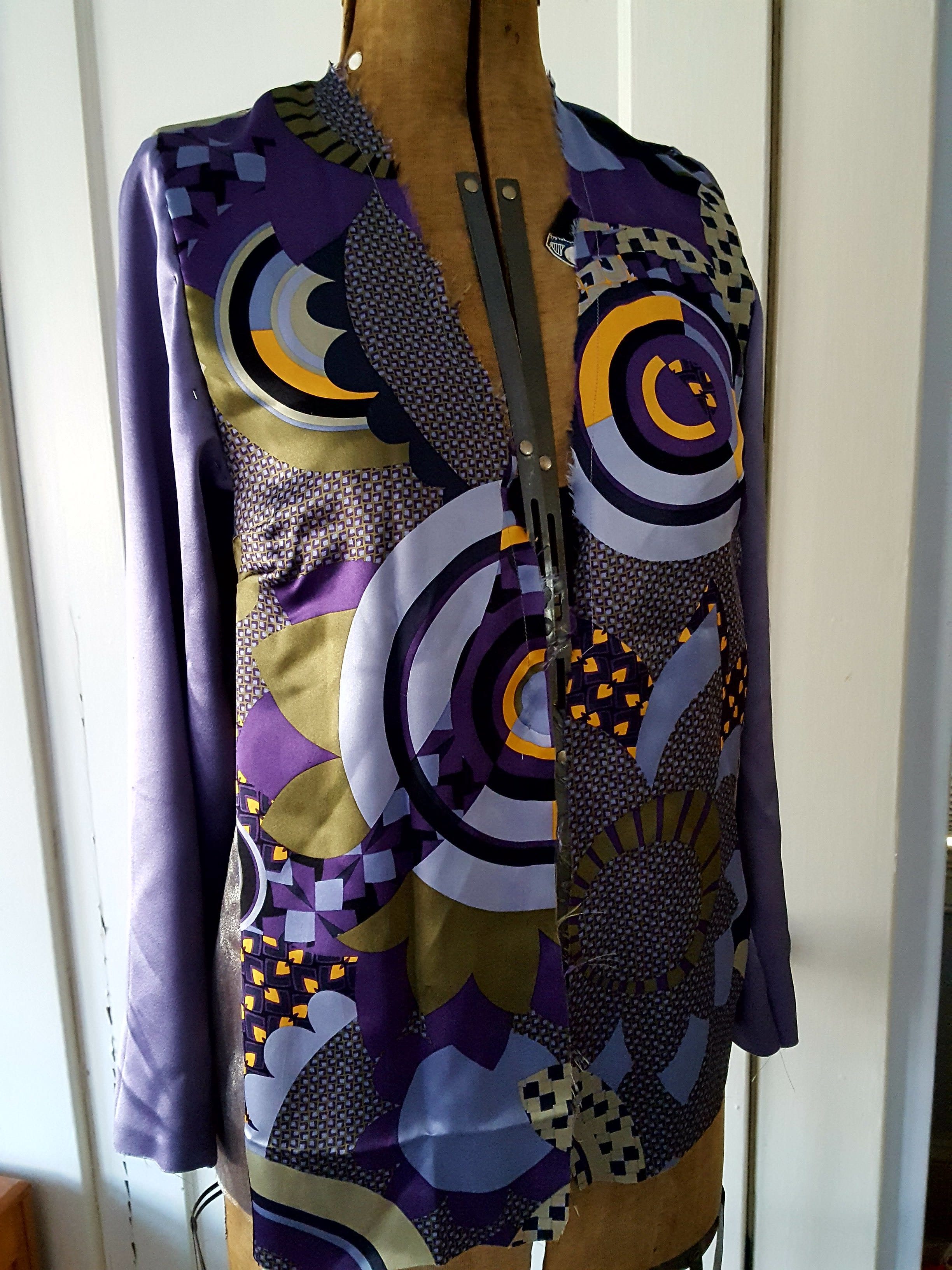 We began our design adventure by gathering a number of stash pieces that complimented her fabric.  There were several directions we could have taken, but our first adventure would revolve around some vintage buttons.  Because the buttons were bronzy/gold, complimentary fabrics were chosen that were substantial enough to support the large closures.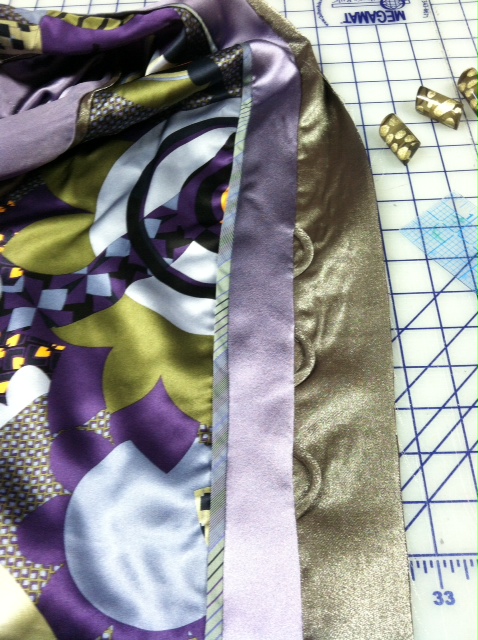 Each jacket section would be a different fabric and the flat piping, bands and cuffs would tie things together.  I played with the composition of the band so it could include loops as button closures.  The Band Variations and Pockets pattern includes this information for a two-piece band in some detail.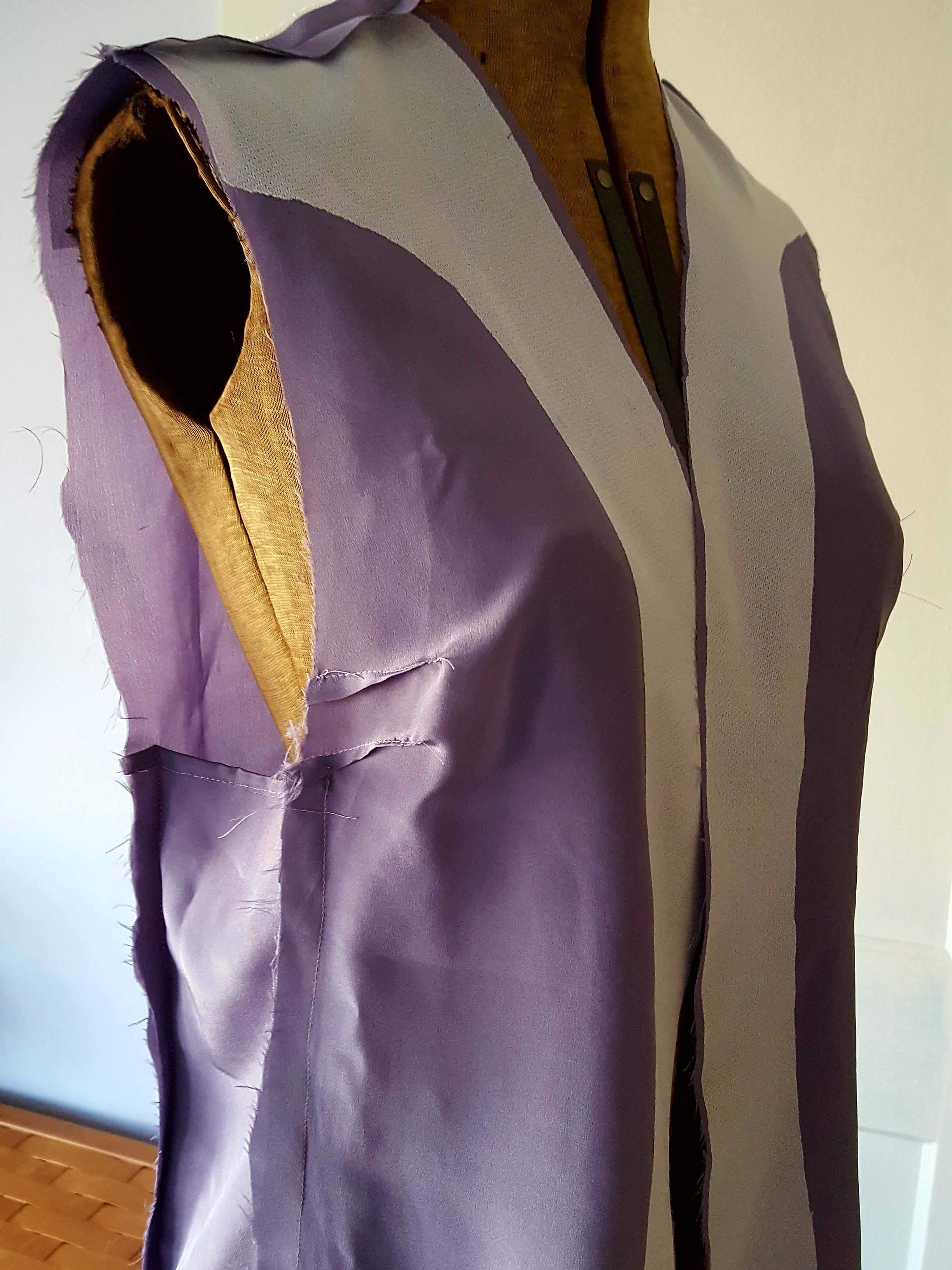 A partial lining was interfaced and added to the jacket to support the drapey fabrics and multi layered band.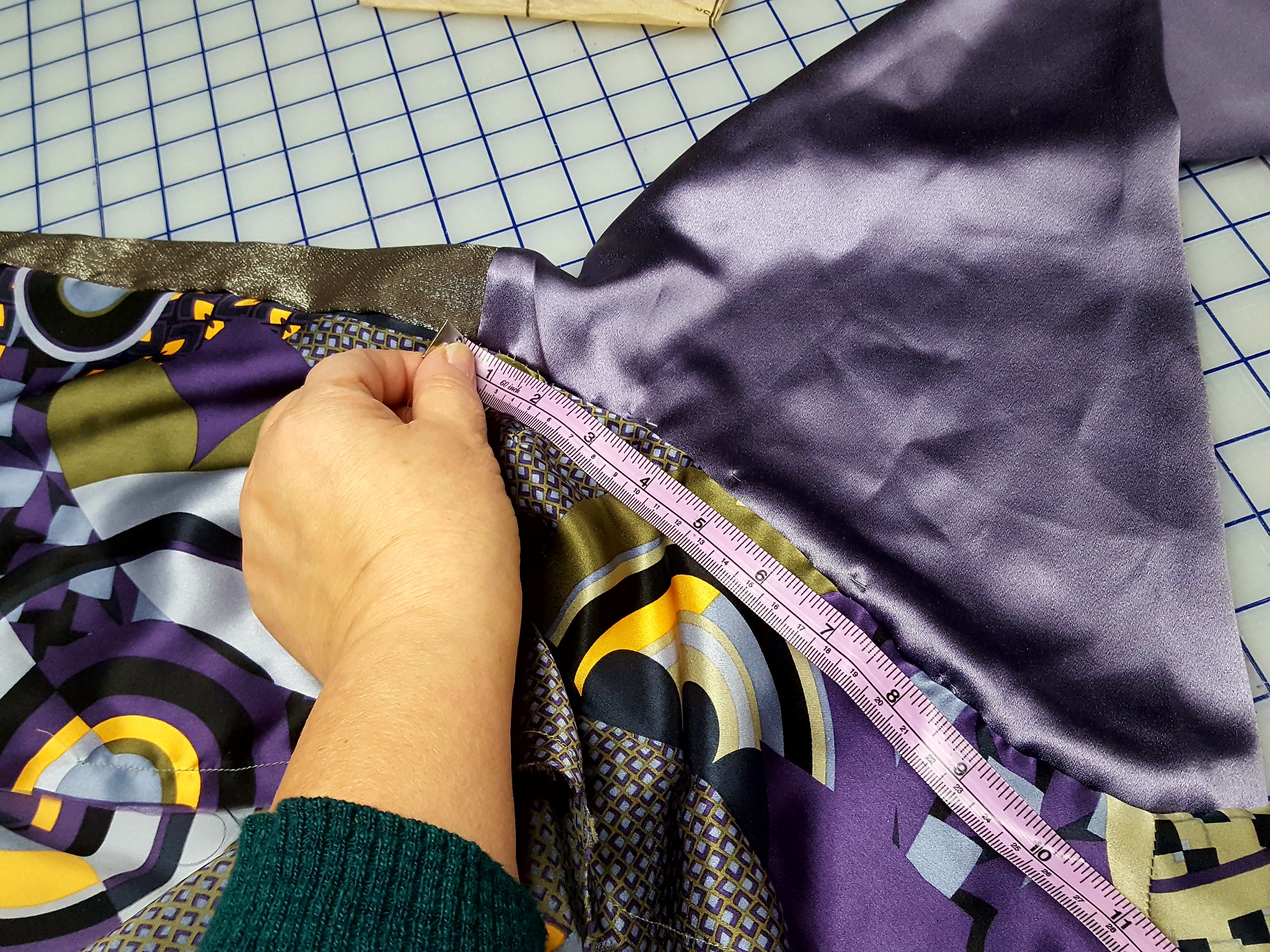 One morning was devoted to measuring and cutting the flat piping, cuff sections and band pieces.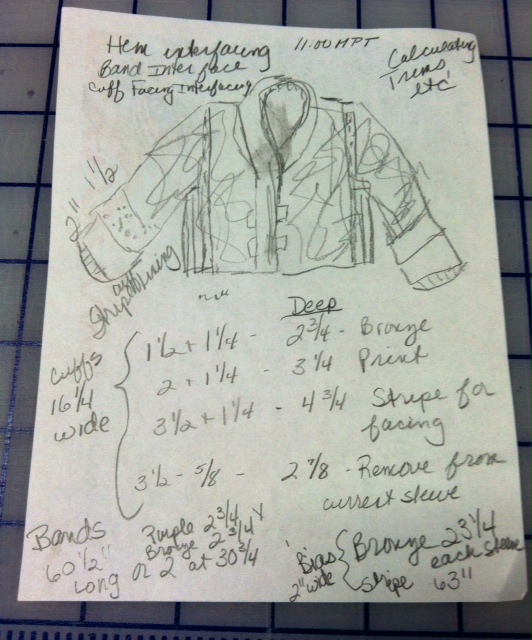 Usually I love my scissors, but this work calls for a rotary cutter to get the drapey fabric cut into perfect bias strips and straight of grain rectangles.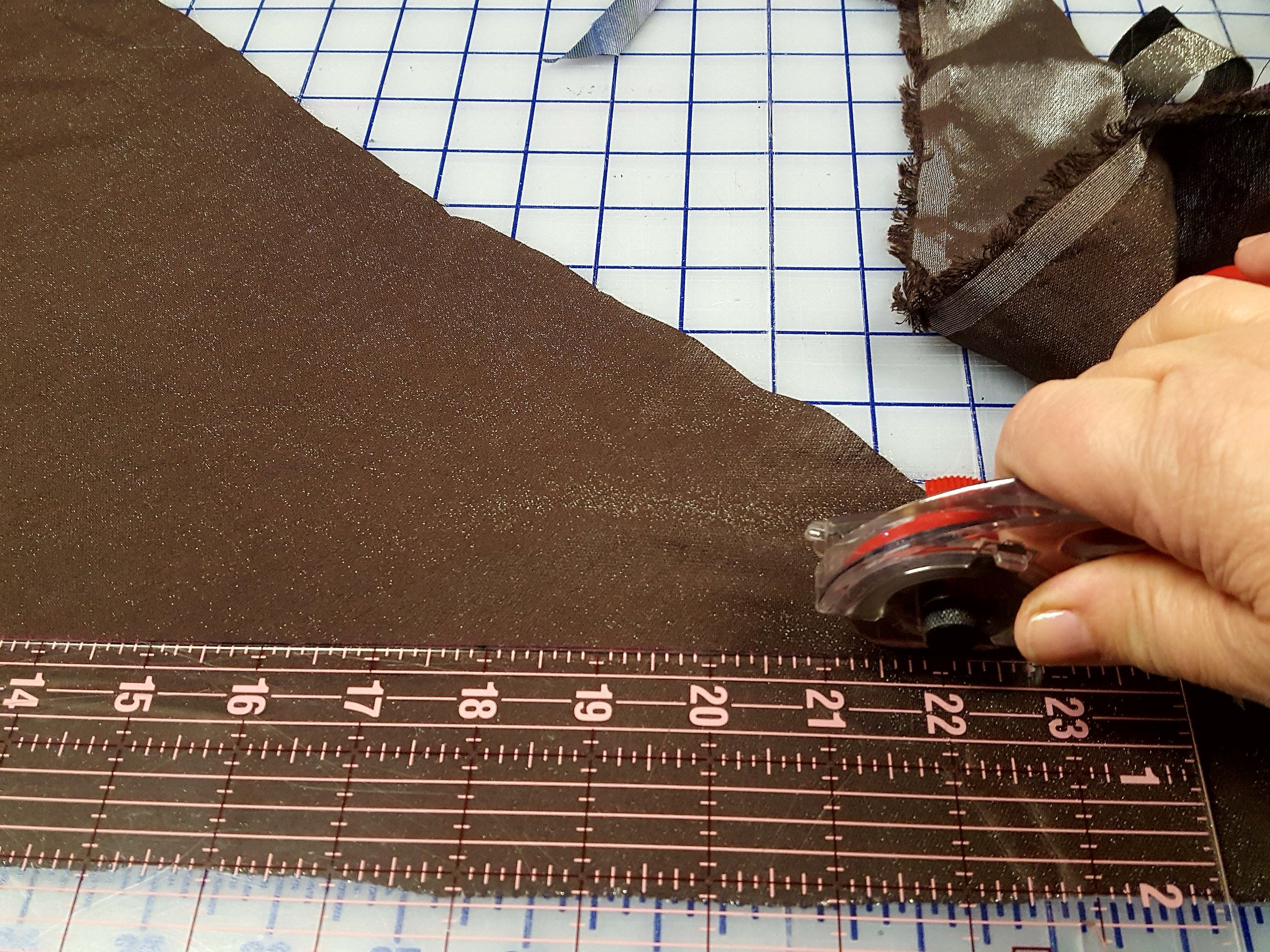 The complicated jacket was a great success and a little taffeta dress was made with the striped fabric to complete the ensemble.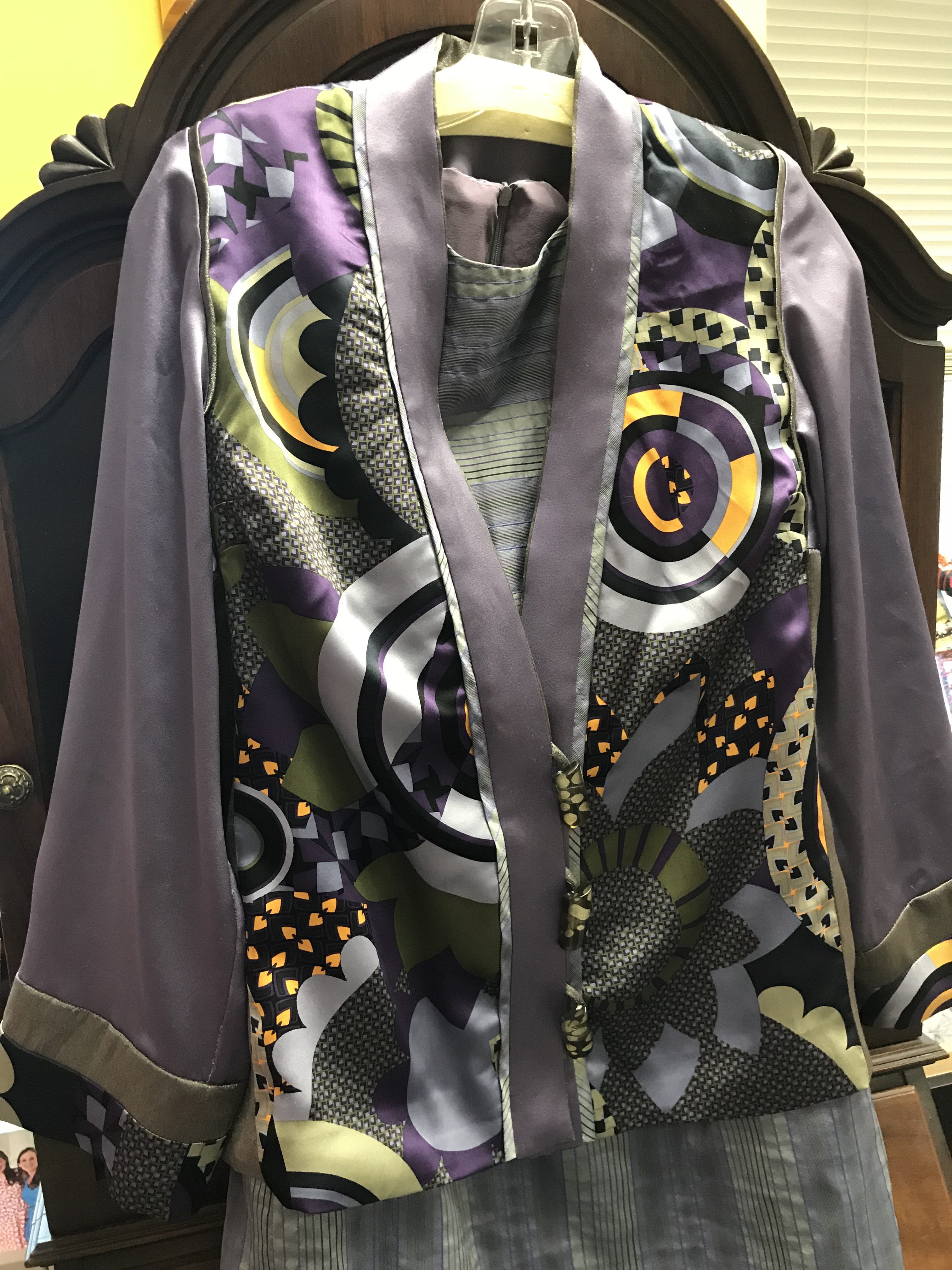 But, there was still some fabric left and my curiosity led me to the previously rejected stash.    These fabrics took the print in a completely different direction, lighter and with a silvery undertone.  When I mentioned a second jacket to Sally she was delighted with the idea of two jackets for the same dress.  You can visit our Instagram page to see the second jacket move from fabric to the completed rolled edge, pieced, cropped #tabularasajacket.  Can you see the difference?  I minimized the orange in the print for a totally different look. Find directions for the exposed rolled edge seaming in the Swing Variations pattern. Good thing I don't have to choose a favorite. I love them both.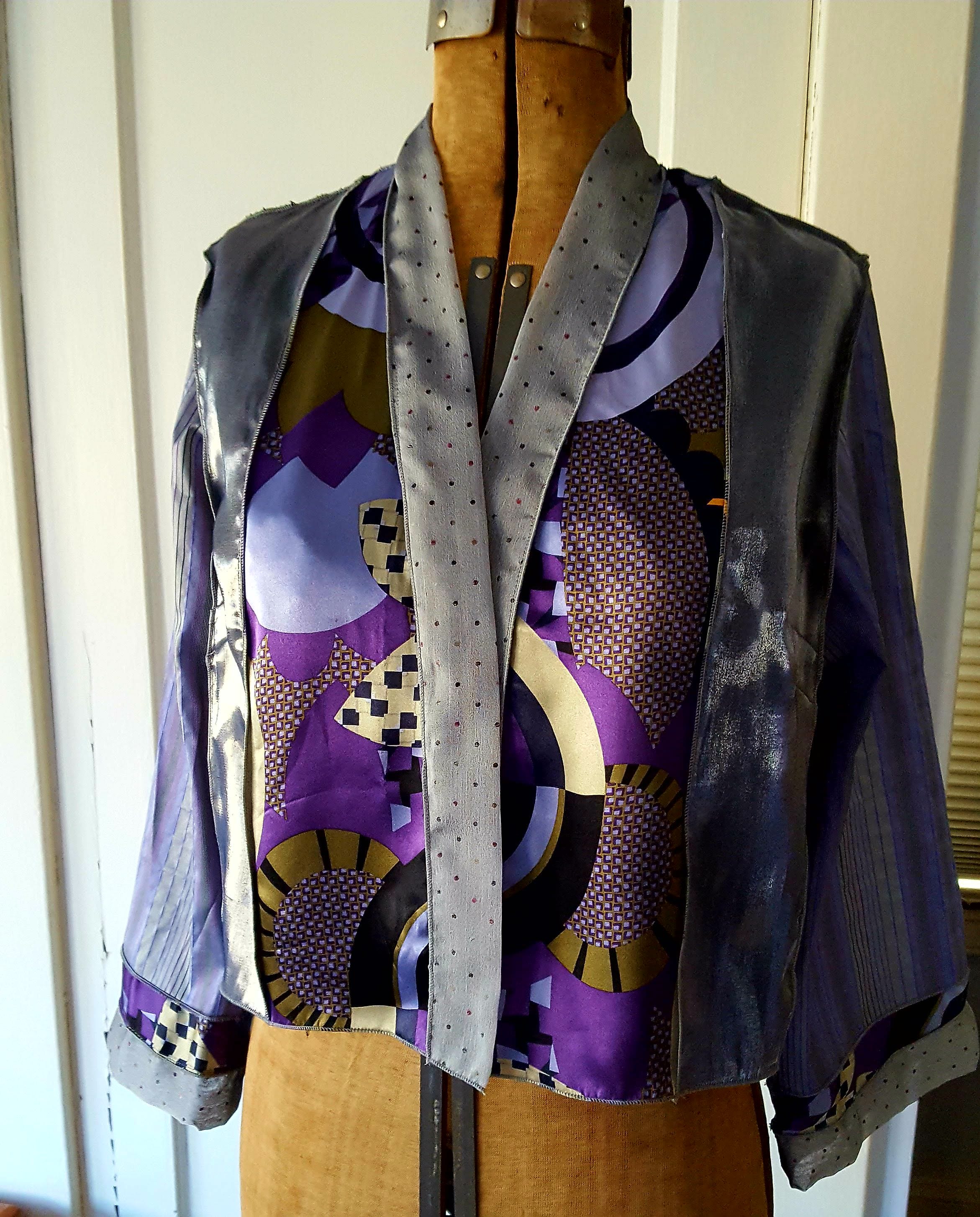 Redesign is the subject of one of my classes at the Atlanta Original Sewing and Quilt Expo.  It would be grand if you could join me at the Expo.  If that is not convenient for you, then watch my on demand Burda Style: Get a Better Fit: Tailoring and Styling your Wardrobe.   You can see restyling projects for all types of garments which will inspire you to try it yourself.  Use the coupon code CUMBIE20 for a little discount on the cost of this online class.
Why not add a #fitforartpatterns redesign project to your 2018 sewing project list?  We cannot wait to see the clever jackets, tops and pants you will create.
Happy Sewing, RAE
Enjoy receiving our blog? Sharing is caring, forward this post to a friend by clicking on the Forward link at the upper right corner of your e-mail notification.  Remember that the beauty of the Fit for Art System is you can sew successfully with endless variations. Take a moment to review our variation patterns offered by clicking here.  Also, are you following us on social media?  Take a moment to check us out on Facebook and Instagram, follow the hashtag #fitforartpatterns.