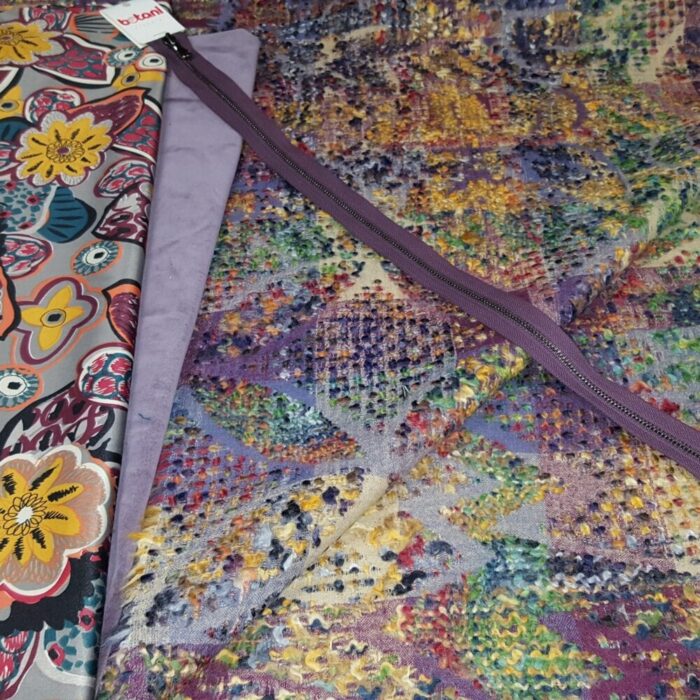 Welcome to Sew! Let's Get Dressed, a weekly blog that encourages you to sew successfully.
To celebrate my favorite valentine, my husband Jim, I will share the story of this beautiful Tabula Rasa coat I made in January.  It all began last summer, when I was traveling in southwest France.  I was encouraged to visit a beautiful fabric store, Satilin, in the town of Revel.  I do not have to tell you that a fabric store can be dangerous place if your favorite pastime is sewing.  And when it is your business, new fabric for new samples is what keeps your design energies moving forward.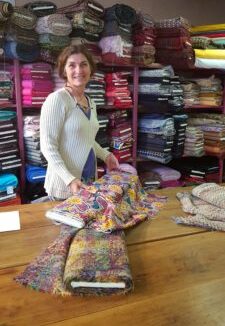 The store was full of treasures. My daughter Anna was immediately drawn to an interesting piece of Chanel style wool. The lovely proprietress pulled out several bolts of Chanel ends for us to look at.  One particularly piece caught my eye because of its playful colors and textures.  Plus, there was a bold silky print that complemented it nicely.  I thought it would be the perfect lining.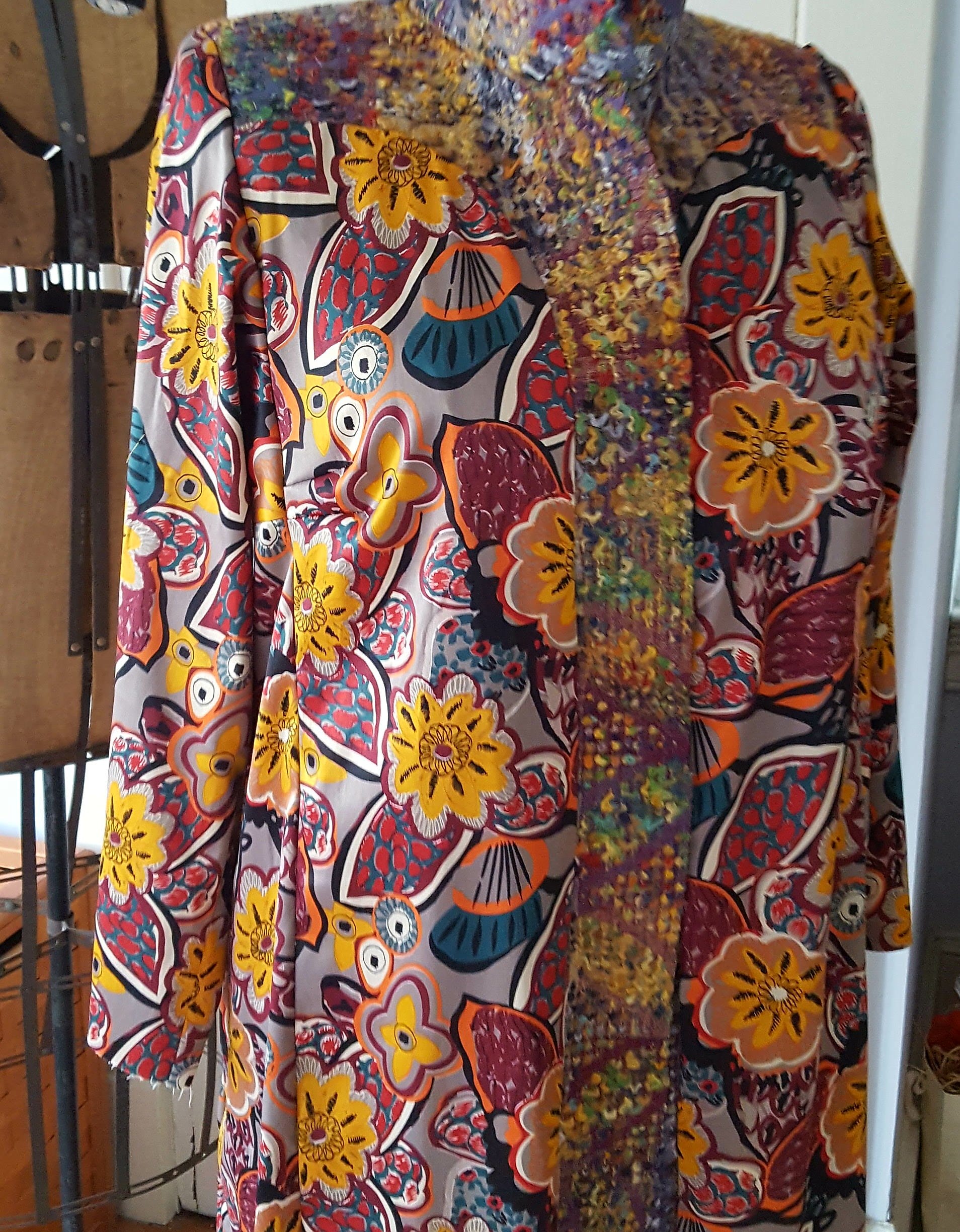 Further investigation of the store's lovely stock led me to choose a pretty piece of red floral voile and a faux Missoni knit to add to my stash.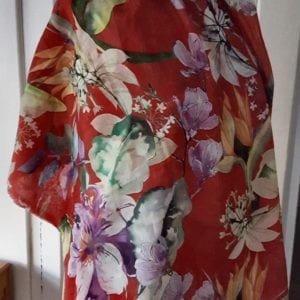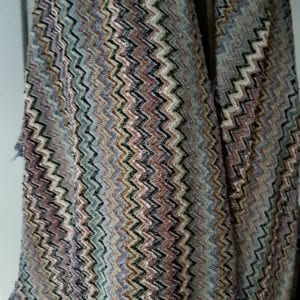 After I ordered them to be cut, Jim suggested that I should buy that wool and lining too.  I replied that I had enough coats and did not need to make such an extravagant purchase.  Usually that would end the conversation, but he persisted suggesting that it was unconscionable to leave such beautiful and unique fabric behind.  "You will regret it for the rest of your life" he said.
The store clerk chuckled and commented that it is certainly unusual for a husband to be convincing his wife to buy fabric.  I was amused too, and so I acquiesced and brought home the 3 meters of wool for a new winter Tabula Rasa Jacket.
After Christmas, I carved out a few days to cut and construct my coat of many colors.  I used the Rain or Shine Variation with my TRJ pattern sized for outerwear.  I chose the swing back shaping with inseam pockets, a collar, and zipper.  The fabric was too heavy for a hood and I felt there was no need for a lot of design details when the fabric makes such a bold statement.  At Botani in New York City I had found a zipper in the mauve color that I love and is prominent in the fabric.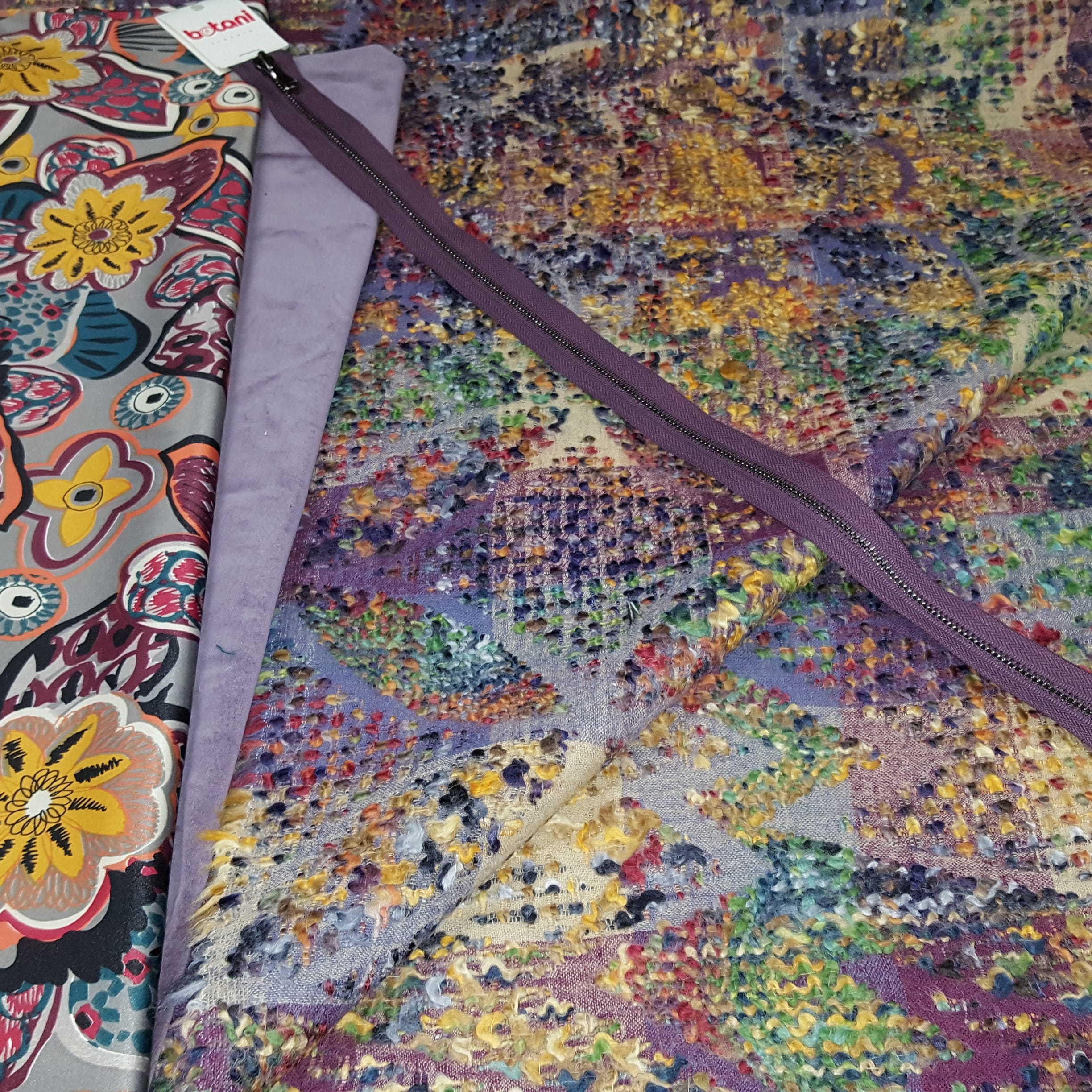 The fabric presented several challenges.  When observed from afar, it clearly had an underlying plaid that I decided to match along the horizontal stripes.  It was also bulky and heavy enough that I handpicked the topstitching to keep from flattening the fabric's lofty texture with machine topstitching.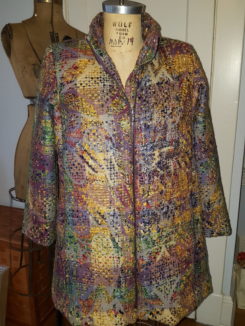 It is the perfect antidote to the grey winter days of February.  It is warm and cozy and, in a way, it was an unexpected gift from my long-standing valentine.
Have you ever been gifted with a beautiful fabric?  What did you make with it?  Have you made a winter coat with your TRJ?  Send us a photo.  Tell us about the challenges you discovered while sewing heavy coat fabric.
Happy Valentines Day and Happy Sewing, RAE
Enjoy receiving our blog? Sharing is caring, forward this post to a friend by clicking on the Forward link at the upper right.  Remember that the beauty of the Fit for Art System is you can sew successfully with endless variations. Take a moment to review our variation patterns offered by clicking here.  Also, are you following us on social media?  Take a moment to check us out on Facebook and Instagram, follow the hashtag #fitforartpatterns.