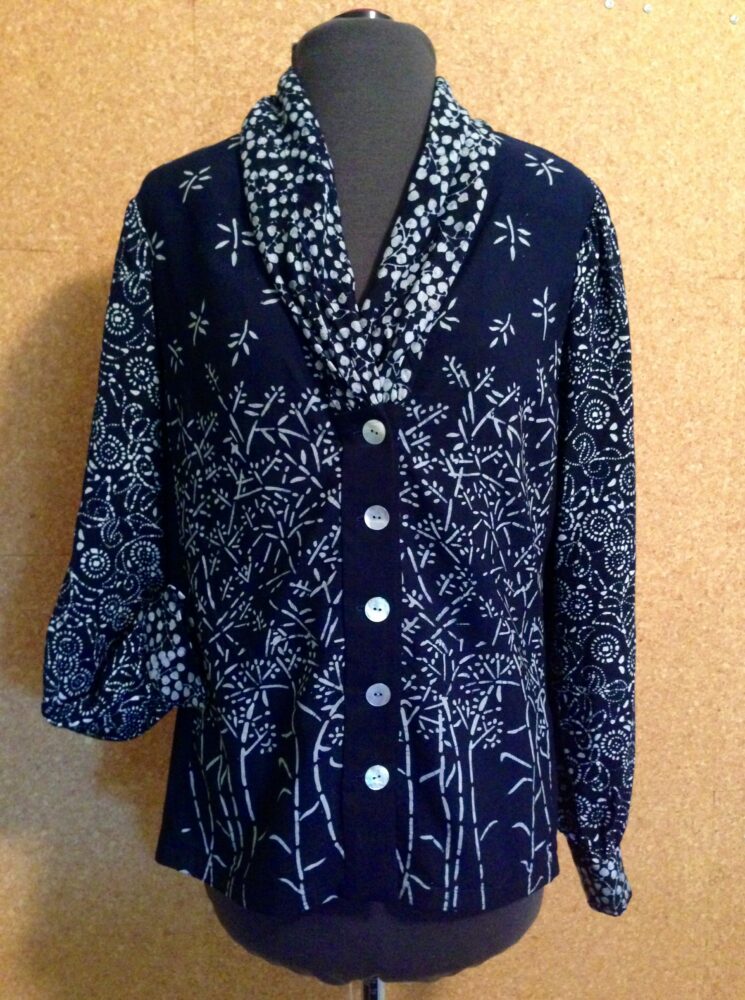 I was surprised by how much attention this new Tabula Rasa Jacket received at the Fredericksburg and Schaumburg Expos.  Many times I found myself explaining which pattern variations were used to create the rayon batik top, and then sending the asker to the Sew Batik booth to get their own combo of fabrics to make a similar top.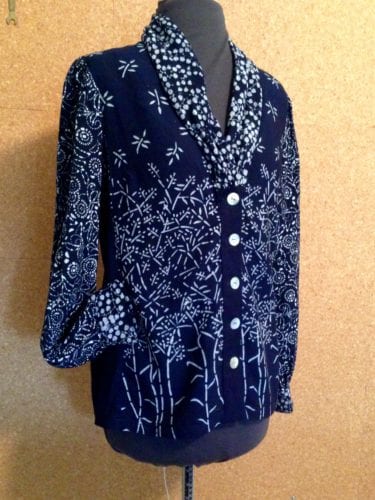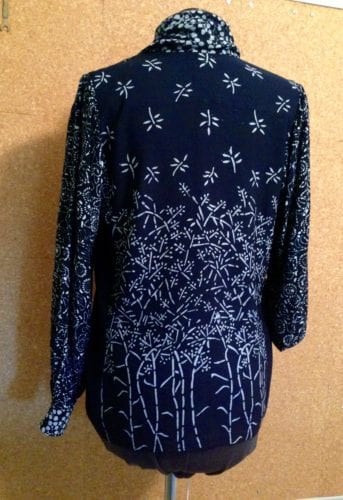 This blousy top is made from Sew Batik rayon in 3 coordinating fabrics of the new True Indigo color group.  By the way, Sew Batik has recently added several new color groups and new motifs that are quite lovely.
It features two jacket variations that are especially well suited for softer fabrics.  The gathered band (Band Variations and Pockets) has a wide upper portion that is gathered or pleated to fit into a narrow lower band.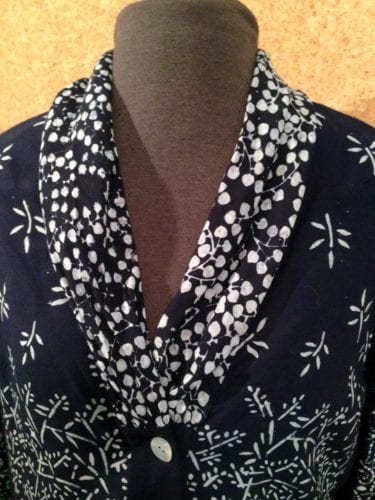 The full sleeve (Sleeve and Cuff Variations) is also gathered at the shoulder and at the wrist to fit into a smaller cuff.  The gathers would not work well in a stiffer fabric, but drape beautifully in this soft rayon fabric.  In case you want to try something similar, here is an estimate of my fabric usage in size small:
1 yard Durum Dreams border print for the front and back, the solid blue upper portion of this fabric became the sides and lower band;
1 3/8 yards of Medora Flora for the full sleeves (or ¾ yard if you can cut on the cross grain) and shoulder facings;
7/8 yard Gardenista Vine for the gathered section of the band and the cuffs.
I finished off the band with luminous shell buttons from my stash to bring out the motifs in the fabric.  If you are not using a style that includes facings, I do recommend that you add a front and back shoulder facing to support the rayon (see Step 4 of the TRJ instructions).
These rayons do seem to inspire us to combine more variations, perhaps because they have a soft hand and flattering drape while still being relatively easy to sew. When I went back through the photo gallery to find more samples featuring multiple TRJ variations, I found these additional Sew Batik rayon creations.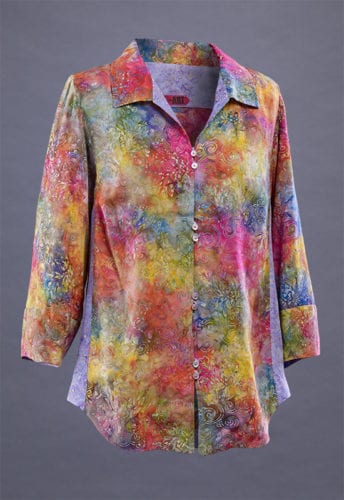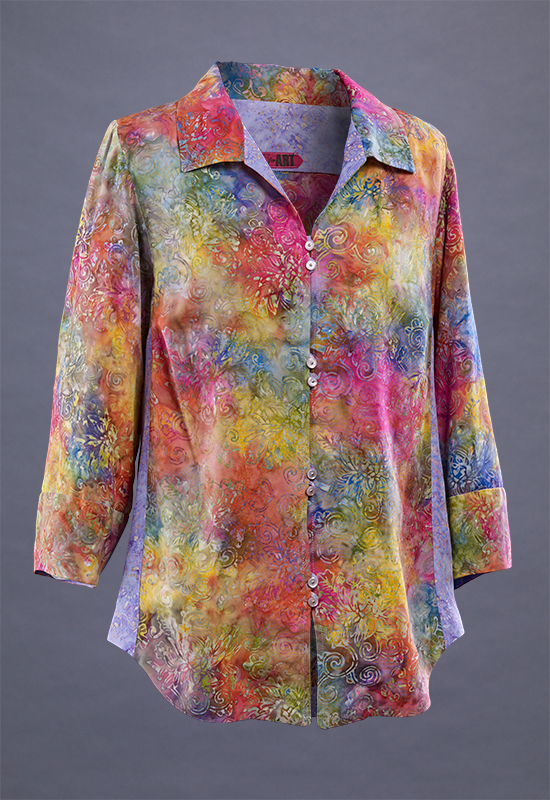 The Fireworks Shirt is a mash-up of TRJ Variations executed in Rainbow Floral Outline and Lilac Medora Flora.  The jewel neck front and collar come from the Rain and Shine Variations, as does the modesty panel hiding underneath the center front and buttons.  The ¾ length sleeve with lantern cuff comes from Sleeve and Cuff Variations.  I made this top soon after we developed Wide Neckline Variations for Tabula Rasa Knits, so I decided to try the Curved Hem from the knit pattern on this TRJ.  I simply had to adapt the width of the hem curved hem templates to match the width of my TRJ front, back and sides since the knit pattern is scaled a bit smaller than the jacket pattern.  While you could certainly finish this curved hem with a classic narrow shirttail hem, I had plenty of the lilac contrast fabric so I decided to face the curved hem for a more polished finish.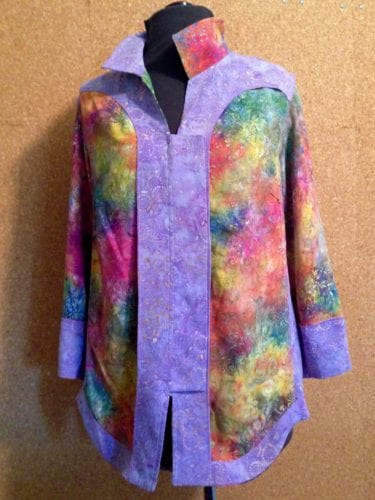 I don't want to leave out a third rayon mash-up that is also frequently admired in the booth – Rae's Blue Batik Swing shirt.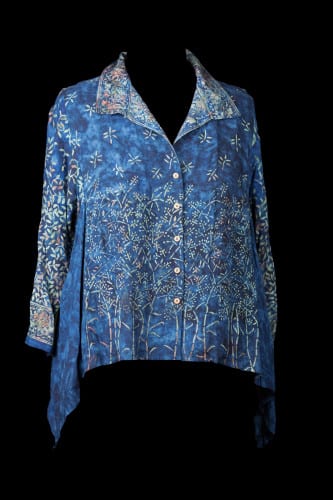 This top combines the button-up front and spread collar from Shirt Variations with the long side panels from Swing Variations.  It's made from two Sew Batik border prints, Durum Dreams and Hyde Park, both in the color Night Shadow.  Rae also created a faux buttoned placket look at the sleeve hems.
How many TRJ Variations have you combined in a single garment?  We'd love to see photos of your mash-up creations.  If you haven't done that yet, I hope this post will inspire you to give it a try soon!
Happy Sewing, Carrie