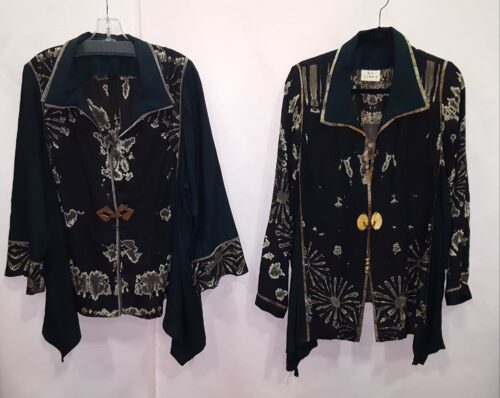 It is a fun exercise to examine two garments made from the same fabric.  In this case the tops are similar Tabula Rasa Jackets (TRJ).  I made one for Laura Murray, wearable artist extraordinaire, and one for myself.   Look closely at the next two photos and see if you can figure out how they are the same and how they are different?  Can you guess which one belongs to Laura and which one is mine?  Do you like some details better than others?
Here they are from the front: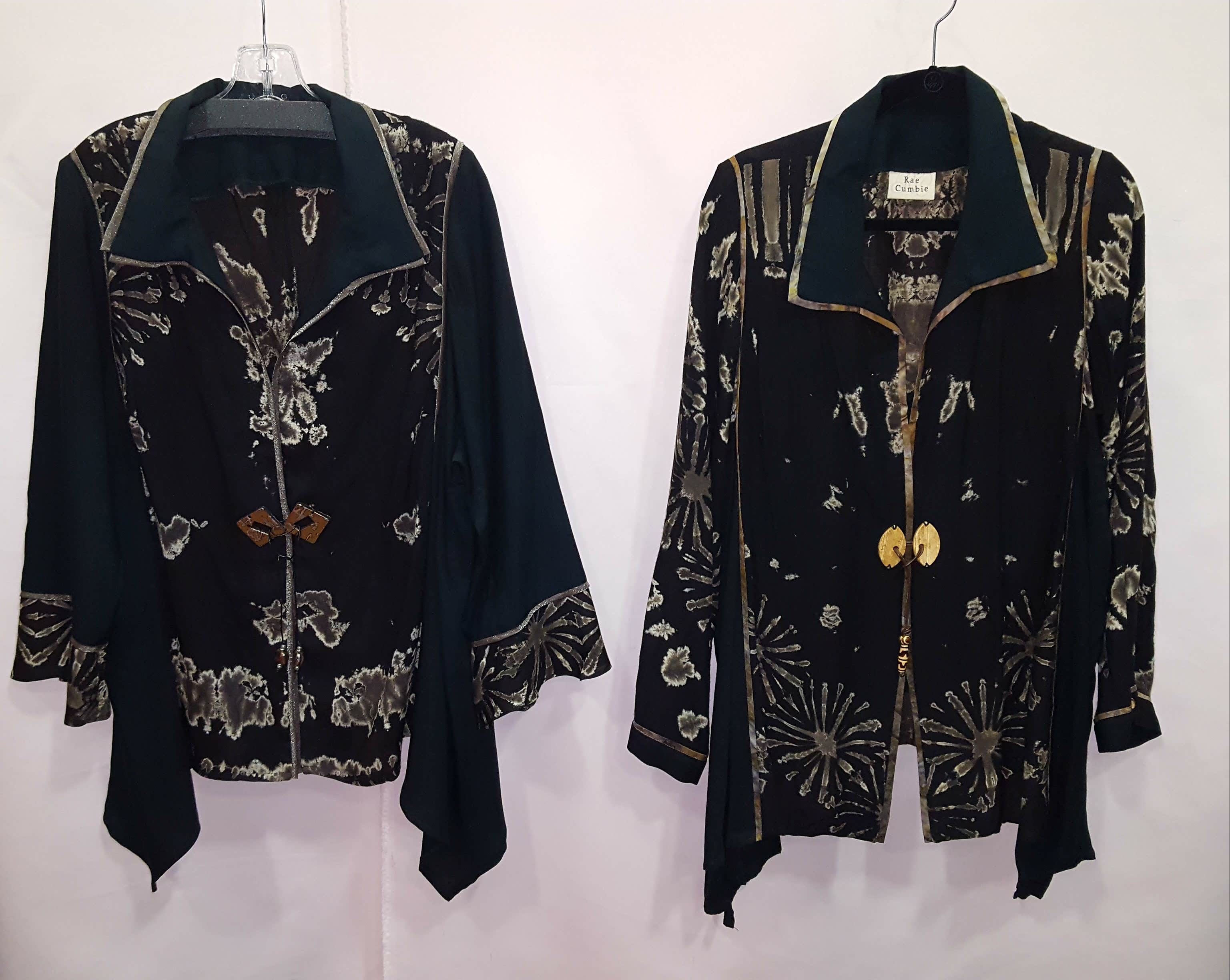 Here are their backs: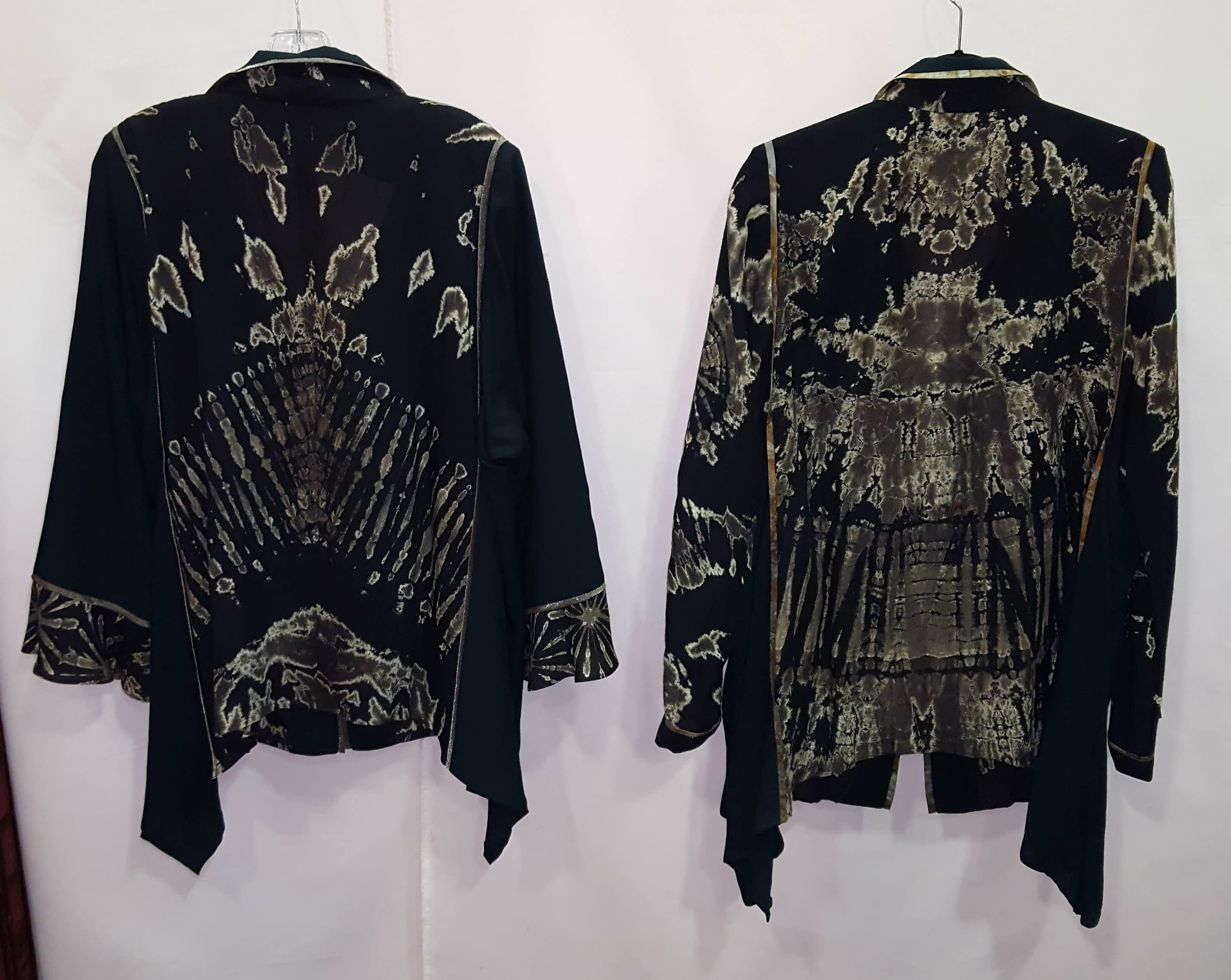 Now that you have had a chance to puzzle through this exercise, here are the answers:
Let's begin by discussing the similarities.
Both tops are cut from a 3-yard piece of tie dye fabric Laura chose in black and tan.
Both tops include sections made with black rayon from Sew Batik. It is the collar and facings of both tops.  It is also the swing side on both tops.
Both tops were made with the TRJ Pattern with the Swing Variations sides and hemline. The collar, modesty panel, and front opening are from the Rain or Shine Variations Pattern.
Both are outlined with extensive flat piping, a technique described in the TRJ instruction book.
Both have a center front decorative closure that ties closed. They are secured above and below the closure with hidden plastic snaps.
Both are finished with a serge finished and turned shirttail hem.
Here are the differences:
The flat piping on Laura's jacket is a tan cotton batik from Sew Batik.

Cotton piping

The flat piping on my jacket is a platinum metallic rayon from my stash.

Laura's closure has the look of wood,Mine is a soft metallic polymer clay.
Laura's top has tie dye fabric sleeves with a black band cuff accented with a small wooden button. My top has black sleeves and a swing variation cuff made from tie dye fabric.
The tie dye motifs are placed in mirror- image fashion on both jackets but different motifs are featured in different places. On my jacket, I had to put a seam down the center back to create the chevron design.
Laura likes her tops a little longer than I do, leading to the slight difference in length.
I remembered to put a label in Laura's but have not yet put one in my top.
At the Fredericksburg VA OSQE last weekend we were able to photograph the two tops together and I thought you might enjoy analyzing these similar but different designs.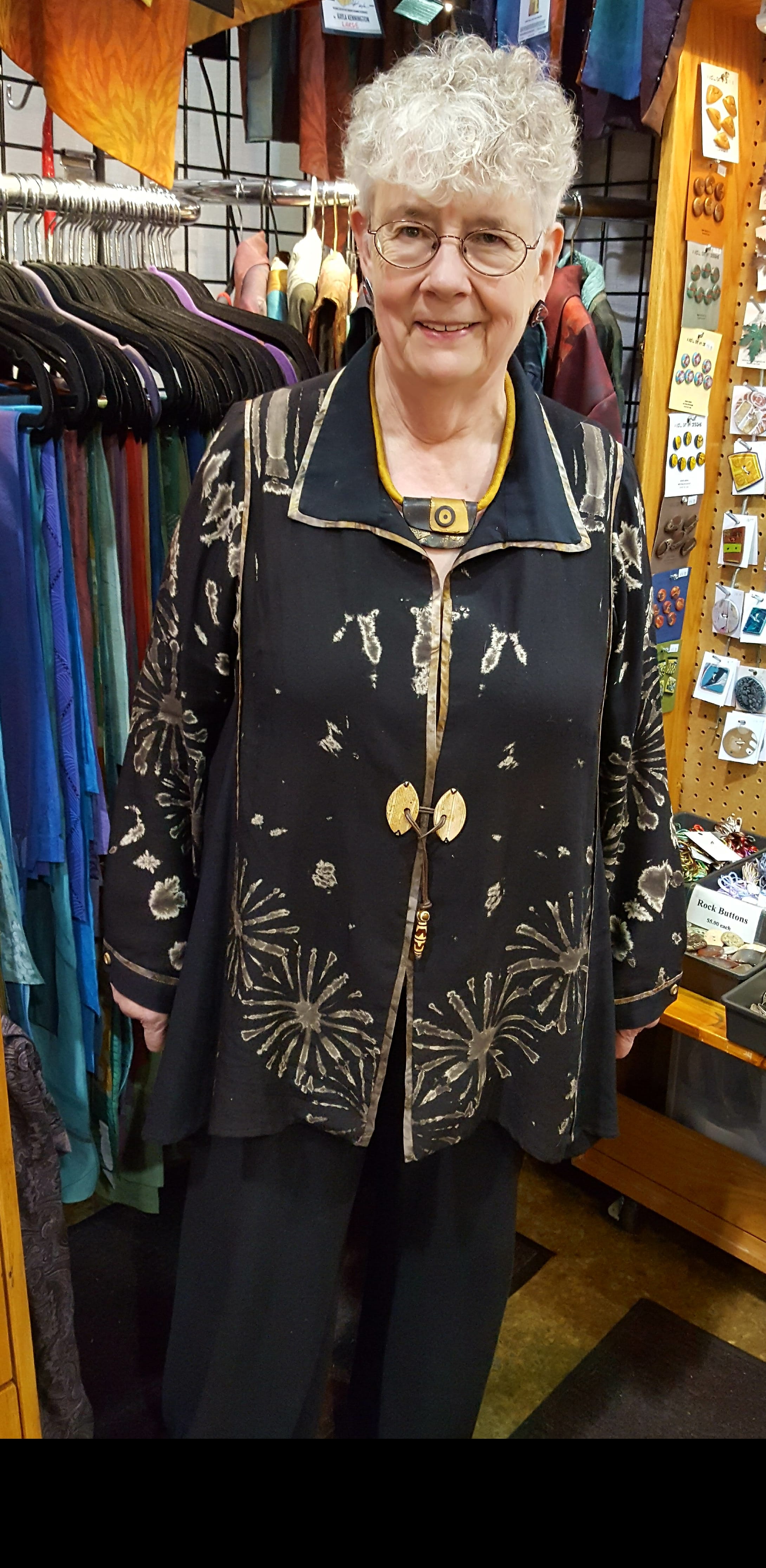 I certainly puzzled over the fabric when I was designing and cutting the two tops and choosing accent fabrics.  Laura chose the closures and both are terrific and complement each unique top.
I did struggle with the placement of my closure. I stitched it on two different ways before finally finding my favorite look.    Here you can see the first effort, square and closely positioned.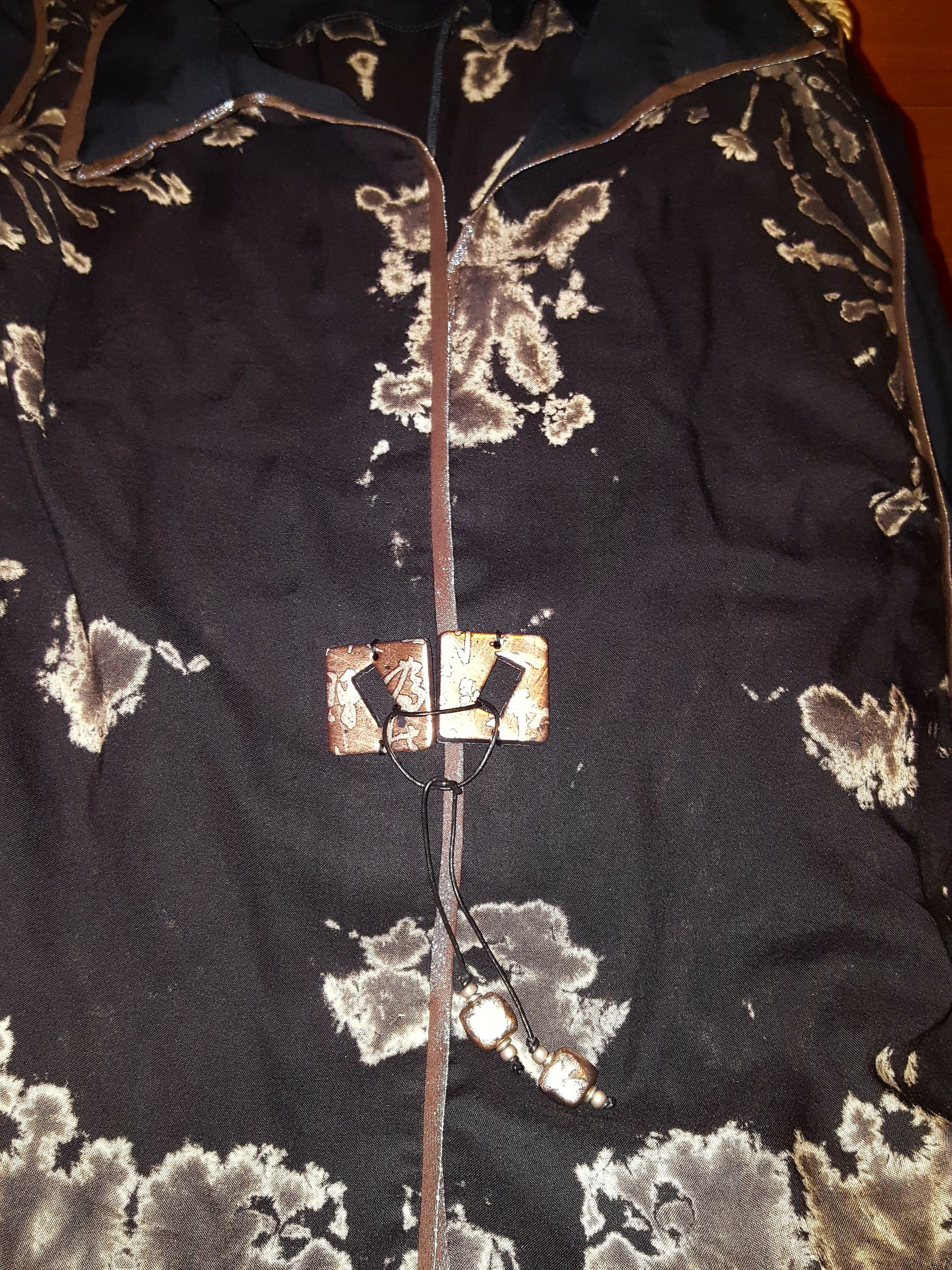 The second placement, square but separated.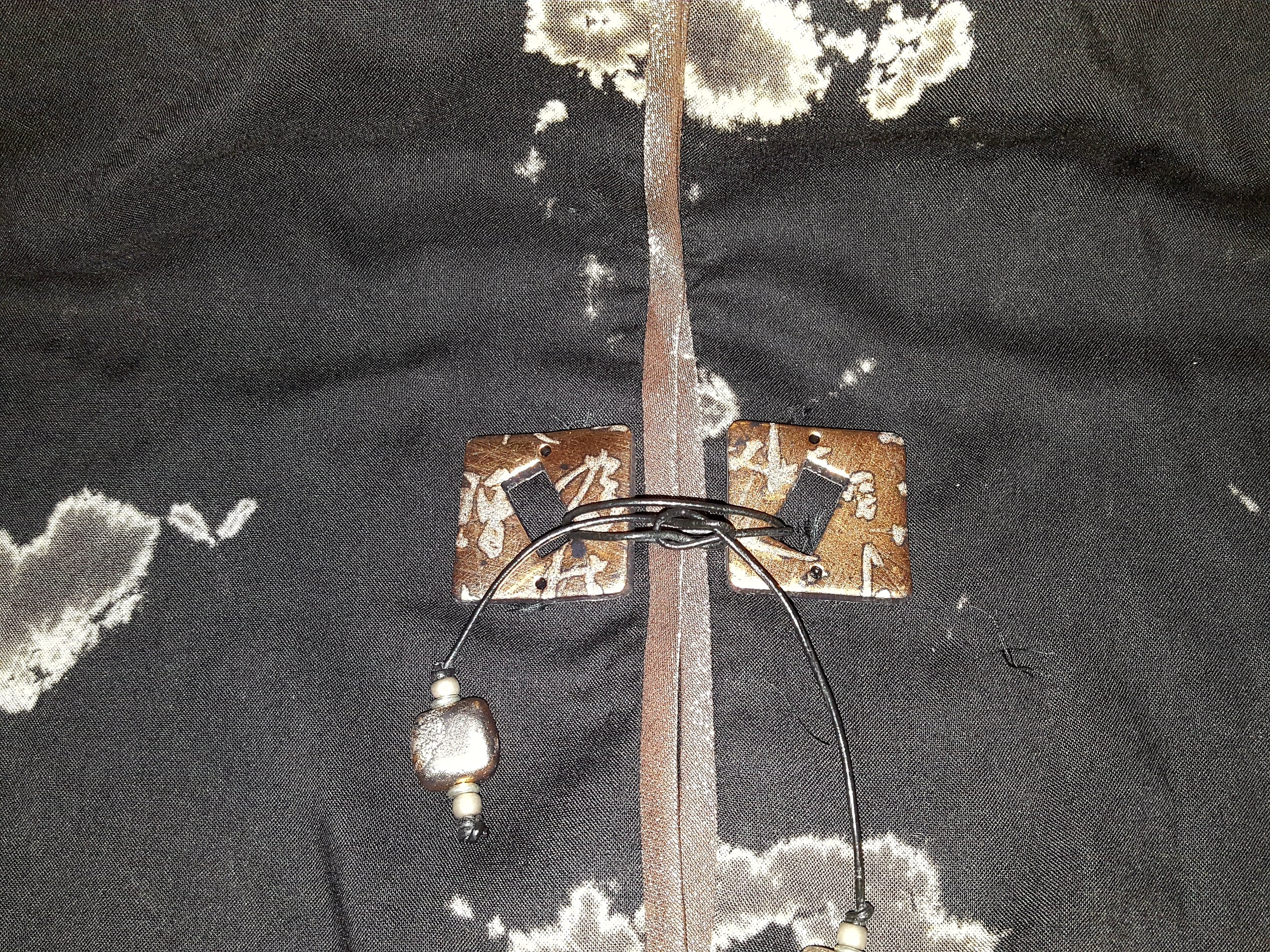 And finally, the winning placement, diamond shape with points touching.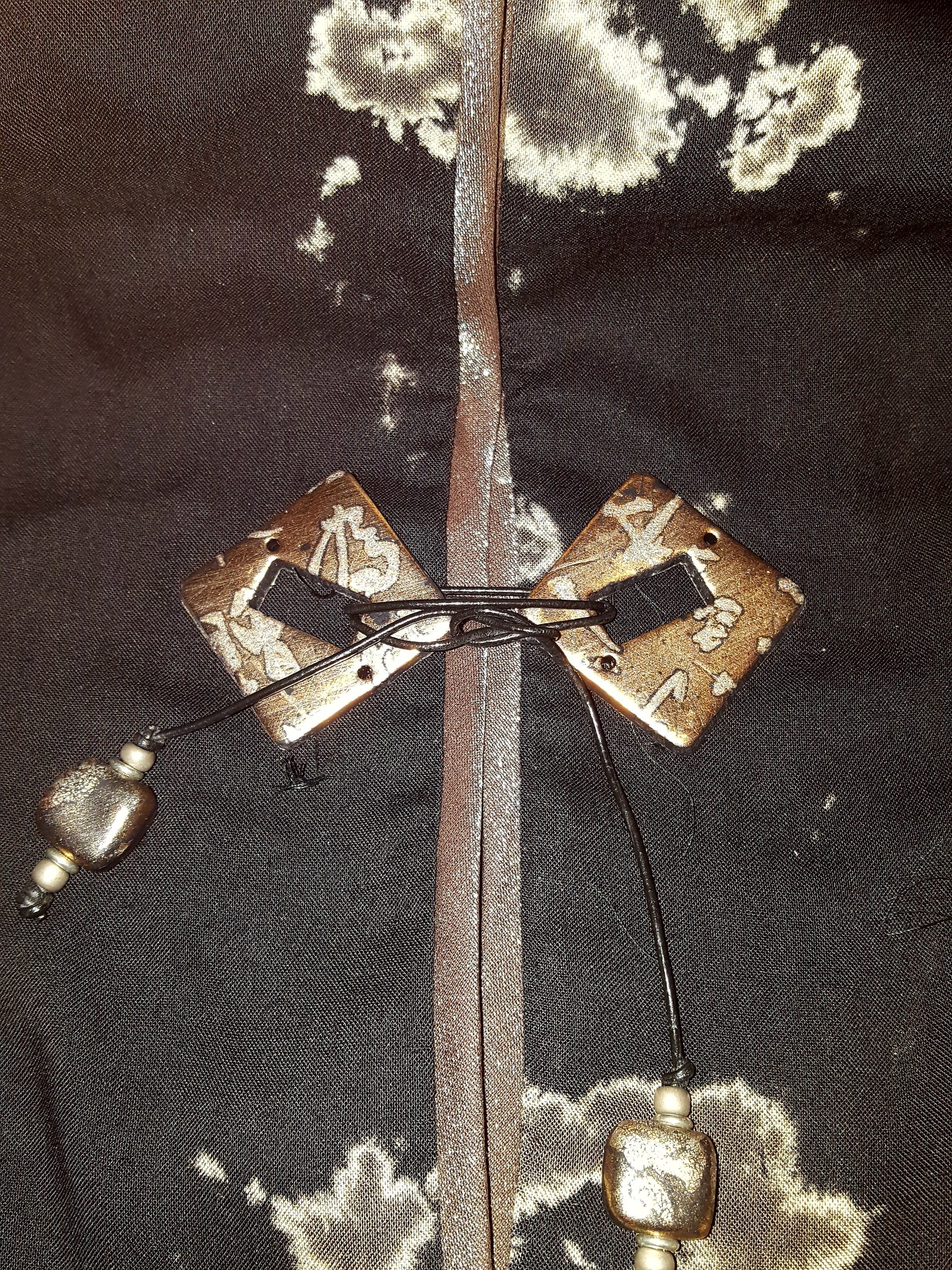 Have you ever made two similar but different tops from the same fabric?  I often use the same fabric twice, especially if it is really wonderful with lots of possibilities.  I never ever dispose of a scrap from Laura or Mekong River Textiles.  If you don't know Mekong River Textiles, meet us there this Sunday for a little get together and fabric buying party between 2:30 and 4:30.  Read more about this event and see our photo gallery on Facebook.
If you have used the same fabric twice, did you keep any design details the same?  Were the differences suited to the two wearers?  Laura and I each got a top we like a lot with our personal preferences speaking through the details.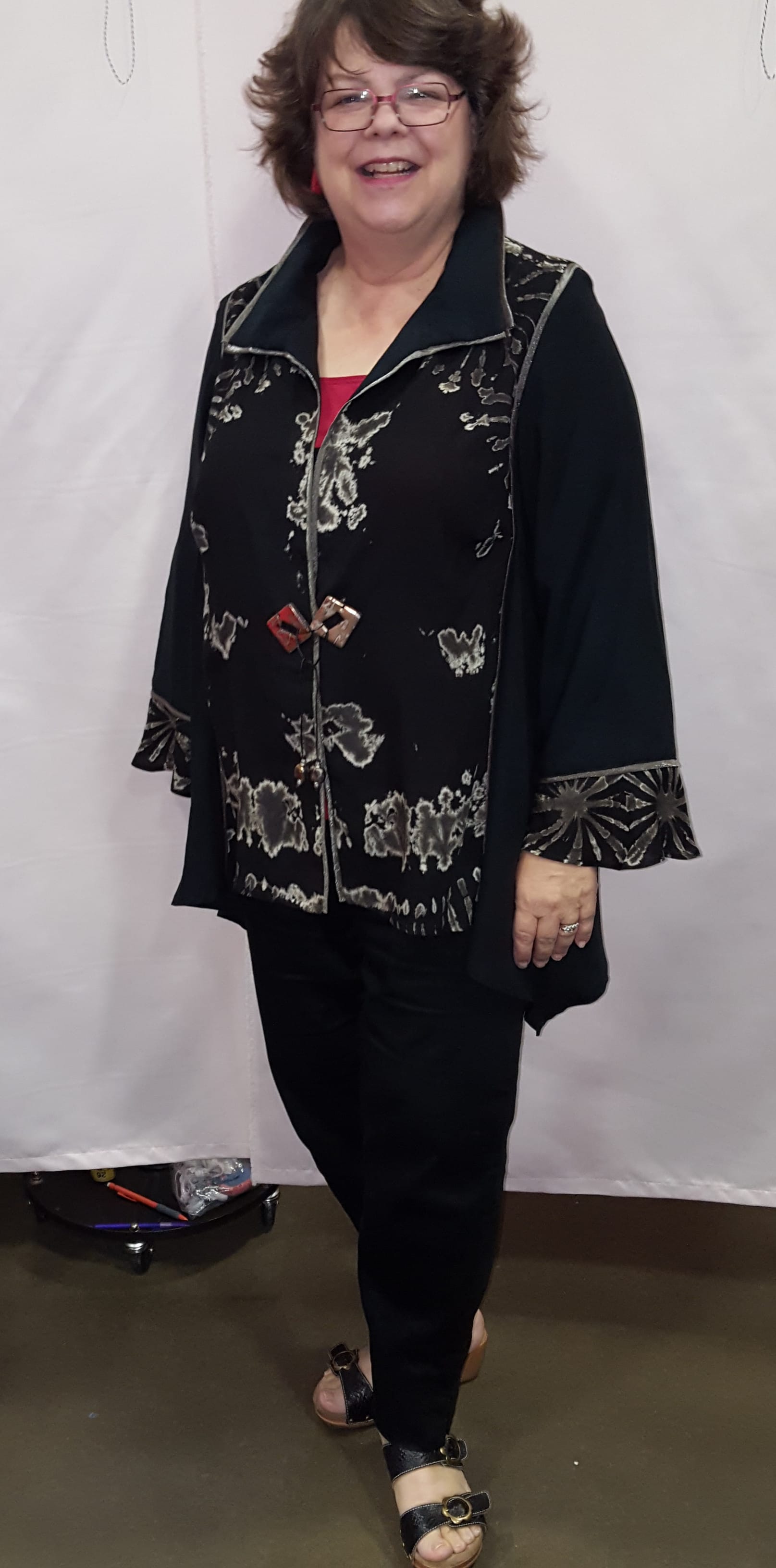 It was fun to see them together, but we probably won't ever wear them when we are in the same room.  Hope to see you Sunday at Mekong!
Happy  Sewing, RAE