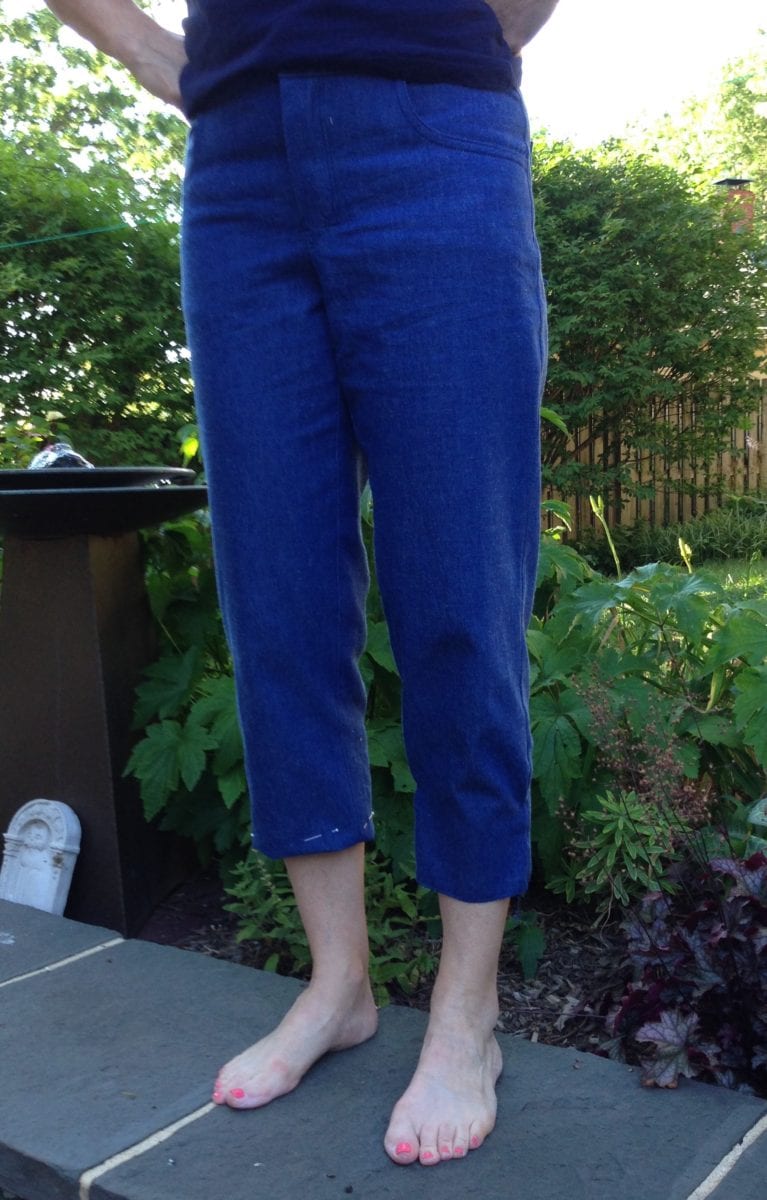 This spring I realized that I am down to 2 pairs of capri pants, only one of which I actually like.  I am especially sad that my favorite pair of denim capris has gone missing; they had the perfect degree of stretch and were well broken in, soft and comfy without sagging.  Obviously the time has come to make some capris using my Eureka! Pants pattern.
Having collected several pieces of fabric with capris or shorts in mind, I decided to start with sporty blue denims since that is what I missed the most.  The big question for me was how long to make them.  So, I tried on the 2 pairs on hand to eyeball the length, then measured their inseams and side seams.  I pulled out my Sporty details pattern, measured and marked in pencil of the finished length I thought I would prefer at the inseam and side seam.  They weren't exactly the same, so I picked an average point and added one more inch for the hem.  I folded up the bottom of the back pattern to that length and pinned a scrap of paper along the bottom 3" of both the inseam and side seam so I could make those seams fall straight down for hemming.  I did the same to the front pattern and then walked the front to back to make sure they matched.  Here is a photo of the altered back pattern ready to lay out on my fabric.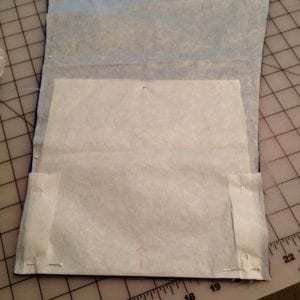 I sewed the capris up using my Sporty Details pattern, including curved front pockets, fly front, and back hip pockets.  I want to be able to wear the capris with just about any top so I used a matching thread for the topstitching rather than the classic orange of jeans details
Finally I was ready to put the capris on to choose the length and finish of my hems.  I pinned up a 1″ hem on the right leg.  First look in the mirror, I felt they were hanging awkwardly away from my lower leg.  Next I pinned about ½" out of the side seam and inseam on the left leg and asked my husband to take photos to help me decide, and to share with you.  These 2 options can be seen in this photo.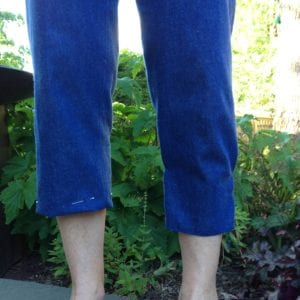 Next I tried turning a cuff up on the right leg (the style of those missing capri jeans) and pegging the left leg even more – both higher up the leg and deeper into the side and inseam.  Here you can see these possibilities both front and back.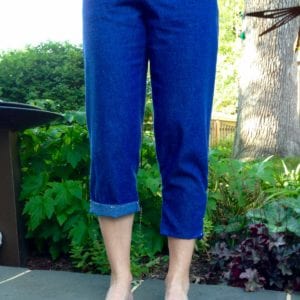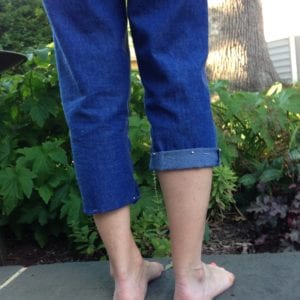 What would you choose?  I like the look of the narrow leg, but since I had already finished the side seams and inseams, it would have been a nuisance to make that change on this pair.  I decided to try the narrow style on one of the next pairs.  I put a sticky note on the pants patterns to remind myself to gradually narrow the legs starting just below the knee line and ending 2" above the hem, taking a maximum of 1" out of both the side seam and inseam.
For this pair of sporty capri Eureka! Pants, I decided to go with the cuffed leg.  It seems to me a better proportion with my calf.  I pressed the hem up 1" and then another 1 1/8".   Because it bugs me when the cuffs sag, instead of just tacking, I stitched the cuff in place along the side seams and inseams.  I'll let you know how that holds up after I've worn and washed them a few times!
I had hoped to get at least one more pair of capris made before this post, but alas it was not to be.  I'll post photos of more capri styles on our Facebook and Instagram pages when they do get done.  Have you made capris with your Eureka! Pants pattern?  How did you go about deciding on length and how to finish them?  Sharing your experiences here can help others with this process!
Happy Summer Sewing, Carrie