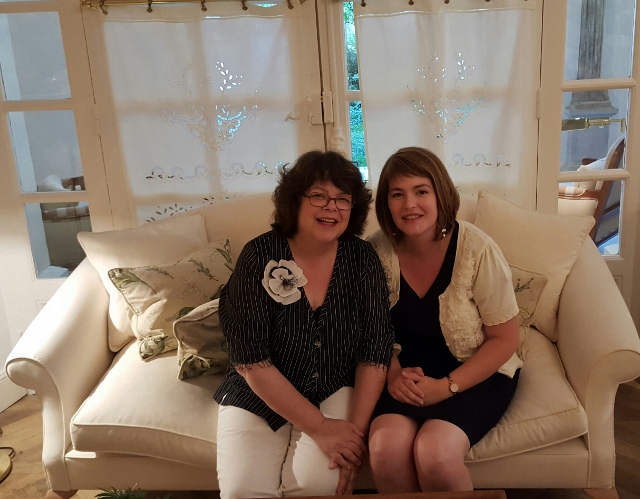 Sewing black and white tops is so practical.  They can be paired with either black, white, or bright colored pants moving from season to season in style.   (If you don't wear black and white, imagine that I am writing about your favorite light and dark neutral colors.)
Earlier this summer I made a Tabula Rasa Jacket (TRJ) with a piece of black and white voile I bought years ago at Mood to complement some gifted Eifel Tower buttons.  I have designed countless tops to complement the fabric and buttons, but none had actually been cut or sewn.  This year the time was right as I needed a cool and versatile little top to wear to a wine tasting.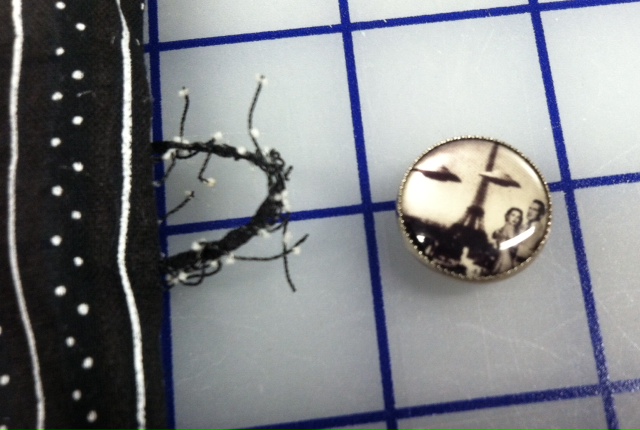 I began with my basic TRJ pattern but since I was using only one fabric, I drew on several of the variation patterns and some stash cord and ribbon to add some subtle interest.
Because there was plenty of fabric, I lengthened the pattern to a low hip length and added 2" so the hem could be double turned.  This added weight to the breezy top and allowed for neat hem slits which are described in the instruction booklet of the Shirt Variation pattern.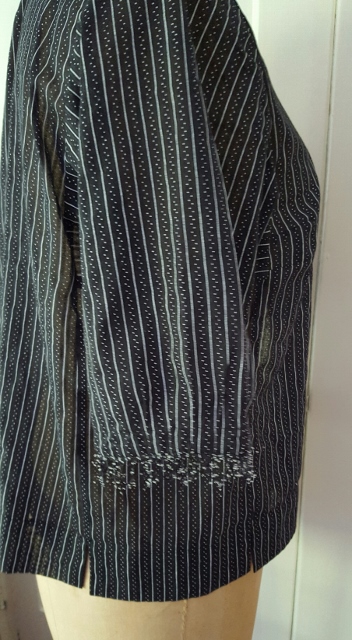 To keep the TRJ cool, I used the narrow band from the Band Variations and Pockets pattern.  I cut the band on the bias to add some pattern play with the striped fabric.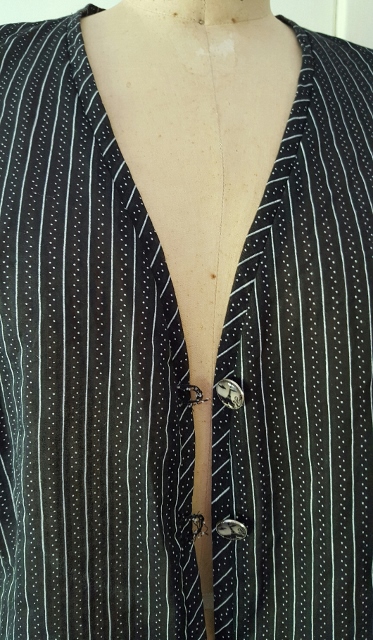 I used some ribbon and cord to make loops for the button closures.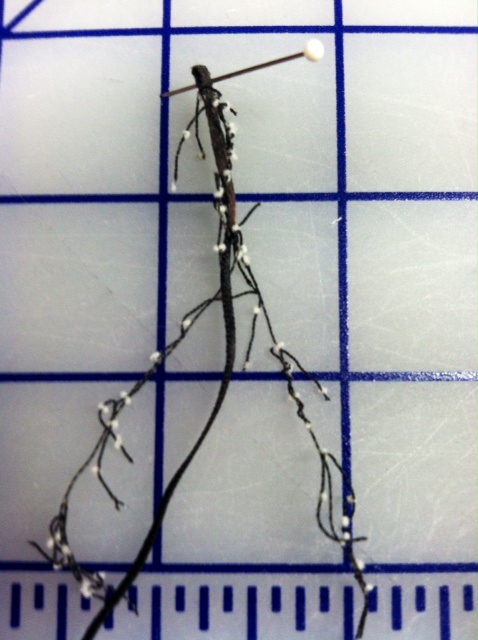 The same ribbon and cord was added in a loopy manor to the edge of the elbow length Summer Sleeves from the Sleeve and Cuff Variations pattern.  It's hard to see in the photos, but I added a few pintucks at the hem and a facing to keep the sleeve and trim neatly controlled since the fabric had very little drape.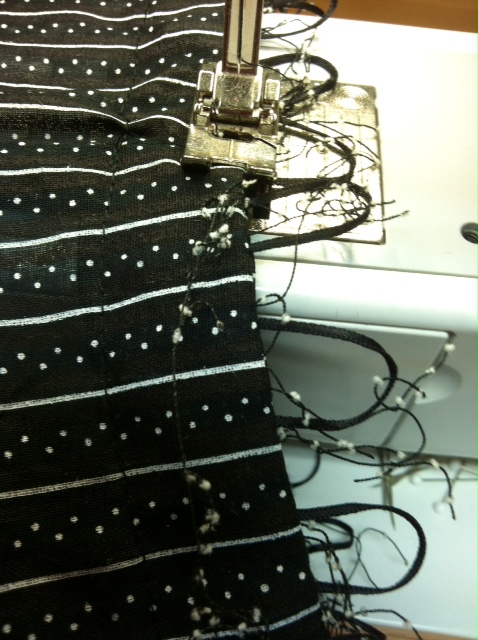 Once I finished the top, I decided to create a flower pin using the extra cord, ribbon and fabric to add a little pizzazz to the simple top when I want to look festive.  I used some white satin face organza and the Organza Flower Pattern that is a free download in our Helpful Hints section.  Re-read the blog post that offers step by step directions for creating your own pin.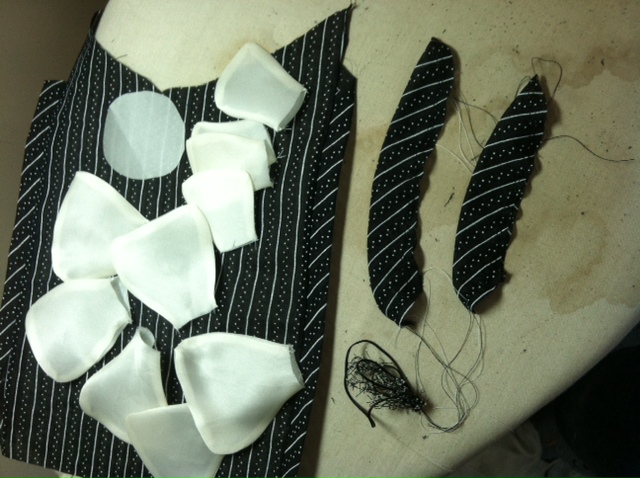 All summer I have worn this top with my white pants for a cool and crisp look. On hot days this fall, I will wear it with my black pants for a different look.  My mother taught me that you don't wear white pants or shoes after Labor Day (or before Memorial Day).  Alas, I cannot shake this tradition even though the general public no longer follows this rule.  In fact, the fall trends issue of Bazaar Magazine had a photo layout featuring white pumps and boots on models in camel colored wool plaid pants suits.
We all have the freedom to choose what we wear and what we sew.  Do you sew to extend your wardrobe of well-fitting garments? I know I will continue to stitch up basic and fun black and white tops to wear all year long, but will choose my pants seasonally.  What are your favorite colors and looks?  Why not make an organza flower to coordinate with your wardrobe basics?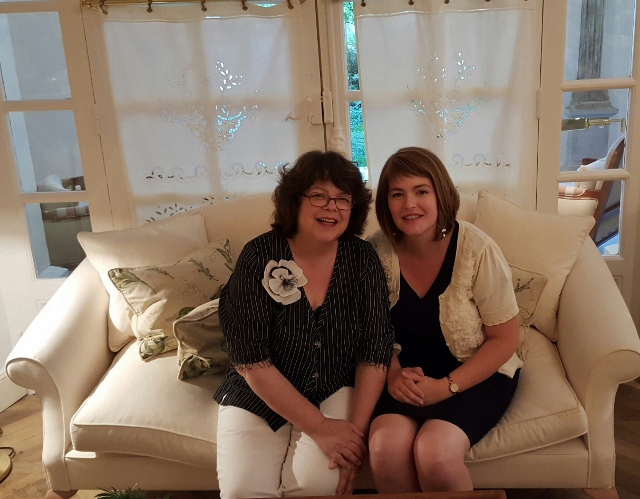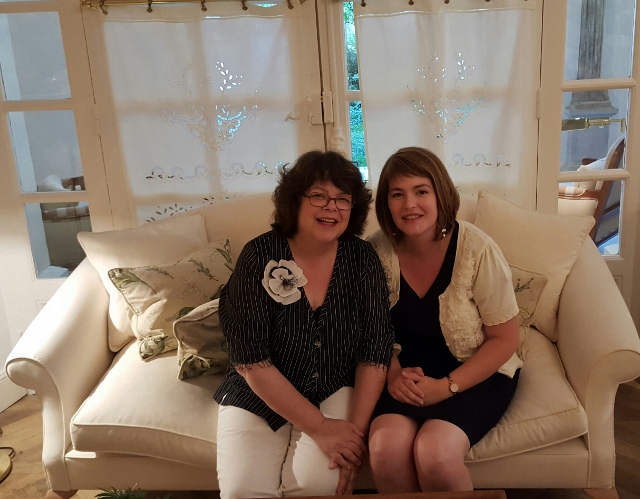 Mention this blog post when you visit our booth to make a purchase at the OSQE in Fredericksburg and we will let you choose some organza to make your own Rose Pin.  While supplies last, of course!
Happy Sewing, RAE