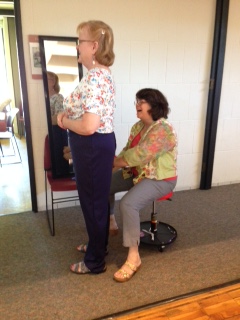 Sewing pants was the focus of 3 participants at our Sew! Let's Get Dressed Retreat last week.  Each had a different focus because their pants needs and sewing skills were different, but each left having made great progress on their Eureka! Pants journey.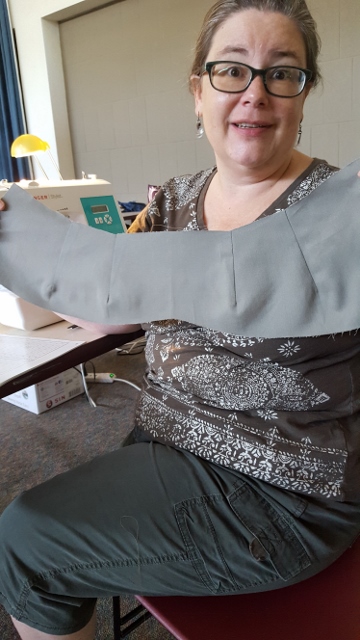 Let's start with Sarah's story.  She has very little sewing experience but was given a sewing machine for Christmas last year.  She has found it impossible to find ready-to-wear pants that fit and flatter her figure.  Encouraged by her sister, FFA's very own Carrie, she came to the retreat for two days.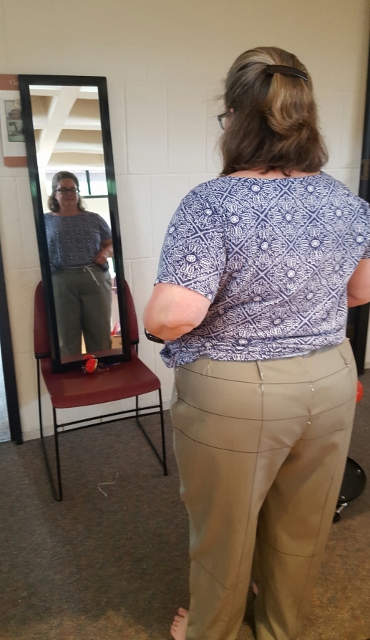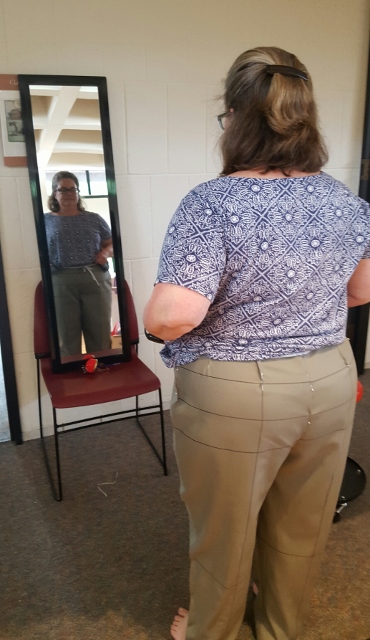 We got right to work sizing her in our fitting shells and helping her cut out and adjust her pattern.  She used some of our stock cotton twill to make both her mock-up and first pair.  By the end of her first day, she had stitched up and tried on the mock-up and altered the mock-up and paper pattern not just once, but twice, gradually establishing a comfortable fit.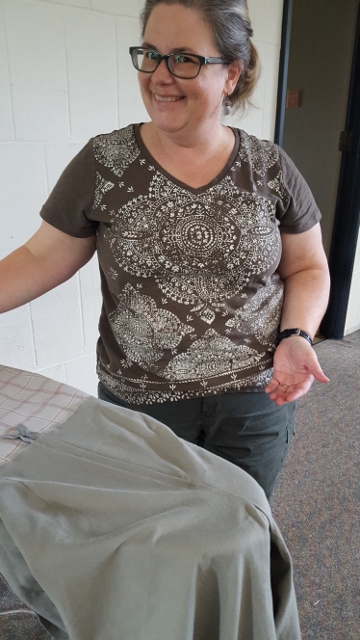 The next morning she cut out her adjusted pattern and proceeded to make a pair of pants.  She marked her darts and notches with our guidance and, at our suggestion, she stitched some practice darts on a sample.  Once she felt comfortable with the darts, she stitched them on her pants.  Similarly, after a test fit of the constructed pants she and I worked step by step to insert a lap zipper.  I did a demo of each step using her mock-up and she inserted the zipper in her own pants.  By late afternoon she had completed her first pair of Eureka! Pants to wear and learned several new sewing skills.  Sarah exclaimed "I did not think I would get this far in 2 days.  It's really not that hard!"  Sarah went home with a plan to buy fabric for a black pair and sew them up soon, before she forgets what she learned at retreat.  Then she will wear both pairs to identify any other tweaks needed to improve her pants.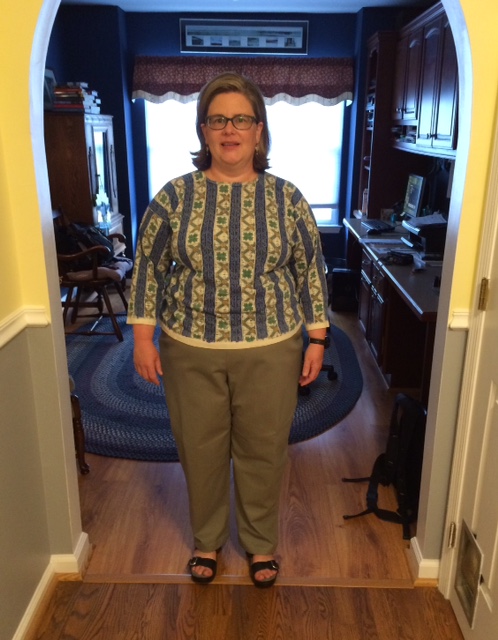 Priscilla came with yards of discounted ponte knit and two days to sew in hopes of creating a knit Eureka! pattern similar to an easy fitting ready-to-wear pair that she loves.  She had worked with the Eureka! pattern before, but her weight had fluctuated enough that we started over with a fitting in our mock-ups.  She too cut out her pattern, made the necessary adjustments and made a marked mock-up to test the fit.  As with any woven to knit pattern conversion, we took 1/4" off the side seams automatically, then shaped up the mock up to achieve her best fit.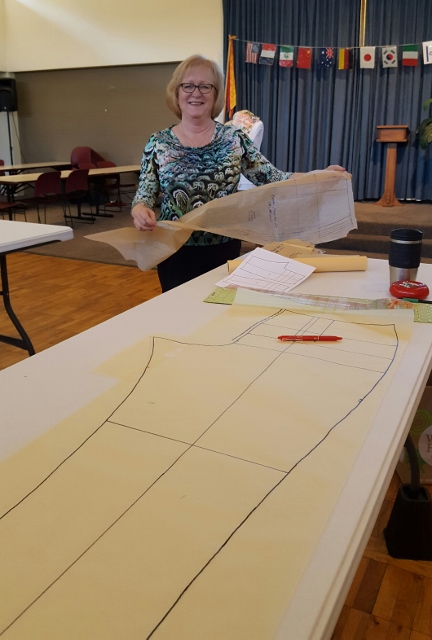 Because she wanted to use a wide elastic waistband, we developed the pattern and technique on her mock-up.  After adjusting her knit pattern for the slash pocket she desired, she cut and stitched up a pair of knit pants that were just what she wanted.  A quick assessment of the completed pair led us to change the angle and length of the slash pocket opening so her next pair will be even better.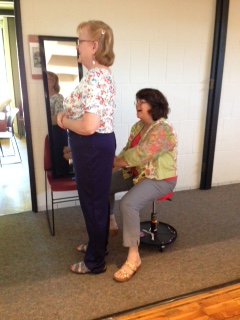 Our final featured stitcher is Kathy.  She is a special friend of FFA having tested all our patterns before final production.  She was on a pants mission!  In 3 days she wanted to shape up and master her Eureka! Sporty Details, then make pairs in denim and also a stone-colored twill for her zoo volunteer "uniform".  She planned to modify her pattern to make a wide-leg rayon pair using an elephant print fabric she loved.  Finally, if she had time she wanted to make a poly twill pair of Eureka! Trousers.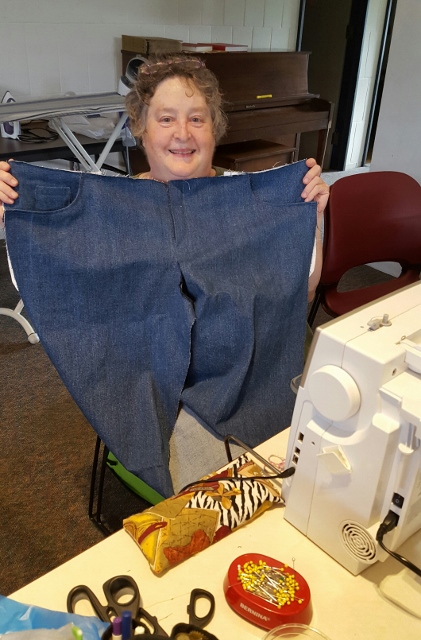 As you can see from the photos, she finished her blue "jeans" and cut out the stone colored twill pants, designing a cargo style pocket for the knee area of her zoo pants to hold her phone and keys.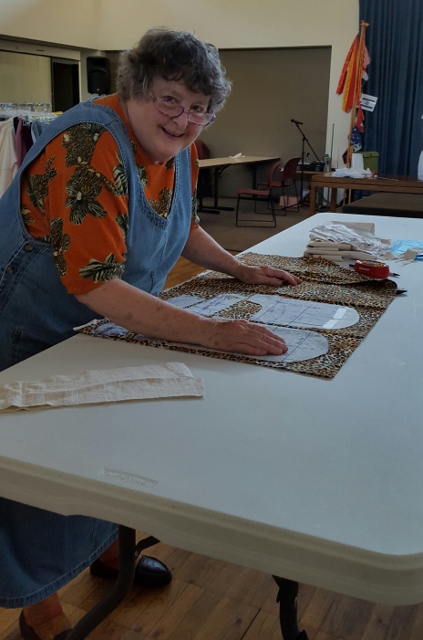 She drafted a wide-leg Eureka! pattern and made her fabulous elephant print pants.  Then on the final retreat afternoon, she adjusted her Eureka! pattern with the Trouser Details and cut out her twill trousers on our large raised tables that make cutting a real pleasure.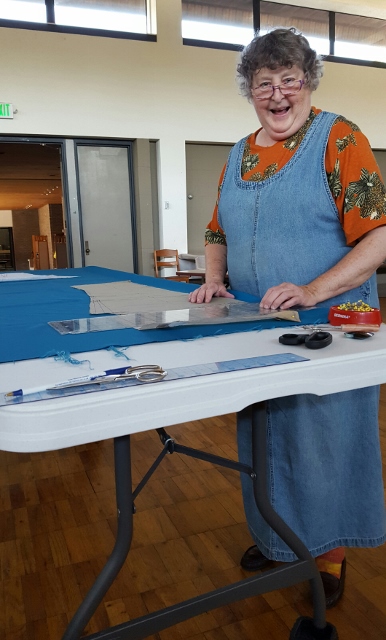 Kathy went home with two new pairs of Eureka's finished and two cut out and ready to sew.  Plus she showed us some lovely fabric for a new Tabula Rasa Shirt Variation she is planning to make soon.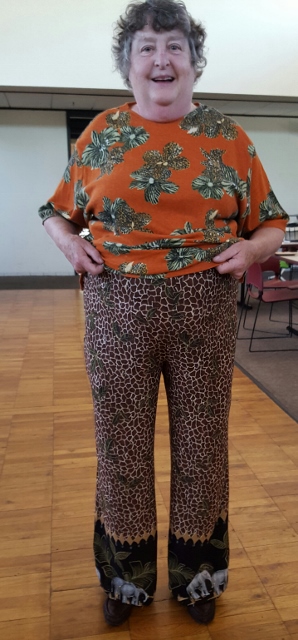 We had a wonderful time last week with our FFA sewing friends and hope you will make plans to come and sew with us in the future.  If you are interested, take a minute to inform us of good times for you to retreat and sew.  We will factor that in as we schedule future events.
If you live in the Mid-Atlantic region, plan to attend the OSQE in Frederickburg, VA Sept. 29-Oct 1.  I am teaching 6 classes, one of which includes a tour of the exhibit featuring my ASDP Threads Challenge Garments.  We hope to see you there!
Happy Sewing, RAE