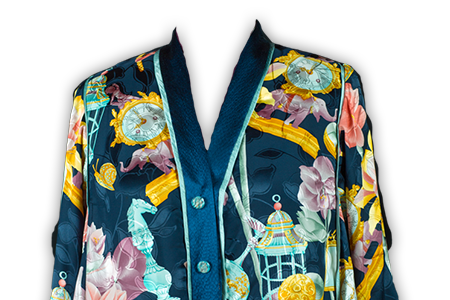 We love to celebrate spring with fresh Tabula Rasa Jackets (TRJs)  in colors and fabrics that chase away the winter blues.  I am lucky to have a variety of spring jackets in my closet that have this very effect.  It makes getting dressed for Easter Sunday easier, even though here in the Mid-Atlantic we never quite know if the weather will call for a warm jacket or a light topper.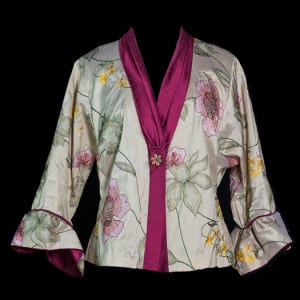 For me, Easter Sunday requires some special attention when choosing an outfit.  My mom made sure I had a new spring dress or suit, matching shoes and purse, and coordinating hat and gloves.  I felt like spring even if I had to wear my winter coat and boots on top to survive the cold up-state New York weather.
Now, I simply choose from my closet weather appropriate TRJs and Eureka! Pants.  I even try to have coordinating shoes and bag, though I long ago gave up the hats and gloves.  Here are a few of my recent Easter looks.  These three were test garments for TRJ variations and made with stash fabric.
The embroidered silk dupioni jacket features the gathered band from Band Variations and Pockets and the bell cuff from Sleeve and Cuff Variations. It is excellent with my green and purple cross woven dupioni Eureka! Pants.

A close up of the sleeve and bell cuff.

The Italian silk print TRJ is made with the side panel from the Swing Variations pattern. I separated the print at the side seams and the front band with some aqua hammered silk flat piping, a technique that is explained in the basic TRJ pattern.  I usually wear it with my navy piqué Eureka! Pants that are narrowed a bit and have a side seam hem slit.

Several Easters ago, our friend Susie in her peach cotton TRJ and I am wearing the silk swing.

The cherry red and ivory toile TRJ was a test garment for the Shirt Variations pattern. It was the first stand collar shirt jacket I made and also features the curved cuff found in the Shirt Variation pattern.

Red Voile Mandarin Shirt

Even though this jacket is made with simple quilting cotton, it has some special touches that make it fabulous for Easter with my navy blue Eureka! Pants with Trouser Details.  The buttons and sleeve cuffs are accented with clusters of small vintage pearls.  The jacket is also partially lined in a lovely polished cotton to add warmth as well as an attractive finish.

The lining as it is being prepared. Such a soft cotton.
If the weather is temperate this year, I will wear a new top that I made to test the forthcoming Rain or Shine Variations with Black Eureka! Pants.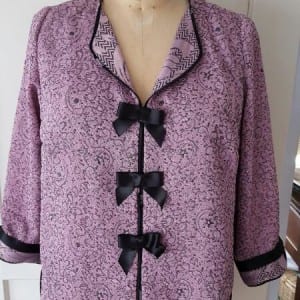 If it's going to be warm, I might choose my green silk jersey tunic made from the Tabula Rasa Knit pattern to wear with my navy piqué Eurekas mentioned above.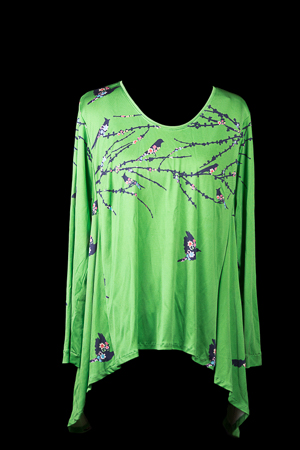 If it's cold, I will probably choose my Tabula Rasa French Jacket which you can read about in the archive of this blog under the heading French Jackets.  I always wear it with the same navy blue Eureka! Pants with the Trouser Details that work great with my red toile shirt jacket.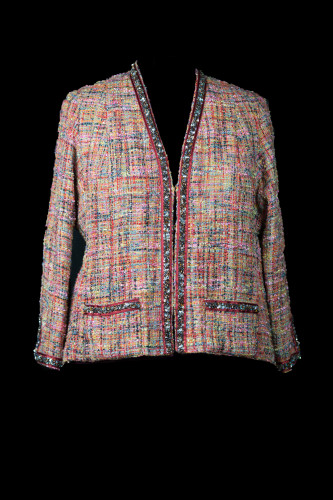 You would be right if you think I am really lucky to have so many wonderful choices.  I am not kidding when I say most of these garments were made from stash and of course they began with my dependable Fit for Art Patterns and their Details and Variations.
Are you sewing a special TRJ for Easter, Passover, or another spring celebration?  Are you wearing a beloved TRJ you made previously?  Send us a photo with a little description so we can have our own Easter Parade on the Fit for Art Facebook Page.
Happy spring sewing!  RAE