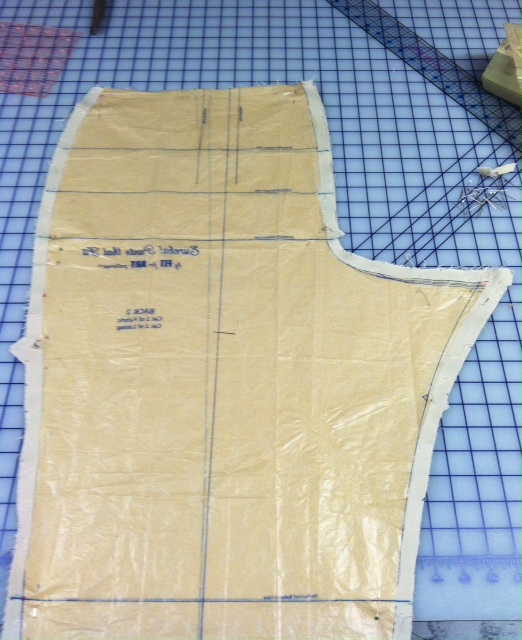 We really do believe that you can use the Eureka! Pants that Fit pattern to sew pants that look and feel good.  That's why we build a fitting room, offer custom sizings at shows, and teach classes that include fitting assistance.  We love it when you e-mail and say, "I made the pants and they are wonderful".  But we also know that not everyone is successful as quickly as they'd like to be.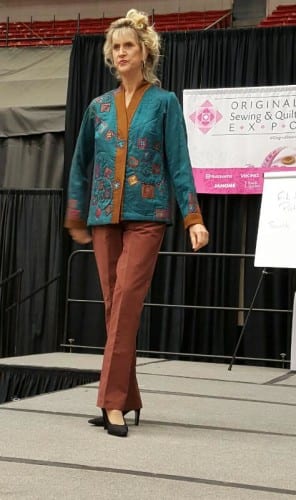 I was reminded of this just a few days ago when I received an e-mail from a friend who had a pants fitting and pattern adjustment session last summer.  She recently pulled out the project and began by prewashing her non-stretch, light colored pant weight fabric.  Once she cut, marked and basted them together, she realized they were too big.  She asked if she could come by for me to take a look.  She wanted assistance as she was in a hurry for spring pants.
When she put on the pants, they were indeed quite large.  I asked the usual questions:
Had she lost weight? She said no.
Had she sewn the pants with a 5/8" seam allowance? She said yes.
I pinned in the necessary changes and, at her request, kept the pattern and pants to make the adjustments.  When I laid the pattern on the pants, I immediately saw that she had added a 5/8" seam allowance everywhere except at the waist, where the seam line and seam allowance/cutting line were clearly marked.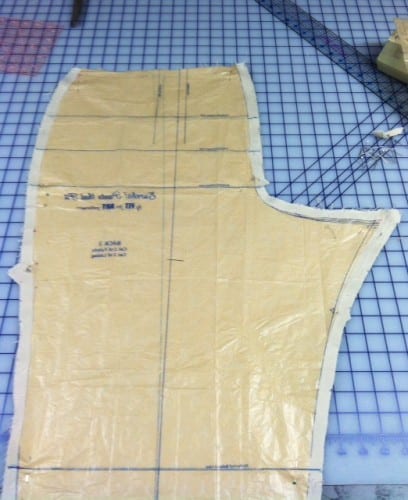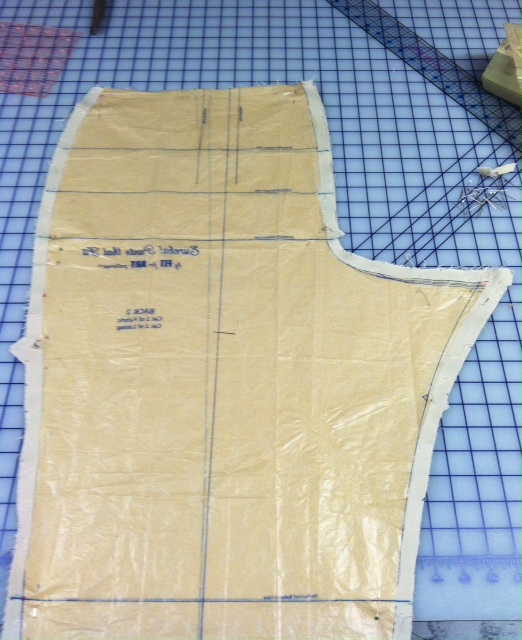 When I called, she confirmed that this was what she had done.  As we chatted, she told me that when she was learning to sew as a young girl, the tissue patterns always had a cutting line and a seam line.  Since she did not see the seam line and cutting line on the pattern, she presumed she needed to add a seam allowance, like the old Burda patterns required.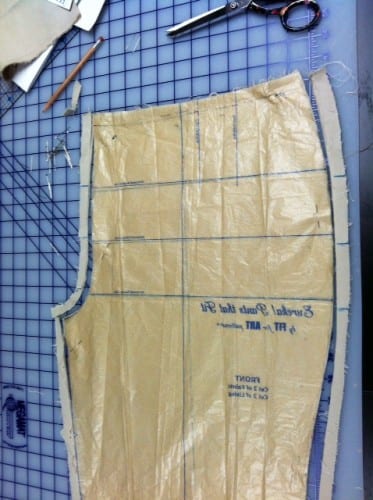 I replied that since the pattern companies adopted the multi-sized pattern, they rarely include a seam line.  Fit for Art, like the major pattern companies, includes a seam allowance in the pattern for the crotch seams, side seams and inseams.  The one exception is the waist of the Eureka! Pants pattern because each person plots their own seam line and adds a cutting line 5/8" above that line.
Once I trimmed off her beautifully neat 5/8" seam allowances, basted the pants back together and stitched in the darts, the fit was much improved.  We still had to adjust the inseams and crotch seams to add a little length in the back crotch extension and reduce the front crotch extension.  We also added an additional small dart in the back.  I stitched in the adjustments while she waited then tested the fit again.  Once we were satisfied we had tweaked the pattern enough, she took it home to make a pair of pants with no fitting lines using the same fabric she used for her mock up.  She will finish the next pair and be able to wear them to further assess and nuance the fit.
If you do get stuck, send me an e-mail at rae@fitforartpatterns.com and I will ask you questions that will lead to a solution.
We are headed to Cleveland this week for our last spring Original Sewing and Quilt Expo. Sarah Veblen will be with us, so we will have plenty of pants fitting appointments if you are ready to begin down the Eureka! Pants path.  If you or a friend you sew for is a 4-6X, we will provide a complimentary fitting as part of our extended size testing.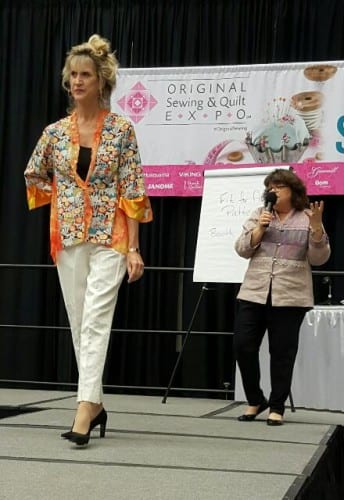 When I started making Eureka! Pants, my challenge was getting the front waist settled in a comfortable position.  (And I confess to still shifting it around on some of my new pairs to get the best fit for the fabric.)  What is your pants fitting snag?  Share it here.  It might provide comfort or insight to another Fit for Art sewist who is having a similar problem.
Happy Sewing, RAE
P.S.  If you are a sewing professional, or aspire to be one, consider becoming a licensed Eureka! Pants Professional.  We still have a few spots left in our September training session.  Then you too can be the pro who guides home sewers and clients to a great Eureka! Pants fit.