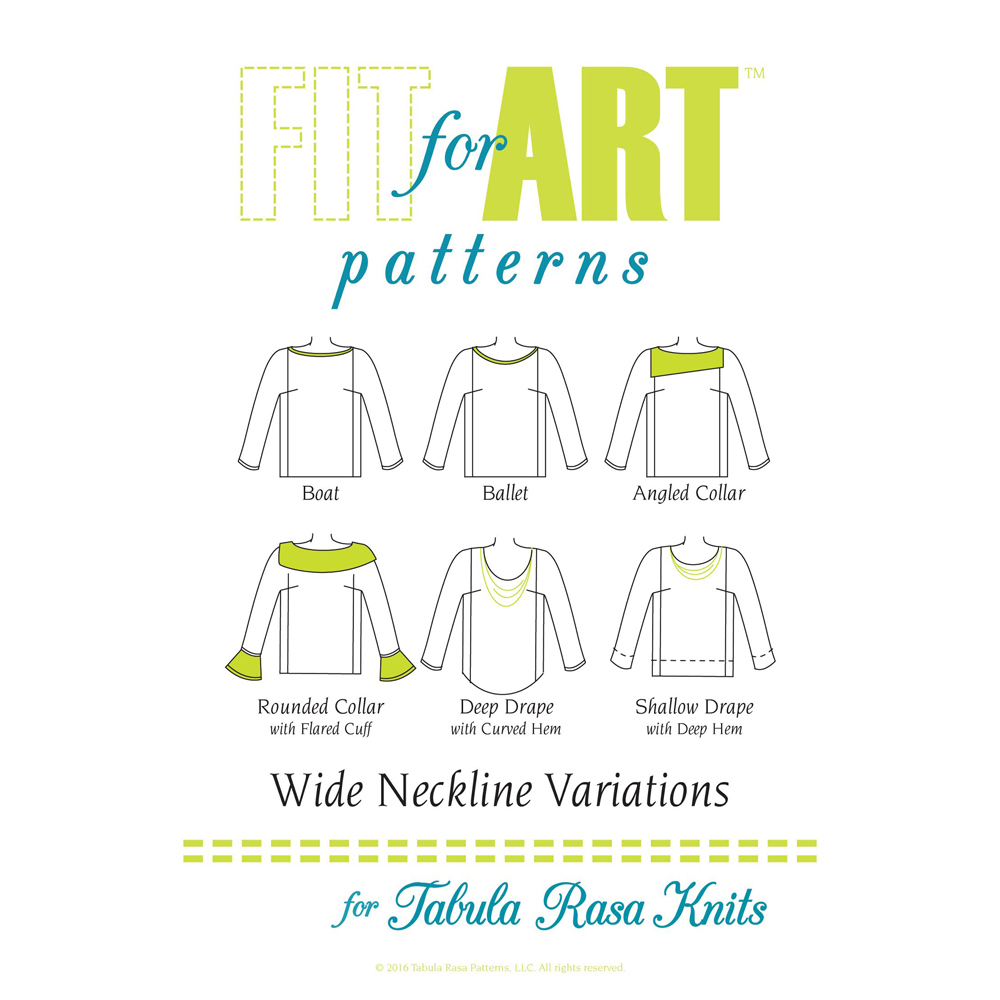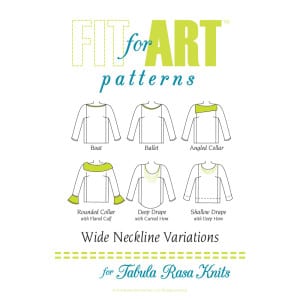 It's  here and we are thrilled to bring you our first knit variation which features wide necklines!  We know you love your classic Tabula Rasa Tees & Tunics and here is your chance to add some more variety to your knit top designs.
Carrie and I had a grand time creating this package of  variations which is full of fun new options.  The draped neck, which can be made with a deep dramatic neckline or a shallower drape, is perfect for soft knits and ITY's.  But I even made it in a sweater knit it this winter and loved the cozy results.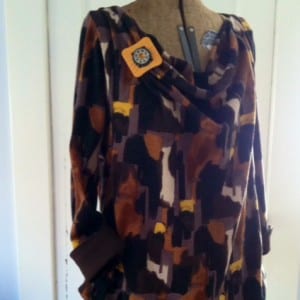 You can finish any of your tops, even your tees, with the two new hem finishes suggested in the package.  The deep hem gives some weight to light weight knits and shorter tops and can be used on the sleeve, too.  The curved hemline templates offer the option of a top that is longer in the front and back and curves up at the sides, which is just so flattering.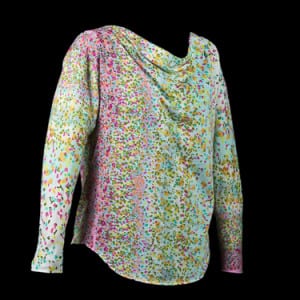 The boat and ballet necklines are easy to create using the templates with your personalized Tabula Rasa Knit pattern.  They make great wardrobe basics!  Or mix up the fronts and backs from this package and the original Knit Tee & Tunic for fun new tops.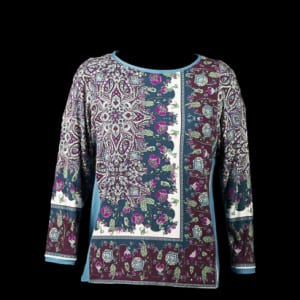 We have also included two fun collars that will make your boat neck tops extra special.  The rounded collar is so graceful and perfect for featuring a single button or decorative tie.  The angled collar is a bit more fanciful, especially if you layer a couple of unlined collars, whether lying in the same direction or crossed like the sample below.  Follow the directions for making either collar lined or unlined.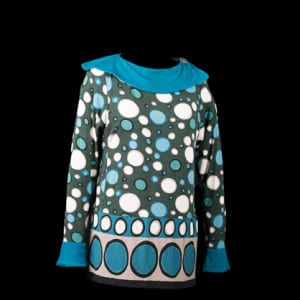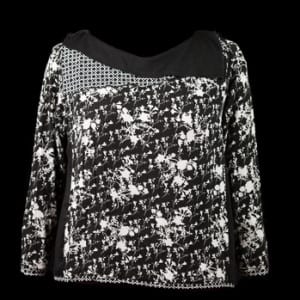 Finally, we have included a pattern for a slightly flared cuff to give your sleeves some variety, too.  Allow the cuffs to repeat the fabrics in your collar and choose to make is light and unlined or structured with a lining.
We have lots of fun tops we made for ourselves when we were developing this variation.  Visit the Fit for Art booth at our spring shows to see them in person.  Be sure to shop our wonderful new knit bundles designed to make up into Tabula Rasa knit tops beautifully.
Can't make it to Atlanta, Lakeland, or Cleveland?  Visit our online gallery for inspiration and click here to order your own copy of these fun Wide Neckline Variations to perk up your spring and summer wardrobe.
As always, we will also be featuring some of the techniques and finishes we used in our new tops in upcoming Sew! Let's get Dressed blog posts.  Do you have a favorite knit that you have been waiting to sew?  Send us a photo of you in your finished knit top and we will post it on Facebook.
Happy Sewing, RAE