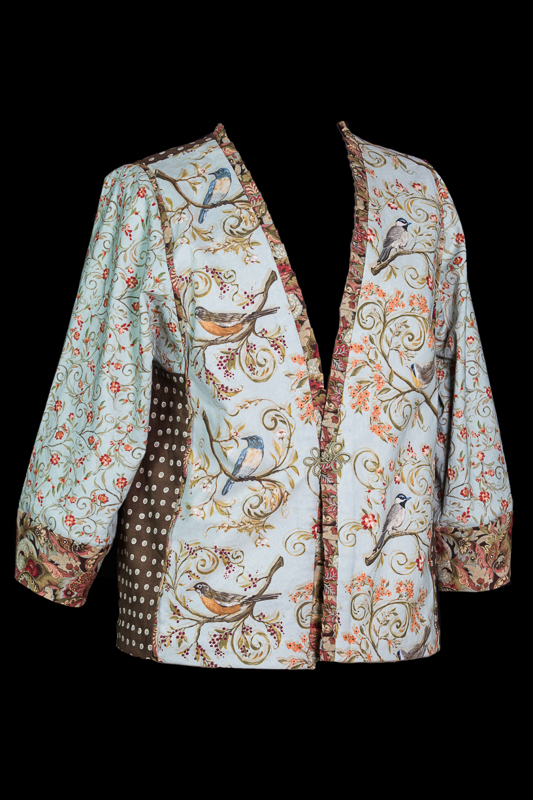 When working a booth at a sewing show or expo, we are frequently asked where we get our beautiful fabrics.   This is typically followed by a lament that "there are no good fabric stores where I live."  Rae and I are indeed lucky to have an excellent fabric store near us in Baltimore (A Fabric Place) and to be able to pick up fine fabrics in our travels.  An early blog post on this site, Fabric Sources on the Internet, shared some of favorite online fabric sources.  You can find plenty more online fabric stores advertising in sewing magazine.
However, the point of this post is that you don't always have to have fine fabric from exotic sources to make a fun and useful Tabula Rasa Jacket!  Rae and I have made a number of jackets, especially unlined cotton ones, from fabrics we found at JoAnn's or other large chain fabric stores or at a local quilt shop.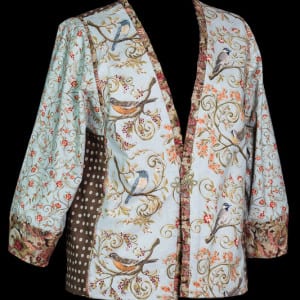 Take this jacket, "Birds of a Feather" as an example.  Three of the four fabrics came from our local JoAnn's and were shelved together as coordinating prints.  I love birds, so it was the primary fabric used front and back that drew me in.  I found the fourth fabric (dots on brown) at a local quilt shop.  They are all 100% cotton.  Don't forget to pre-wash cottons so your jacket doesn't shrink on you!
It is the details that make this jacket special as much as the fabric.  This jacket features elements from several TRJ patterns:
In case you are wondering, the seam allowances that are not covered by facings are simply serged together to keep them neat.  If you are looking for a more sophisticated way to finish seam allowances in an unlined jacket, be sure to refer to our download Seam Finishes.
Take a look at a few more unlined cotton samples here by following these links to our Photo gallery.  Fan-tabulous was also made from a group of quilting cottons for a Hoffman Challenge and features several jacket elements and techniques that I was experimenting with.  All of the fabrics in Eiffel Tower were purchased in a local quilt shop. We especially enjoy creating lightweight cotton jackets with rolled edge seams on the exterior like this "Take Me Out"  jacket, featuring a ruffled band and bell cuffs in eyelet from Jo-Ann's, and the Geisha Cotton Shell or the Kaffe Fassett cotton jacket.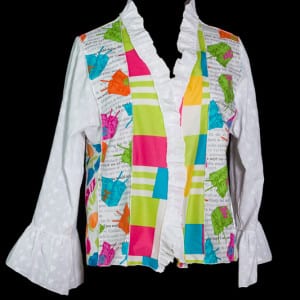 Instructions for the rolled edge seam technique are included in the instruction book for Swing Variations for the TRJ.  This technique is actually easier to learn on cotton than on trickier sheer and drapey fabrics – so give it a try!
Have you made a Tabula Rasa Jacket from fabrics found at a local big box store or quilt shop?  We'd love to hear about it and especially to see the results.  Please post your jacket photos on our Facebook page or send them to us via Contact Us.
Happy Sewing!  Carrie