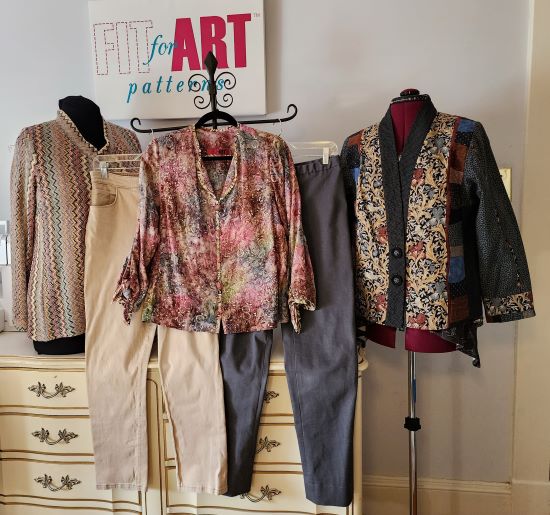 Last spring, Carrie and I ordered some new pants fabric from one of our favorite online stores Stone Mountain and Daughter.  We both love bottomweight fabric with a bit of stretch woven into it.  I was trying to replace my olive green Eureka! Pants which were beginning to look a bit worn.  Carrie wanted some skinny white Eureka! Pants that were not see through and a pair of easy to wear gray pants for fall into winter.
If you follow us on Social Media you saw Carrie making her cute white pants with a comfortable elastic waist for summer. In early fall, she made herself the pair of gray ones with a few pattern tweaks for an even better fit including a back zipper, patch pockets and darts.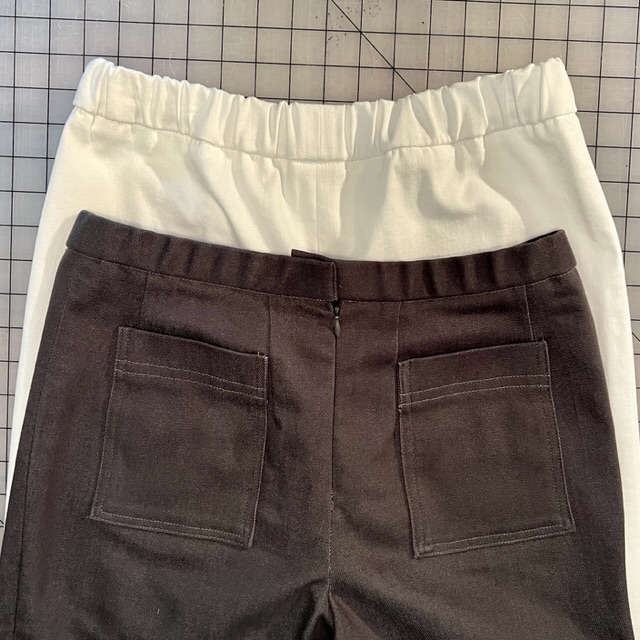 These pants are like magic in Carrie's wardrobe. They work with so many things in her closet that I used them when I led an online conversation on wardrobing for Fabric Mart on October 1. Before I returned all of Carrie's clothes, I shot a few photos of the many outfits these pants would complete before the calendar moves on to spring.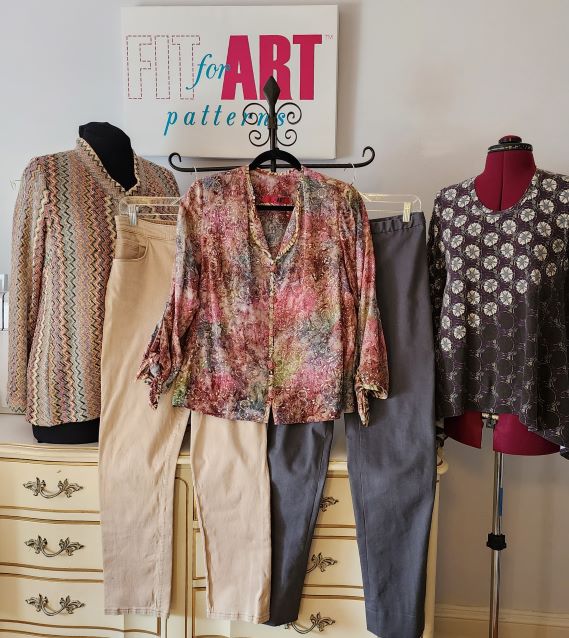 In the photo above you see the new grey pants, paired with a basic Tabula Rasa Knit Tunic with a fanciful knit print. In the center is a beloved rayon Rain or Shine Variation of the Tabula Rasa Jacket. It is made of SewBatik rayon and pairs with both the grey pants and the tan Sporty Details Eureka! Pants. On the left, the Wanna Be Missoni Tailored Cardigan from the Twin Set Variation of the Tabula Rasa Knit pattern.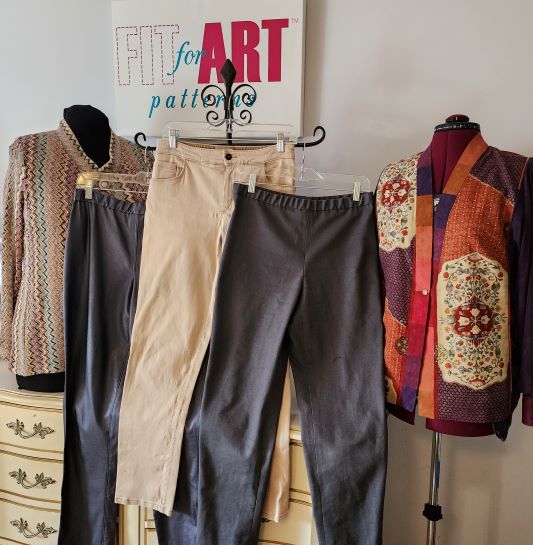 This grouping has a basic Tabula Rasa Jacket on the right with a pieced band and an additional pair of pants, grey faux leather on the left. They can really dress up any top, as you see with the Wanna Be Missoni sweater sitting next to them.
What color is magic in your wardrobe?  I am a big fan of olive or similar shades of green.  When I tried to purchase fabric online, I ended up with a number of pieces of olive, none of which are exactly what I had before, but all of which will complement my wardrobe nicely.  In an upcoming post, yet to be scheduled, I will show you some of my olive wardrobe magic.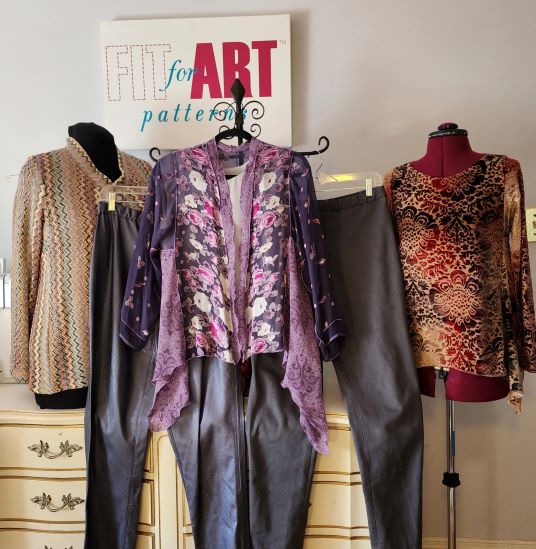 This grouping has some pretty looks for evenings out. The center look is the Tabula Rasa Jacket with the Swing Variation styling in chiffon. On the right is a stretch burn out velvet tunic from the Tabula Rasa Knit pattern with a wide neckline variation.
Recently we got together with some friends and Carrie had on her pants and that wonderful rayon SewBatik blouse that matches perfectly. Here is a fun look at her outfit along with two Tabula Rasa Knit tops on Susie and Rae.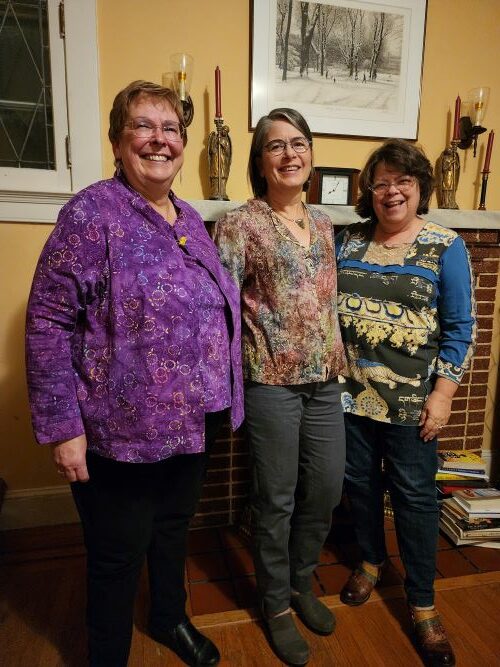 Now, begin planning your own DIY wardrobe around Eureka! Pants and Fit for Art's Core Wardrobe Patterns.  If you live in the Denver area, I will be presenting a trunk show on Four Core Patterns, One Great Wardrobe at Treelotta: Fabric and Craft Studio in the Denver vicinity. The Friday night, October 20, event is $25 and requires registration. On Saturday join a full day Tabula Rasa Jacket Workshop by registering for one of the few spaces available.  There is a nice package if you attend both events! It would be great if you would join me there for inspiration and to support this fabulous store.
Plan a Four Core Patterns – One Great Wardrobe event, virtual or in person, for your Store or guild. We love to share our creations and our wardrobe building philosophy with you and your sewing friends!
Happy Sewing, RAE