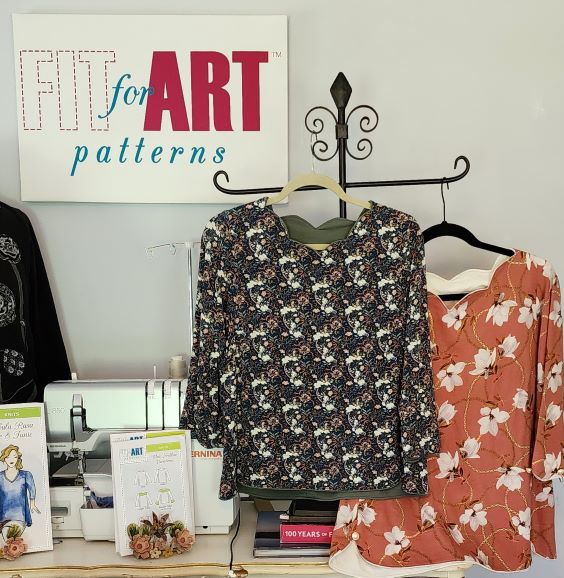 A year and a half ago, my long standing friend MC asked me to help her sew sustainable garments to add to her wardrobe.  She had heard an interview on the radio discussing fast fashion and the long term price our society and the environment will pay for many of fashion's fabrication and construction choices.
Over the years of our friendship, I have made clothing for her on special occasions but since she had retired, we had not been adding to her wardrobe. Her request was that I create a new, casual garment to refresh her wardrobe every quarter and that it use sustainable fabrications, preferably natural fibers, or fabrics already in hand to avoid additional expenditures.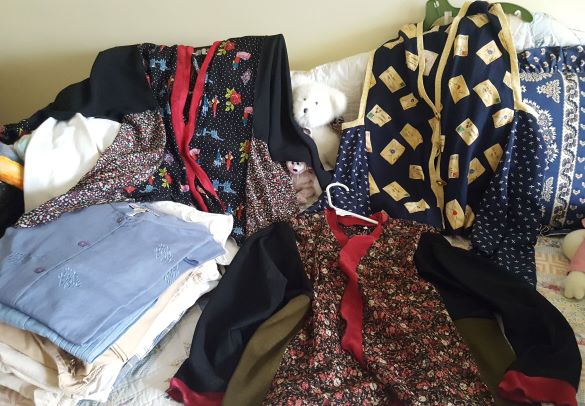 I visited her home and we looked at her closet after she had made an effort to purge things she no longer needed; then we made a plan. During that visit, I gifted her the first garment in our collaboration. It is a white shirt I made for myself which you can read about in the post Sew Scrappy White Tops . It always felt too small in the shoulders and arms. It fit her like a charm and so our project was off and running in the summer of 2022.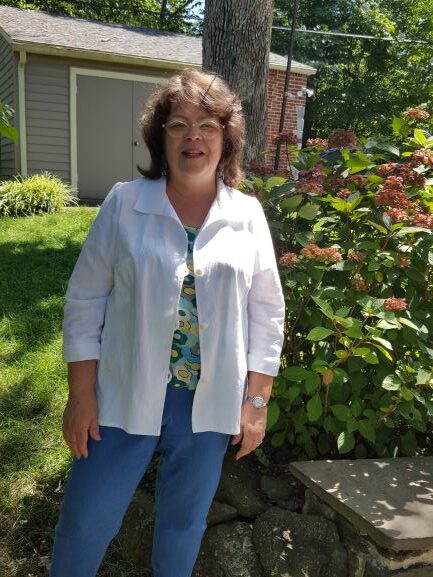 In the fall, we used some beautiful organic rayon jersey, with the Oeko-Tex seal, to make her a tee with scalloped edges similar to one I had made for myself. It was the first time I had made her a Tabula Rasa Tee and she could not believe how soft the fabric felt and how well it fit! It doubles as a Fit for Art Sample; you might have seen it hanging behind me during the virtual Sew Along for the Tabula Rasa Knit Tee and Tunic.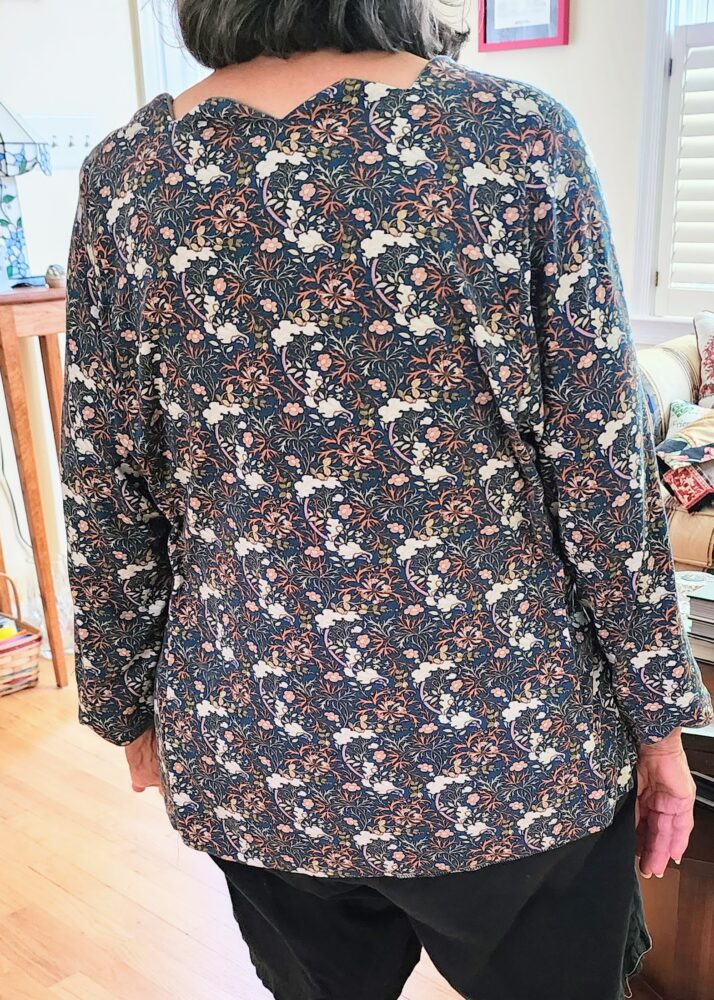 For winter, we used some lovely cotton flannels that I had purchased to make myself a shirt, but then had a change of heart. The only thing that was purchased for that project was the pretty blue buttons. I even used the pattern Tabula Rasa Jacket with Shirt Variations that had been created for the white shirt that began this journey.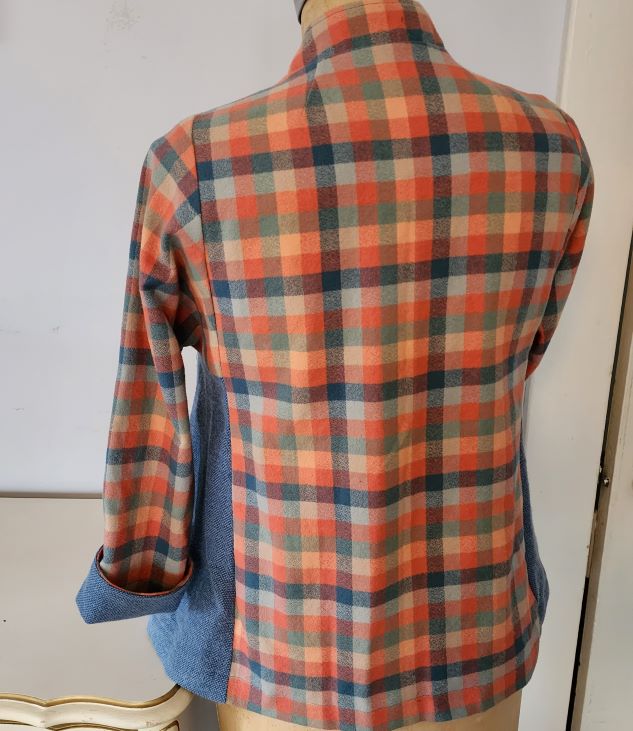 This past spring, some fabric she had contributed to the project, a home decorator cotton from her mother's long ago shuttered sewing room, became a Tabula Rasa Jacket.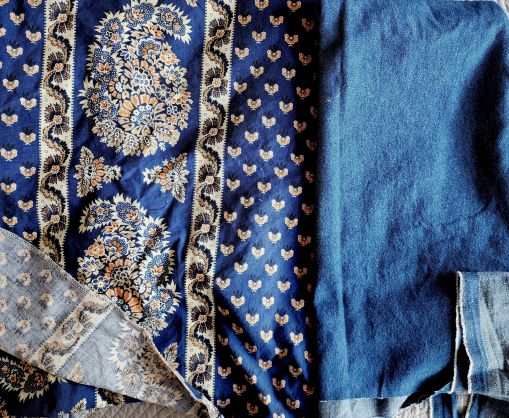 She also had the copper buttons in her button box and I had the pieces of light weight denim that rounded out the jacket's structure. This jacket was built as part of the Virtual TRJ class that I taught in March and it is simple, but fabulous with big roomy kangaroo pockets she loves.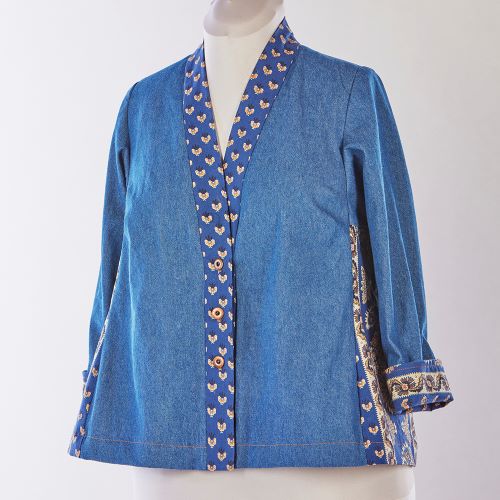 For summer, I was able to use another piece of fabric she had contributed to our collaboration, a cotton searsucker stripe, to make a Carpe Diem Tunic. It was featured in the blog post, Oops, Need to Cover a Stain. It is a casual, but cool and delightful top that she has enjoyed on hot summer days. It's also trimmed with some vintage rick rack.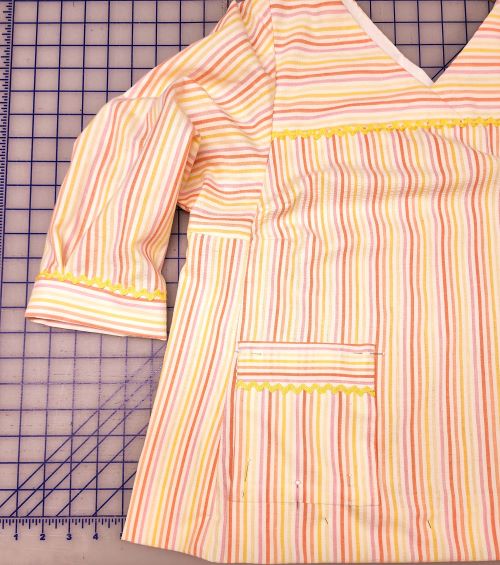 This has been a fun way for MC and I to keep our conversations lively when we meet occasionally for coffee. It also provides a regular reminder to stop and think about making sustainable choices when planning new wardrobe additions. We still have to make a plan for his fall. Must be time for coffee!
Stay tuned to see more fun sustainable garments we create for MC. This year we hope to tackle Eureka! Pants. Long ago I made her some jeans and she still says they fit better than any she has ever bought. Have you done any repurposing of garments or fabric? Do you purchase new fabric that is made from natural fibers and created with ethical methods? Be sure to share your sustainable projects with us. It keeps us all encouraged as we sew our wardrobes together.
Happy Sewing, Rae