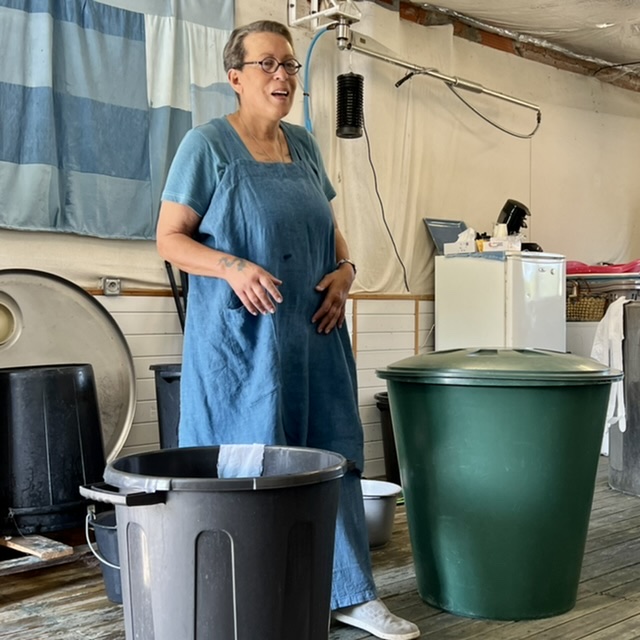 This summer's Fit for Art retreat in Southern France included an amazing day with the dye vats of Denise Lambert, woad historian and so much more.  Denise has devoted the past 30 years to re-discovering an historical color "Dyer's Woad – Isatis tinctoria" and incorporating it into modern industry.  From her L'Atelier des Bleus Pastel d'Occitanie in a small village outside of Toulouse, which was the historical region of pastel dyeing, she pursues her passion for this extraordinary blue.  Denise shares her expertise about growing and dyeing with woad through lectures, leading dye workshops, participating in historical and cultural events around the world, consulting for museums and universities.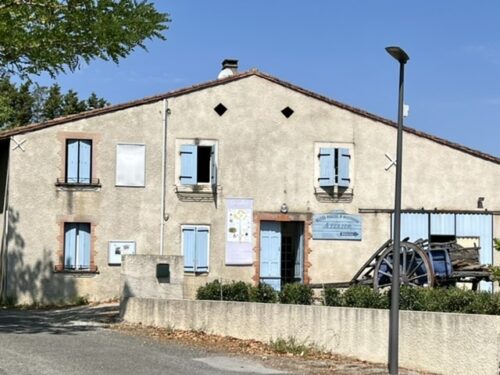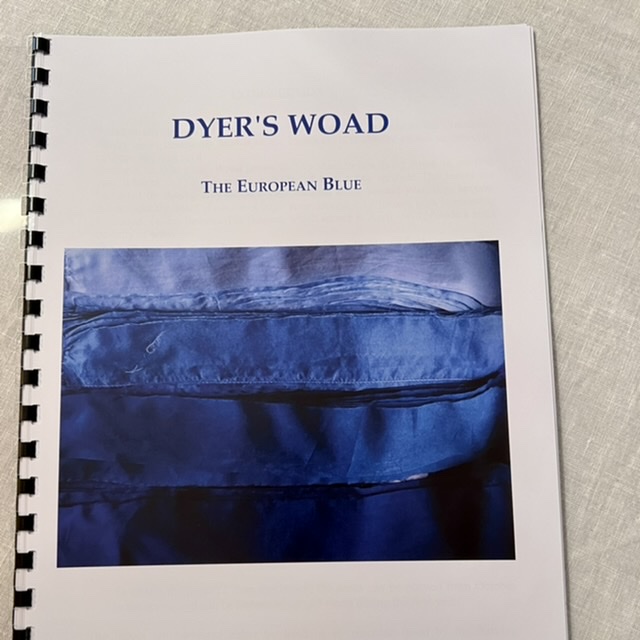 During Enchanting France – Embellishing Fabric, we were extraordinarily lucky to spend a day with Denise for a dyeing workshop. We began with a short lecture about the history of the woad plant and pastel dyeing – the source of huge wealth in this area of France during the 14th and 15th centuries – and quickly moved on to learning about the peculiarities and sensitivities of this plant-based dye. You can read more about the history online, including articles such as: On the road to Woad, the blue gold of Occitanie, and at Travel France Online. Denise sent us home with a handy booklet summarizing all we had learned for later reference.
Finally the time we were all eager for – trying our hands at dyeing. We had brought quite a variety of textiles to try from handmade lace doilies to vintage linen pillowcases, yard goods, and old T-shirts.  We soon discovered that lowering the fabric into the dye vats properly was an art in and of itself; not only did air bubbles affect the way the fabric took the dye, but introducing excess air into the vats also affected the health of the entire vat!  Then we had to wait for the vat to rest and be ready again. Fortunately Denise had several vats going, no doubt because she has worked with newbies like us many times.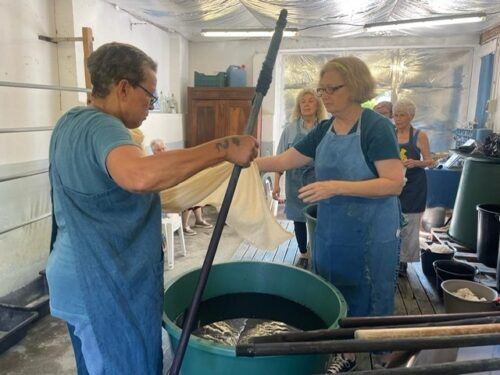 Exposure to the air is part of the process of activating the dye, so our pieces were dipped and hung up to develop time and again until we reached the hue of blue desired.  It was so fun looking at all the shades of blue in progress!  One discovery that will influence the fabrics we choose to bring for next summer's workshop, was seeing how the beautifully the dye altered fabrics with prints and with texture.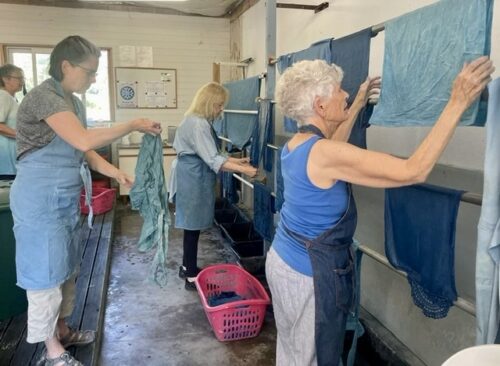 At the end of the afternoon, we left our efforts hanging to dry at the Atelier. Back at La Cascade, while being restored along the cool stream, we had fun comparing our pastel blue hands! The following day we retrieved this magnificent pile of pastel blues.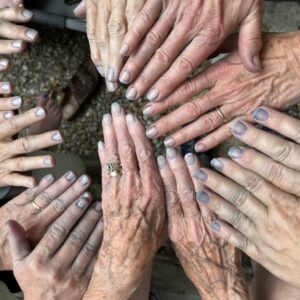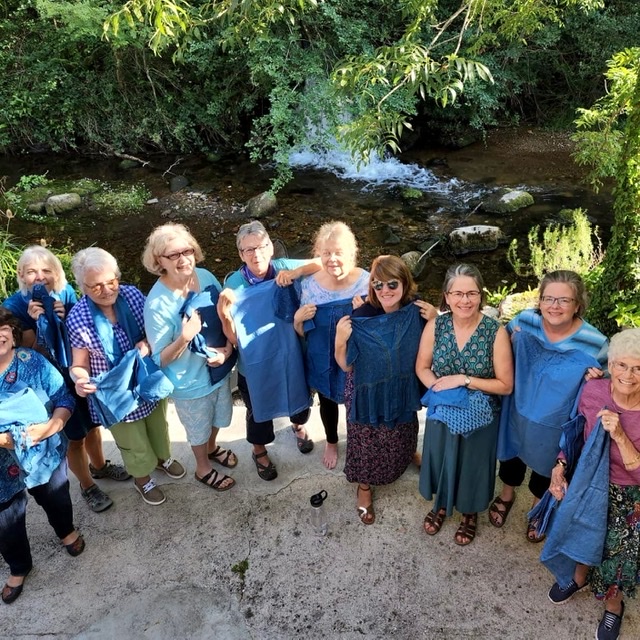 Students show off their favorite pieces. We can't wait to see what they create with their treasures!
Wouldn't you like to join us next year? Read more about the retreat Enchanting France – Embellishing Fabric and address your questions, if any, to rae@fitforartpatterns.com. Retreat registration will open online at noon EST on December 10th.
Happy Sewing! Carrie