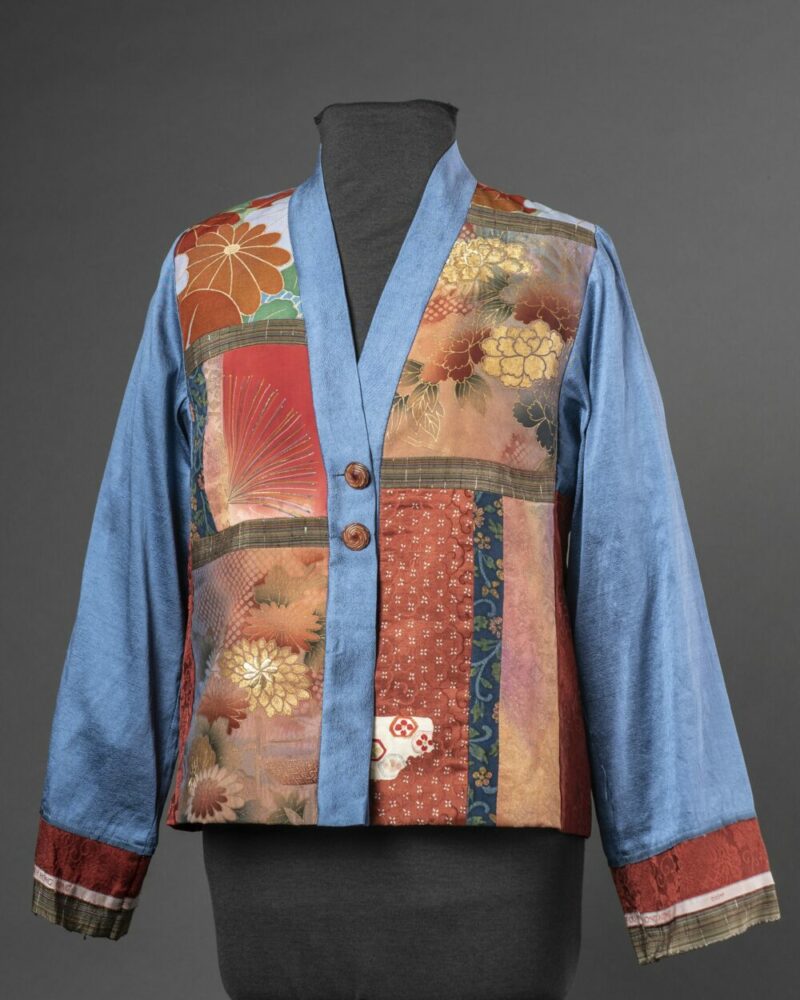 In the search for creative inspiration, it occasionally happens that a technique or idea propels you in a variety of different productive directions. Such is the case with the quilting technique sashing. I came across it in a quilting book called Maverick Quilts by Alethea Ballard.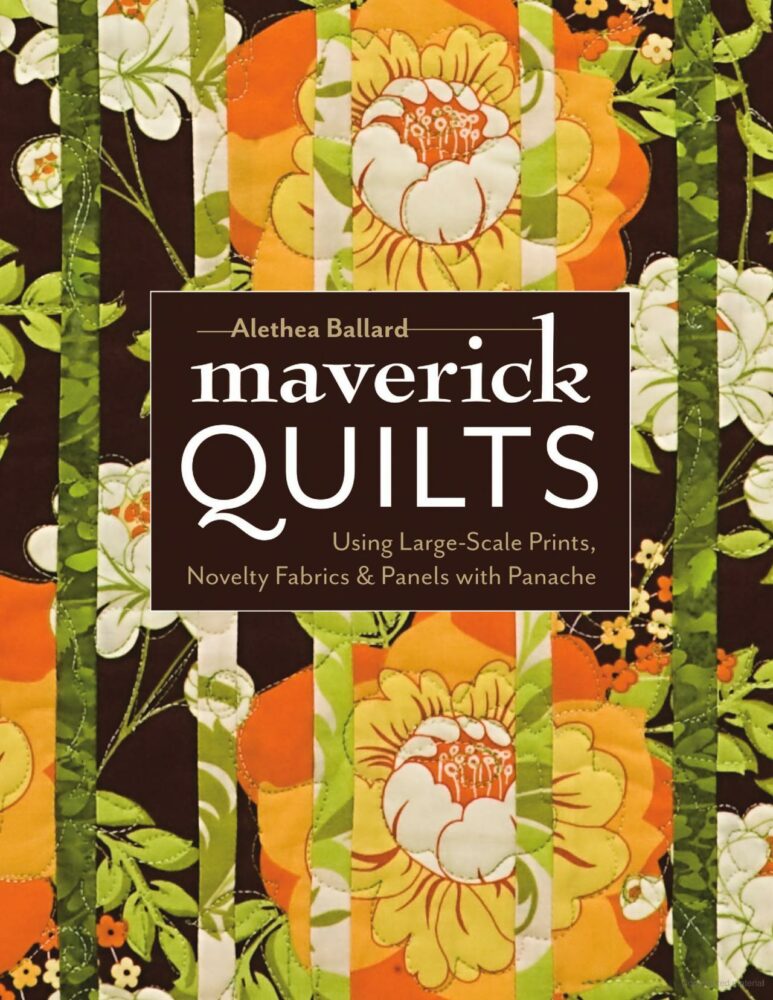 The subtitle is why I bought the book, "using large scale prints, novelty fabrics and panels with panache". At the time, I had quite a collection of panels, and fabric featuring big prints and very little idea what to do with them.
Start Using the Pure Technique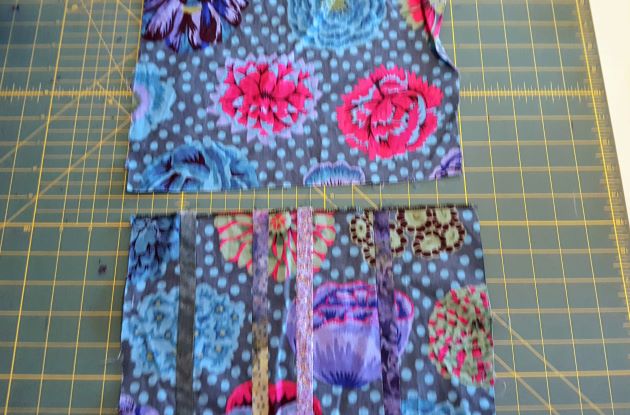 The first project I made was the Jalousie Windows quilted Tabula Rasa Jacket. It was for my friend Susie who loved the bright prints but wanted the pink to be less prominent. The sashes cut through the fabric at random intervals to break up the pink with more subtle batik prints. It remains a favorite and I learned a new technique. Using a uniform system of strips to break apart and put back together large patterns or small pieces has been a reliable tool in my sewing tool box ever since.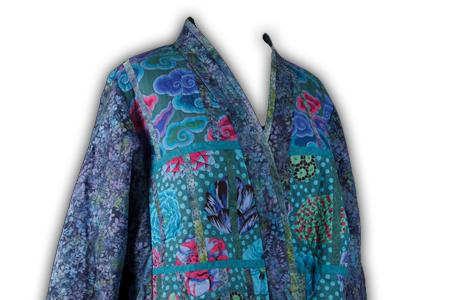 You can read about my sashing exploits in several previous blog posts. The Simply Sashed post talks about trying the technique in cotton first connecting a group of scraps into a fun warm weather topper.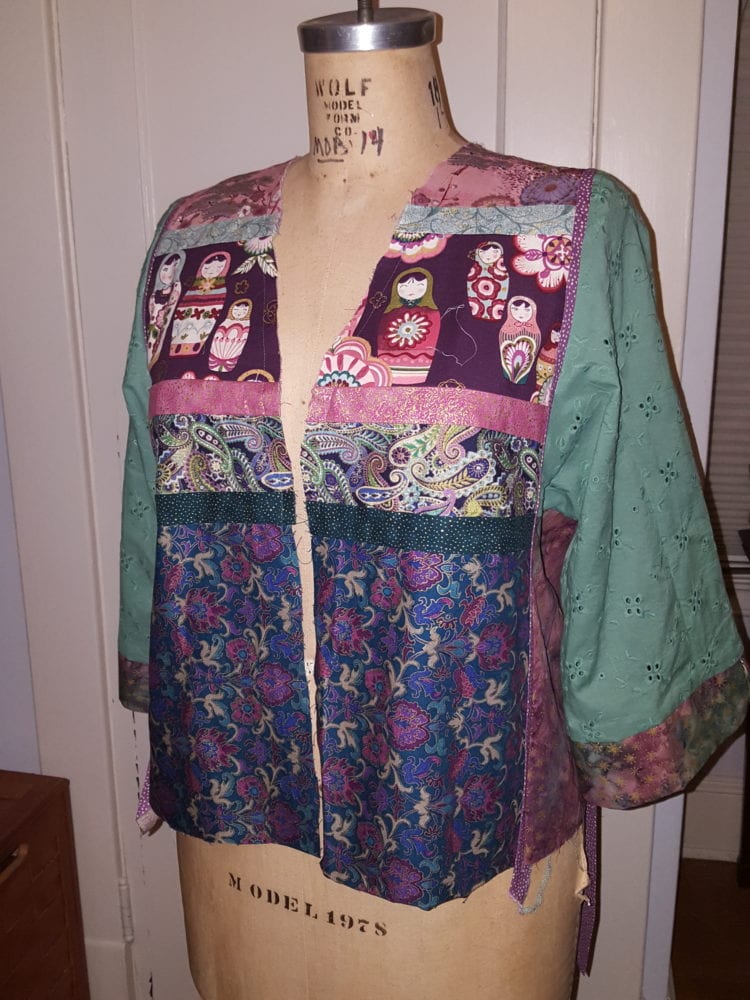 The In A Japanese Garden jacket used sashing to break apart and reconnect sections of a panel into a coat. I also sashed the sleeves because I did not have quite enough sleeve fabric to cut two full sleeves.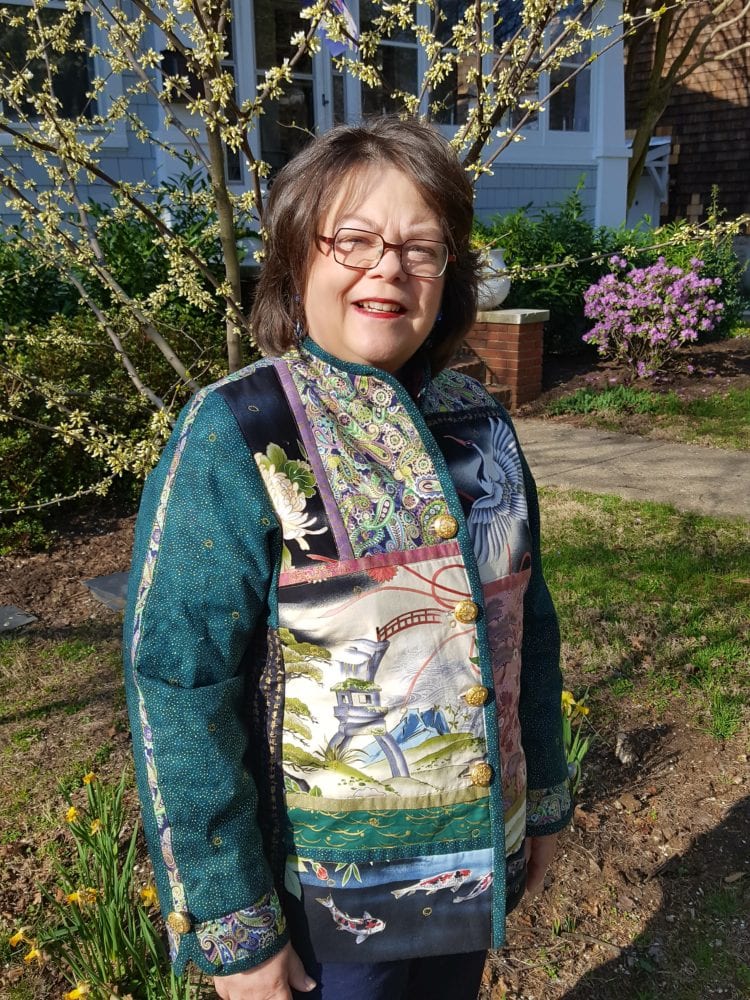 Next, Try it with More Difficult Fabric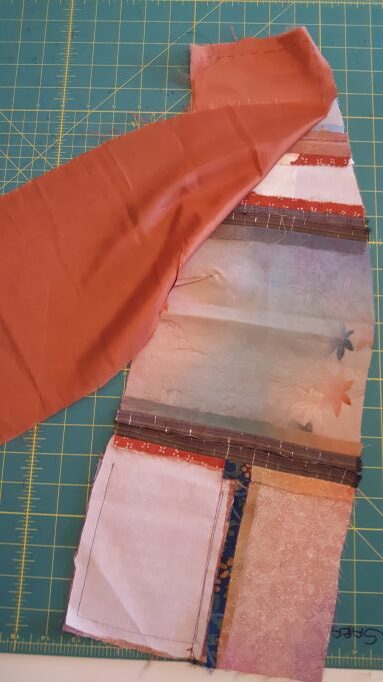 In the Blue Sashed Silk jacket made for a Threads Magazine article on quilting techniques for fine fabrics, the sashing again joins a group of scraps into a wonderful composition. Check out the Roly Poly Children at Play, the same technique was used and I was even able to sash in a pocket!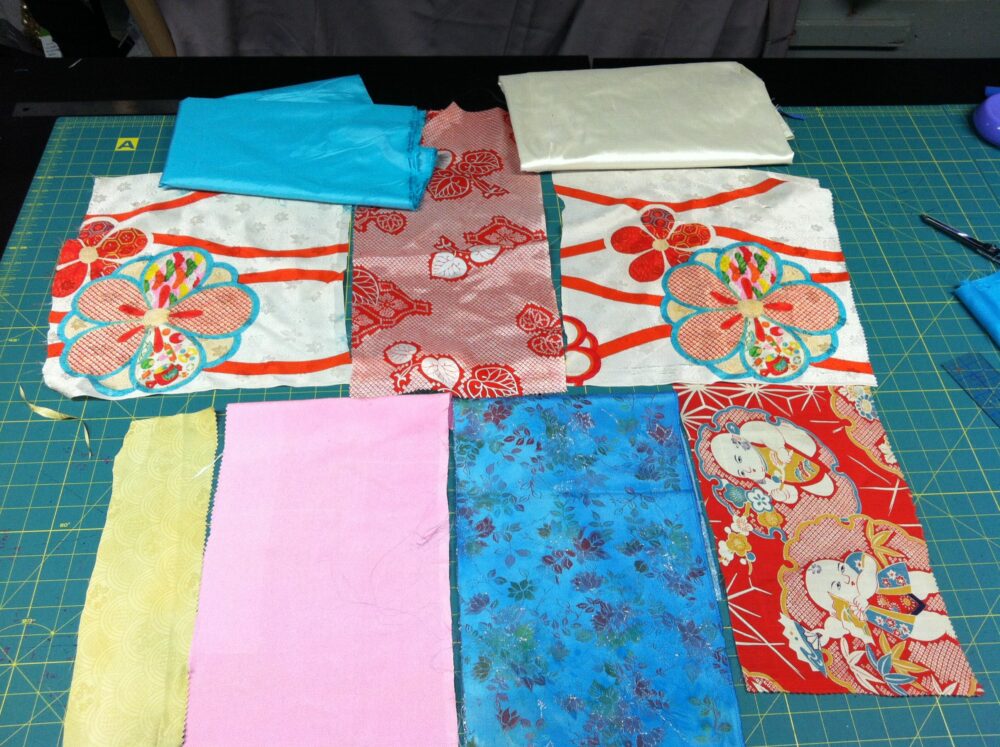 The post Less Knit – More Creativity shows how I used this technique on the sleeves to allow for a bit of fabric repetition and as a way to stretch the available fabric.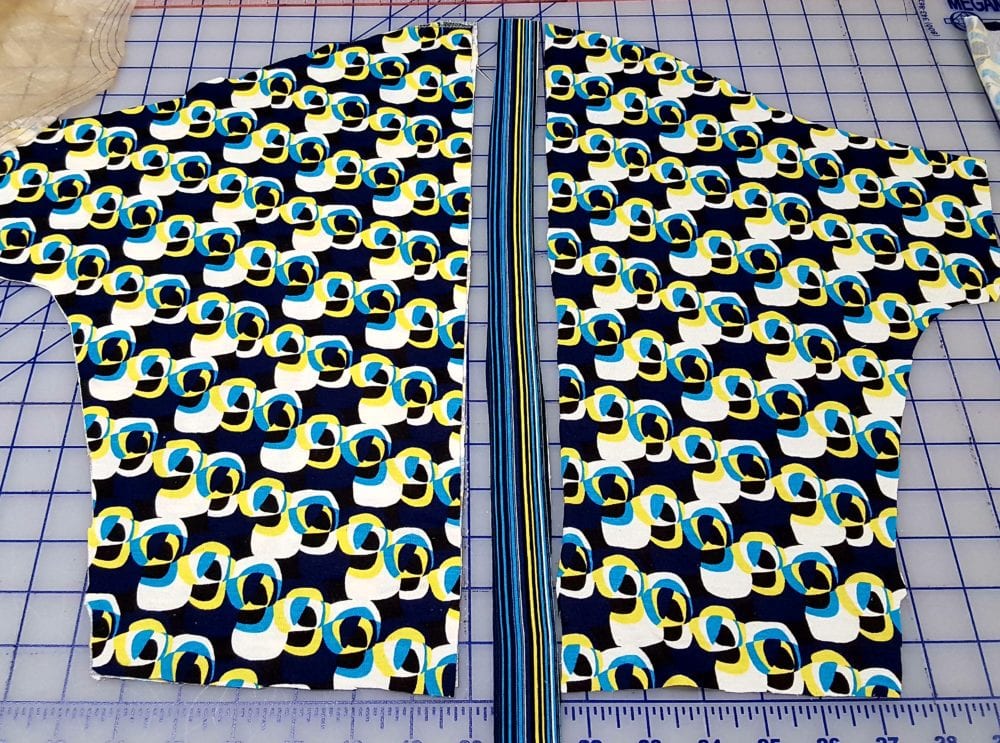 Similarly, in the Tiger Tee, gold stretch lace is sashed down the sleeves and in the pieced and rolled edge composition to add interest.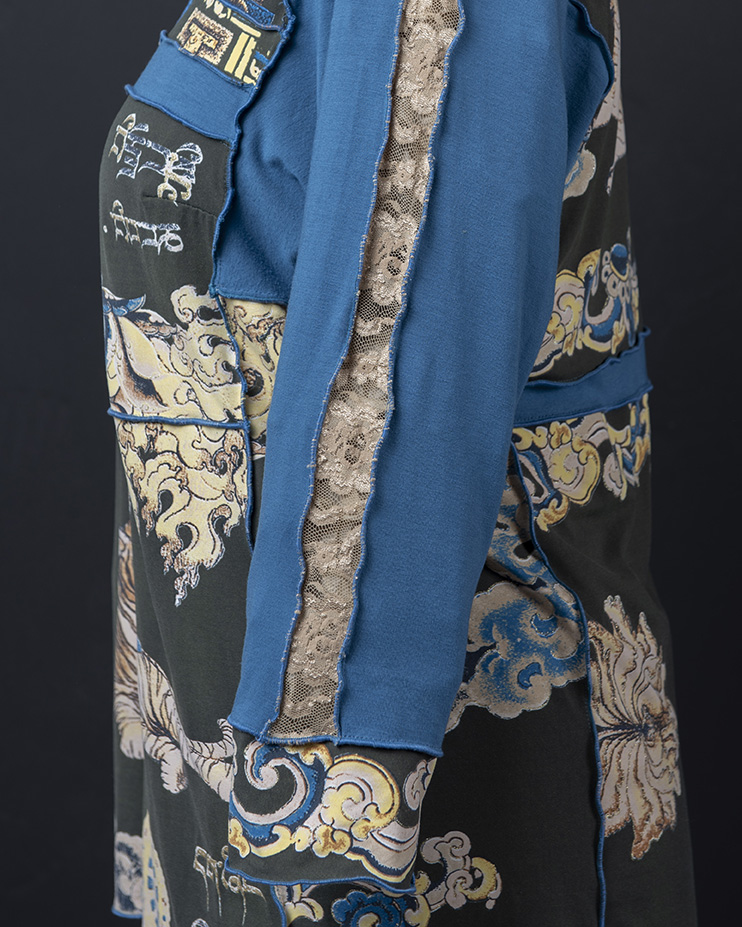 Change it Up to Fit a New Design Idea
Faced with a group of lovely silks in Fabric Inspiration – Pre-Packaged, I sashed my way to a very fun Carpe Diem tunic using an inspiration pack from our friend Laura Murray.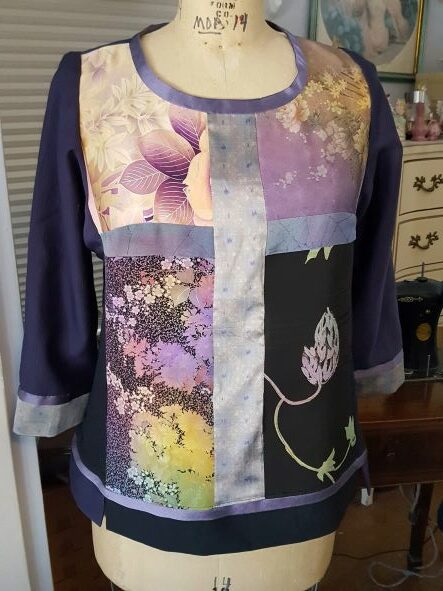 While my sashes were wider than usual in order to create the perfect size for the front and back, our friend Priscilla made a similar pieced/inspiration pack Carpe Diem Tunic using ½" wide sashes and smaller pieces. The possibilities are endless!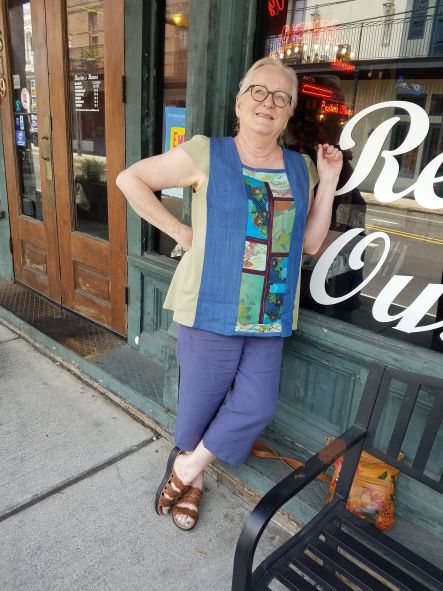 Practice with Others
We will be exploring a number of creative techniques in the studio at La Cascade in two weeks. Our 7 students making the trip to France will find lots of ideas for moving their garments in creative directions. If you can't come to France this year, consider grabbing a copy of Melissa Gilbert's fun book Big Magic to inspire you on fearless creative journeys.
Are you headed to the Original Sewing & Quilt Expo in Fredericksburg? I will be teaching a class titled Make Clothes that Scratch your Creative Itch. Be sure to join me as we explore ideas that move us toward more creative sewing. Watch our calendar for a group of classes we will be offering this fall at Artistic Artifacts. You can make your own sashed Tabula Rasa Jacket during these Saturday sessions in September and October.
Whether or not you are able to join Rae in a class, you'll find many tips and techniques for making successful quilted jackets in our newly updated booklet Tips for Quilted Tabula Rasa Jackets, available in both digital and print formats.
Share your Big Magic Technique Moments
Have you found a technique that really opened up your eyes to new sewing and design possibilities? What is it? Share it here with our sewing community. It might be just what one of us is looking for to move our garments to the next level.
Happy Sewing, RAE