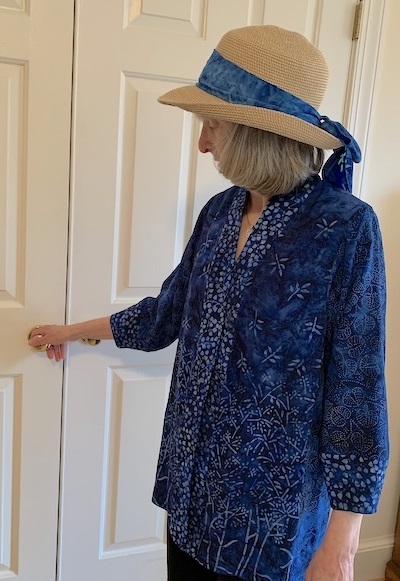 We have known Val since the early years of Fit for Art Patterns. She "was first introduced to the Tabula Rasa Jacket at an ASG Convention. I was drawn to the booth in the Vendor Mall with the array of beautiful jackets on display. Wearable art is the first thing that came to my mind. Same pattern with so many different looks." In fact, Val comes by our booth at the Original Sewing & Quilt Expo every year wearing a new Tabula Rasa Jacket. Here is just one example that I found in my photo album: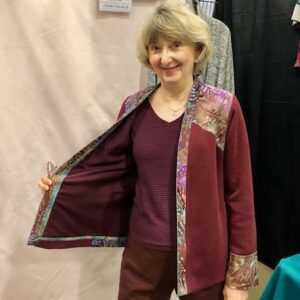 So we have invited Val to share her story in her own words to inspire your Tabula Rasa sewing!
A Sewing Life
"I have been sewing since I was a young girl. A childhood friend and I both had the little Singer Sewing Machine with the hand crank! We would attach them to her back porch steps and sit and sew clothes for our Barbie dolls. It was a lot of fun. Later, my interest moved to making clothes for myself. I've always been drawn to sewing machines, sergers and embroidery machines. I worked for a sewing machine dealer/fabric shop and taught guide lessons on the use of sewing machines, sergers, techniques and garment construction. I purchased one of the first sergers produced for the home sewing market. My serger is a mainstay in my sewing room. Now that I am retired, my motivation for sewing is for myself and sometimes my daughter, granddaughters and the grandsons too. I'm always open to new fabrics, sewing techniques, notions and threads to make my sewing interesting, more efficient and more professional looking. The entire process of sewing brings me great joy and satisfaction. In sewing, everything is always evolving!"
Easy to Fit, Wear and Construct!
"The jacket pattern was easy to adjust for my fitting issues. I am of average height with a petite frame, narrow shoulders and long arms. Fitting through the shoulders has been challenging in the past but the TRJ fits me perfectly without any adjustment. The sleeve/side panel unit is unique in construction. It sews in smoothly resulting in a sleeve that looks terrific. After making just one garment, making other jackets including with variations, can be made with confidence that the basic fit will remain the same. This allows me to concentrate on showcasing fabrics as well as embellishment techniques. Clear directions and helpful hints in the pattern make the construction of the garment easy. With the many variations, I am only limited by my imagination.
I not only like the way the jacket fits me, but enjoy the comfort of it too. And, of course, I like the way it looks on me. Depending on the season or occasion, I can make a garment that is comfortable and goes anywhere."
Inspired by Fabric
"I am inspired by fabric, especially texture and color combinations. Of course, the end use of the garment is also a consideration. I can embellish or use interesting techniques to enhance various sections of the jacket, try a new technique or use one in a different way. Some fabrics speak for themselves. I refer to those as 'let the fabric do the work for you.'" Here are a couple examples:
"Other fabrics need to be held in the hand…see how they feel and drape. That helps me determine the best garment design for that fabric." And so, a drapey rayon crepe became an elegant swing jacket and a double faced japanese cotton became a reversible jacket.
"I use the banded collar frequently. It is comfortable to wear and the width of the band can be adjusted depending on the style of garment I am making. I particularly like the Summer Sleeve with the Lantern Cuff and I am trying different sleeve and cuff combinations." Val made the beautiful soft SewBatik rayon jacket during last December's virtual Luscious Tabula Rasa retreat. Join us later this month for the Nifty Knit Tops virtual retreat for sewing time with Rae, Carrie and friends.
"I have a vest I made years ago that is out of style now but I put a lot of time into using various fabrics & texture techniques. My plan is to convert that garment into the TRJ vest with the swing side variation. I found a fabric in my 'stash' that will compliment the pieces in the original vest." We can't wait to see Val's recycled Tabula Rasa vest!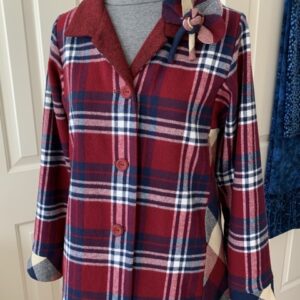 This set of photos doesn't even get into Val's collection of Tabula Rasa Shirts and Tabula Rasa Knit Tees and Tunics.
Our great thanks to Val! We hope this inspires your journey to a Fit for Art patterns wardrobe. We'd love to hear your story, too.
Happy Sewing, Carrie