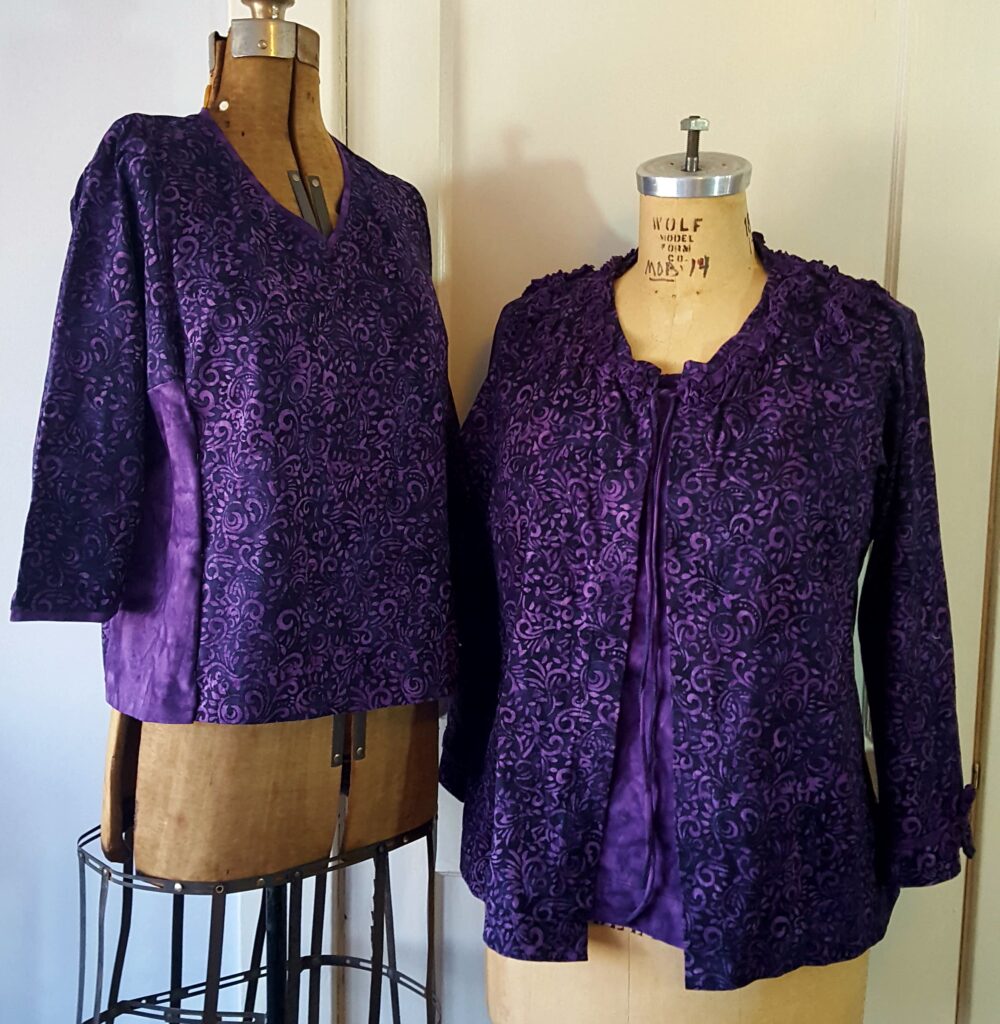 Over the last year, we have sewn up some fun knits with the colorful cotton jersey from SewBatik.  It is a very user-friendly knit to begin your knit sewing journey and makes very fun Tabula Rasa Knit Tee shirts as well as Tailored Cardigan Twin Sets using our Twin Set Variation pattern with your Tabula Rasa Knit Tee and Tunic pattern.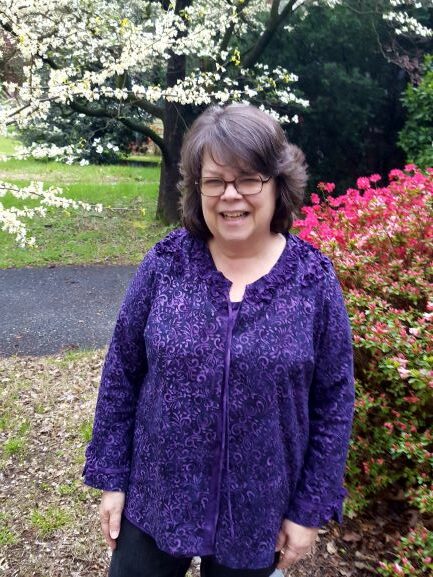 We will take a close look at one of these twin sets in this post, but you can sew SewBatik knits with us as your guide March 27-28 at our Nifty Knits Tabula Rasa Virtual Sewing Retreat hosted by the Original Sewing & Quilt Expo.
My purple and black twin set was stitched up before the pandemic when Carrie and I retreated to the PA mountains to finish up that pattern project.  It is made with SewBatik cotton jersey in Purple Magic Phoenix accented with the Bright Purple Spray.  The spray fabric is used for the tank top, the side panels and the trim which I inserted between the cardigan and its collar and cuffs.  Once the twinset was finished, I felt that the trim just was not interesting enough.  The boldness of the colors in the print rendered the trim essentially invisible.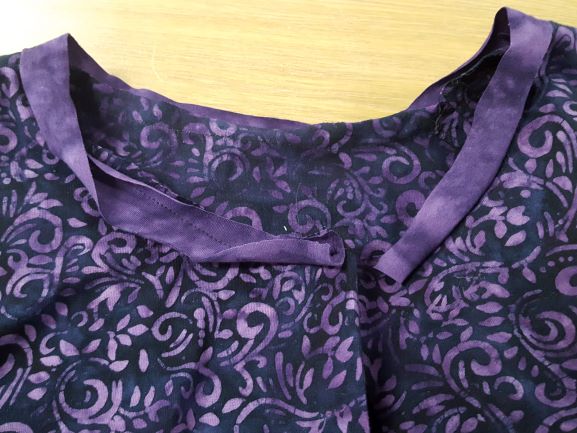 Once we were back home from our early 2020 travels and had settled into pandemic life, I revisited the twin set and added some embellishment.  The swirly Phoenix print reminded me of the floral tendrils that I had stitched onto my Knit Flower Fun tee.  So, I cut ½" strips of the purple spray fabric to gather and place on the cardigan.  I spent some time arranging and rearranging these little raw edge tendrils to the best advantage, ultimately deciding to lavishly embellish the shoulder area and cuff only.
On my previous project, I stitched these swirly flowers down on the machine before I constructed the tee.  Adding them to a completed cardigan, I decided to hand stitch them in place for a more accurate placement.
There will be time to play with this and some other knit embellishment techniques on the second day of our Nifty Knits retreat.  Knits are really fun to piece and embellish so be ready for fun experimentation and sample making.
If knit sewing is a new adventure for you, we will help you build your knit sewing skills at our virtual sewing retreat. In addition to the embellishment, we will be including break outs with plenty of sewing tips and knit fitting suggestions.  You will make a simple tee if you are just getting started.  If you are already well into your Tabula Rasa Knit sewing adventure, you can make a pieced Patchwork Tee using the SewBatik tumbler technique or use our Twin Set Variation to make a tailored cardigan and tank top.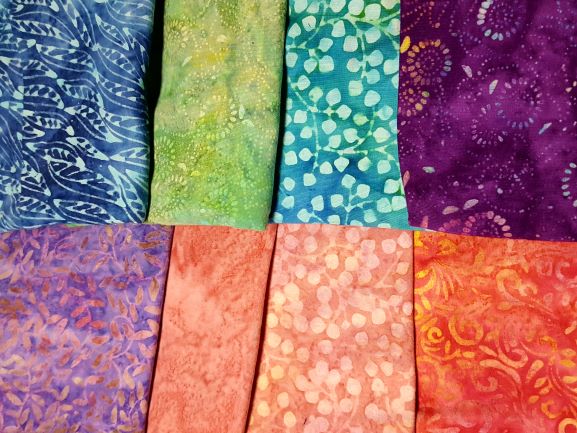 SewBatik has put together lovely kits of coordinating batik knits to choose from.  Choose your favorite to stitch up a fun new addition to your comfortable spring wardrobe. The wonderful thing about SewBatik cotton jersey is that is a great starter knit.  It has a bit of stretch and is not too slippery or drapey.
Sign up today for the retreat, the spaces are limited as with our Luscious Rayon Retreat last December.    We want to be able to connect with each participant so they have a great time.  It is great fun to sew together, even virtually.
We also want you to have plenty of time to order your required kit from SewBatik and receive your OSQE retreat goodie bag that will be sent your way once you have registered.
Keep an eye on Facebook and Instagram over the next couple weeks to see another SewBatik cardigan and pieced "Tumbler" tee come together and more photos of this project.  We have been planning for a couple months so you will be sure to have a great time.
Happy Sewing, RAE