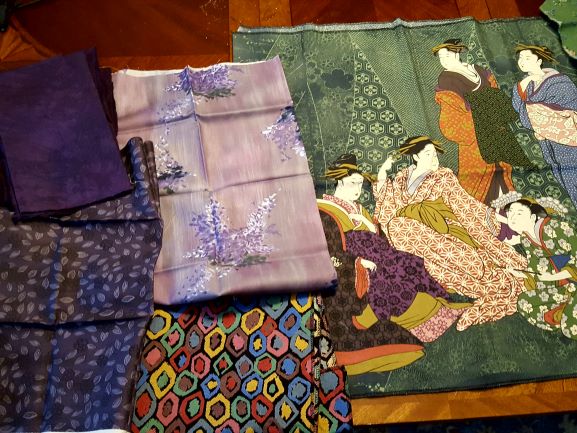 Design a cozy pieced and quilted vest as a snuggly layering piece for chilly winter days at home.  It is also a great way to use a favorite group of quilting cottons, either from your stash or new acquisitions.
I am preparing to make a quilted vest using a seasoned group of quilting cottons that compliment a panel featuring Japanese ladies.  The design will be a Tabula Rasa Jacket made with the vest directions and the Funnel Neckline from the Rain or Shine Variations, like this Funnel Neck Ikat Vest.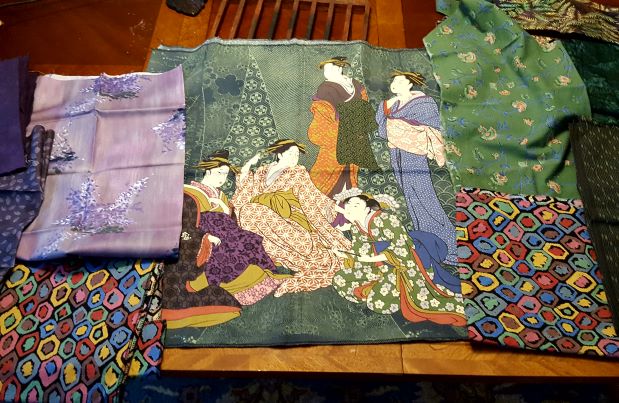 Planning the Piecing
It is wise to begin by considering the best arrangement of the fabrics for a pleasing and artful look.  On December  16th  I will be teaching, and OSQE will be hosting, an Innovative Piecing Techniques for Quilted Jackets class.  This vest exercise is part of my planning and preparation for the class and we will look at several options for this vest's design and decoration.  In the class on Dec. 16th,  you will get to see my choices plus several other techniques for quilted Tabula Rasa Jacket piecing such as foundation piecing, sashing and more.
Now, on to this vest.  The fabrics have been gathered, arranged and rearranged.  I have a few favorites, but even they might not all make the cut.  They are placed on the empty cutting table along with the pattern.  That makes it easy to see how the fabric print is scaled relative to the size of the pattern pieces.  The vest will be made in Carrie's size so I have her pattern out including a full back pattern piece I used for the red beaded connections jacket.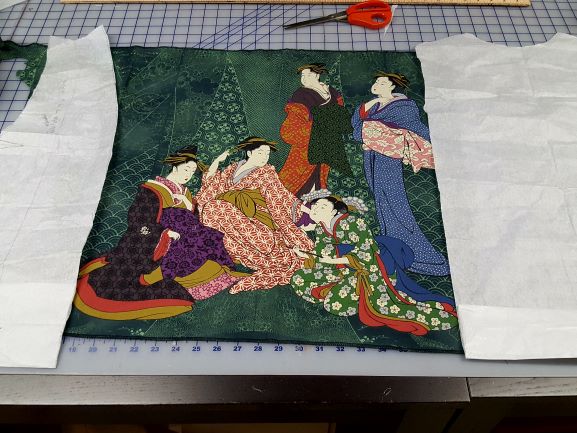 Consider Several Options
As you can see, the entire panel does not begin to fit on the pattern's front or full back.  So, it's necessary to look at the panel with different eyes and evaluate what elements are the most appealing.  Can it be broken into sections to be used successfully?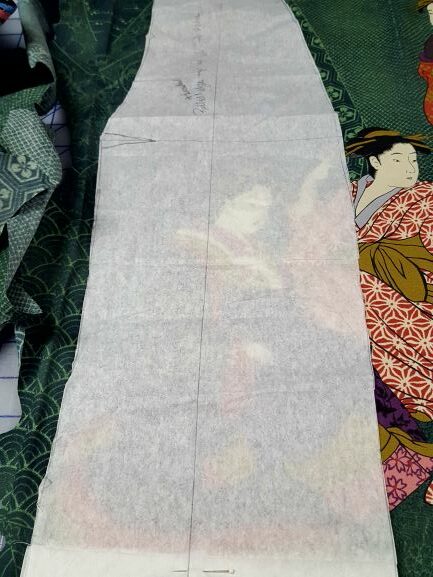 In the past, I have broken panels into blocks as I did in Japanese Garden Quilted Jacket.  But this panel seems unlikely to divide successfully into blocks.  The drama of the tall elegant ladies would be lost!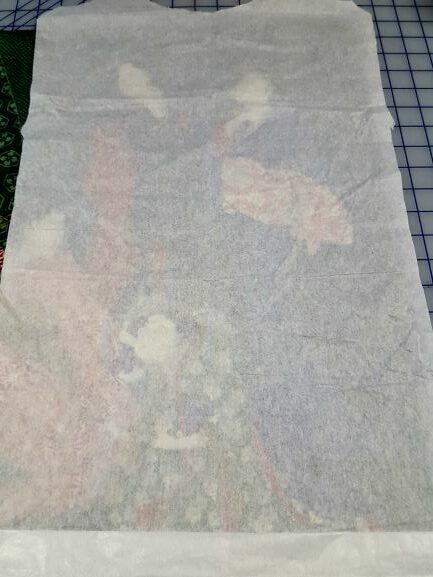 Another option I like is to cut out the motifs and collage them onto a background.  This is the technique I used on the Boro for the Birds and Our Lady of Guadalupe quilted jackets.  I am drawn to the collage option because I am not really crazy about the dark green background.  I also believe that by splitting up the figures, they can be rearranged and still remain intact.
Cut Up the Fabric to Test Ideas
It is excellent that I have two identical panels of the printed fabric.  After some thought, I decided to cut out the figures on one panel to determine whether I like them cut apart and on different backgrounds.  The cutting was done while watching Football games; there seem to be lots of them these days!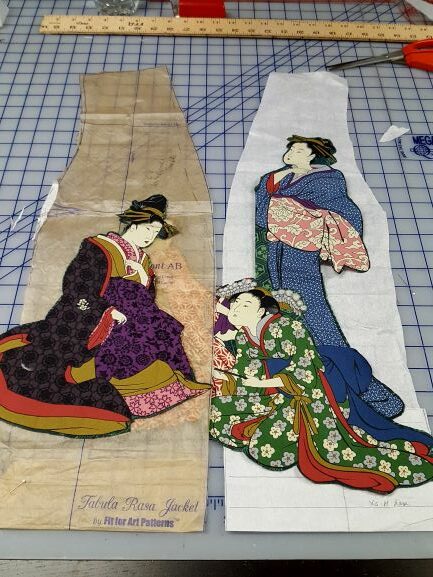 With 3 figural pieces in hand, I returned to the cutting table to see how these figures look on a different background.  In my mind, I am envisioning these elegant figures in a pastel room.  An east meets west collage of sorts.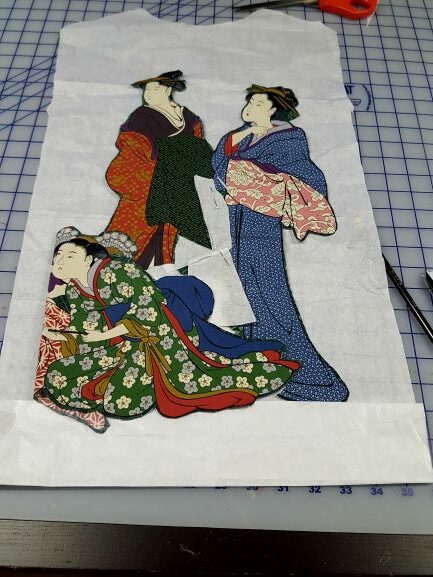 The figures were first placed on the pattern pieces and then they were tested on groups of fabrics.
I took pictures of the ones I liked best so we could consider them together.
Decide The Best Combinations
Which fabrics do you like best, and which piecing configuration do you like underneath the figures?  Lastly do you like the trim and small covered buttons, or the larger fused glass buttons?  Your feedback would be appreciated.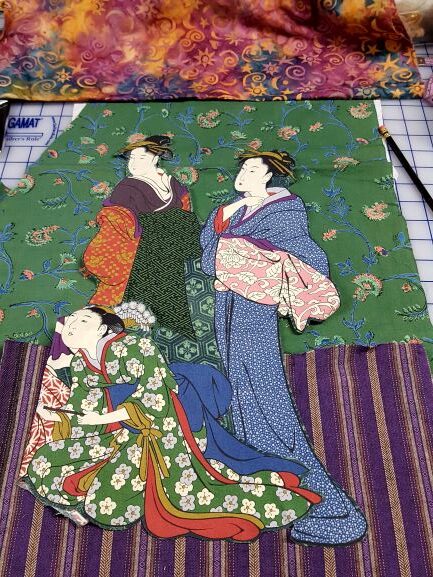 Take a Few Days to Finalize the Design
By the end of the week, I hope to have made a decision so I can begin creating the pieced and collaged sections of the quilted vest to use as visuals in my upcoming class.  It is good to have a time limit for your deliberations, but don't try to do original design work quickly.
Keep an eye on Facebook and Instagram too, I will most certainly post some additional ideas as the design comes together in my brain.
Stay Well and Sew Happy, RAE