Surely you have heard by now that Fit for Art is venturing out to the great Northwest to attend the Sewing & Stitchery Expo in Puyallup WA February 27th – March 1st.  We have talked about attending this expo for several years, but dithered because we were so intimidated by the prospect of getting us and all of our stuff out there without driving our trusty mini-van.  (Driving all the way across the country, and over the mountains in February, is even more intimidating than going without our van.)  This year Rae applied to teach, was happily accepted, and so now we are off on this adventure!
For every other show, except one, our van has been stuffed to the gills with garment samples, display equipment (grid walls, hooks, hanging rails, and baskets), mirrors, drapes and stools for the pant fitting room, chairs and tables, teaching supplies and equipment, merchandise (an ever-growing list that includes patterns, fabric, interfacing, rulers and paper rolls, paints), and of course our personal items, computers, and handwork for the car.  And so, the last several weeks have been full of quandries and decisions about what to take, what to leave behind, and how to display our samples and patterns.
Getting Ready for Puyallup
I have been busy packing hundreds of patterns to ship west.  This pile of boxes will be entrusted to FedEx by the time you read this post, with a wish and a prayer that our patterns all get there by the time we do!
We won't risk shipping our beautiful garment samples for the booth, Rae's classes and trunk shows, and for us to wear, since they are truly irreplaceable.  By the time we get to the airport to fly out, I expect we will look something like this (without the sunshine), the maximum number of bags in tow.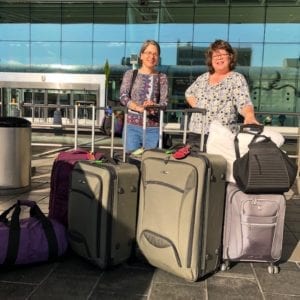 In lieu of grid walls, we are going to try out some new strategies for hanging samples in the booth and for displaying and storing our patterns.  Come see us in person in Booth 834 if you are coming to the Expo.  Watch for photos on Instagram and Facebook after we get set up,  #sewexpo and #fitforartpatterns, if you won't be there.  We look forward to hearing your feedback about our new look!
Where to Find Fit for Art

To all you sewists coming to Puyallup – help make this adventure a great success!  Come shop in our Booth 834 to stock up on Fit for Art Patterns and receive a complimentary sizing for the Tabula Rasa Jacket or Tabula Rasa Knit Tee & Tunic with purchase of the pattern.  Take advantage of the discounted Three Core Patterns to launch your Fit for Art wardrobe.  We'll send you home with personalized fitting tips to get you sewing right away; after you are home sewing, don't forget to refer to our free downloads and website resources in Helpful Hints, Video Tutorials, Photo Gallery, and the Sew Let's Get Dressed blog archive.
Don't miss this opportunity to take a class with Rae Cumbie, our very own fit expert, teacher extraordinaire, and author for Threads and Sew News magazines.  Register for Rae's one and two needle classes and attend her trunk shows on the expo stage:
Fitting the Body, Mind and Spirit (#1006 on Th 1:30-2:15 and Sat 11:30-12:15) – be empowered to create a wardrobe that embodies you and your preferences.
Knit Fit Nuances (#1007 on Th 2:30-3:15) – tricks and tips for sewing knits that will look and feel good.
Embellish a Contemporary Wardrobe (#2007 on Th 8:30-10:00) – inspiring garment samples and a design exercise for planning your own embellished garment.
Your Pants – Your Way (#2008 on Fr 2:30-4:00) – a pant philosophy and journaling exercise that will get you started on a pants wardrobe you'll be happy to wear every day.
Fashion Forward Quilted Jackets (Friday at 9:30 on the Free Stage) – learn how to make a quilted jacket that fits well and lets your sewing skill and creativity shine.
Wow! Wearable Art Jackets (Sunday at 8:30 on the Free Stage) – inspiration and techniques for creating your own original wearable art jackets.
We are really looking forward to introducing Fit for Art Patterns to a new audience and to meet current customers who live out west for the first time.  Please come by to show us your Fit for Art creations and let us take a photo with you!   If you can't be at the Sewing & Stitchery Expo, please tell your sewing friends who are attending the Expo to visit us!
Happy Sewing, Carrie