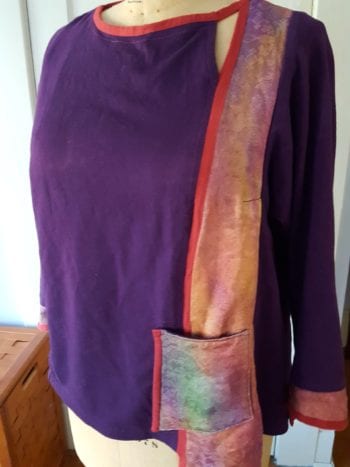 What do you wear when you feel bad?  Have you made some super comfortable house clothes that keep you from looking as bad as you feel?  This past week I have had a very persistent case of the flu.  By the time you read this I hope to be better and setting up the Fit for Art Booth at the Sewing and Stitchery Expo in Puyallup, WA.  In the meantime, I am trying to cope.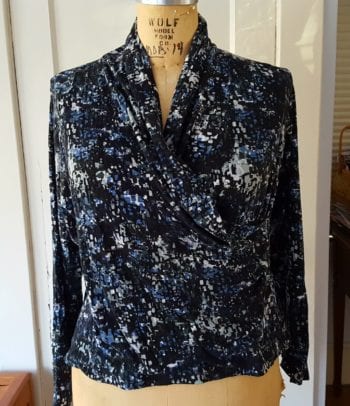 On my first full flu day, I put on comfy clothing, a loose old pair of Eureka! Pants in denim and a Tabula Rasa Knit Tee with the Clever Crossing Variations cowl collar.  My theory was that I was not really sick.  I laid around all day writing handouts and blog posts between naps.  By the end of the day, there was no doubt, I was in fact sick.
On day two I decided rest was the best approach so I stayed in my PJ's and took even more naps, drank tea and seltzer and ate chicken soup, but only got worse.  When I arose from my very late afternoon nap, freezing and miserable, I decided to take a shower.  But, what to wear.  Yes, even when I am sick, I think about what to wear.  It had to be warm and lift my spirits.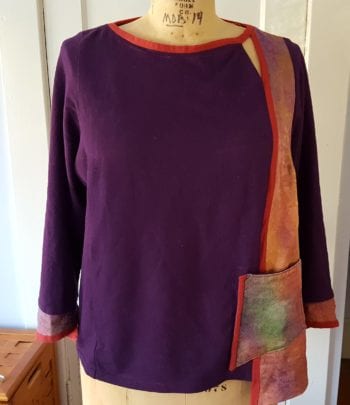 Deep in my exercise/play clothes chest is a French terry tunic in purple and orange.  I made it when we were developing the Wide Neckline Variations for the Tabula Rasa Knit Tee and Tunic.  My inspiration was a mixed fabric top I had photographed in a museum gift shop.  There are Laura Murray overdyed kimono silks included in the design making it very special.  It coordinates perfectly with fuzzy slipper socks in the same colors that I got for Christmas a few years go.  I believed that they would keep this sick gal warm all night long.  It did not take me long to pull out the tunic, socks, and black ponte Eureka! Pants.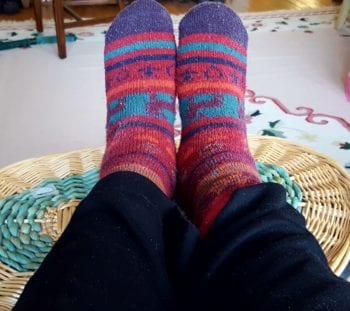 I have never written about this tunic top because it was complicated to make.  The woven fabric panels, off center cut out and bound neckline were each a challenge that did not seem worthy of repetition.  That said, I lounged in the top all night and it did on some level lift my spirits.
Day three I felt some improvement, no more chills or violent coughing spells but the walls of the house were beginning to close in around me.  I was convinced to go out for some supper but encouraged to bundle up, as it was a cold night.  The perfect evening for a quilted Tabula Rasa Jacket made with beautiful block printed fabrics.  It has the split turned back cuff from the Sleeve and Cuff Variations and the faux shawl collar from the Band Variations and Pockets.  If you are at Sewing and Stitchery Expo, come to the free stage show, Fashion Forward Quilted Jackets on Sunday morning to see a number of quilted jacket possibilities.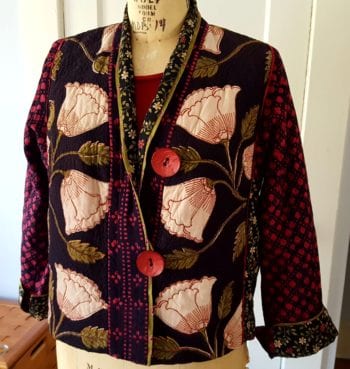 A red Tabula Rasa Knit Tee kept me warm underneath and black cotton velvet mom jeans that predate the Eureka! Pants and Sporty Details patterns meant I looked presentable and felt comfortable.
As always, my 3 Core Patterns yielded one great wardrobe, even if the statement was one of cozy comfort rather than fashionista.  Our Original Sewing and Quilt Expo trunk show this year is Around the Clock with Fit for Art.  You will see outfits made with our 3 Core Patterns for lounging, exercising, sleeping and more.  Check out the Around the Clock blog posts if you cannot make it to Atlanta or Cleveland this spring.
Happy Sewing, RAE