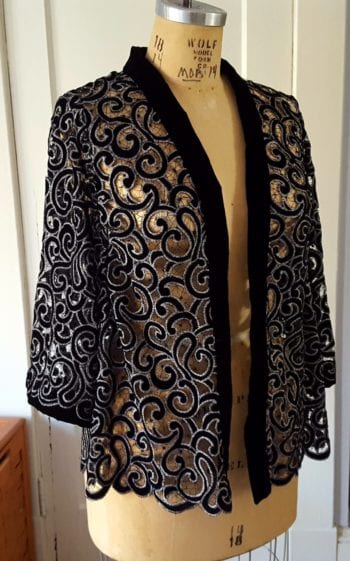 Sewing my own clothes and clothes for my friends and family is a passion for me.  One of my favorite challenges is using a basic pattern to make clothes appropriate for a variety of occasions.  This is the Fit for Art philosophy.  So I started with my dependable Tabula Rasa Jacket pattern and its variations when planning the outfits for my daughter's upcoming wedding.
One of my new design tools is the MyBodyModel croquis.  I created it online and can print it as often as I like.  The three to a page croquis is my favorite when I am playing with design as I can do similar but different sketches and compare them easily.  Here you see the croquis dressed in my mother of the bride design.  I wanted to figure out the best length for the jacket and the jacket's sleeves.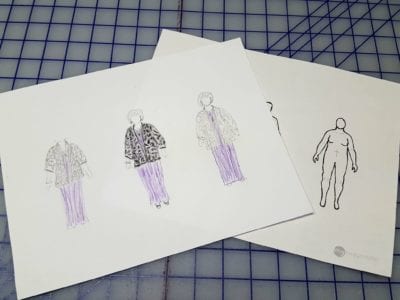 My calculations needed to be precise because I was working with a very small piece of fabric edged on each side with a scalloped border.  The fabric was tricky; like Battenburg lace, each velvet motif was connected with a web of knotted strings.  In addition, each border was a little bit different.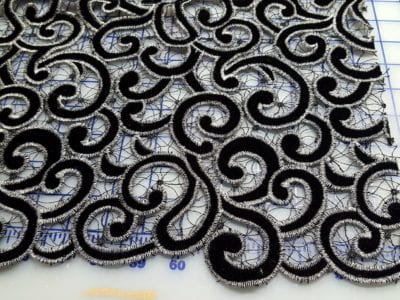 After fiddling with several different layouts, I decided to eliminate all the TRJ seams except the shoulder, underarm and sleeve insertion seams.  This allowed me to cut the entire body of the jacket along one border and place the sleeve hems along the other border.  Once I cut the jacket out, the length would be unalterable.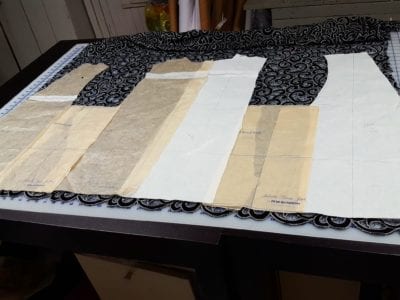 My instinct to eliminate most seams was a good one.  I used French seams on the shoulder, underarm and sleeve insertion seams and had to fudge the fabric, as with lace, to keep the seams neat and tidy.
Once seams were tidied up and the jacket fit was pleasing, I added a classic band down the front and created a finished band that could be inserted under the sleeve border to add weight and finish each sleeve.
The beauty of working with a reliable pattern is you can imagine these changes and work accordingly to achieve your desired end.  I will be a very comfortable and festive Mother of the Bride in this jacket, honoring my personal fashion sense with more flash than usual.
I have also made a lovely TRJ with a high low hem for my friend Susie.  See some of her Fit for Art clothing in our gallery: Jalousie Windows, Provencal Garden, Mekong Comfort, and Diamond Button Frame Shirt.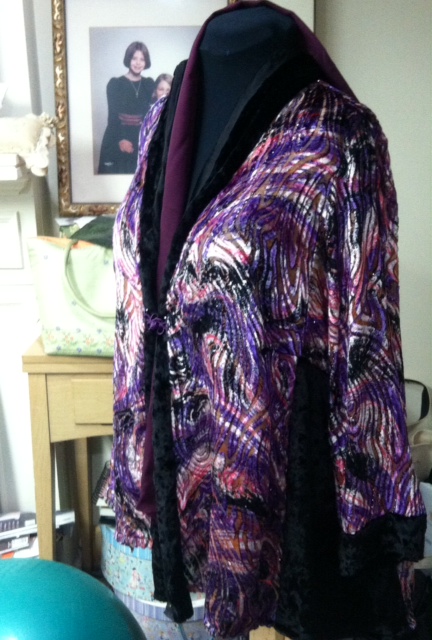 She chose a velvet burn out, challenging by nature, only 35" wide and with a distinct nap.  I planned my layout for this jacket carefully too, but did not have quite enough fabric.   Some black panne velvet in my stash proved to be perfect for the sides and the band. This semi sheer jacket also has French seams and feels like a dream.  I will post a photo on Instagram when this jacket is finished.  The band and cuffs still need some work.
Both these fabrics and the other fabrics for the wedding came from A Fabric Place, our treasured Baltimore independent fabric store.  If you are ever in town, be sure to pay them a visit.
Have you made a Tabula Rasa Jacket for a special occasion?  A visit to our photo gallery reveals many jackets in sheer or dressy fabric that can be dressed up to go to a wedding or dressed down with denim and boots for today's upscale casual wardrobe.  I know I will have many fun evenings wearing my new jacket, starting with Sarah's wedding.
Happy Sewing, RAE
Want to try MyBodyModel? Use coupon code CLASSPASS to get 10% off when you order a body model croquis.