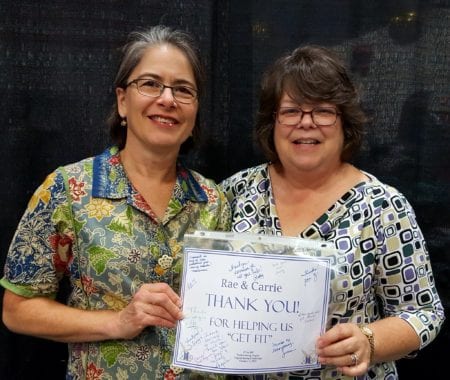 I am grateful that in the US we have a day every year when we are prompted to give thanks.  Life is so busy I wonder if I would ever stop and count my blessings without the Thanksgiving prompt.  I hope you feel the love from us as we name just a few of this year's blessings.  You are at the top of the list!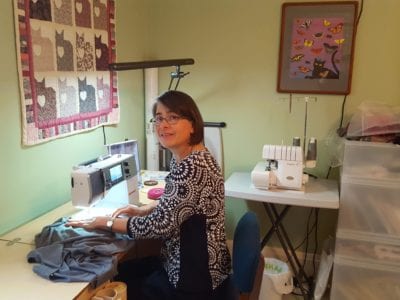 Carrie and I are both celebrating the comfort of our homes and sewing rooms as we settle in from our Fall travels.  Once all the Tabula Rasa Jackets, Tabula Rasa Knit Tees and Tunics and Eureka! Pants that Fit, which traveled from Expo to Expo, are put away, and all the class materials and boxes of patterns are stashed on their shelves, it's time to sew.  We are looking forward to a long weekend of new pattern development Dec. 6-8 with our friends at Red Stone Glen nestled in the woods of Pennsylvania.  I am sure we will post some highlights on Instagram and Facebook.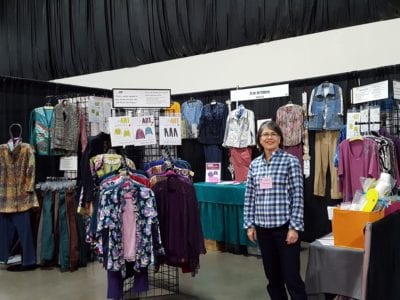 At our last 2019 Original Sewing and Quilt Expo in Novi MI we found ourselves back where it all started, the Suburban Showcase.  This is where we first presented our Tabula Rasa Jacket pattern at the American Sewing Expo in 2011.  We were honored to teach a "More the Days Before" Eureka! Pants class this year. We shared hugs and visits with many of our sewing friends modeling their pants, jackets and knit tops during the show.
Be sure to put February 27-March 1 on your calendar as we teach and vend at the Sewing and Stitchery Expo in Puyallup WA for the first time.  As soon as our classes are posted, we will let you know all the details
In October we were honored to teach our Eureka! Pants Professional licensing seminar at the Association of Sewing and Design Professionals (ASDP) Annual Conference in Milwaukee. We had 8 talented and attentive students become Eureka Pants Professionals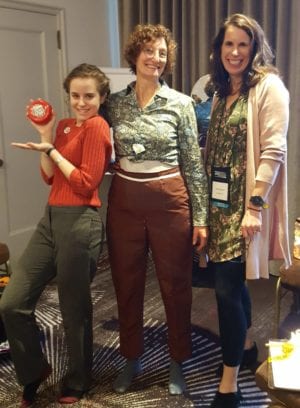 We are proud to add them to our growing list of Eureka! Pants fitting experts.  Meet one, Marie, when she assists me during the Eureka! Pants class at Stitchin' at the Beach January 9-10.  You can still register for this 2-day class; you will leave with a pant pattern that fits.  What could be better?
Also in Milwaukee, the ASDP Charitable Foundation was pleased to provide funding to honor the Student Design Challenge winners.  We were excited to have 12 students participating this year.  We also presented our first large grant to a Sewing Related Charity, The Sewing Machine Project.  As a founding Director of the ASDP Charitable Foundation, I was thrilled to meet their Founder and Director Margaret Jankowski.  The Project began by giving sewing machines to women who had survived natural disasters.  Now they have branched out and are teaching women to sew.  Margaret talked about the powerful symbol of self-reliance and friendship the sewing machine represents.  Her remarks were touching and inspiring and I was reminded how important it is to share our sewing skills with others.
We had a wonderful Spring Retreat this year at the Maritime Institute and look forward to another event there in April, 2020.  Registration is now open.  Our Enchanting France retreat in July was also a wonderful experience that we are repeating in 2020, July 15-22.  This event is full, but we are accepting names on a wait list if you are still interested in coming.
If you are a member of the American Sewing Guild, we hope you saw the feature about our company in the November 15th Blog post.  Thanks to Rosemary, President of ASG, for this wonderful write up. Don't forget to take advantage of our special offer to ASG members!
We are thankful for each store and club that sponsored our classes and promoted our patterns this year.  We were most honored to have our Three Core Patterns listed in Threads Magazine's Holiday Gift Guide and our Painted Knits featured in their August/September issue.  As we make note of the publications available to garment stitchers, we also love writing the Curve Appeal Column in each issue of Sew News Magazine.  Make sure you support these publications so they will keep you appraised of what is new and reliable in the sewing world.
Hope you love our new website refresh as much as we do.  Thanks to our web team Amanda and Tim, our graphic designer, Erin, our photographer Teresa, our summer assistant Lara, and everyone who reads and posts to our Blog, website, Facebook, Instagram and Pinterest pages.  You keep us energized and creative.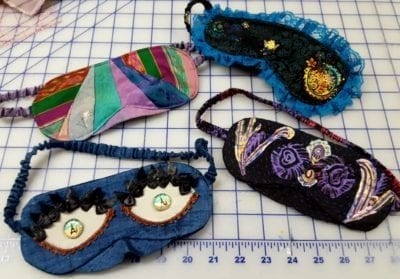 Enjoy stitching up the Artful Slumber Mask, our holiday gift to you, and post photos of your creations with the hashtag #artfulslumbermask.  It is just the right size to practice an embellishment technique or use up some precious scraps.
We plan to enjoy Thanksgiving with our families, and wish the same for you.  Stay tuned for the annual Cyber Sale information coming later this week as you feast on your leftovers.  Get ready to help us close out 2019 with a bang!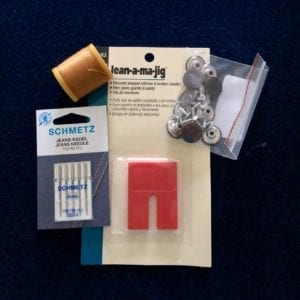 Happy Sewing, RAE
One last word of thanks to our friend and colleague Edye who is helping me get all the dresses made for my daughter's wedding on Dec. 28.  I promise you will get to see Edye at work on some of these beautiful dresses up close in upcoming posts.