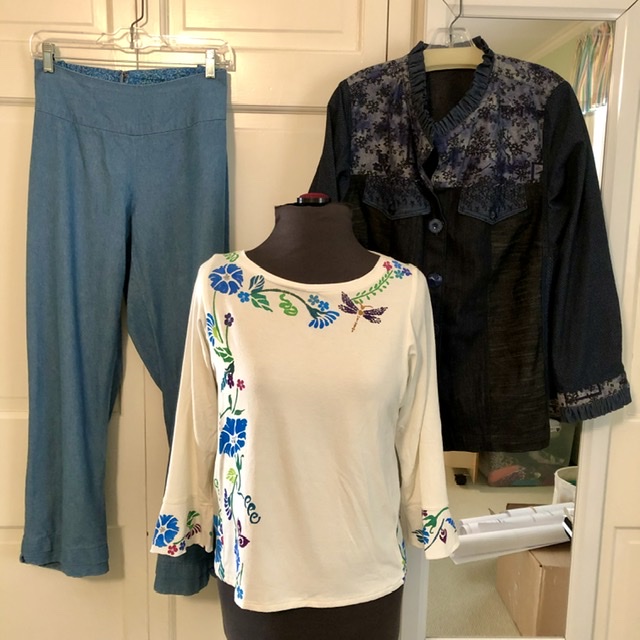 Today we are honored to be teaching a 2-day Eureka! Pants fitting workshop at the "More the Days Before" portion of the Original Sewing & Quilt Expo in Novi, MI.  While we are busy teaching, we'd like to share a few more outfits from our trunk show Around the Clock with Fit for Art.  If you are coming to the Expo, but sure to catch Carrie on the Expo Stage at 2:30 p.m. on Thursday or 10:30 a.m. on Friday or come by Booth 507 to see all the garments up close.  Read on for an evening and a daytime outfit included in the trunk show that both feature one of our painted Tabula Rasa Knit Tee & Tunic samples.
For daytime, the Glory Vines tee is a fun and splashy top to wear to lunch with friends, to work in an artsy retail job, or even to a continuing education event or conference.  Read more about Carrie's process for creating the top in the post Glory Vines Painted Tee.  We are pairing this tee with upgraded denim pants featuring Glamour Details for Eureka! Pants including the contour waist, wide legs with decorative cuff, and cute back patch pockets.  These are not your everyday jeans!  Read more about them in the post Glamour Pockets.
This daytime outfit is finished with the fanciful new Ruffled Jean Jacket.  This fun jean jacket sports a mix of denim scraps in several shades of blue and black, including an embroidered denim pocket flap and the ruffled collar and cuff from Jean Jacket Variations for the Tabula Rasa Jacket.  Read more construction details in the blog post Jean Jacket Ruffles and Flourishes.  Raid your stash of left-overs you couldn't bear to part with to create a funky jean jacket of your own!
For evening, we are showing Rae's elegant Ginkgo Leaves at Night Tunic.  She wears this painted tunic out for a drink or casual dinner with friends and even to a professional dinner with her professional colleagues at the ASDP Conference.  Find inspiration to paint your own elegant evening knit tunic in Pins, Paints and Inspiration.  She complements the tunic with a pair of skinny black pants; find techniques to make your Eureka Pants skinnier in Narrow Eureka! Pants.
In real life, Rae tops this outfit with a very special handwoven Tabula Rasa Jacket that's been one of her Fall favorites for years.  Handwoven Heaven was the product of an early collaboration with weaver Tom Knisely, who wove enough of this cotton fabric for Rae to create a coat for herself and for a lucky lady in his life.  We are looking forward to doing more collaborations with several weavers at the Red Stone Glen in York, PA, so stay tuned!  At the Around the Clock trunk show, we are completing this outfit with a new handwoven coat that you read all about in a Handmade Birthday Gift.  Either way, a handsome coat showcasing handwoven fabrics is a stunner!
Get a taste of the fun of painting on knit fabrics with our Fluid Textile Paints by signing up for Rae's class, Knit Fabric Embellishment, Saturday at 1:30 at the Novi OSQE.  Want to play with fabric painting at home?  Come to our booth 507 to purchase paints and stencils to take with you, or order them on our website.  If you are not coming to the Novi Expo, or just want more guided play time with paints, consider registering for Rae's 2-day workshop on the Painted Tabula Rasa Tee at Stitchin' at the Beach, January 7-8, 2020 or at Artistic Artifacts in Alexandria on Feb. 7-8, 2020.
Happy Sewing and Painting, Carrie