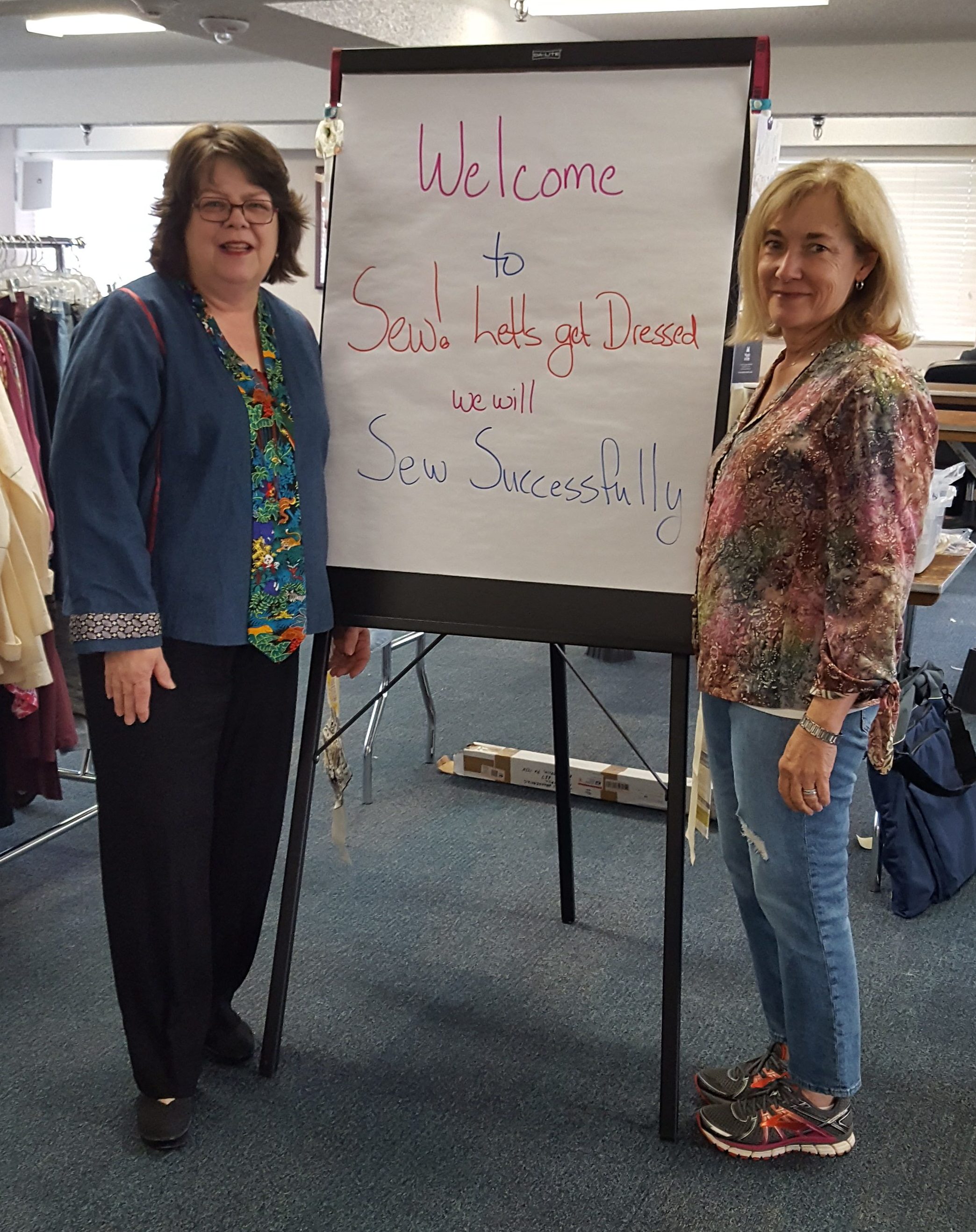 Are you sewing Eureka! Pants with Glamour Details yet?  They are such fun and bring some trendy wide leg style to your wardrobe.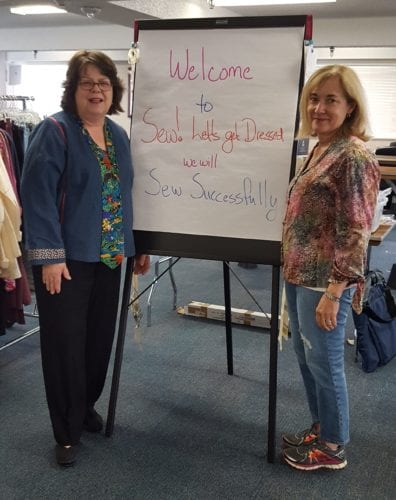 On Saturday, day 4 of our Sew Successfully retreat, I wore my luxury weight black rayon Eureka! Pants that Fit.  They have the wide legs and Hollywood waistband featured in the new Glamour Details pattern.  They are so comfortable.  The elongated shaped waistband stayed in place all day.  I kept taking tops off the sample rack and trying them on with these fun pants.  Lucky for you, we captured three of my outfits on camera.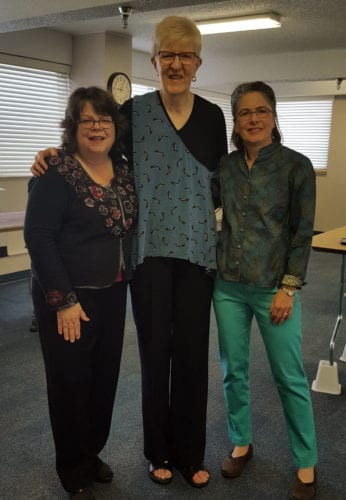 The wide leg pants are so flattering with short and shapely tops.  I started the day in my Denim Tie Jacket.  Posing here with our retreat participant Peggy, in front of our welcome sign, I was cozy on a chilly morning.  Since pants have gotten more and more tapered, this little Tabula Rasa Jacket embellished with vintage ties has taken a back seat to my longer jackets.  It was fun to pair it with my new wide leg pants.
As the day warmed up, I changed into a little knit top embellished with layered circles. (More on this technique at a later date.) This little combination was caught on camera while Carrie and I were admiring Suzanne's Tabula Rasa Knit Tunic with the full front crossover style from Clever Crossing Variations. There were lots of Fit for Art fashions being worn and created in our spacious workroom at the Maritime Conference Center near BWI airport.
Because it was a classic spring day in Baltimore, the embellished top was feeling warm by early afternoon.  I decided to change clothes again.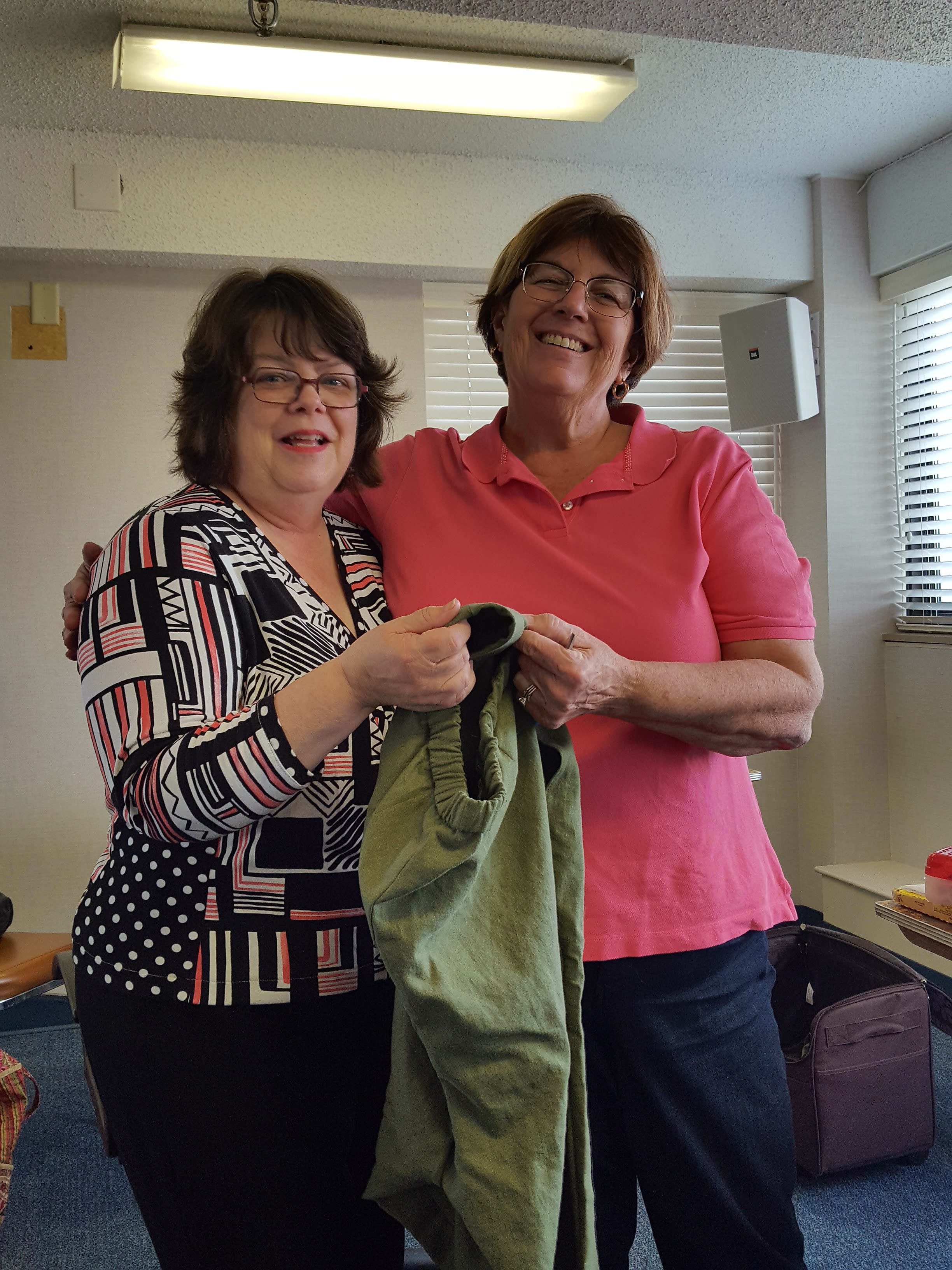 My final fashion combination was an easy Tabula Rasa Knit Tee with the surplice styling from the Clever Crossing Variations. I recently finished making it with the ends from a new spring knit bundle featuring the Pantone color of the year, coral.  My geometric knit and polka dot top was captured in a photo with Liz and her new green linen trousers.   We were working on perfecting her slash pockets from Trouser Details for Eureka! Pants that Fit.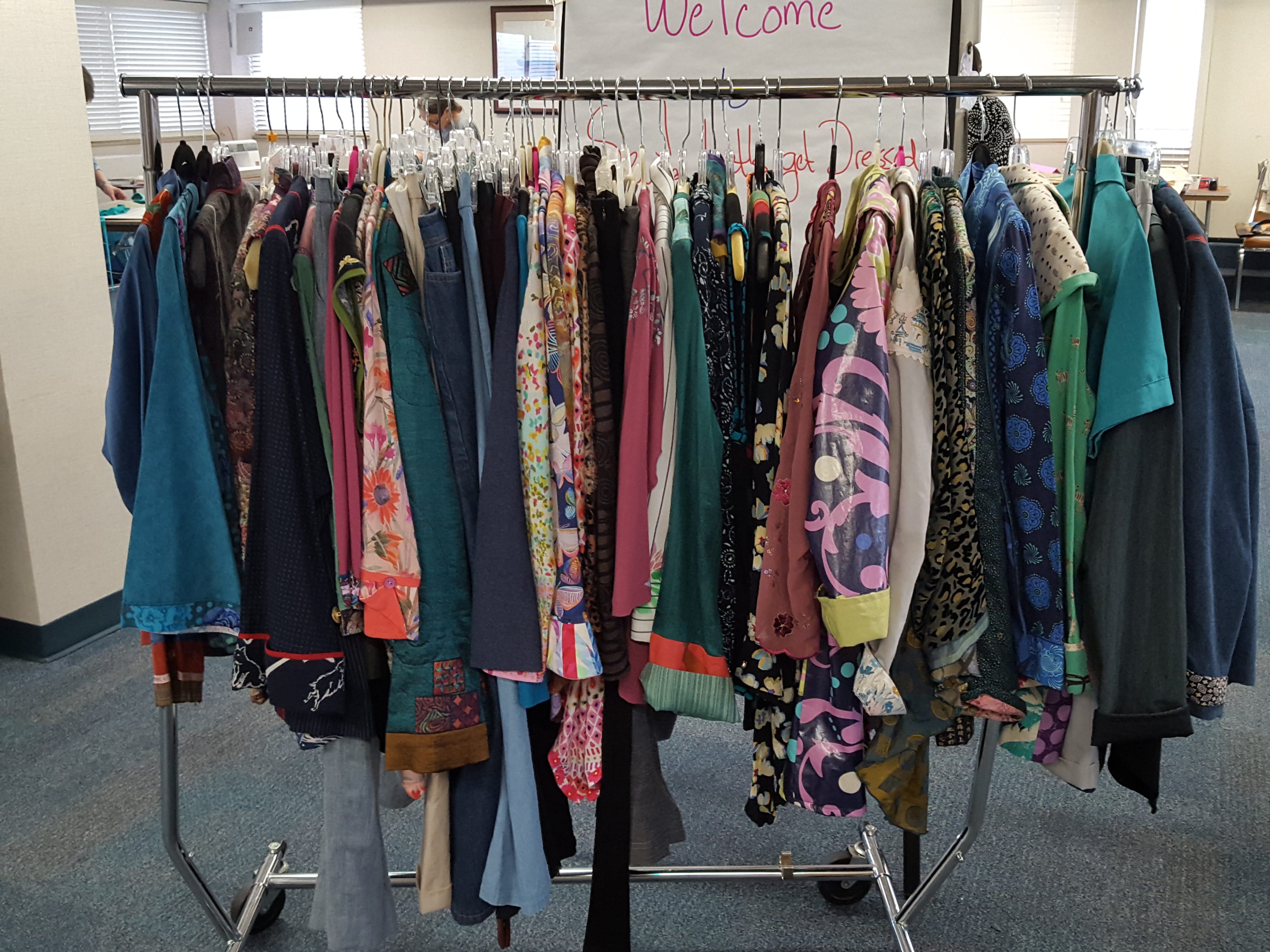 The drapey black Glamour pants were so comfy I had no desire to change to the grey cross woven poly/cotton Glamour pants that were also on the rack.  They feature the contoured waistband and fingertip pockets from the Glamour Details pattern, but this pair has the classic tapered leg from the core wardrobe pattern, Eureka! Pants that Fit.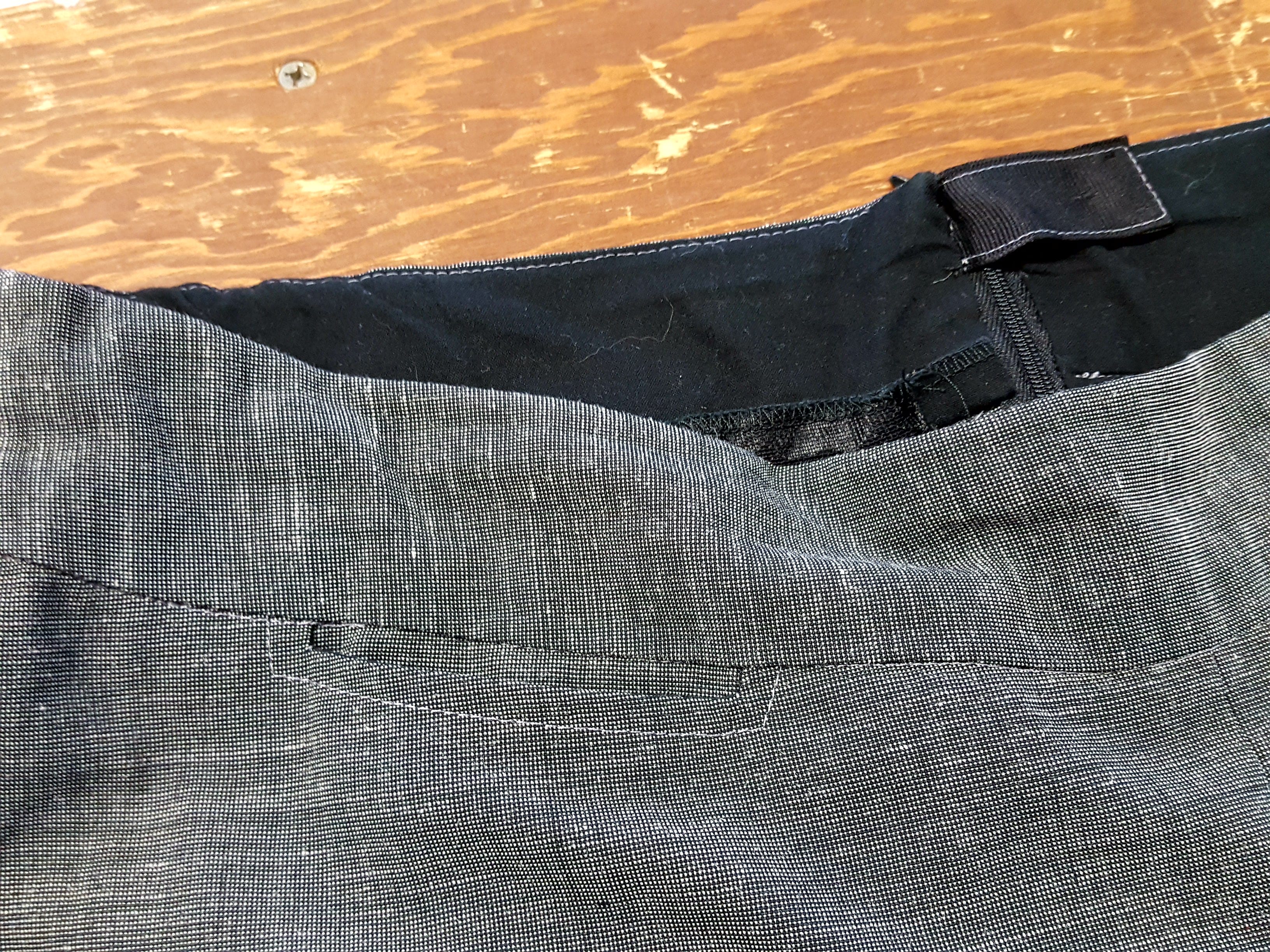 After our busy March filled with Fit for Art travel events and retreat days, I am ready to get back to the studio and my sewing machine.  My plan is to make some drapey navy Eureka's with Glamour Details that include the Shaped Decorative Cuff also included in this new variation.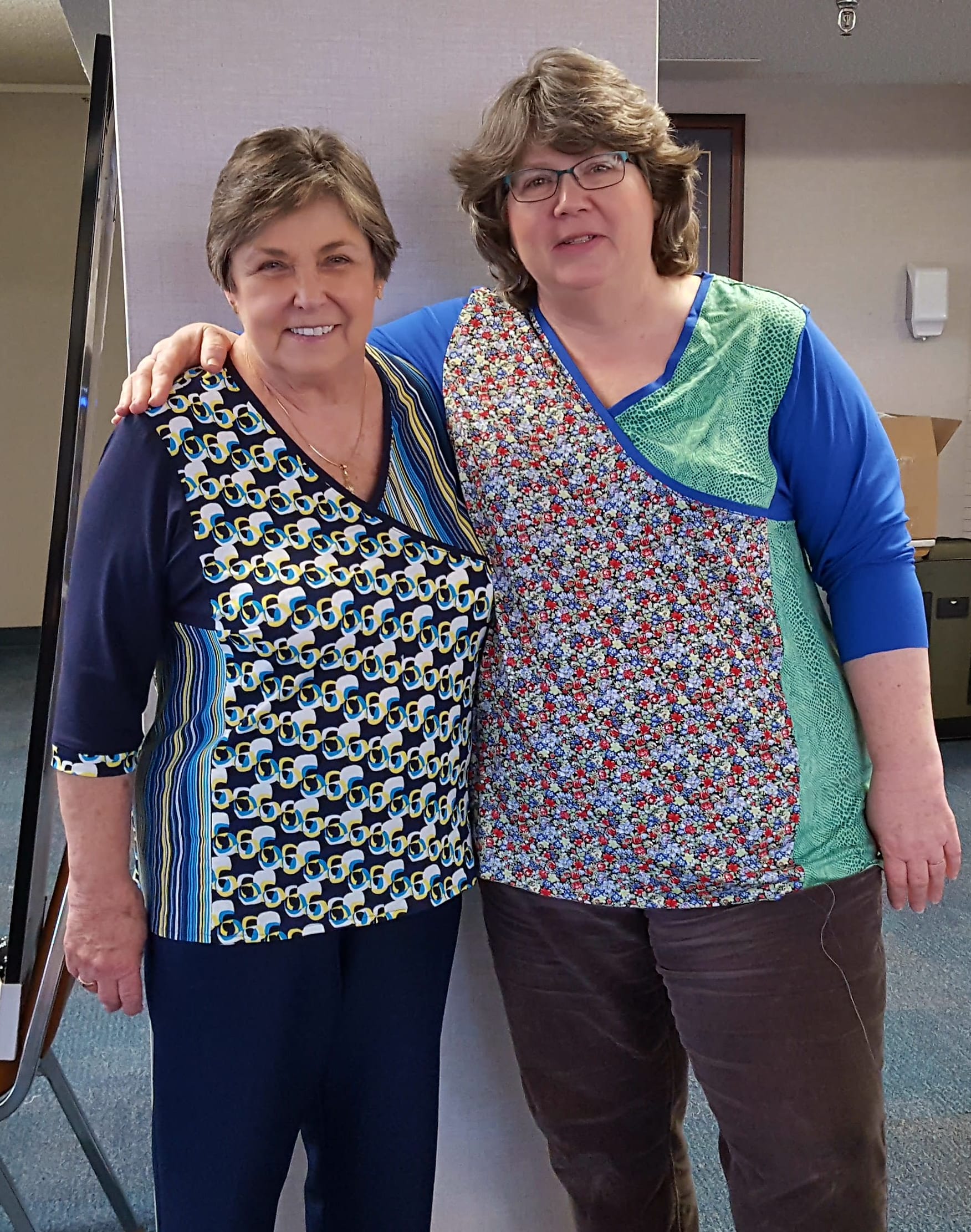 Glamour Details, like the Sporty Details and Trouser Details patterns, are expansion packs to change the style of your personalized Eureka! Pants that Fit pattern.  Our other Core Wardrobe Patterns, The Tabula Rasa Jacket and the Tabula Rasa Knit Tee and Tunic, also have variation patterns that change the design, so the wardrobe possibilities are endless.  Visit our shop to see all of the jacket variations and knit top variations.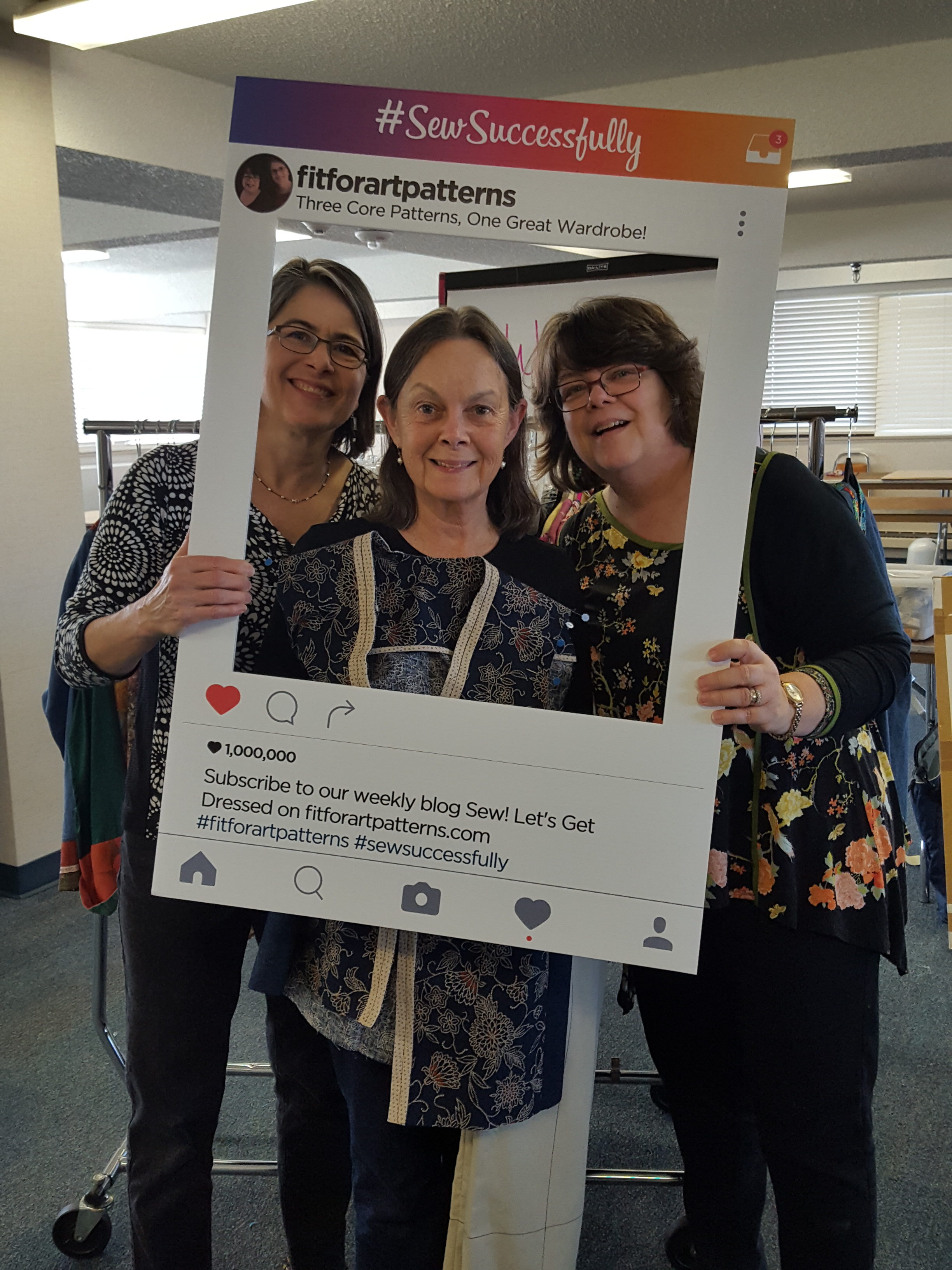 Visit the Photo Gallery or search the Sew! Let's get Dressed blog archive for ideas and tips on how to #sewsuccessfully with Fit for Art Patterns to fit your figure and lifestyle.
What's on your sewing table?  What wardrobe combinations will you enjoy wearing this week?  We cannot wait to see your photos and hear about your #fitforartpatterns outfits.
Happy Sewing, RAE