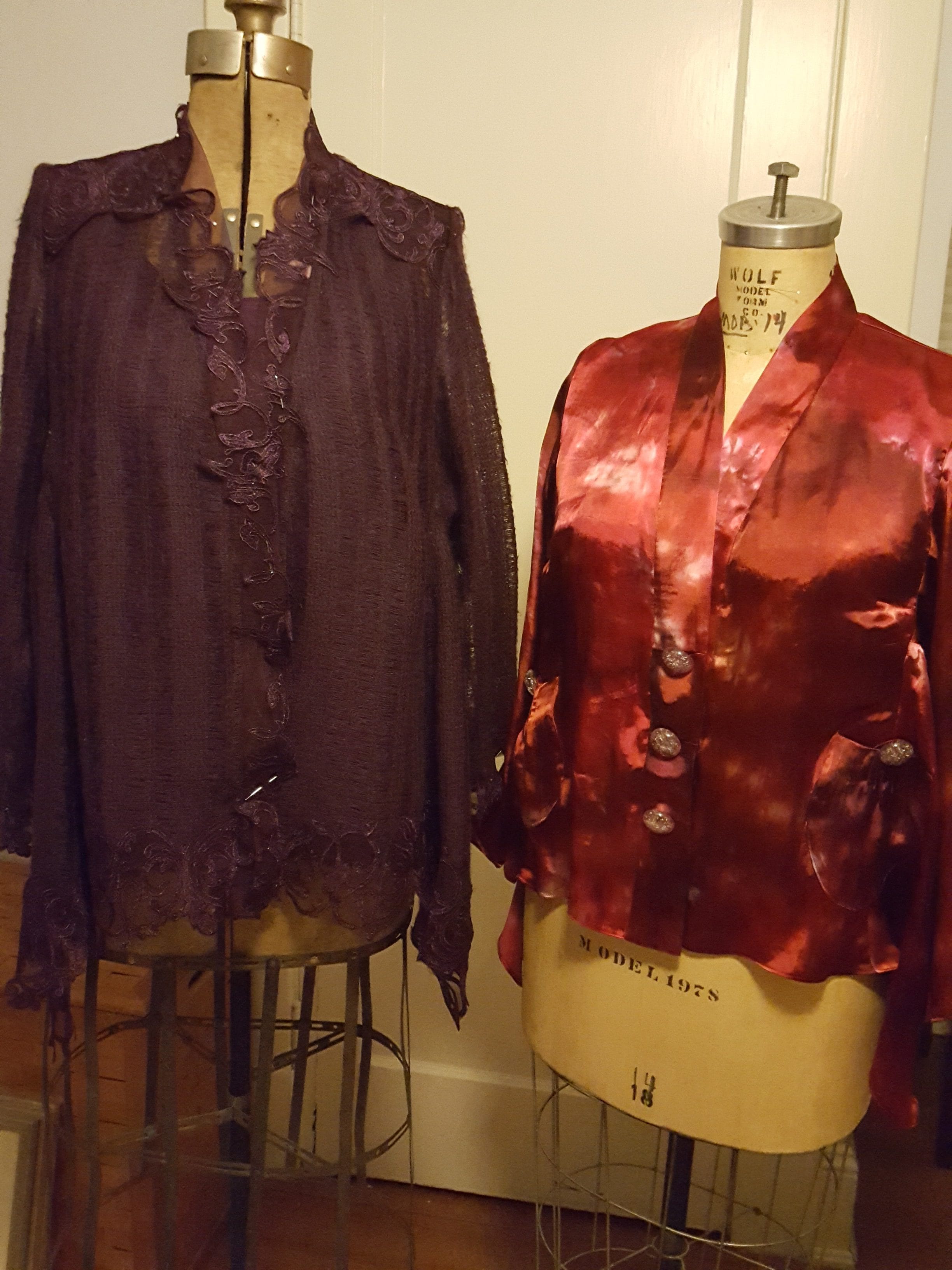 Sewing swing tops was on the agenda last weekend in preparation for our final Original Sewing and Quilt Expo of 2018.  We are returning to Novi, MI for a weekend of sewing fun and hope you will be joining us.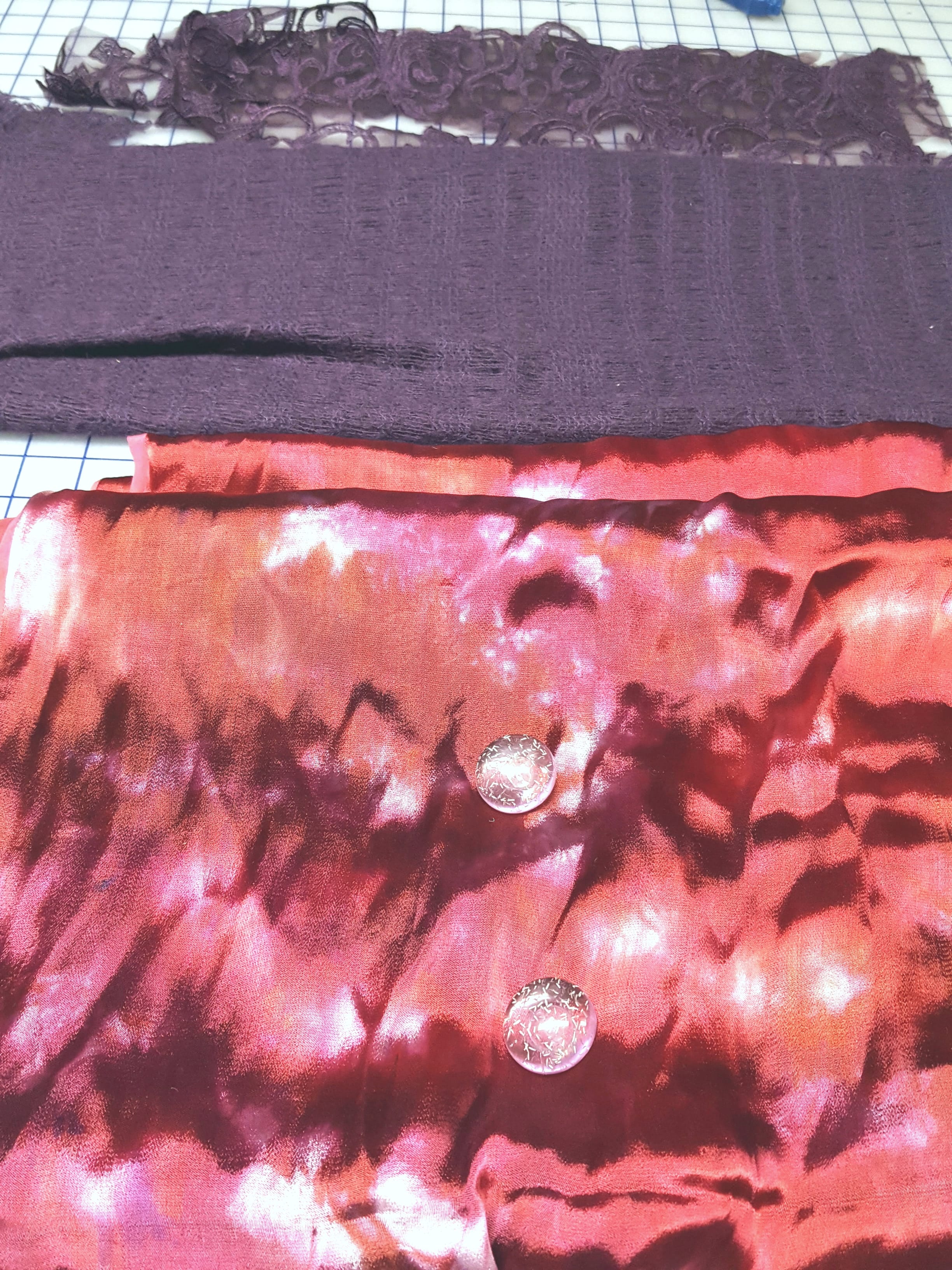 Perhaps you are wondering why I needed new swing tops for this Expo.  The truth is, I love swing tops for any occasion.  They are easy to wear and simple to stitch up with my Tabula Rasa Jacket and Swing Variations pattern pieces.  It is my go-to design when I have soft, sheer, or drapey fabric to sew into a top.
The expo connection is that earlier in the fall we participated in the Cincinnati and Fredericksburg OSQEs and caught up with some of our favorite expo friends.  At both shows our booth was located near the Wool House and Dragonfly Dye Works.  This makes for some dangerous fabric shopping. Hence, I came home with a lovely hand-dyed charmeuse and a soft lacy wool.
The gorgeous hand-dyed red charmeuse from Dragonfly Dyeworks has been calling my name because it looked so great with a strip of vintage buttons purchased at a previous expo.  Simple but elegant, my pin-tuck embellished Swing TRJ will be perfect to wear during the holidays and into the spring.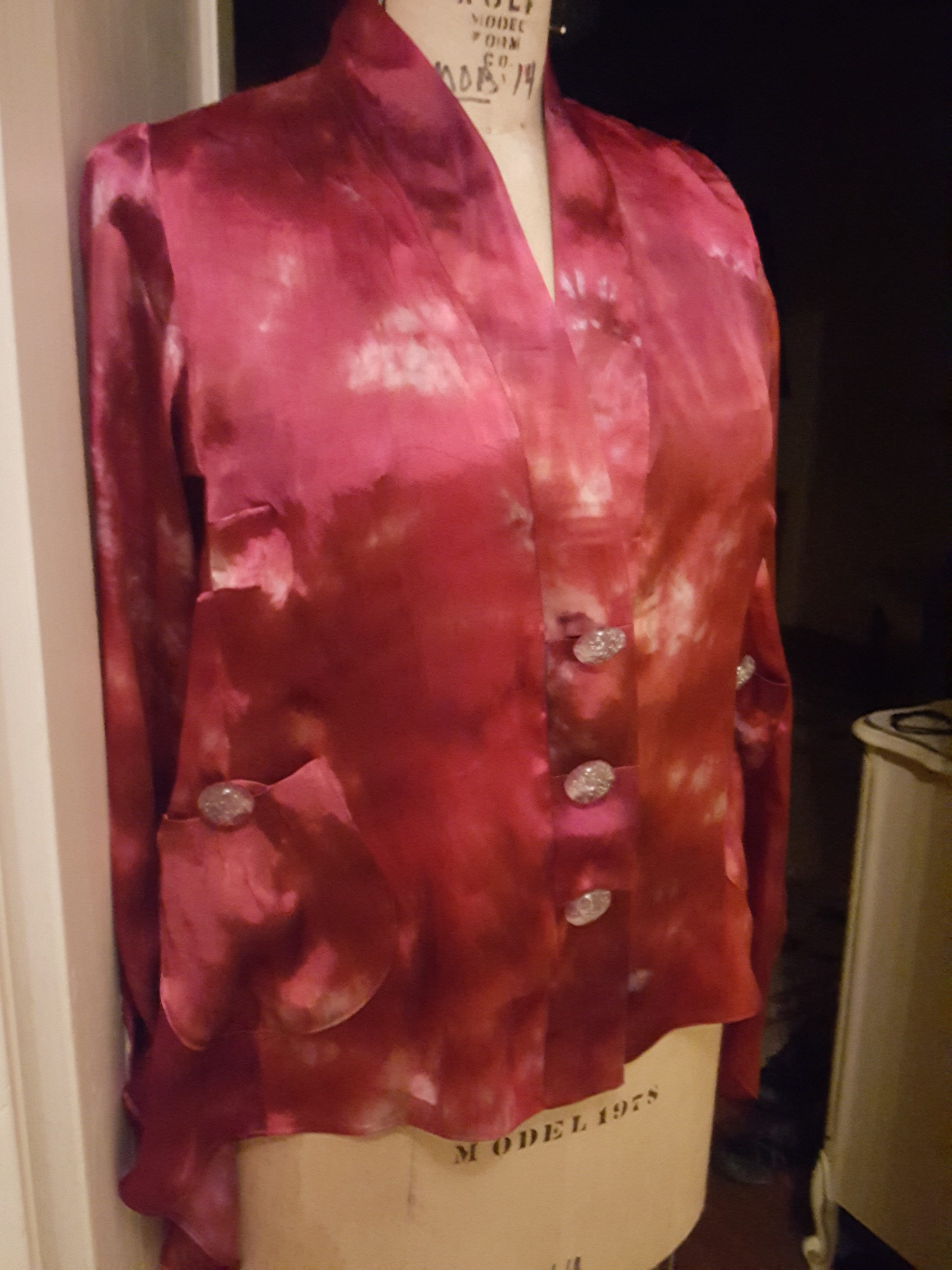 You will be able to see it hanging in the Dragonfly Dyeworks booth where you will also find artists Nick and Chase.  Their selection of hand-dyed fabrics will be perfect for your special sewing projects.
My other new swing TRJ features a light, almost lacy wool that was featured on the Wool House's cutting table. There are always some extra special fabrics there to tempt Expo visitors and vendors.  It caught my eye because it was purple.  Our hometown Baltimore Ravens Football team wears purple and black and I am always hunting for memorable purple fabrics to wear with my black pants to game day parties.  The wool is weightlessly soft and sheer.  That means it was perfect for a swing top too.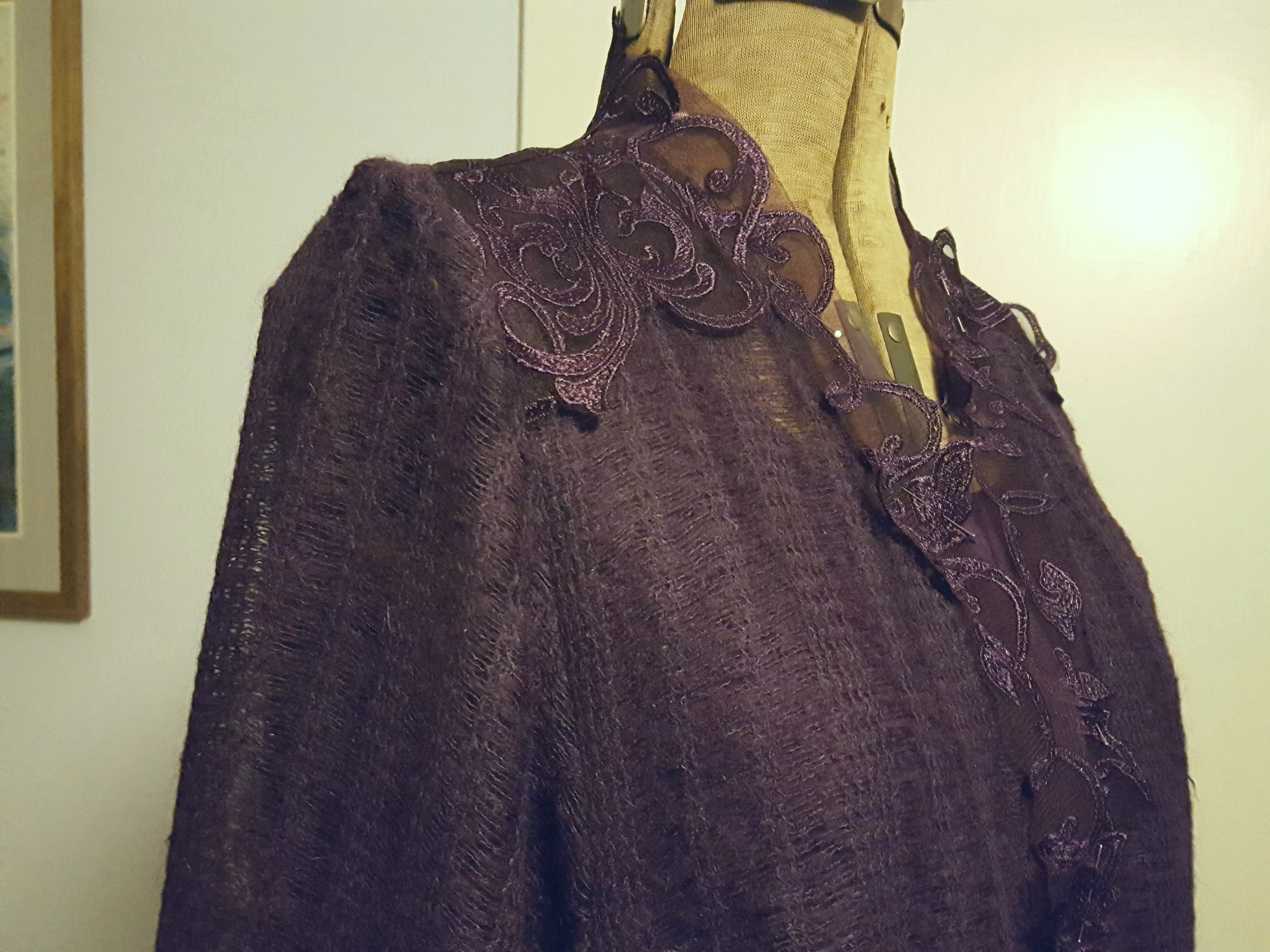 I searched the studio and local fabric stores for a fabric to mix with this distinctive fabric.  I settled on some lace and tulle that had embellished a Mother of the Bride dress.  The lace was a lively addition that added a little weight to this top.  As you see, I got carried away with the lace. (More on that in a future post.)
You will find this fun new swing top hanging at the Wool House during the expo. Perhaps they still have more of this lacy fabric if you want to take some home.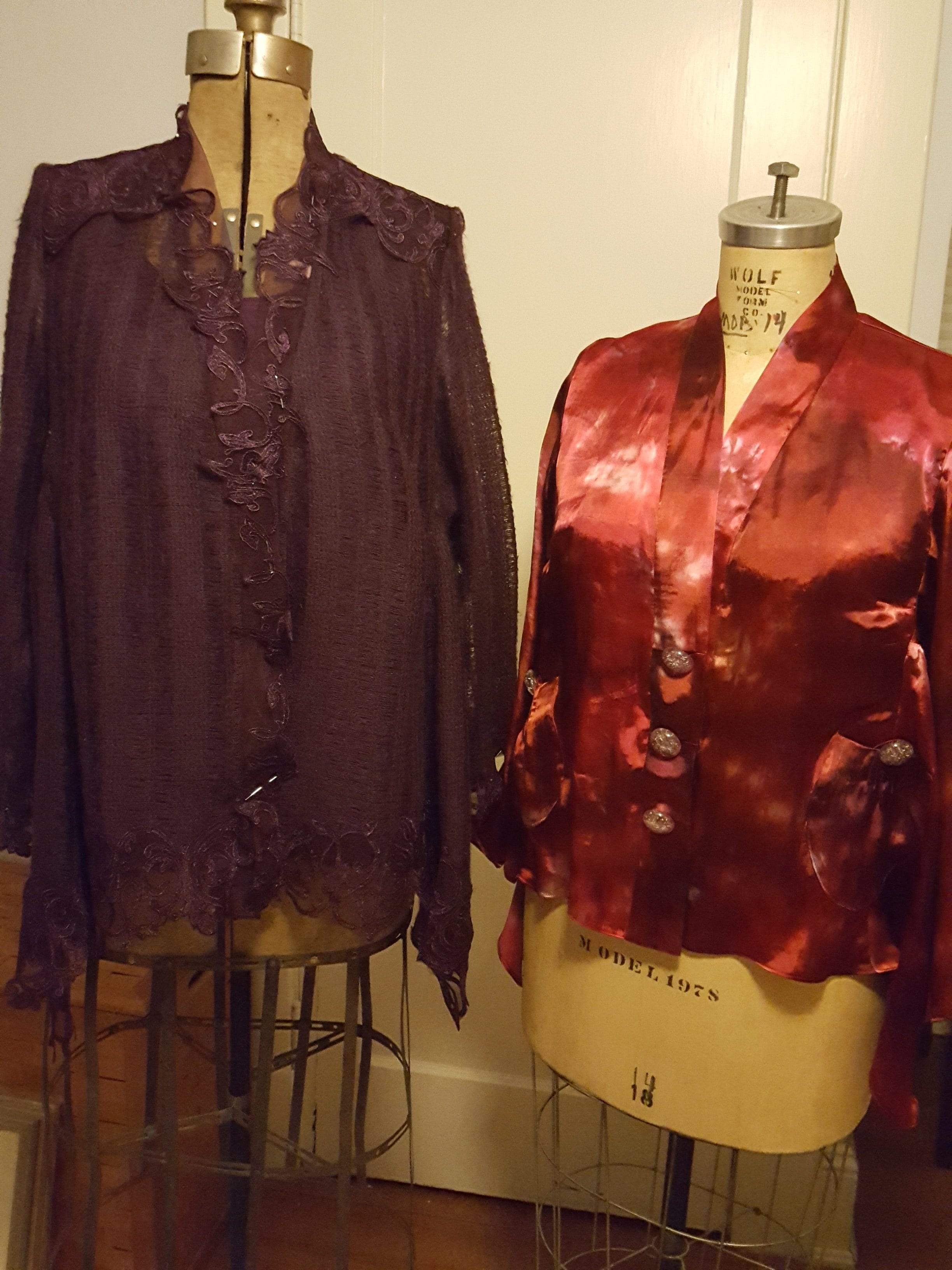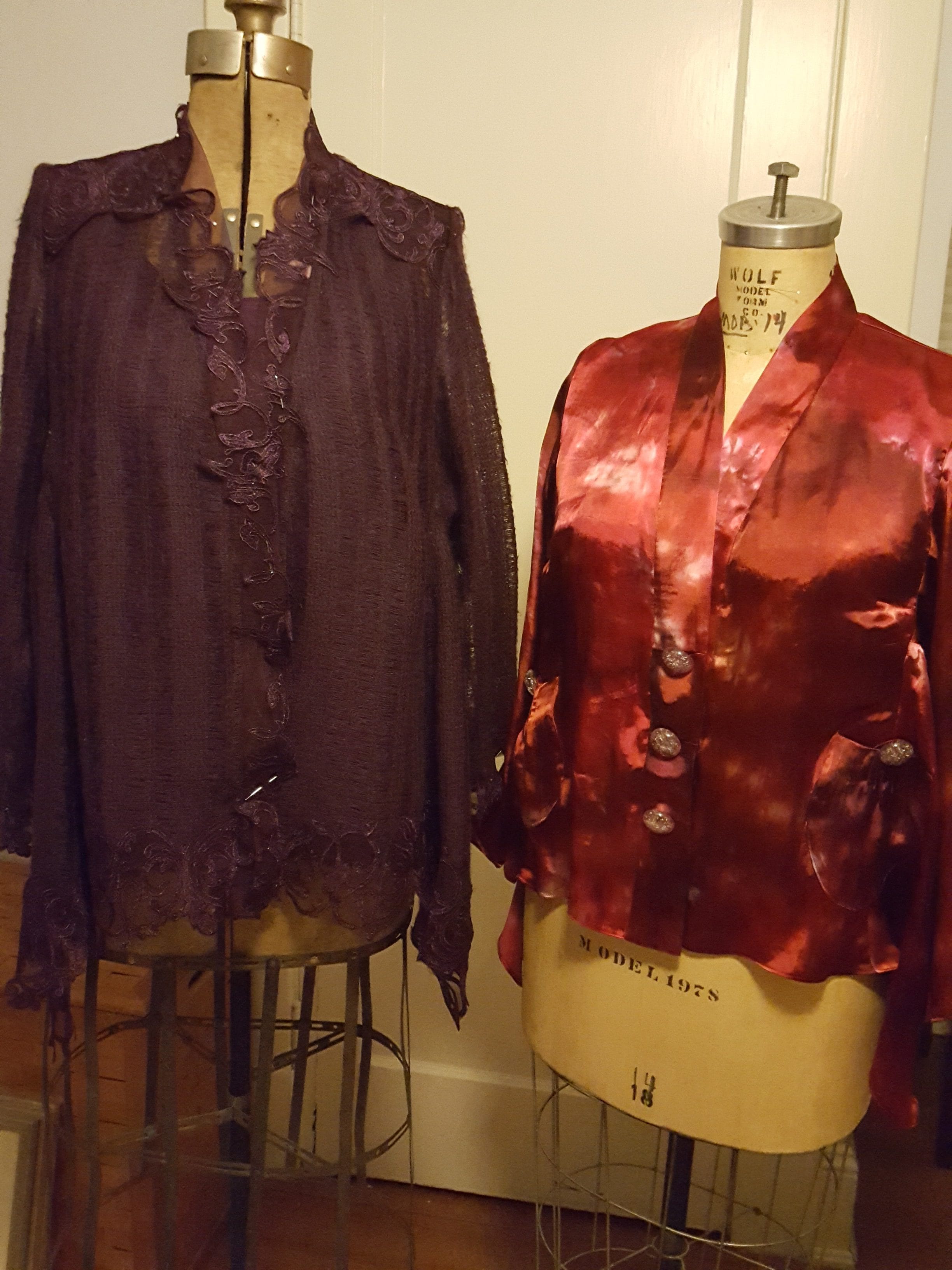 Another fabric vendor we love, Sew Batik, will be in Novi and we are looking forward to seeing them on the expo floor.  Their collection of Rayon Batiks in coordinating prints and colors is really grand.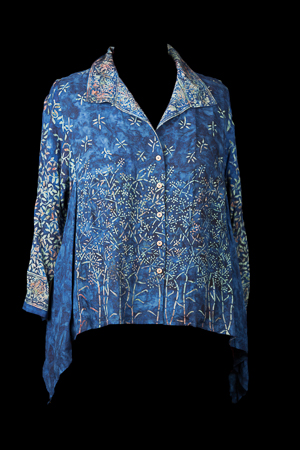 This swing shirt and Carrie's Swing TRJ were both made from their fabrics.  Sounds like fabric temptation to me, but that is one of the benefits of visiting any sewing expo.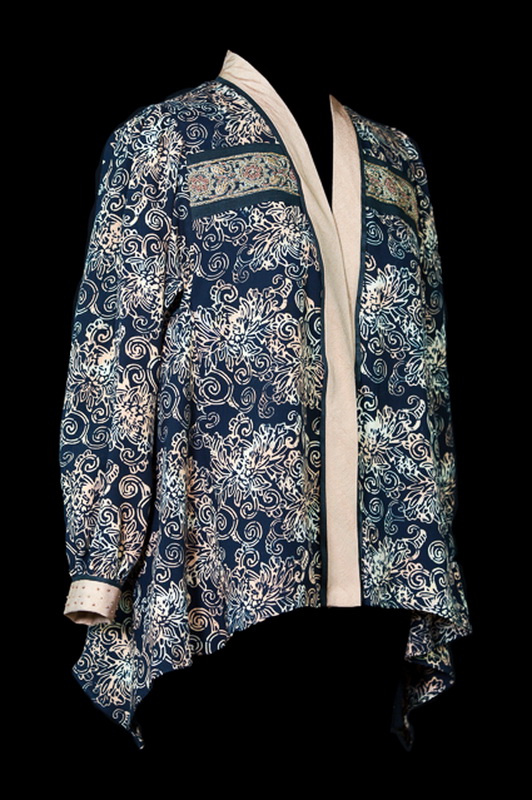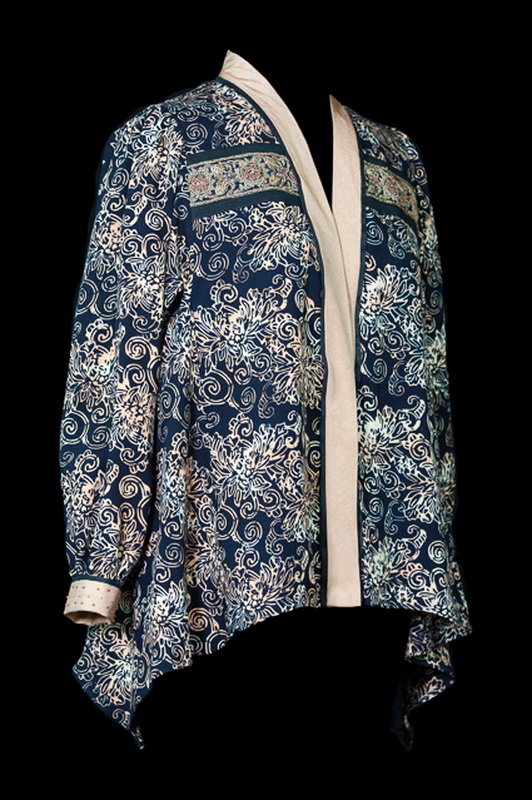 Have you found fabric temptations at an Expo this year?  Will you make a swing Tabula Rasa Jacket or Knit Tunic with your fabric finds?  Our booth will be offering knit fabric temptations so be sure to stop by for shopping and to share your stories with us.  Or, post your fabrics and expo stories here.  We love to see what you are sewing.
Happy Sewing and Shopping, RAE