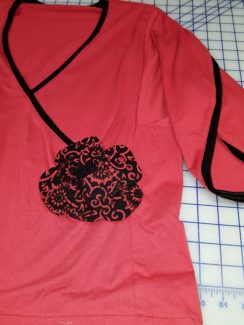 It's Halloween so let's look at this ensemble which began with some orangy red and black Sew Batik Rayon.  I considered several designs before deciding to make wide leg Eureka! Pants.  My plan was to combine them with a top made from a stash piece of organic cotton knit in a dark orange/red color that looked great with the printed rayon.   I imagined a perfect outfit for fall, rich dark colors made into separates that are easy to wear on hot days and cozy with an added sweater for cooler weather.
The pants pattern was widened by ¾" at the hem on both inseam and side seam. The addition was then eased up the pants leg, blending into my tapered Eureka! Pants pattern in the low hip area.  There are several fun details on these drapey pants.
A contrasting black cuff adds weight and interest at the pants hem.  This is an excellent technique to use if you are short on fabric.  I also include my favorite in seam waistband pockets for carrying small essentials like a hotel key, credit card, or a $20. bill.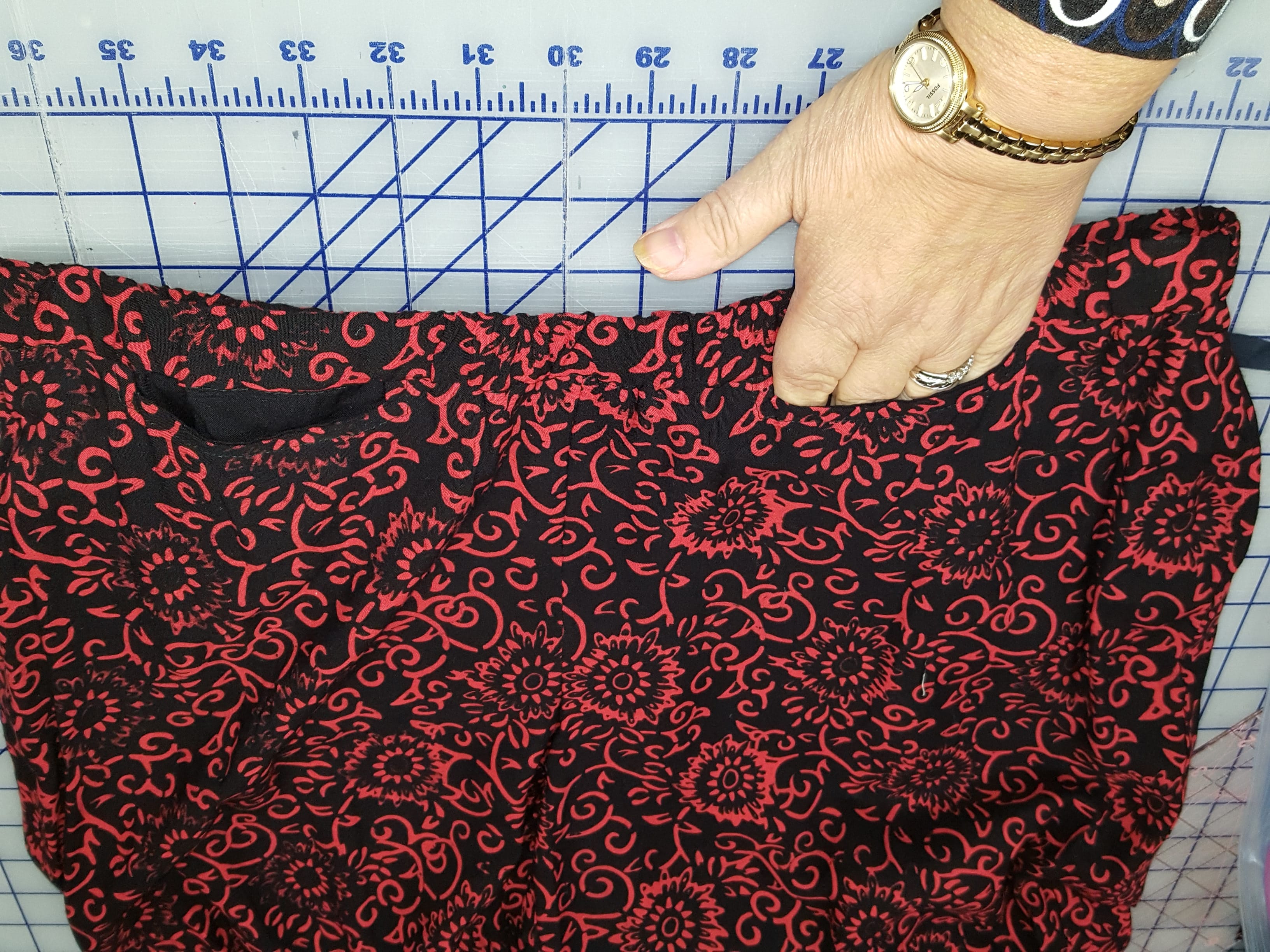 The top is my Tabula Rasa Knit with the Clever Crossing Variations pattern's surplice style.  I trimmed the organic cotton knit with black rayon/spandex knit to effectively shape the front crisscross.  The organic cotton is cool and comfortable, but has very little drape or luster.  I wanted to use the tulip sleeve pattern also included in the Clever Crossing Variation.  I love this sleeve, but prefer my sleeves to be a little bit longer so I extended the pattern so the sleeve would fall to below my elbow.  The sleeves were also finished with the contrasting black knit trim which is very dramatic on the tulip sleeves.  Once it was finished, I decided to tack the sleeve together to keep it from spreading apart as I am moving around.
After wearing the top a couple times, I decided to shorten the top because it sat stiffly and looked a little clunky with the wider leg pants.   It is true that a shorter, fitted top looks best with wide pair of pants.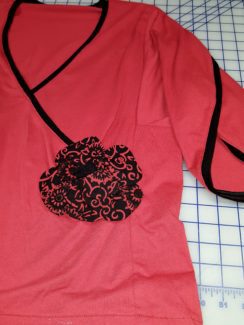 Just for fun, I used our organza rose flower pattern to make a coordinating flower.  Each petal has rayon on top and organza on the bottom.  I used 3 small and 5 medium petals.  There is a small bias center made with the solid black rayon that was used in the pant cuffs.  I can take the pin off when I wash the top.  I could also put the pin on a sweater, coat or hat in the future.  These flowers are fun holiday gifts to make and the pattern is a free download.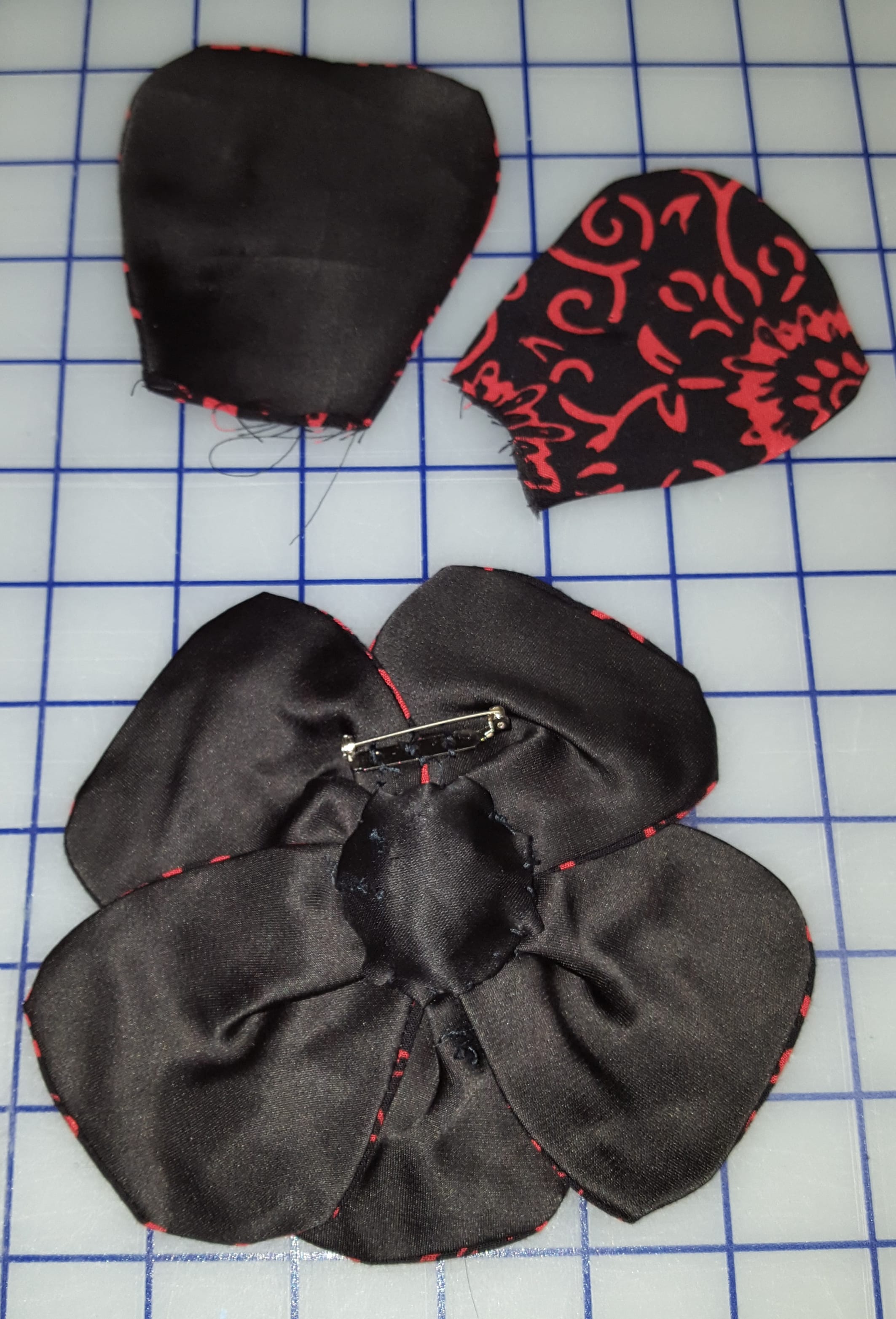 I love using up stash fabrics for a functional and fun outfit.  Both of these pieces were tests for new pattern variations.  The top was a test for Clever Crossing Variations which has been available for summer.  The pants are a test for an upcoming pant details pattern, yet to be named and not yet ready for prime-time.  Enjoy this preview and your fall sewing.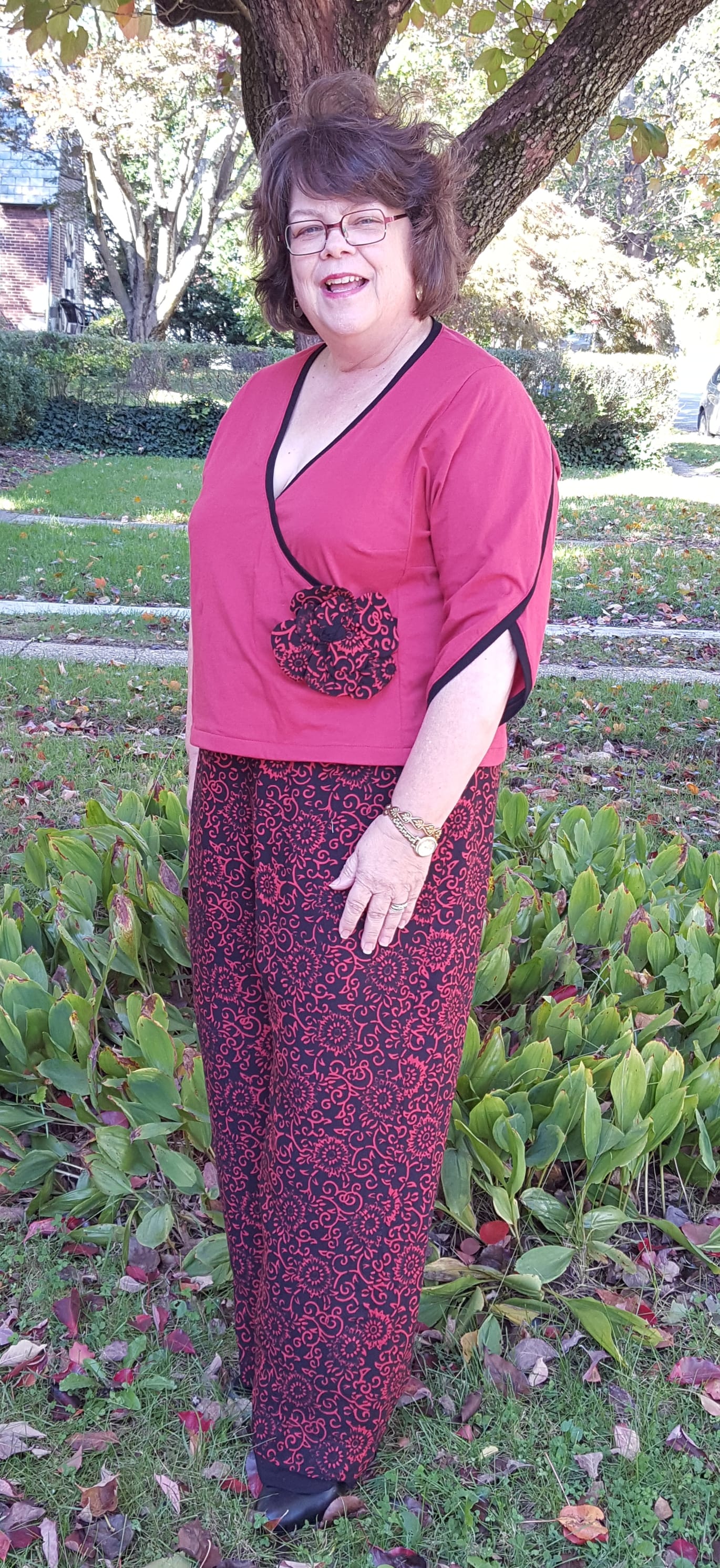 Happy Halloween, RAE