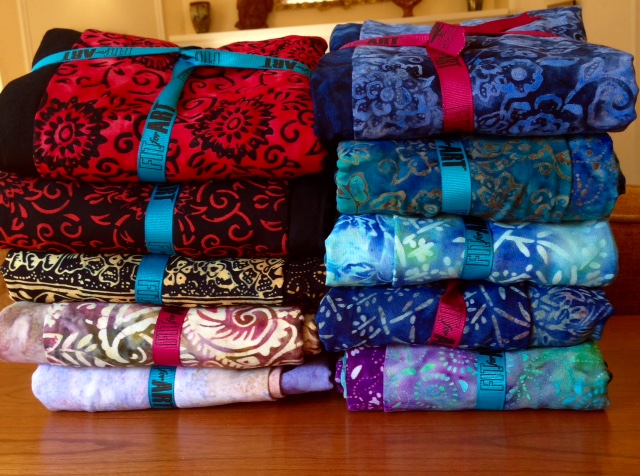 Sew Batik rayons have been one of our personal favorite fabrics for several years, so we are pleased to be able to offer Sew Batik rayon bundles to our customers to use with the Tabula Rasa Jacket pattern and Variations.  Not only are the colors beautiful, they have a soft drapey hand that is a great pleasure to wear.
Plan to come by our booth at the Fredericksburg OSQE to get first dibs at these great combos in rayon bundles.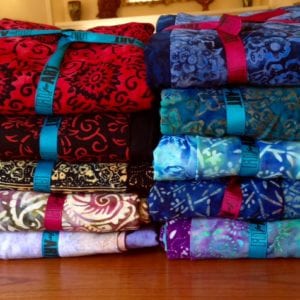 To inspire you, below are some of the Tabula Rasa tops we've made with Sew Batik rayon. You can read more about each top's details if you click on its name (which is a link to the Photo Gallery on our website).  Several of these samples are from the same color groups we will have for sale at the Expo, but there will be many more choices!
Rae's Blue Batik Swing Shirt is a winning combination in "Night Shadow" that features the swing side from Swing Variations and the shirt front and collar from Shirt Variations.   Her Purple Rayon and Silk jacket features the "Italia Grape" color group combined with a hand painted silk kimono piece that Rae purchased from our fellow artist and vendor, Laura Murray.  Notice the large wooden hand-painted button that she also found in Laura's booth at an Original Sewing & Quilt Expo.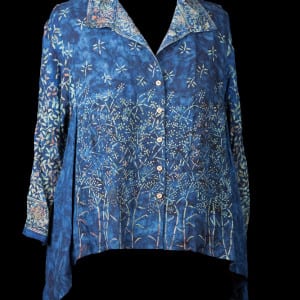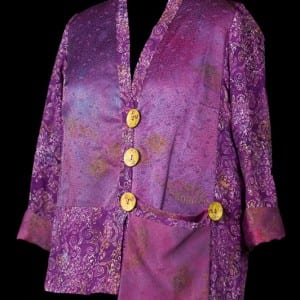 Carrie's Batik Splendor is a Tabula Rasa Jacket with the original kimono band in a silk solid and with Swing variations.  This "Midnight Sand Storm" top is so soft and unstructured that she wears it as a shirt rather than a jacket.  The Lake Batik Shirt was planned as a shorter Shirt Variation with a spread collar and ¾ length sleeve in "Lake" rayon.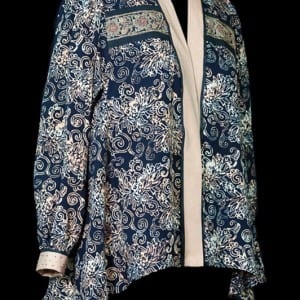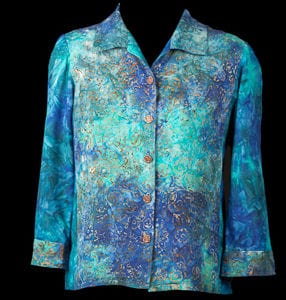 Rayon Fireworks is a new sample featuring the jewel neck front and collar from Rain or Shine Variations and a Lantern sleeve and cuff from Sleeve & Cuff Variations.  I wanted the top to be tunic length, so I borrowed the "curved hem" templates from Wide Neckline Variations for Tabula Rasa Knits to lengthen the front and back.  The colorful body of the shirt is "Rainbow floral outline" from Sew Batik while the sides and facings are "Lilac Medora Flora".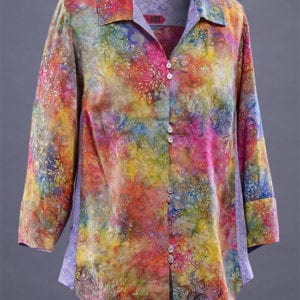 Sew Batik recommends pre-washing their fabrics, as we generally do too.  You can find more info about caring for your rayon on the Sew Batik website.  Visit us in Booth 515 at the Fredericksburg Expo to see and feel these lovely fabrics yourself.  Hope to see you in a few days!
Have you found some favorite sources for rayon and other drapey fabrics?  Share it with our community through our Facebook page or by commenting here on the blog.
Happy Sewing, Carrie