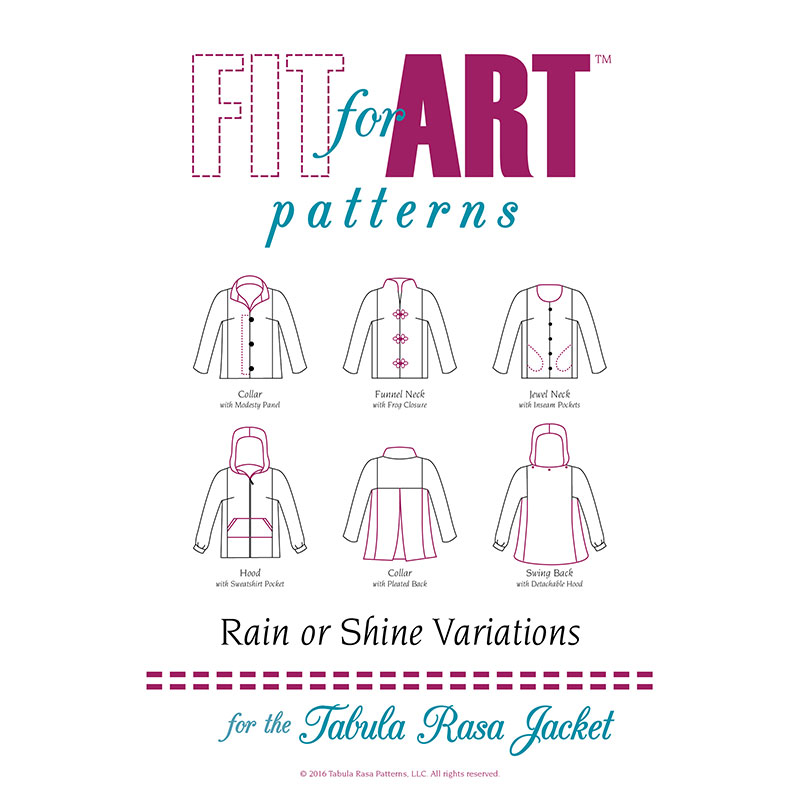 Ready to sew up some really fun new variations for your Tabula Rasa Jacket (TRJ)?  Then these Rain or Shine Variations are just for you.  They are so irresistible!  Here is a closer look at this jam-packed variation pattern.
Our first idea for naming these TRJs was "Center Front Variations" since all of the design options meet in the middle.  But that name seemed too boring for this fun group of variations that can be closed with a zipper, buttons and loops, frogs, or other center opening options.  Especially when you add all the great extras – a hood, collar, two styles of pockets, and other fun design ideas and instructions.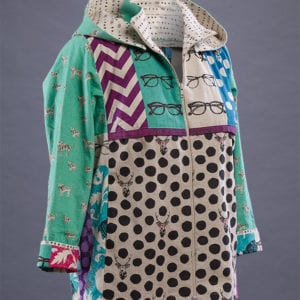 Let's start with the hood.  We experimented with a variety of hood shapes and sizes before settling on this two-piece hood with a crown and brim.  You can attach the hood, or make it detachable on a jacket with a collar.  In water resistant fabric, it makes a perfect raincoat.  The 16-page instruction booklet also offers tips for sewing on laminated cotton prints like the one featured in the April Showers raincoat.  Watch this blog for hood tips and tricks as we move towards fall.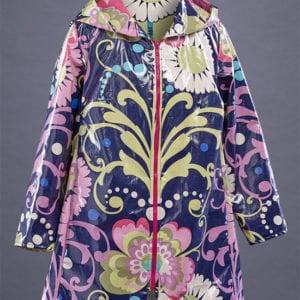 In stable French terry, fleece, or ponté knit, Rain or Shine also makes a comfy hoodie.  Add the exterior sweatshirt pocket for collecting treasures and warming hands.  The instruction booklet also includes easy directions for cinching the sleeve with an elastic band for a classic sweatshirt jacket finish.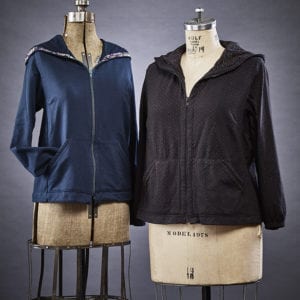 The jewel neckline, with or without a collar, and funnel neckline pattern variations make easy blouse-like tops.  You'll find that this is the perfect variation for a bold print to "meet in the middle" at the center front closure, like this wool challis Rain or Shine with a collar.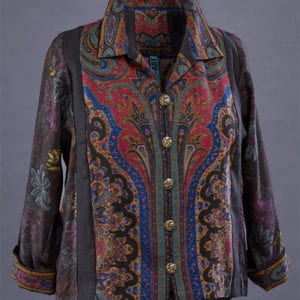 Accent a jewel or funnel neck version with flat piping to give definition to the neck edge.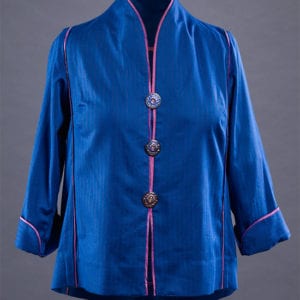 Stack a group of coordinating prints and trims for an artful look.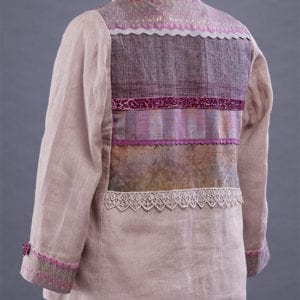 All of the blouse versions pictured here feature a modesty panel that extends under the front closure to keep you looking neat.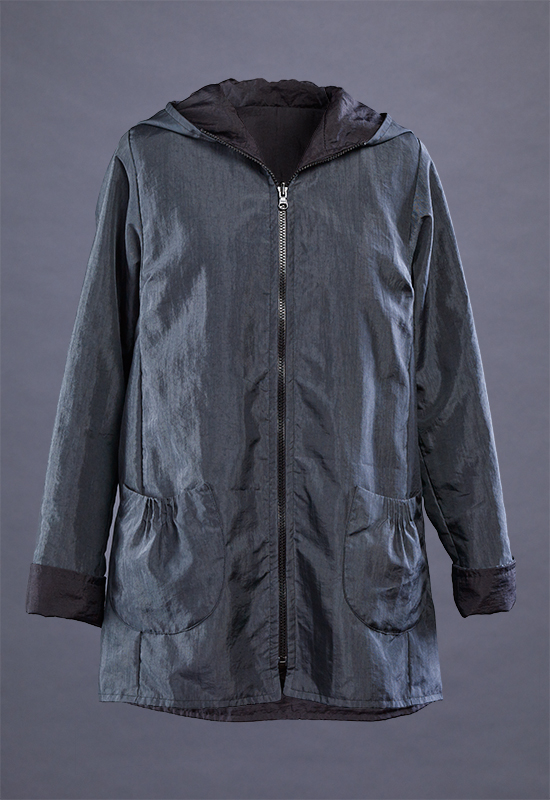 Double your wardrobe options by making this fun variation reversible.  The pattern includes a sidebar that takes you through the steps from planning to finishing a reversible Rain or Shine Variation.  Carrie made a very practical raincoat that is all-purpose black outerwear fabric on one side, reversing to a green-grey on the other.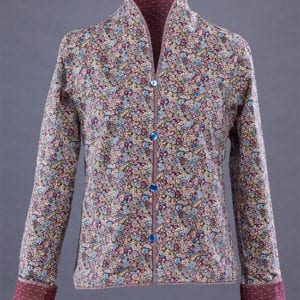 Her reversible funnel neck shirt is terrific for travel when limited in the number of garments that can be packed.
There are directions for you to change up the TRJ back to add ease with a pleat which was used in the It's a Spectacal Jacket, or with an adjustment to create a swing back which was used in the beach coat and both rain coats.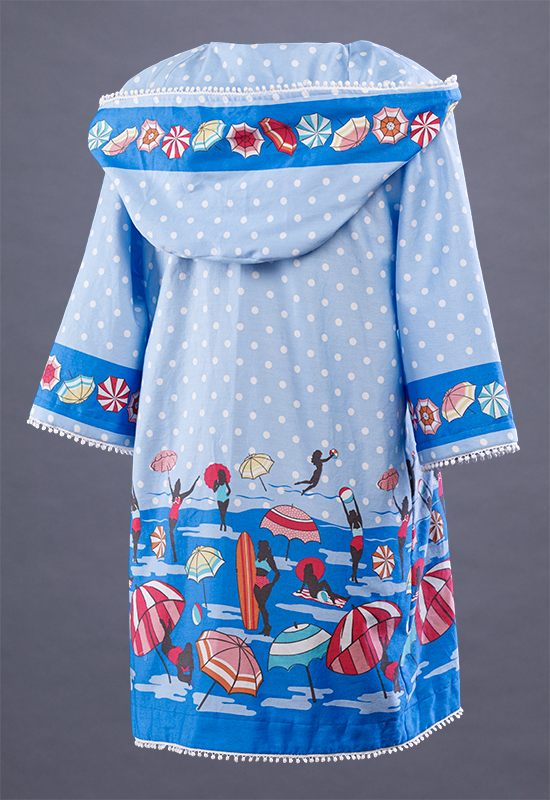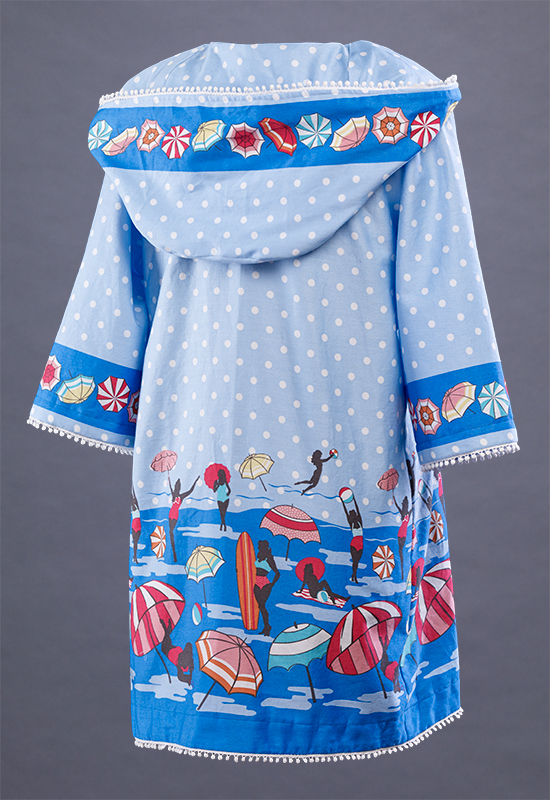 Order your copy of Rain or Shine Variations now so you can sew up a zip front beach coat or a cool shirt for this summer.  Don't forget to send us photos of your new creations.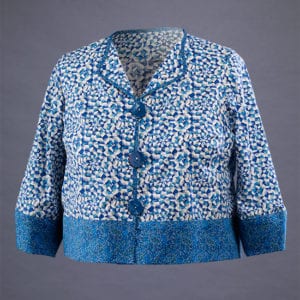 If you are headed to Indianapolis this week for the ASG Conference, visit us in the vendor market to see these new Rain or Shine TRJ samples and to pick up a copy of the pattern for your late summer and fall sewing pleasure.  While you are there, check out the Echino raincoat fabric we have with a matching zipper and our Sew Batik Rayon bundles.  The shopping has never been better.
Happy Sewing, RAE