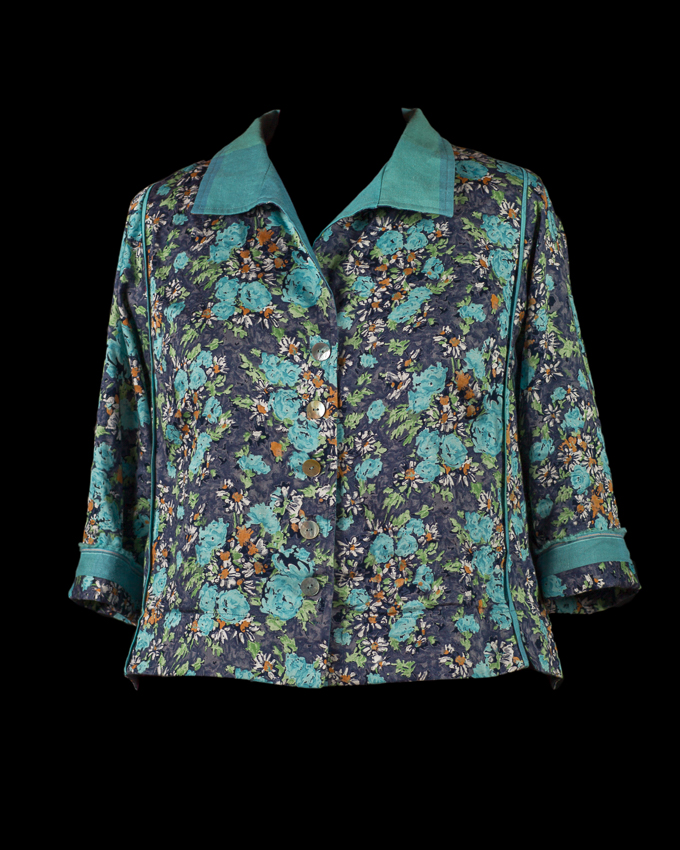 Summer has arrived here in the mid-Atlantic where I live and work.  May was chilly and wet, so all of a sudden my unlined summer Tabula Rasa Jackets (TRJ) are coming out of the closet.  Just like our conversation about summer pants fabrics, the fabrics I choose to sew for summer tops are light weight and washable.  So, their engineering needs to be washing machine safe too. Today we will focus on hems.
Here is a photo gallery of unlined washable jacket hems and descriptions to inspire your sewing.  I have photographed the right and wrong side of each hem so you can see the engineering on both sides.  See photos of these complete jackets by clicking to the gallery where highlighted.  I will post the rest of the complete garments at raecumbie on Instagram.
Deep Hems – If I have enough fabric, I often add a deep single or double folded hem to an unlined summer top.  They add weight, allowing the top to hang a little better over your pants, dresses or skirts.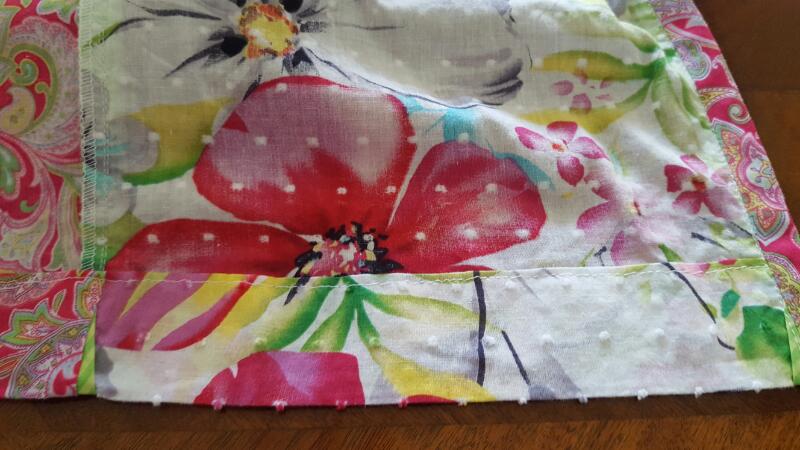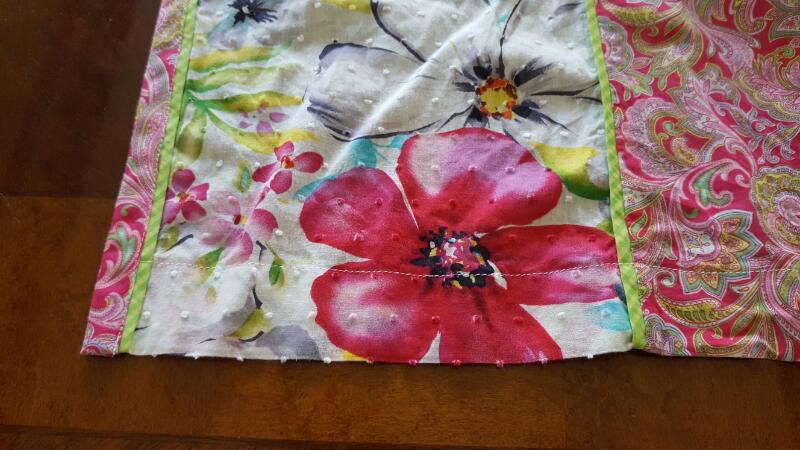 Pink paisley and swiss dot floral TRJ has a double turned 1 5/8" hem. Cut the front, side and back pieces 3¼" longer than the desired finished length, press, then topstitch the hem in place.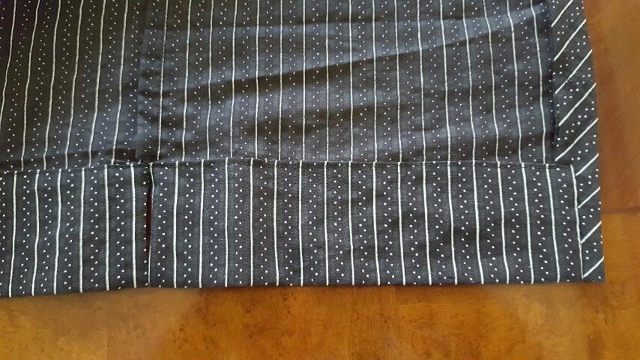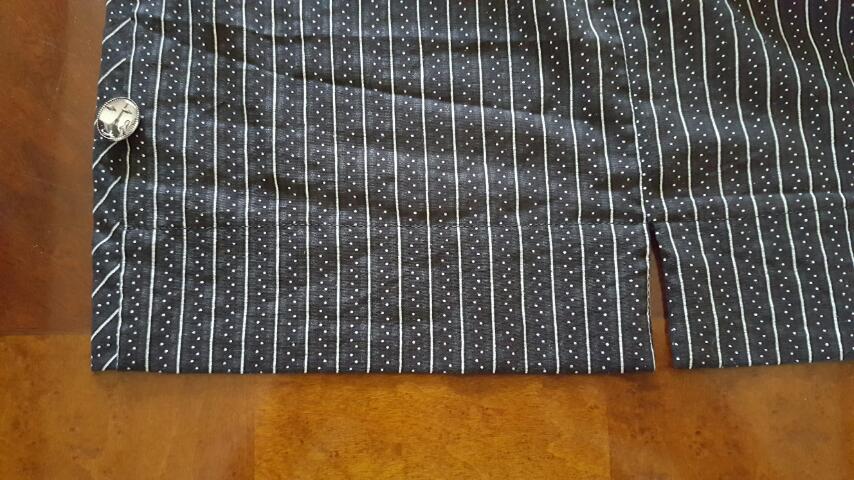 Black voile TRJ has a 2½" hem allowing for 2¼" slits at each seam. The seam allowance was turned under ¼" and topstitched in place after the slits were formed.  The front, back and sides were cut 2 ¾" longer than the desired finished length.  Instructions for adding a side slit can be found in the Shirt Variations for the TRJ pattern.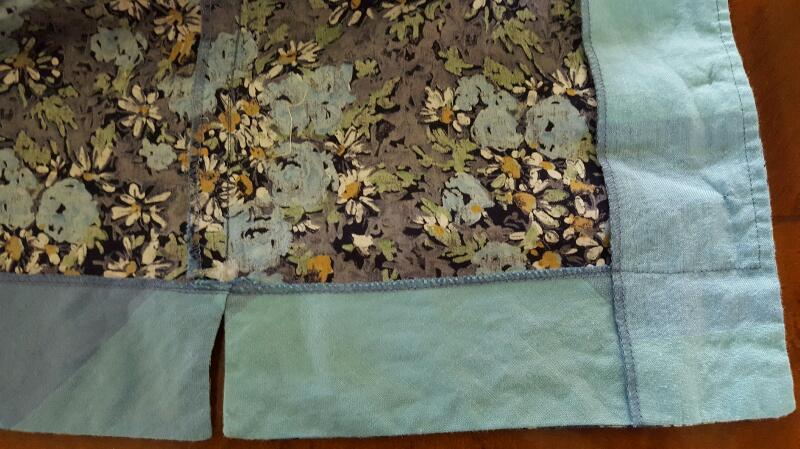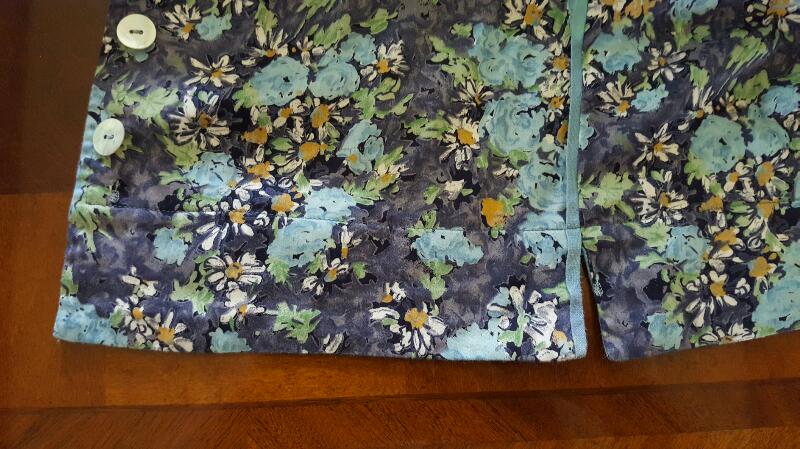 Floral TRJ with Shirt Variation collar and slits has a faced 2½" hem with 2 1/4″slits at each side seam. The facings were cut 3 1/8 deep, stitched on with a 5/8" seam allowance along both the hems and slits.  The facing was finished with a serged overlock edge before being topstitched into place.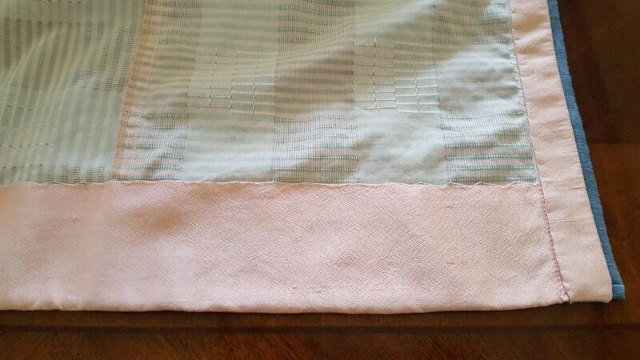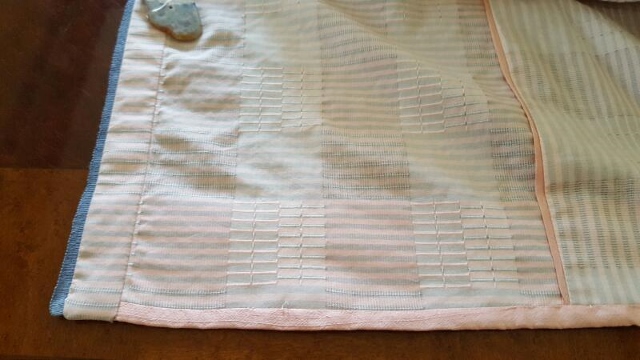 Peach cotton jacquard TRJ has a 2½" faced hem as well. The facing was cut 4" deep.  It was sewn on along the hem with a ½" seam, then wrapped to the front, leaving ½" exposed on the right side.  The raw edge was pressed under ½" and hand stitched into place.
Standard hems, typically between 1 ¼" and 1¾" deep, are a fine finish on opaque fabrics.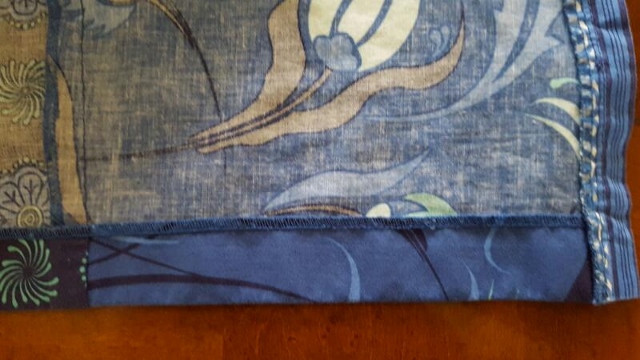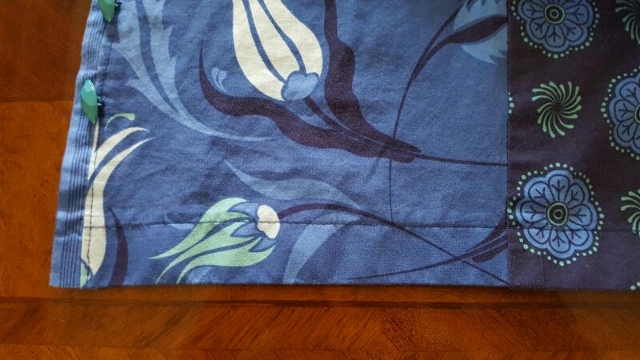 Blue cotton TRJ has a 1¼" hem supported with a strip of fusible tricot interfacing. The raw edge was overlocked on the serger before the hem was topstitched into place.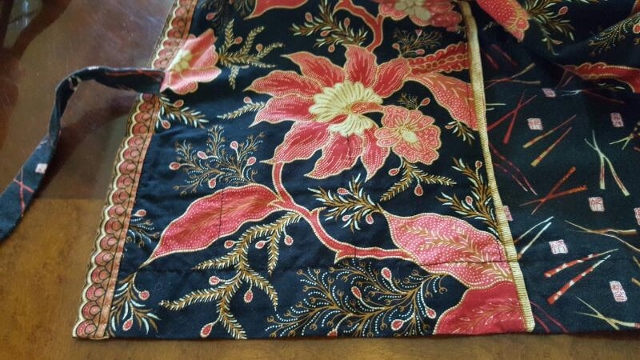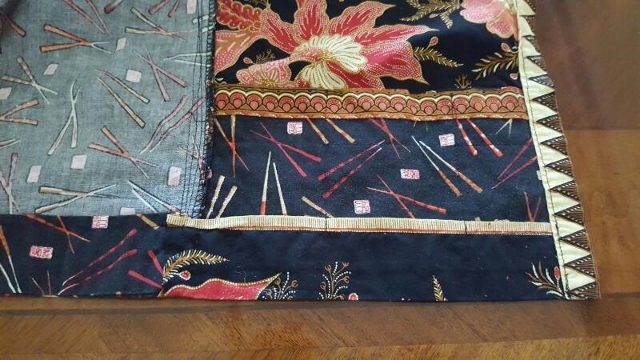 Black batik cotton TRJ has a turned and topstitched 1¾" hem. The edge of the hem is the selvedge so no finish was necessary.  Notice that the interior pockets are supported by the hem to hold a few essentials.  You can read more about these pockets, and the narrower bands on most of these jackets, in the Pocket Variations  for the TRJ.
Narrow Hems – These are perfect if you do not have enough fabric or want a soft swingy hem.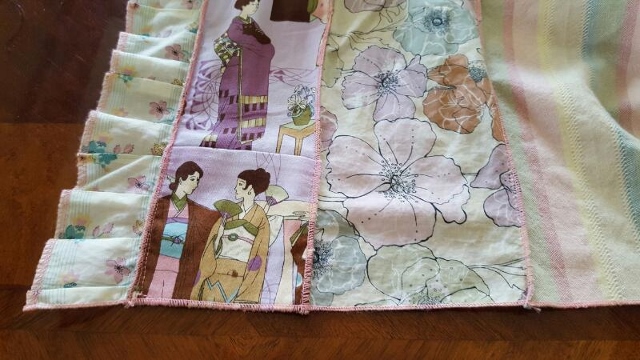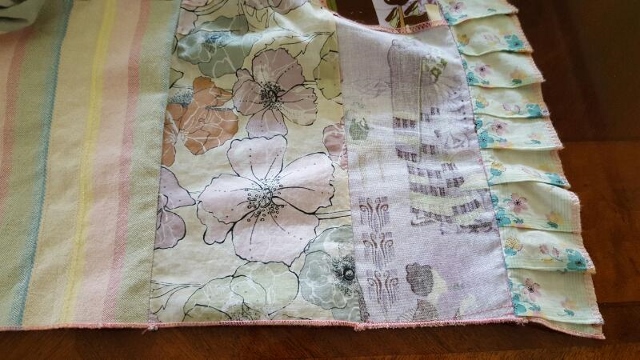 Mixed cotton jacket's seams and hems are finished on the outside using the rolled edge setting on the serger. This technique is explained in Swing Variations for the TRJ.
Inside of the rayon swing hem
Rayon TR top with swing variation hem has a ¼" turned and topstitched hem. The raw edge was finished with the 3 thread overlock on the serger in advance of the topstitching.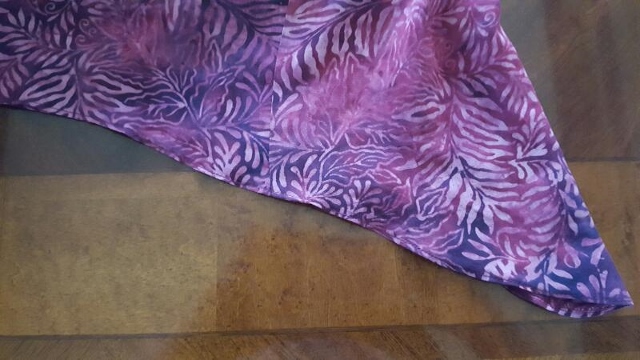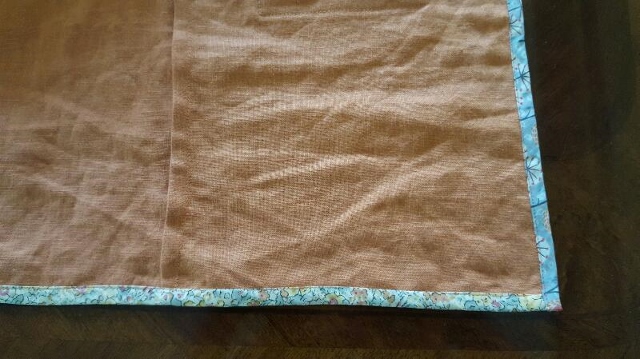 Orange Linen TRJ with Rain or Shine Variations has a bias tape bound hem. Bias tape was unfolded along one edge and stitched onto the back side.  Then it was wrapped to the front along the center fold line and topstitched into place.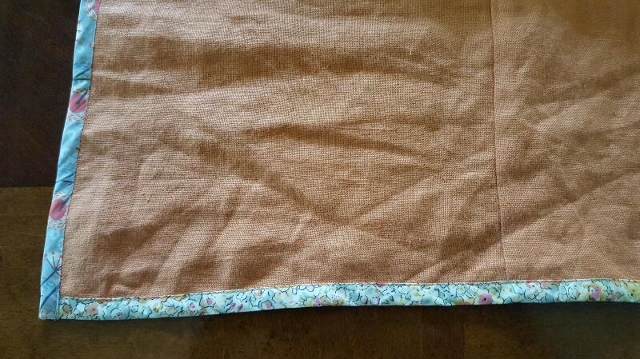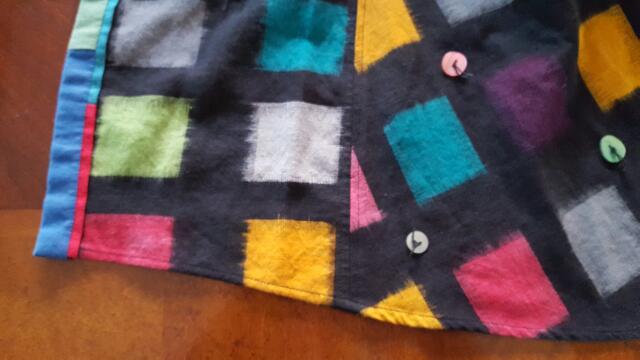 Our last little hem is on Carrie's swing variation ikat vest.  It is a simple double turned 1/4″ shirttail hem.  This fabric is very light weight so it adds a little extra drape.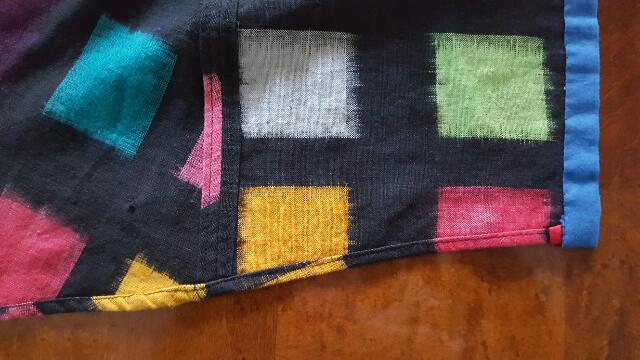 Have you used other hem techniques for unlined summer tops?  I think a baby hem would work on many summer tops, but I did not have a sample to show you.  I will put that on my summer sewing list.  Directions for a baby hem can be found on page 6 of the Swing Variations for the Tabula Rasa Jacket direction booklet.
Happy Sewing, RAE