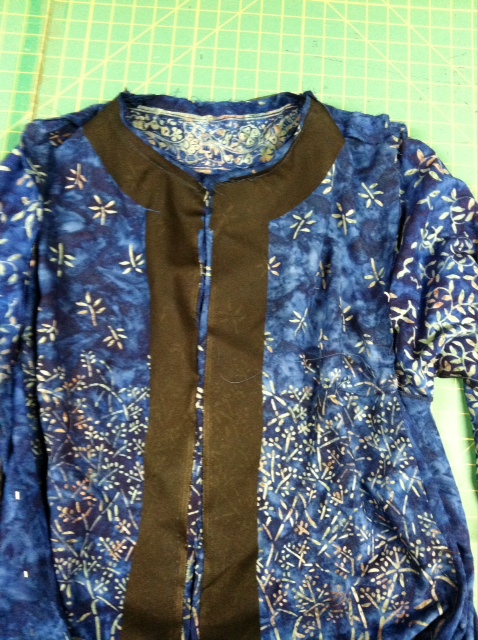 Fusible interfacing is such an important tool for sewers.  I keep several different types in the studio and use them to provide support in most of my garments.  This is particularly important when I am pushing the limits of a fabric.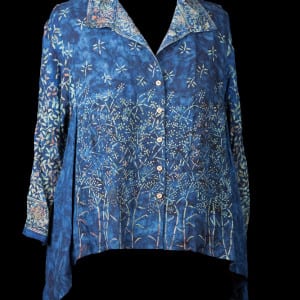 Here is a case in point.  I made this Tabula Rasa last winter using my adjusted jacket pattern, swing variation side pattern and shirt variation front and collar. The fabrics are two coordinating rayons from Sew Batik.  The rayon was perfect for the soft swing side but stabilizing the rayon enough to add the shirt collar was more challenging.
I often use several different interfacings in a shirt.  I put the stiffer choice in the under collar and facings and a softer choice on the shirt itself to support the neck edge and the front where the buttons and buttonholes need support. With this plan in mind, I tested several different interfacings from our interfacing sampler on fabric scraps.  The single direction stretch tricot, French Fuse, was great for the under collar.  The 8 way stretch tricot, Soft Stretch, was great for the outer collar and facings.  But both seemed a bit too much for the shirt itself.  I turned to a new find, a very light weight woven fusible called Envy Silk.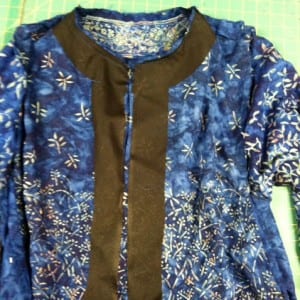 It provided just enough support so the shirt would look soft, but keep its shape over time along the center front opening and the collar.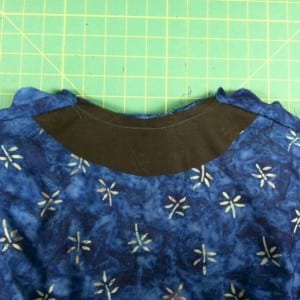 All winter, spring and summer Carrie and I have found ourselves turning to this light woven fusible to stabilize our sewing projects.  It has a slight one way stretch, so it is even useful when support is needed in light weight knits.
This fall we are adding it to our Interfacing Sampler.  Now you will get 4 one yard pieces, in either black or white, with descriptions and instructions for using these fine fusible interfacings. If you do not have a source for fine fabrics in your area, you can always order these important sewing supports from our web store.  That way you are ready to sew when you have the time.  All four interfacings can also be ordered by the yard in our online shop.
Which interfacings do you find most useful?  How have you used interfacings creatively in your sewing?
Happy Fusing and Sewing!
RAE