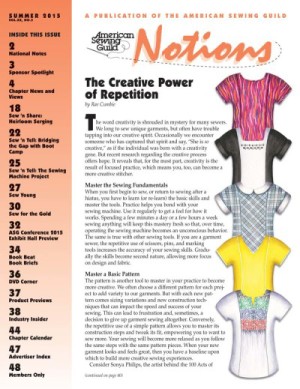 Rae Cumbie is not one to toot her own horn, so in this post I am going to share the terrific articles and teaching videos Rae has produced and published in the past year or so.  I know you will want to check some of these out, if you haven't already, for all of the helpful sewing advice and inspiration.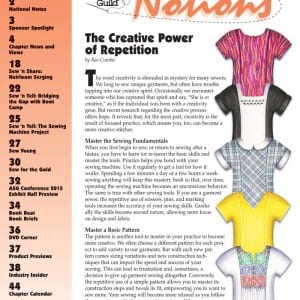 Most recently, Rae wrote the cover article for the Summer 2015 issue of Notions, the quarterly magazine published by the American Sewing Guild.  Rae talks about the Creative Power of Repetition, sharing how you, too, can nurture you own creativity through focused practice and particularly by repetitive use of a simple pattern.  Try the exercises Rae proposes to build confidence in your own creative spirit.  You'll understand how this philosophy has led to Fit for Art's development of basic wardrobe patterns and pattern variations; the Tabula Rasa Jacket or Tabula Rasa Knit Tee and Tunic are great patterns for starting your creative journey.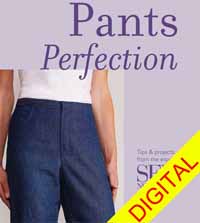 Speaking of variations on a basic pattern, Rae authored a series of articles for Sew News magazine on using a basic pants pattern to personalize your pants wardrobe with the features and details you love.  In Pants Perfection Part One, Rae focuses on different waistband and closure options.  (Oct/Nov 2014, issue 343)  Pants Perfection Part Two covers how to select and add three basic pockets styles to customize your pants.  (Dec/Jan 2015, issue 344)  The final installment, Pants Perfection Part Three, explores the selection of leg shapes and hemlines to create pants that flatter your body type and lifestyle.  (Apr/May 2015, issue 346)  If you've saved old issues of Sew News magazine, you may have this pant series available at home.  If not, you can purchase the entire series of articles as an eBook at this link on shopsewitall.com.
We were so excited when Sew News' media partner, Craft Daily, invited Rae to shoot an instructional video series based on the Pants Perfection articles.  These videos are a great resource for visual learners and others who want to see how to make some of the pattern adjustments Rae discusses in the pants articles.  You can purchase the three videos directly from shopsewitall.com or from craftdaily.com.  Or, you can subscribe to Craft Daily for monthly access to Rae's and many other terrific teaching videos. Craft Daily also offers a video featuring Rae on Openings and Closings, a basic tutorial.
Don't forget that Fit for Art already has several free videos posted on YouTube designed to help with fitting and adjusting the Eureka! Pants that Fits pattern.  The Eureka! Pants pattern is a very basic pants pattern that is well suited for the personalization envisioned in Rae's Pants Perfection article and video series.
Rae is also writing regularly for Sew News magazine in 2015 as the author of the Fitting FAQs column.  Be sure to check out Rae's fitting advice so far this year on: making bust adjustments in knit tops (Feb/Mar issue), fitting challenges in the shoulder area (Apr/May issue), adjusting the armseye and bust darts (Jun/July issue), and answering your pants fitting questions (Aug/Sept issue).  Look for more Fitting FAQs from Rae Cumbie in 2015 Sew News issues to come!  Past issues of Sew News magazine can be purchased on the magazine's website, www.sewnews.com.
Rae has had a very busy writing year!  In addition to all of those articles and work on instruction books for new Fit for Art patterns (coming soon!), Rae authored 35 Tools of the Trade for Sew News's 35th anniversary celebration in the Feb/Mar 2015 issue and Methods to Master: Drapey Fabrics in the Aug/Sept 2015 issue of Sew News.  If you have been a little nervous about starting to sew with soft and drapey woven or knit fabrics, this primer will get you off to a good start.  You can also find samples of Tabula Rasa jackets and knit tops made with drapey fabrics and the Fit for Art patterns in our Photo Gallery to get you inspired.
I will close with a little teaser… We are currently working on a series of short videos to demonstrate several of the Common Fitting Adjustments for the Tabula Rasa Jacket and Knit tops.  When ready, the videos will be posted on YouTube for easy and free access for our Fit for Art customers.  Are there any particular fitting or pattern adjustments you'd like to see demonstrated in video?  Please leave us a comment here (or contact us through our website) if there are some you'd find helpful.
Happy Sewing and learning!  Carrie Emerson