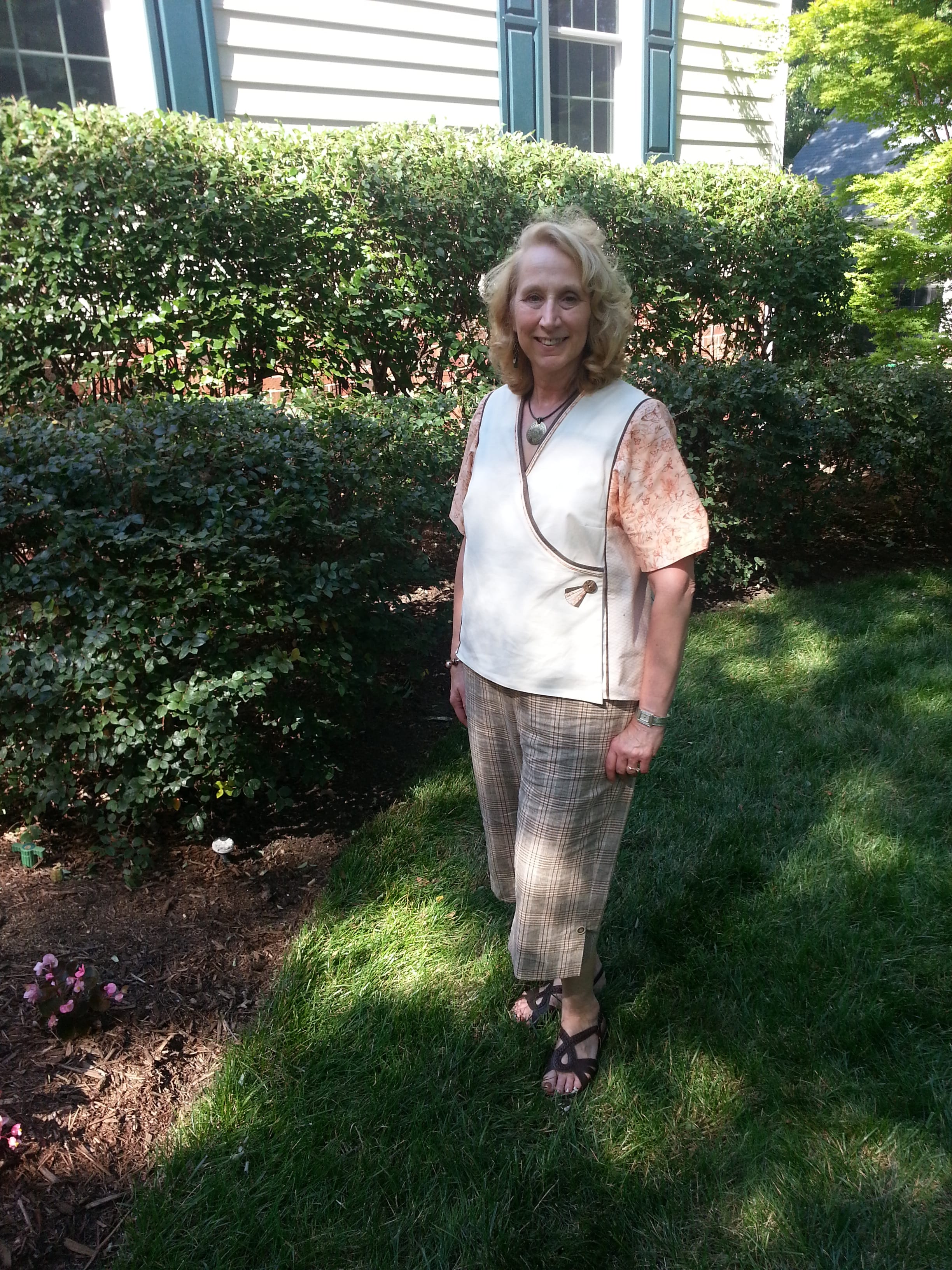 This June we are delighted to have several teaching opportunities. We sure do love to teach classes that revolve around our patterns! This weekend I presented a trunk show at Sew Right Sewing Machines in Queens, New York followed by teaching a two-day Tabula Rasa Jacket Workshop.  It was great fun and I want to thank Nancy and Laura for inviting me and for making all the arrangements on behalf of the Nassau/Queens Chapter of the American Sewing Guild (ASG).  Check out more photos on the Fit for Art Facebook page and the Sew Right Facebook page to see some of the action.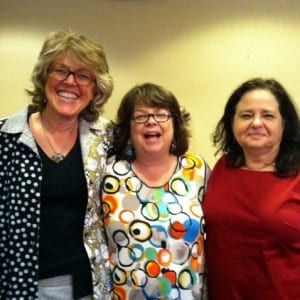 At the end of the month we look forward to teaching two one-day Eureka! Pants fitting workshops for the Richmond ASG.
Last year when we taught Tabula Rasa Jackets (TRJ) for the Richmond, VA ASG we met up with Lugene Fernald.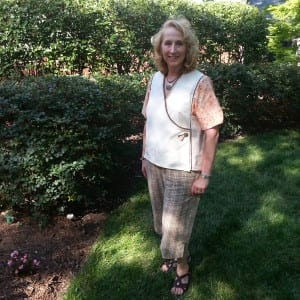 She had purchased our patterns at an Expo and was already sewing up some really fun outfits and creating her own variations on Fit for Art's patterns.  She sent us great photos of several outfits she has made; we want to share one with you that is particularly perfect for hot summer days.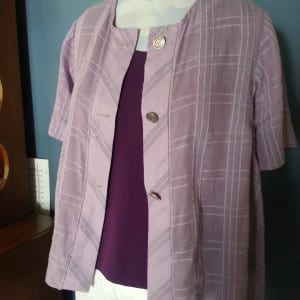 Here is what Lugene had to say about her purple plaid cotton voile TR swing top and white FFA pattern capris.
"This was the mockup that I was working on during the Richmond ASG workshop that you led using the Swing Variations pattern with my TRJ. While I made a sewer's goof (read opportunity for creative correction) in placing the buttonholes parallel to the floor instead of perpendicular, I used that to solve another problem that I had by putting the plaid band on the bias: the fact that you could only see the diagonal on the top band. Because the fabric was so lightweight, I layered the bands so they were slightly separated when placing the buttons and it still fit well.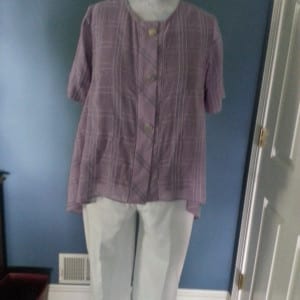 Then, I was able to see the diagonal on both bands. While it's not perfect, I am pleased and it is more than wearable. I love the FFA pants made into capris – they fit SO well!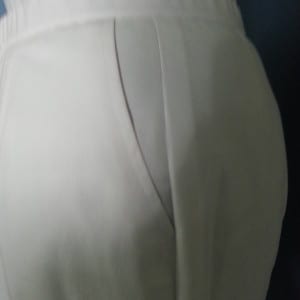 They have a fly front zip, slant side seam pockets, and hem slit with a tab closure. I was very pleased with this creation. "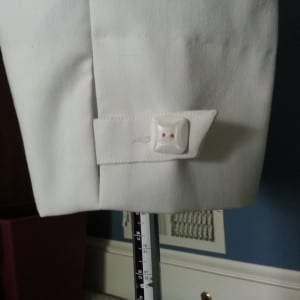 Note the tab detail on Lugene's capri pants.  To do this yourself, follow our directions for making a pants slit in May's pants post, but before you stitch the front slit closed, insert a small tab and add a button for the final finish.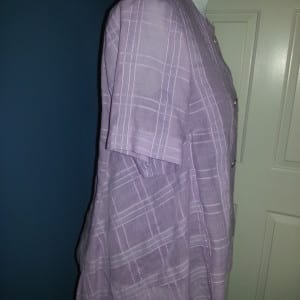 Since Lugene is wearing another of her Fit for Art outfits in our photo of her, we will have to tell you about that outfit in a future post.  She told us, "I love this pattern. It is like a palette that I can be sew creative with! Thank you all for your creative concept. I will use this pattern over and over."
We hope to catch up with her when we are in Richmond later this month.  Lugene is testing our  Sporty Details pattern for the Eureka! Pants that Fit and we can't wait to see her creations.
So you see, we really mean it when we say that we want to see photos of your creations and hear stories about the fun you are having with your Fit for Art Patterns.  Send us your photos at info@fitforartpatterns.com so we can post your great outfits on Facebook and maybe even include you in one of our Sew! Let's Get Dressed posts.  Click here to learn more about the classes we teach and invite us to your area so we can sew with you and your friends.
Happy Sewing,
RAE