Helping you sew pants that fit your body and your lifestyle is one of our goals at Fit for Art.  In the last few months we have had a number of opportunities to work toward that goal.  At the American Sewing Expo this past weekend I did over 20 pants fittings in our pretty pink fitting room.  A number of gals we fit during the last year at various shows visited our booth to report their success in making the best fitting pants they've ever worn! It makes our hearts sing to hear about their pleasure in creating pants that work.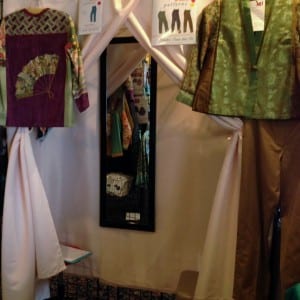 This coming weekend our pink fitting room will be set up at the Original Sewing and Quilt Expo in Fredericksburg, VA.  Stop by our booth if you are attending the Expo to make an appointment for your personal pants fitting; come by early in the weekend, as the spots are limited.
Look for the first of two articles I've written for Sew News on personalizing pants that appears in the current issue of Sew News (Oct/Nov 2014).  In this month's article, you can read about choosing waist finishes and zipper openings that will work comfortably on your body.  I also filmed a video series for Craft Daily on the topic of pants personalization; the first of those videos is now available on line for your viewing pleasure!
If you are a sewing professional or a skilled stitcher looking for an entry into the field of sewing professionally, there are still spaces available in our Eureka! Pants Professional Licensing Seminar scheduled for December 8 – 12.  It is a week of hands on pants fitting, pattern adjustment and construction experiences that will prepare you to use the Eureka! Pants that Fit pattern as a custom clothier or sewing educator.
As we have been migrating photos from our old website to our new website, we realized that we don't have photographs of pants.  The truth is that it is very hard to make pants photographs interesting.  That is certainly how I feel.  While I love the confidence I feel when I am wearing pants that fit and I love having the freedom to make pants that fit to complement any jacket or top in my wardrobe, I don't want them to be the center of attention.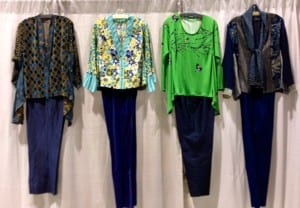 We snapped this photo of pants displayed as outfits in our booth this weekend.  These Eureka! Pants, all blue, complement a variety of jackets and tops made using the Tabula Rasa Jacket (TRJ) pattern or the Tabula Rasa Knits pattern.  From left to right:
The velvet burn out TRJ swing top is complimented by the navy pinstripe boot cut Eureka! Pants.
The mixed cotton TRJ with a pleated band and bell cuff works great with the tapered blue corduroy Eureka! Pants.
The silk jersey TR Knit tunic is paired with a dressy pair of lined silk dupioni pants with a slightly narrowed leg and slit hem.
The final ensemble is a vertically pieced TRJ constructed with exposed rolled edge seams and a partially attached band tied as a closing. It is paired with a tapered Eureka! Pant in lightweight denim.
Any of these pants could be worn with any of these tops, creating a multitude of looks with a few well-crafted pieces.  Stitching up pants in the same color but a variety of fabrics and leg shapes gives your wardrobe powerful flexibility.
If you have not begun your pants sewing adventure, get started today with a Eureka! Pants that Fit pattern.  Stay tuned next week when I will write about the vertically pieced sheer in the final ensemble.