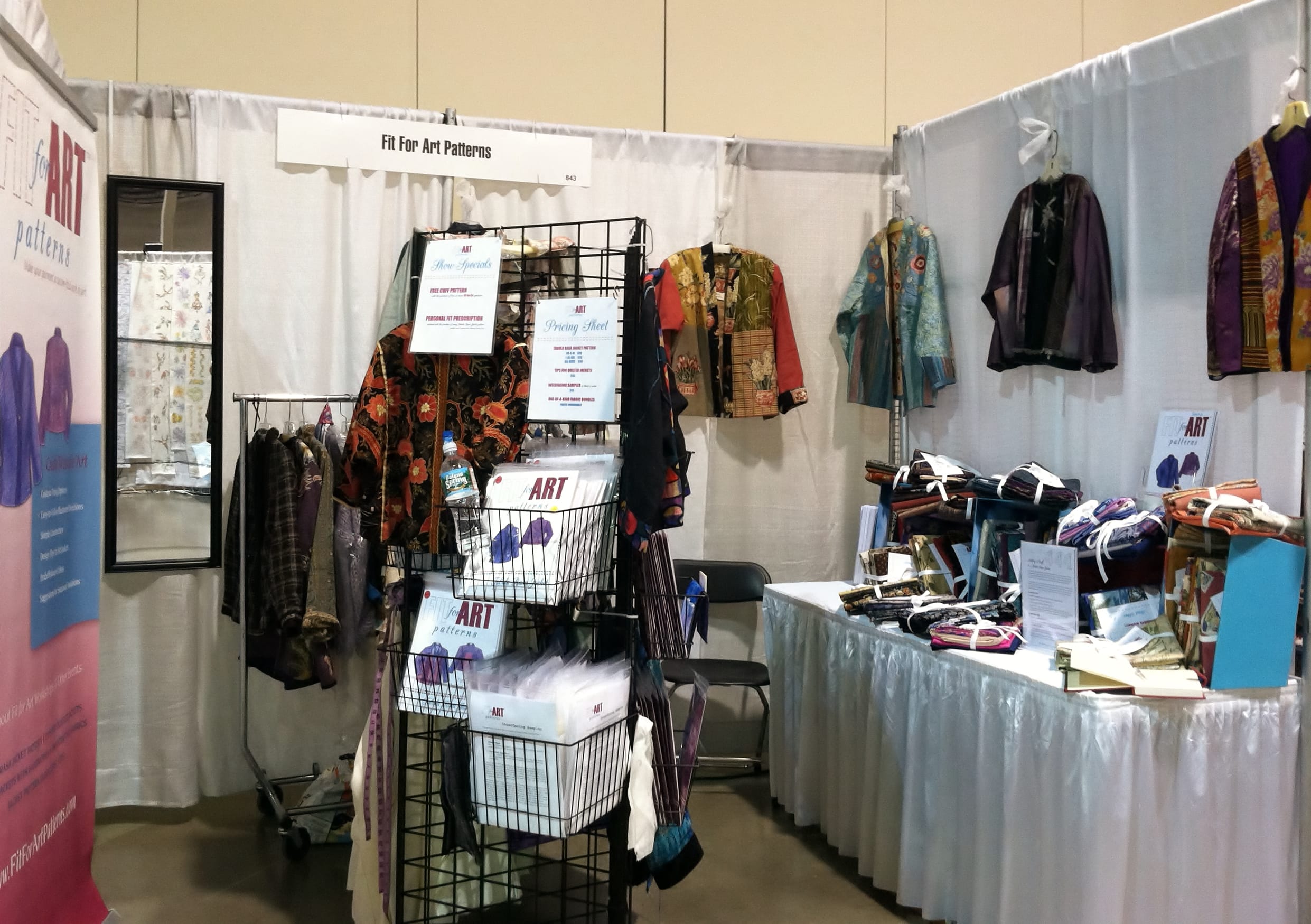 We are celebrating the 4th anniversary of the Tabula Rasa Jacket pattern's public debut.  As we pack our van and head out for the American Sewing Expo in Novi, MI, we are remembering the same trip 4 years ago when we set up our first Fit for Art booth to sell our first pattern.  I think we were both excited and scared.  I distinctly remember pulling into the parking lot in our small van filled with boxes of our only pattern, some fabric bundles, tips books, interfacing samplers and a couple dozen jacket samples.  We wondered if we belonged there with the large trucks and impressive trailers attached to giant vans.  Our little 6 x 6' booth stayed very busy that weekend as we provided complimentary fittings for shoppers who purchased our Tabula Rasa Jacket (TRJ) pattern!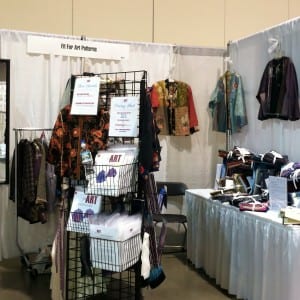 This year, we will still be offering complimentary jacket fittings to ladies who purchase our jacket pattern, but there is so much more.  I will be teaching classes daily and also providing Eureka! Pants that Fit fittings in our fitting room.  Our pattern offerings have expanded to include four Variation Patterns for the TRJ, two Tips books , the Eureka! Pants that Fit and Trouser Details patterns, and the brand new Tabula Rasa Knit Tee and Tunic pattern.  You will love the new knit fabric bundles, double faced Japanese cotton bundles, Indonesian Rayon bundles, Vintage tie jacket bundles, and one of a kind drapey fabric bundles for sale in our booth this year.  We will bring samples that are old favorites and wonderful new jackets, tops and pants to inspire you to stitch together a wardrobe of contemporary basics with artful options.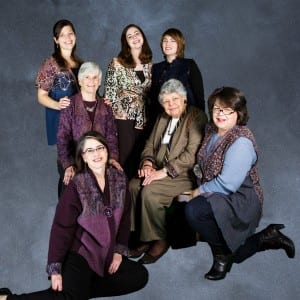 We are also celebrating with a new postcard that features 3 generations of Emersons and Cumbies all wearing Tabula Rasa Jackets.  Here is a brief description of who we are and what we are wearing, beginning in the lower left and moving clockwise:
Carrie is sporting a washed wool TRJ with overlapping seams, techniques you can read about in Tips for Handwoven and Handcrafted Fabrics. Download the pattern for her flower pin for free.
Carrie's mom, Peg, is wearing a jacket created from a wool shawl with the Shirt Variations for the TRJ pattern.
Carrie's daughter, Meg, has a short sleeve TRJ that features painted hemp fabric from Mekong River Textiles. We will blog about this top's gathered piecing in the spring.
Rae's daughter, Sarah, is in a silk twill TRJ featuring lantern sleeves and trimmed with picot edged ribbons. Pick up the directions for adding the wrapped sash to a TRJ when you purchase 2 or more products at a sewing show.
Rae's daughter, Anna, is wearing a washed wool TRJ vest with the ruffled neckband found in the Band Variations and Pockets pattern.
Rae's TRJ vest has the swing side and shaped hemline featured in our Swing Variations pattern. It is made with 3 drapey prints that went great together.
Seated in the center, Rae's mom, Anna Rae, is wearing a wool tweed TRJ embellished with vintage ties. This September we are celebrating her 90th birthday!
As you see, the Tabula Rasa Jacket is fun and fashionable for gals in every age and size.  It truly is a blank slate!
 Pockets in the News
There has been tons of media chatter this week about pockets and the fact that the new i-Phone will not fit in anyone's pockets.  Read this interesting piece, prompted by all the pocket chatter, on the history of women's pockets.  Anna Rae's wool TRJ in the photo has inseam pockets hidden under the ties that cover the side seams.  The directions and pattern for these pockets are in the Band Variations and Pockets pattern, along with lots of information about how to build functional pockets into your own tops and jackets.